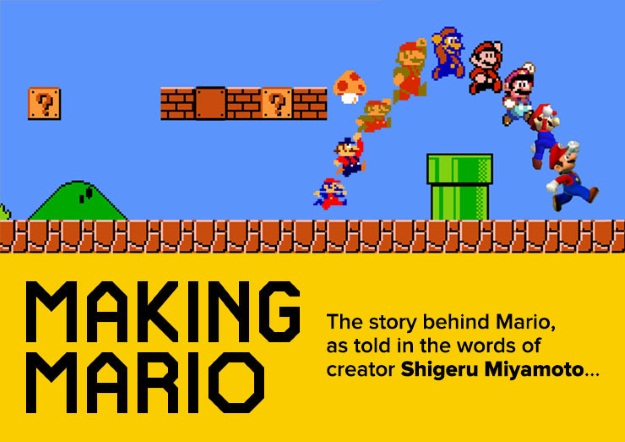 Mario has a lot to brag about - appearing in more than 200 video games, being the titular character of the bestselling video game franchise of all time, not to mention sporting a killer mustache "before it was cool." The latest feather in Mario's cap will be the release of his newest game, Super Mario Maker, which is set to be released this Friday, September 11! But was Mario always the king of the gaming scene? Was there a time he didn't wear that signature red cap? What does a Mario evolution look like? What was with that one time he was a Doctor - does he even have a license to practice medicine?
We could take a stab at answering these questions ourselves, but why, when Mario creator Shigeru Miyamoto himself has been so forthcoming with information! In his own words, with our own illustrations, here is the story behind your favorite princess-rescuing plumber.
Click Image for Larger View

Embed This Image On Your Site:
Making Mario: The Creation and Evolution of Mario Transcription
The story behind Mario, as told in the words of creator Shigeru Miyamoto...
Making Mario
In Japan, Mario was originally known as Jumpman.
"Well, I call him 'Mr. Video'. My plan was to use the same character in every video game I made."
"Someone at Nintendo of America actually came up with the name Mario."
Original Mario Art
"The technology of the time really dictated how we did character design. If I gave Mario a lot of hair you have to animate it or it doesn't look right. By giving him a hat we didn't have to worry about that."
"My goal within that limited palette was to create a character that was distinct as possible. Because of that, he had some of his now-distinct features such as his big nose."
"When Mario is running he moves his arms, but in order to make that movement easier to see, I thought it would be best to make his arms and body two different colors. Overalls were the only option!"
"The only reason he has a mustache is because when we created the original 8-bit art, we needed to give him a nose so it looked like his face, and we gave him a mustache so you could tell where the nose was."
Evolving Mario
"I saw the way that Mickey had evolved, so we decided that Mario was going to be a character who would evolve and change with the advances in digital technology."
1981: Donkey Kong

Donkey Kong was originally going to be a Popeye game, but it fell through. "Then we thought: 'Why not come up with our own original character?'"

1983: Mario Bros.
1985: Super Mario Bros.
1985: Super Mario Bros. (bigger)

"Around December of 1984, I wanted to see what it would be like with a Mario jumping around who was about twice the size of the one in Mario Bros."

1988: Super Mario Bros. 2 (US)
1990: Super Mario Bros. 3
1991: Super Mario World

"Then we gave Mario a pair of white gloves, in order to make his movements easier to spot when he jumped."

1996: Super Mario 64
2002-Present: Super Mario Sunshine-Now
Illustrating Mario
"Originally, ever since we made Donkey Kong, on many occasions I had done rough sketches of Mario in pencil and then given them to an illustrator to polish up."
1981 Mario
1982 Mario
1983 Mario
1985 Mario

"When we came out with Super Mario Bros., I was thinking about asking a professional manga artist or a well-known illustrator to do the art, but time was running out, so I drew the art for the [Japanese] package myself."

1990 Mario
1996-Now Mario
Mr. Video or Dr. Mario
"If you're familiar with things like Popeye and some of the old comic characters, you would oftentimes see this cast of characters that takes on different roles depending on the comic or cartoon."
"So, to a certain degree, I look at our characters in a similar way and feel that they can take on different roles in different games."
Carpenter: Donkey Kong (Arcade)
Bottler: Mario Bros. (Game & Watch)
Loader: Mario's Cement Factory (Game & Watch Table Top)
Soldier: Mario's Bombs Away (Game & Watch Table Top)
Plumber: Mario Bros. (Arcade)
Official: Tennis (NES)
Wrecker: Wrecking Crew (NES)
Referee: Mike Tyson's Punch-Out! (NES)
Doctor: Dr. Mario (NES)
"There's only one rule in terms of the things that Mario does. Generally, it's that he's more on the blue-collar side."
"Perhaps the Dr. Mario you're thinking of was maybe, in some way, not necessarily legitimate."
Sheriff: Sheriff (Arcade)

Shigeru Miyamoto's first mustached character was the hero in Nintendo's 1979 arcade Sheriff, two years before Donkey Kong. Could this be the actual first appearance of the character who would eventually become Mario?
Sources: Game Informer, Iwata Asks, Popular Mechanics, Team Coco, USA Today
Even though 'technological limitations' were originally what dictated Mario's exaggerated features like his big old shnoz, can you imagine it any other way? Everything about Mario from head to toe has become iconic over his thirty-plus year history, but it sure was interesting to read how his famous features became...well...famous, wasn't it?
If you can't get enough Mario Mania and are planning to be one of the first to get your hands on Super Mario Maker this Friday, we have hundreds of Super Mario Bros costumes and accessories to help satisfy your need this Halloween! You could add a tool belt and hard hat, and go as Super Mario Maker Mario! Or you could dive even deeper into geekery and go as "Skinny Mario!" (Feel free to rant about Skinny Mario in the comment section below...)
Infographic Design and Writing Credit: Kate Willaert