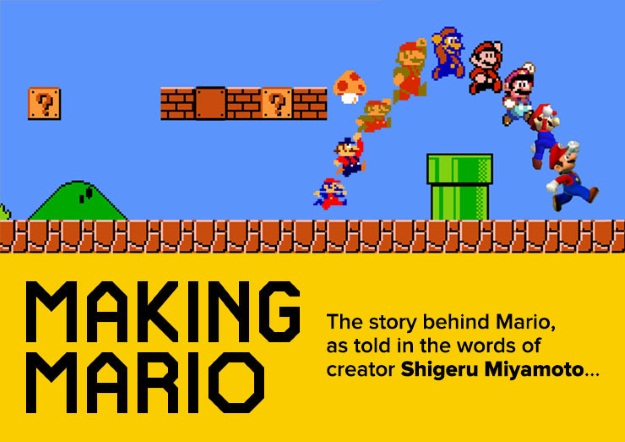 Mario has a lot to brag about - appearing in more than 200 video games, being the titular character of the bestselling video game franchise of all time, not to mention sporting a killer mustache "before it was cool." The latest feather in Mario's cap will be the release of his newest game, Super Mario Maker, which is set to be released this Friday, September 11! But was Mario always the king of the gaming scene? Was there a time he didn't wear that signature red cap? What does a Mario evolution look like? What was with that one time he was a Doctor - does he even have a license to practice medicine?
We could take a stab at answering these questions ourselves, but why, when Mario creator Shigeru Miyamoto himself has been so forthcoming with information! In his own words, with our own illustrations, here is the story behind your favorite princess-rescuing plumber.

Embed This Image On Your Site:
Even though 'technological limitations' were originally what dictated Mario's exaggerated features like his big old shnoz, can you imagine it any other way? Everything about Mario from head to toe has become iconic over his thirty-plus year history, but it sure was interesting to read how his famous features became...well...famous, wasn't it?
If you can't get enough Mario Mania and are planning to be one of the first to get your hands on Super Mario Maker this Friday, we have hundreds of Super Mario Bros costumes and accessories to help satisfy your need this Halloween! You could add a tool belt and hard hat, and go as Super Mario Maker Mario! Or you could dive even deeper into geekery and go as "Skinny Mario!" (Feel free to rant about Skinny Mario in the comment section below...)
Infographic Design and Writing Credit: Kate Willaert