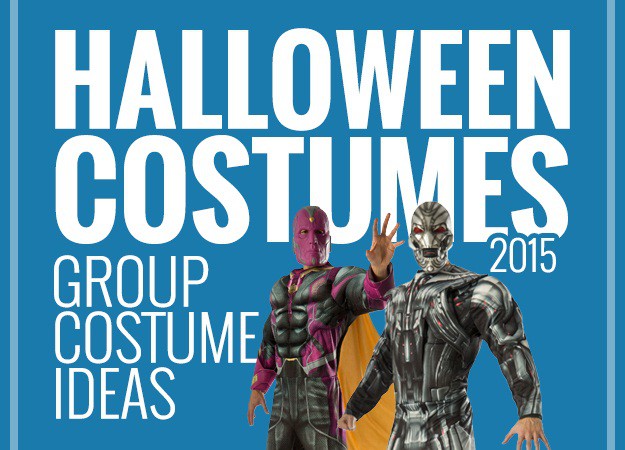 Halloween is changing: every year it seems to become a little less about the wee one's going out to get some candy, and a little more about parties, socialization, and one upping peers with an even better costume ensemble than before. A great costume can make a party, a great couples costume can make the year, but a well executed group Halloween costume? That can make Halloween 2015 the most memorable one ever! So, what are you and your comrades and compadres going to be this year? We've got lots of potential answers with the following list of the best group Halloween costume ideas for 2015.
Group Costume Idea: Avengers: Age of Ultron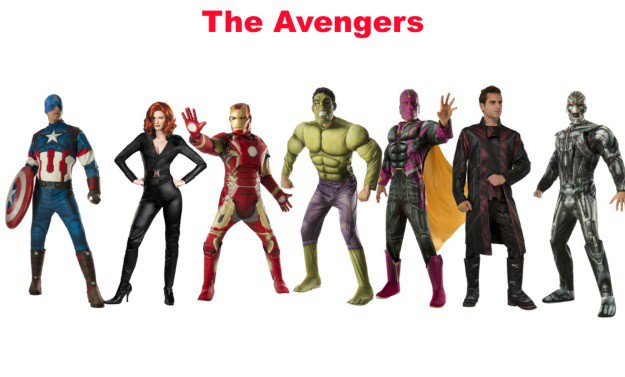 Captain America Costume Black Widow Costume Iron Man Costume
The Hulk Costume Hawkeye Costume
There is no denying that 2015 belongs to the Avengers, thanks to the release of Marvel's Avengers: Age of Ultron this May. Both guys and girls play important roles in this group, so there are plenty of options to pick from. Have a different ratio of men to women? Get creative and gender-swap your favorite Avenger! Sexy She-Hulk would definitely slay. From Black Widow to Iron Man, and Hawkeye to Thor, there's a character for everyone!
Group Costume Idea: Minions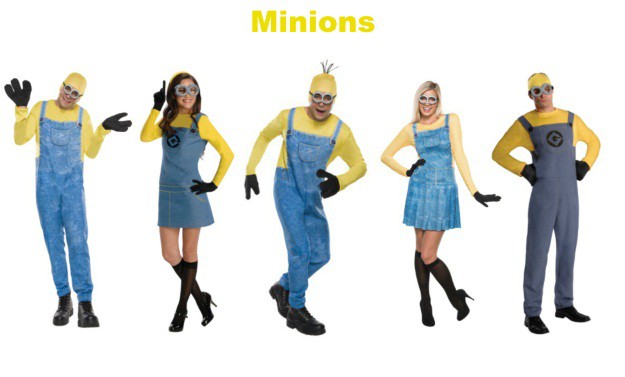 Minion Bob Costume Women's Minion Jumper Costume
Minion Kevin Costume Minion Dave Costume
In 2010, these little yellow bunches of fun hit the movie screen in Despicable Me and in 2015 we finally get to learn their origin story. Minions is sure to be a hit film since these yellow fellows basically have the ability to print money at the box office, and it will mostly likely be popular with both kids and adults. Because Minions are gender neutral, come in different shapes and sizes, and have various signature clothing styles and accessories, they are a perfect group Halloween costume!
Group Costume Idea: Batman Universe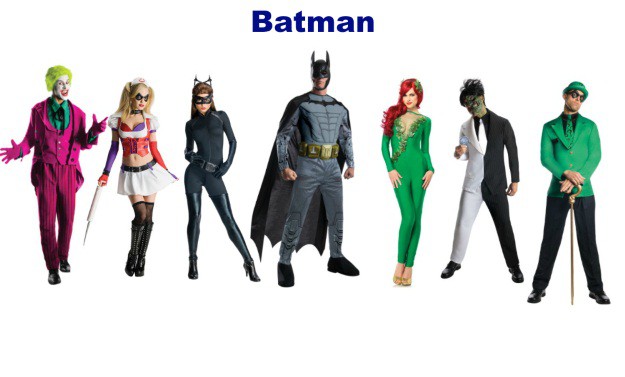 Joker Costumes Arkham Harley Quinn Costume
Deluxe Catwoman Costume Batman Costumes
Poison Ivy Costumes Two-Face Costume Riddler Costume
2015 has been a huge year for Batman. We got to see Superman and Batman square up in the trailer for 2016's Batman v Superman: Dawn of Justice. A new film, Suicide Squad, entered production and features some of The Dark Knight's biggest adversaries, including The Joker and Harley Quinn. June 2015 also marked the finale of the Arkham video game series with Batman: Arkham Knight. While we didn't get to see Batman on the big screen, you better believe that he and his rogues gallery are a great option for groups this Halloween.
Group Costume Idea: The Hobbit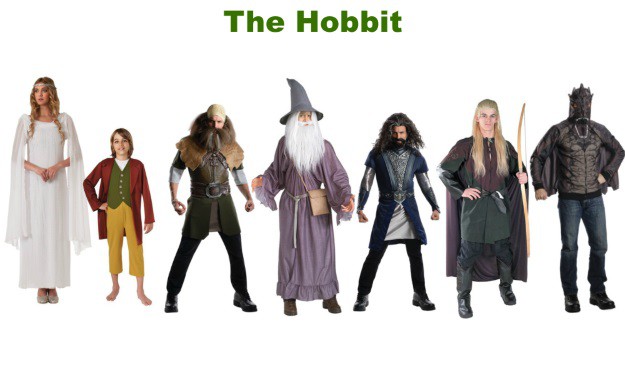 Galadriel Costume Gandalf Costume Legolas Costume
Witch King Costume Gollum Mask Azog Mask
December 2014 hosted the final installment of The Hobbit film trilogy. The Battle of the Five Armies brought audiences to Middle Earth one last time. Thorin Oakenshield's band of Dwarves, a Wizard, and a Hobbit make fine sources for planning the perfect group Halloween costume. So, grab your mithril mail, Sting, and your One Ring and prepare yourself for an adventure!
Group Costume Idea: Star Wars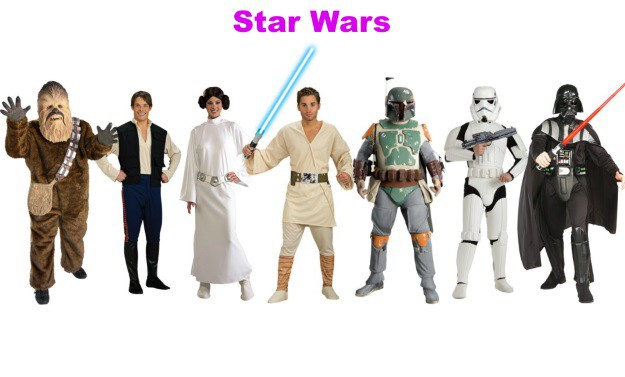 Chewbacca Costume Han Solo Costume Princess Leia Costume
Luke Skywalker Costume Boba Fett Costume Stormtrooper Costume
December 2015 is going to be a big month for movies as Luke, Han, and Leia return to the silver screen alongside a new cast of characters in Star Wars Episode VII: The Force Awakens. Star Wars even returned to the small screen with Disney's Star Wars: Rebels. You could wait for costume ideas specifically from the new movie, but your favorite classic Star Wars characters are still great choices for roaming around Halloween night on a galaxy not so far away.
Group Costume Idea: Disney Characters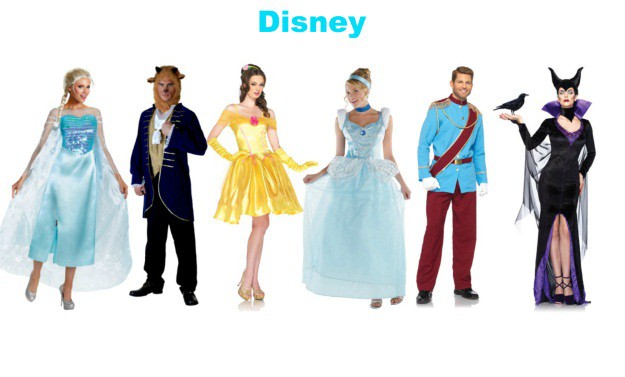 Elsa Frozen Costume Men's Beast Costume Princess Belle Costume
Cinderella Costume Prince Charming Costume Maleficent Costume
Disney has quite the movie-making operation going, don't they? With a huge vault of classic fairy tales and stories, it's no surprise that Disney is moving on to live-action versions of films such as Snow White and the Huntsman (2013), Maleficent (2014), and Cinderella (2015). Dive into the vault alongside your friends and bring out some of that Disney magic this October!
Group Costume Idea: Super Mario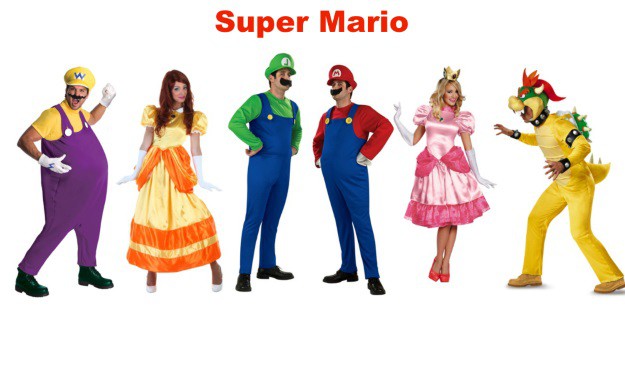 Wario Costume Princess Daisy Costume Luigi Costume
Mario Costume Princess Peach Costume Bowser Costume
Who would've thought that a Japanese video game character based on an Italian plumber would be so popular on a worldwide scale? Mario and co. have always been a go-to for groups looking to do a fun, recognizable, and easily variable group Halloween costume. Luckily for us, 2015 is a particularly prime Mario year, with Mario Party 10, Yoshi's Wooly World, and Mario Maker all rocking on Nintendo's Wii U.
Group Costume Idea: Mortal Kombat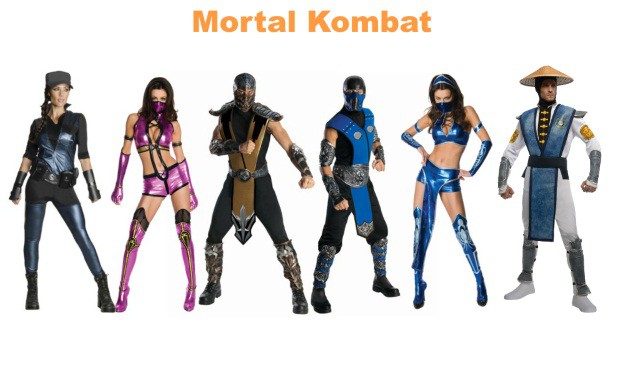 Sonya Blade Costume Mileena Costume Scorpion Costume
Sub-Zero Costume Kitana Costume Raiden Costume
Mortal Kombat has been around since 1992, and the tenth sequel Mortal Kombat X exploded onto next generation consoles in March 2015. For some bloody good fun, you and your posse can dress as the colorful and varied characters from this universe. The Mortal Kombat cast delights nostalgic old-school gamers and new fans alike, which is one of the factors that makes this an appealing group costume idea!
Which group / universe / movie / TV show / fantasy world will you be pulling your awesome group Halloween costume idea from this year? Do you have some more predictions for what will be the best ensemble costumes of 2015? Comment below with some of your ideas, and be sure to browse through ALL of our group costumes using our Group Halloween Costume selector!