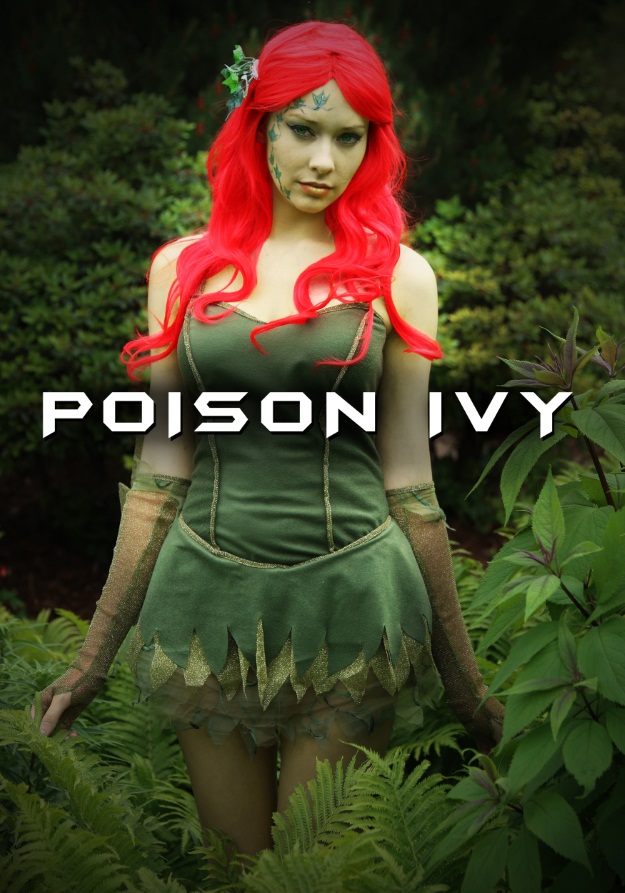 The DC Comic Batman franchise has most definitely been in the limelight this year. Between the upcoming Batman vs. Superman movie, FOX's new series Gotham, and a Batman: Arkham Knight video game in the works, these iconic characters are at the top of our minds! There are so many wonderful villains in the Batman-universe, but the one we're talking about today is the lovely, sexy, mysterious and dangerous Poison Ivy. Never one to be a shrinking violet, Poison Ivy stands out as one of the most popular villainesses of the DC world!
Our Poison Ivy Cosplay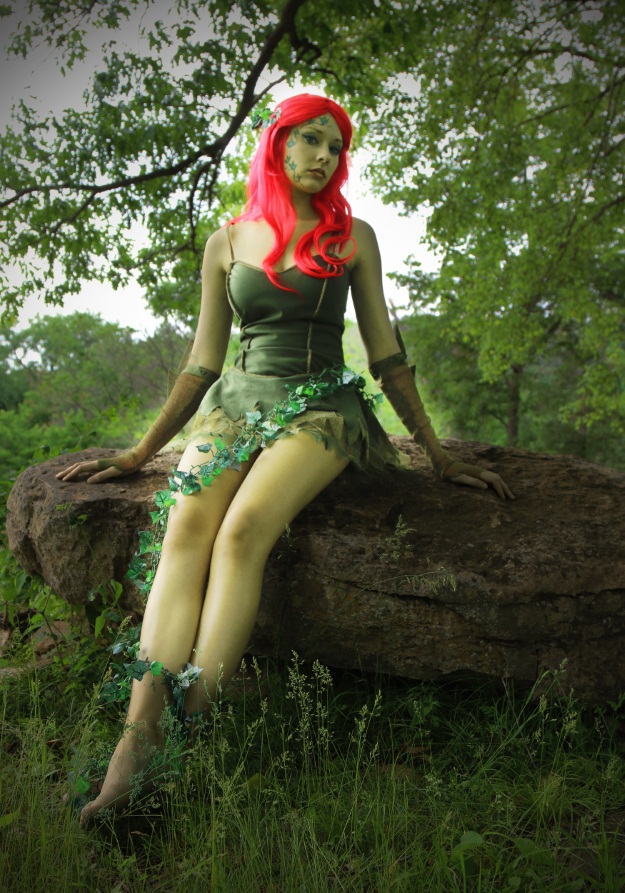 Originally a normal human woman with light skin and red hair, Pamela Isley was obsessed with nature and plants. After an intentional overdose of botanical toxins, she transformed herself into the villainess Poison Ivy. Plant elements and chlorophyll coursed through her body tissue causing her skin to permanently turn green. After years of practice, Ivy was able to conceal her green skin from the public, allowing her to move freely through society. Whether you sport the green skin or go with your natural tone, getting the look for Poison Ivy can be easy!

Items Used for Our Poison Ivy Costume DIY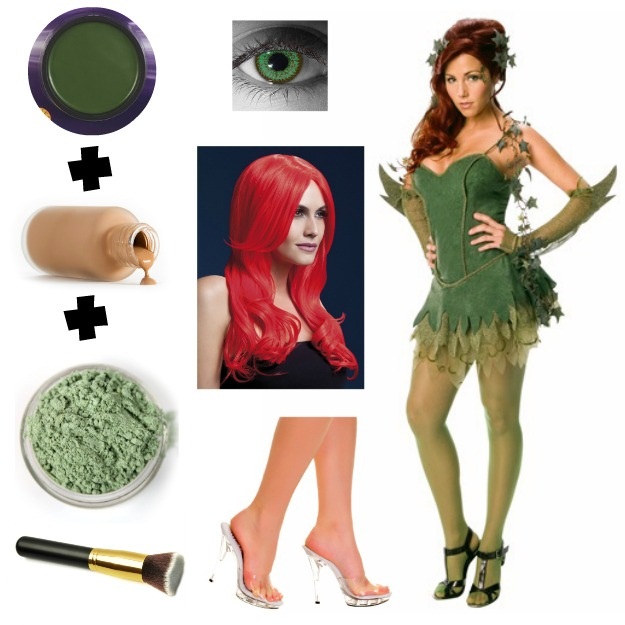 Green Face Paint Sexy Poison Ivy Costume
Pretty Poses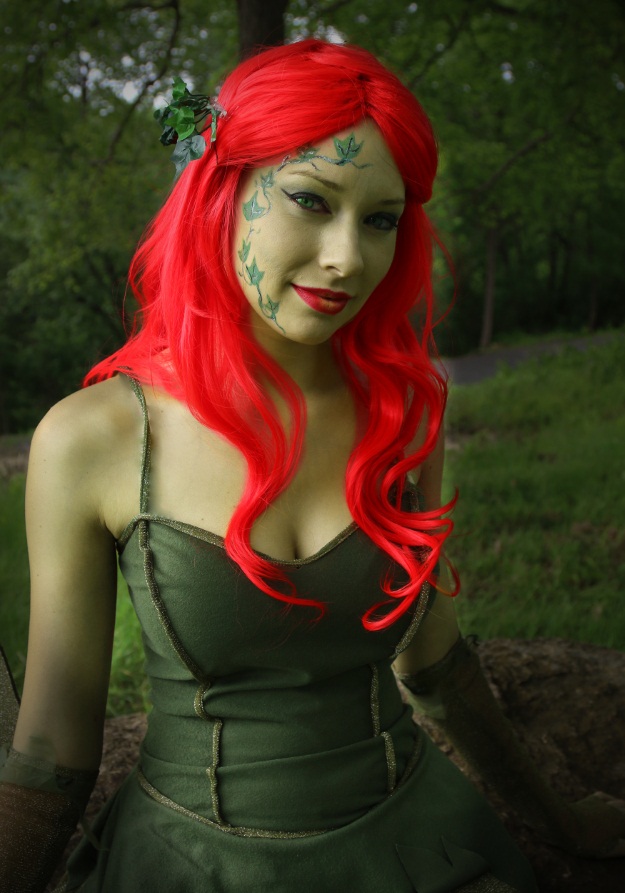 To create the muted green skin tone, we blended green body paint with liquid foundation and set it with a loose green powder. Using eyeliners and a makeup set, we drew the tiny ivy leaves with a thin brush around the side of the model's face.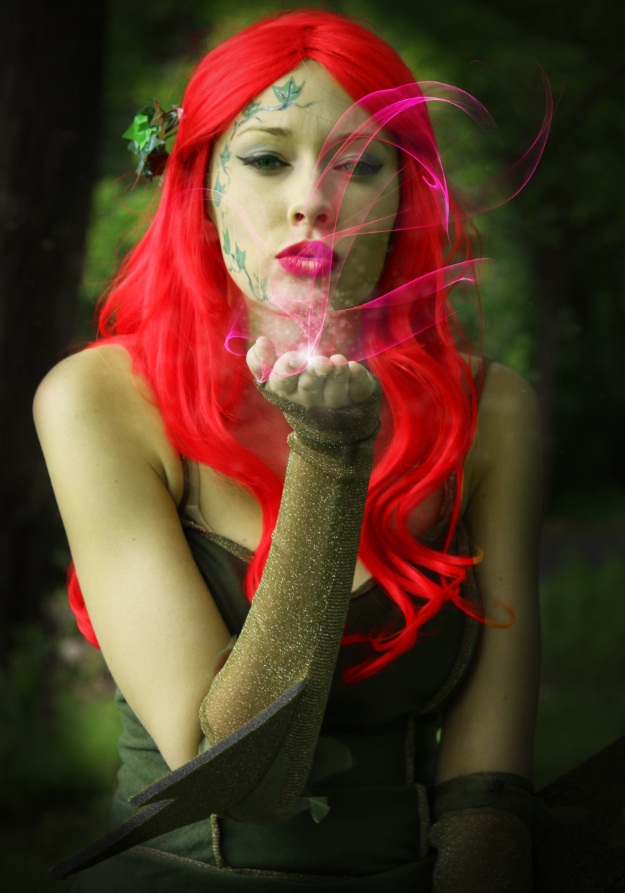 Poison Ivy's kiss will be the death of anyone her lips come in contact with. For our Poison Ivy costume DIY, we matched the vibrant tone of the red wig with an orangey-red lip color. Then, using an iridescent green powder, we created a little green highlight on the lower lip to remind you that her kiss is dangerous!
Uma Thurman Poison Ivy Makeup Tutorial Video
Uma Thurman Poison Ivy Makeup Tutorial Video Transcript
Hi! I'm Christy from HalloweenCostumes.com. Today I will be showing you a Poison Ivy makeup tutorial. The products we'll be using today are a cream shadow for your eye base, a white highlighter shadow, a dark and a light teal color for your eyelids, we're going to be using a green, a kelly green, and a black eyeliner, a warm, "bronze-y" cheek blush color, and then a bright red lipstick with a red gloss on top.
So, go ahead and take your cream shadow base, and apply it to both eyelids. The eyeshadow primer is going to make the pigment of your powder show up really intense, as well as make it last all night long. Next, I'm going to take that deep teal color and use it to contour the corners of the eye, and frame the eye.
Next, you're going to take your lighter teal color and fill it where you've placed your sideways "v", and then blend both teal colors together. by using the two teal shades, you're giving the eye dimension. Go ahead and take an angled, thin brush, and apply the teal below each of the eyes.
Next you're going to take your highlighter color, and highlight underneath the brow bone, and in the corners to brighten up the eye. Alright. Next, you're going to take your black eyeliner, and line the outsides of both eyes. You can go as dramatic as you like. I like to hold my eyelid taut so I can get a nice, smooth line that's very close to my lash line.
So, now that you have the eyes done, we're going to move on to the cheeks, and we're going to use that nice "bronze-y" cheek color along the apples of your cheeks.
Next, we're going to take that nice bright red lipstick and fill in your lips. And, top it with a little bit of gloss for some extra shine. Here's your completed Poison Ivy makeup look. All you need now is your costume, and you will be set for Halloween. Thanks for watching!
BTAS Cartoon Poison Ivy Makeup Tutorial