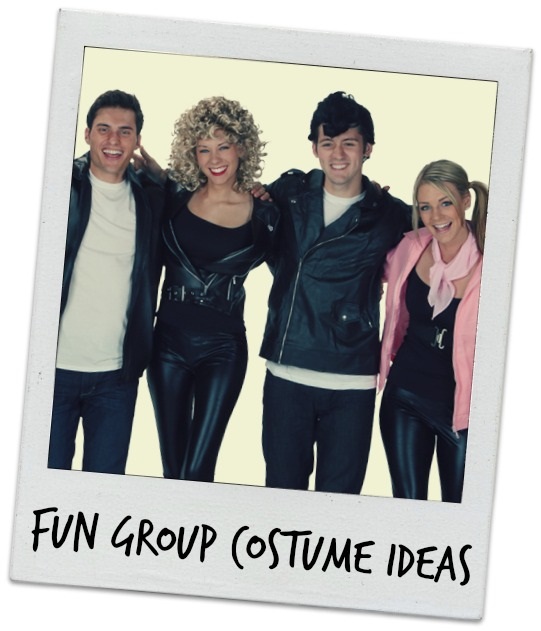 4 Fun Group Costume Ideas for 2014
Individual costumes are fun, couples costumes are fun, but Halloween is a social holiday so group costumes might just be the MOST fun of all! They can sometimes prove to be harder to coordinate since everoneeee must agree on one theme, but there are basically an infinite number of sources to draw inspiration from, so we're confident you'll find something that pleases the lot of you. If you're not sure where to start, here are four eye-catching group costume ideas for Halloween 2014!
1. Toy Story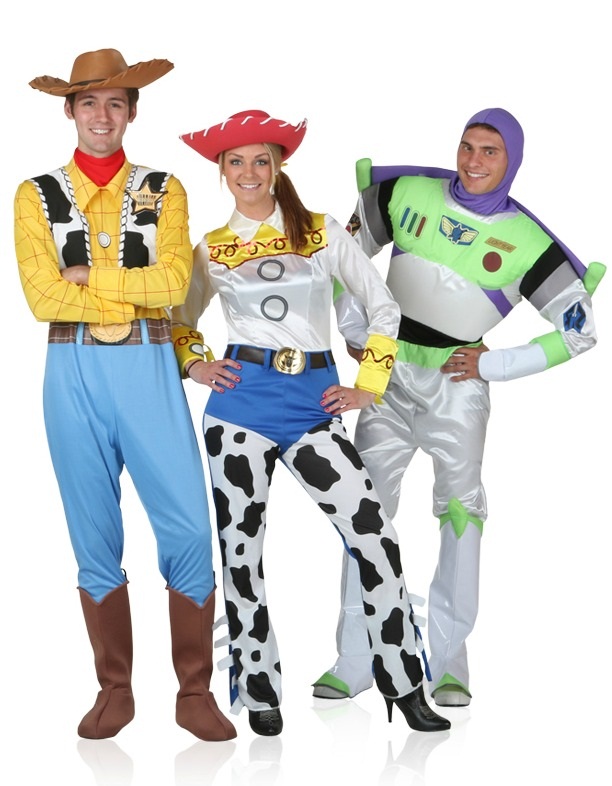 It's weird to think about, but the first Toy Story movie came out all the way back in 1995. For those of you counting, that's 19 whole years ago! There have been two exceptional movies since the original but they've all touched our hearts. That's why going as a group of toys from Toy Story is such a great idea. You're sure to get lots of crowd engagement with these theme, since people love the characters and each movie in this series speaks to the kid in all of our hearts. A trio of Woody, Buzz, and Jessie, will make for the most recognizable group, but feel free to add more characters from the toy chest.
Additional Toy Story Ideas:
2. Grease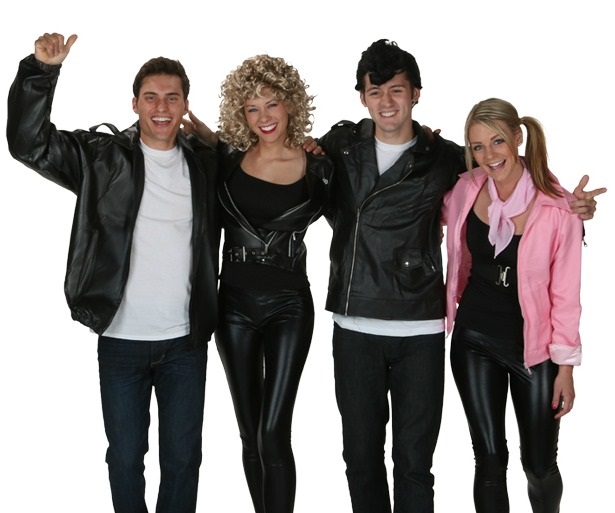 Grease is one of the most beloved musicals of all time. There are other celebrated movie musicals around with similar stories including Westside Story and High School Musical, but none of them are as good or as memorable (at least from a costume standpoint!) as Sandy, Danny, and the rest of the Grease crew. The style of the Pink Ladies, the toughness of the T-Birds, and the unforgettable music, made Grease the number one movie of the year when it was released in 1978. This costume theme is especially great for a group made up of couples! Borrow the look of these singing and dancing teens and you're sure to turn more than a few heads this Halloween. If you REALLY want attention, feel free to burst into song throughout the evening. "You're the one that I want! Ooh Ooh Ooh!"
Additional Grease Ideas:
If your group has a Kenickie, don't forget to put a fake cigarette behind your ear.
If your group is made just of girls, you could go as different versions of Sandy. There's Bad Sandy, Cheerleader Sandy, Good Sandy - plenty of ideas!
Grab a foam car prop to strap over your shoulders, and pretend you're racing people in Grease Lightning!
3. Karate Kid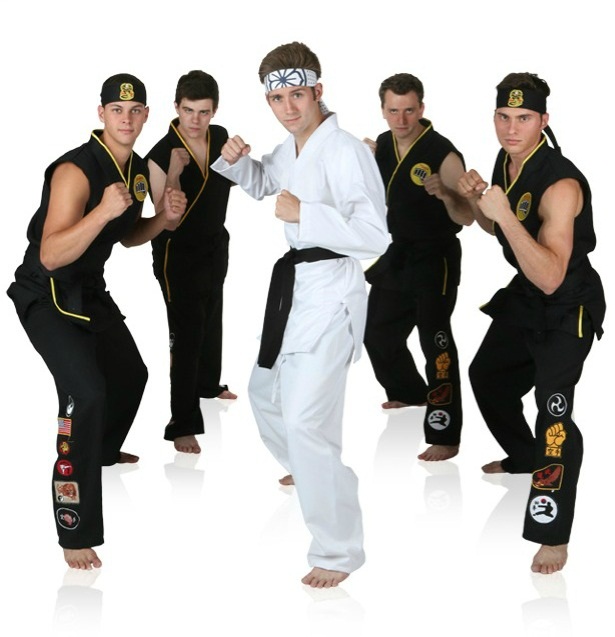 The Karate Kid was a sleeper hit for 1984. It's a simple story but it really resonated with people and the characters are insanely memorable. There's Mr. Miyagi, the profound karate instructor/handy man, and Daniel-son, the doe-eyed new kid just trying to adjust to life in a new place. Don't forget Johnny, the bully who terrorizes Daniel with his Cobra Kai friends, and Kreese, the most psychotic karate instructor in the history of the world. This film is loaded with great moments, but the tournament stands out the most. It has a great montage set to "You're the Best Around-" can you ask for much more? All of these things make Karate Kid the perfect group costume them - just make sure to sweep the leg.


Additional Karate Kid Ideas:
Don't forget to add a Mr. Miyagi to your group. All you really need are his headband and a pair of chopsticks, so you can show people how to catch flies.
If you have a really large group, a bunch of you can go as The Skeleton Gang!
Don't forget about the ladies! You could round out your group with Hillary Swank's character from The Next Karate Kid. Leggings and oversized t-shirts are her staples in the film.
4. Snow White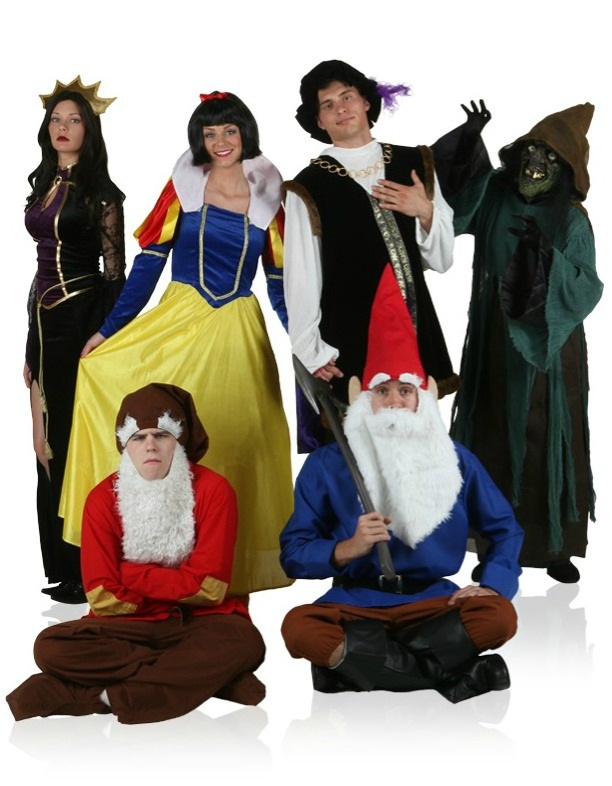 The story of Snow White is an old and magical fairytale. Even though the tale first originated as "Little Snowdrop" in 1731, most people are introduced to this cast of characters through the Disney classic Snow White and the Seven Dwarfs. When adjusted for inflation, this movie is actually one of the best performers in box office history! Obviously, given the title, Snow White is an ideal for large groups. We went with six, only two of which are dwarves, to show the versatility this group costume theme offers.
Additional Snow White Ideas:
If you've got lots of ladies in your group, have them dress as Snow White's woodland creature friends! Deer, bunnies, squirrels... cute!
You could take this animal idea even further and have someone be a zombie pig - the pig whose heart got taken by the Hunter, of course!
Be sure to carry a mirror around the party, and attempt to find the fairest one of all.
Looking for more group costume ideas? That's what our group costumes selector tool is for!