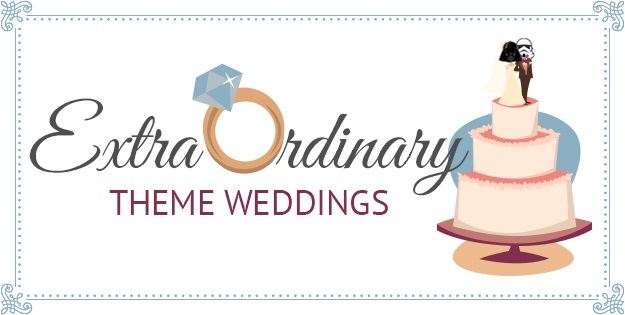 EXTRAOrdinary Theme Weddings: Superhero Wedding
The best wedding advice is this: do what makes you happy. This is your big day. If "what makes you happy" entails superhero capes, Batman masks, vinyl boots, and a plethora of comic books, then so be it. Superhero themed weddings are becoming more and more common, but they're still niche enough that you might need a little help on how to plan the perfect event. HalloweenCostumes.com has put together this guide with everything you need to know on throwing a DIY superhero wedding. Cheers!

The best way to give your guests the hint that your wedding will be a little more super than the average get-together is through your Save the Date. Dress up as your favorite comic book couple (or create your own!) for a fun photo shoot. It's up to you if you want to go all out and wear a full costume or just incorporate a few geeky things, like a mask or t-shirt. For your engagement photos, you can recreate movie scenes, like that oh-so-memorable Spiderman kiss in the rain, or stage a comic book cover pose of your own. We took the opportunity to put on some costumes (it doesn't take much convincing here!) and put together this bat-themed Save the Date.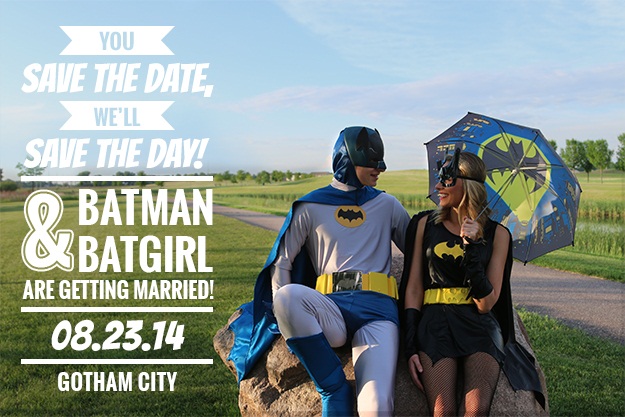 Batman Costume Batgirl Costume
Once you have your Save the Dates mailed out (usually around six months before your ceremony), the next order of stationery business is the invitations. To help you to continue on with your super-theme, we pooled together a few of our favorite pictures of comic book inspired invitation sets. Take a look through Etsy -- or hire your own graphic designer! -- to create a comic book cover featuring you and your spouse-to-be. That would definitely earn you a spot on the fridge!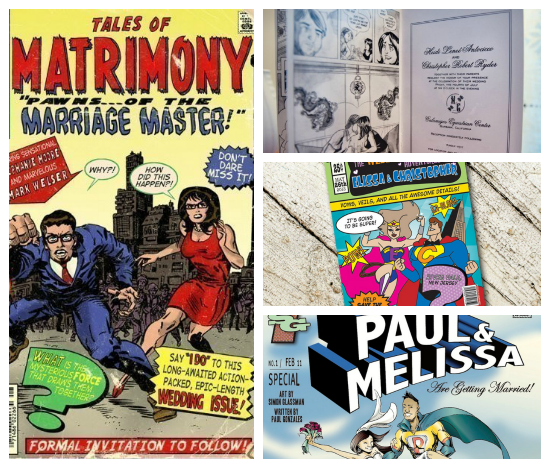 [ sources clockwise from left: one | two | three | four ]

Fashion and accessories are a huge part of any wedding day, superhero or not. Maybe your vision is to have a wedding party completely decked out in full comic book character gear. If so, we can help you out with the superhero costumes. However, your ceremony dream might be a little more traditional. That doesn't mean that you can't incorporate your geeky love in little ways. In other words: accessorize!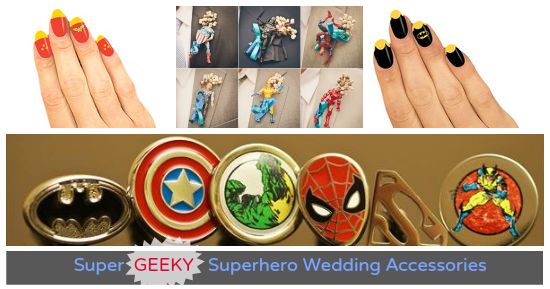 If you take the time to turn your wedding into a superhero wonderland, you better get some sweet snapshots out of the deal. Here's some eye candy and photo inspiration for your viewing pleasure.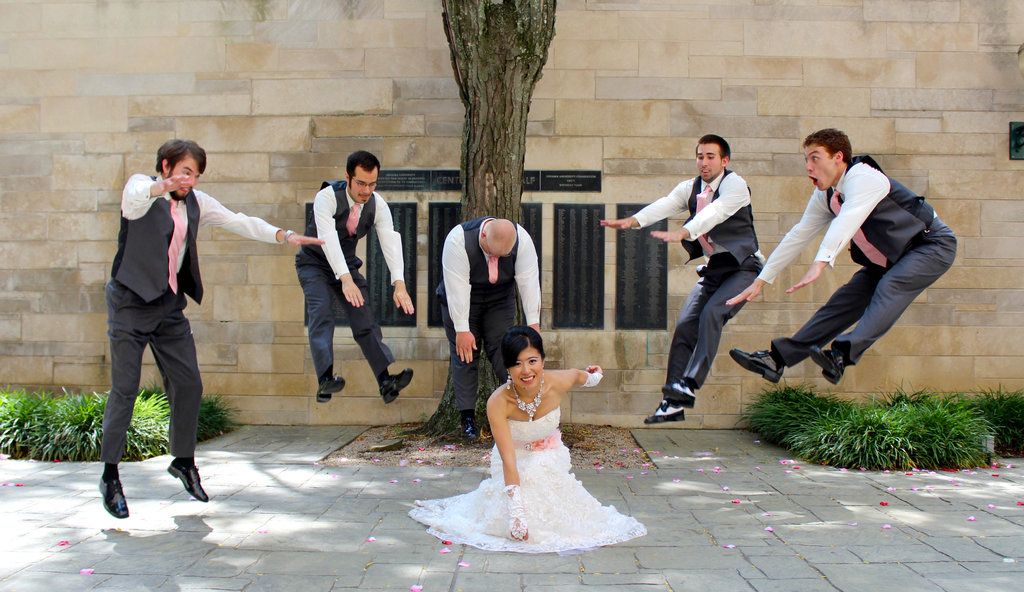 [ source ]

Even if you let a caterer take care of the main course, you can still have some creative say over the two most fun parts of the meal: the drinks and the dessert!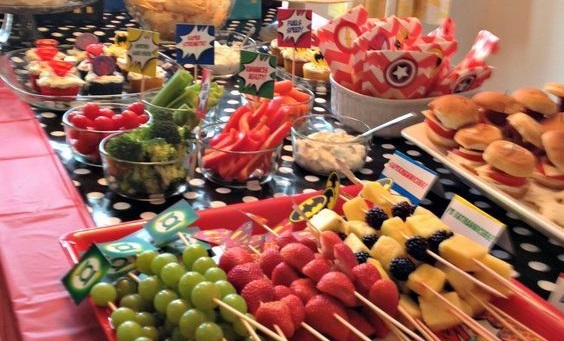 [ source ]

One of the biggest trends right for wedding receptions is the inclusion of a photo booth. Having this novelty gives your guests something to do between dancing and mingling, and it also gives your photographer a little bit of a break. Include a box full of props for your guests to use for their pictures. Some superhero themed items are:
Masks! Cut out shapes of famous "half-masks" (like Batman and Catwoman), glue to cardboard or thick cardstock, and attach to a thin dowel.
Speech Bubbles! Have premade phrases, like "Kapow!" or "Bang!" for guests to hold up while they take some action shots. Create an empty one with either chalkboard or a dry erase board so party-goers can write their own phrases.
Need more ideas? Here are some examples of other fun accessories to fill the prop box with: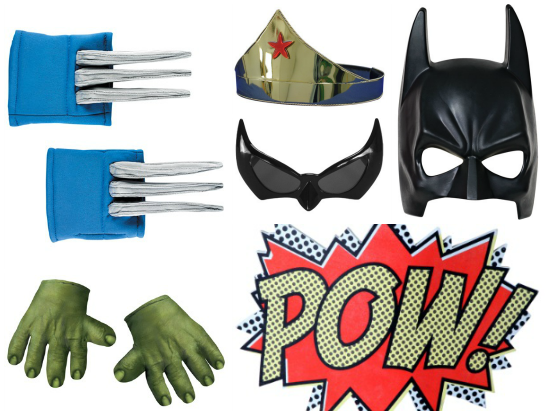 Foam Wolverine Claws Wonder Woman Tiara Bat Eye Glasses
Batman Mask Incredible Hulk Gloves
However you plan your wedding, and with whichever theme, don't forget to enjoy the day no matter what. This is a once in a lifetime party, so live it up! Don't stress the small stuff and enjoy.