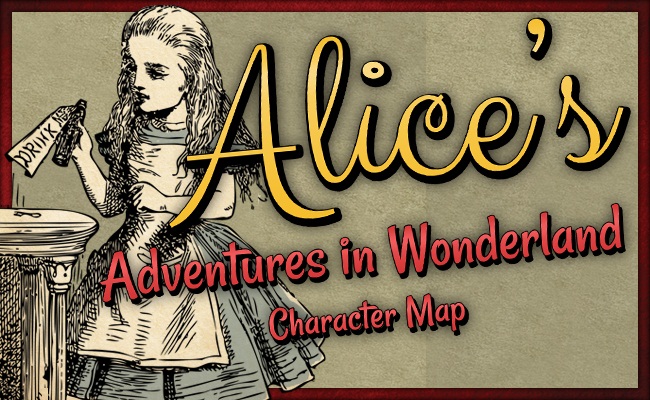 Lewis Carroll's fictional masterpiece "Alice's Adventures in Wonderland" has penetrated pop culture in an undeniable fashion and continues to be treasured by children and adults alike. It has inspired movies, plays, and television series, and is responsible for introducing us to such fantastical characters as The Cheshire Cat, The Mad Hatter, The White Rabbit, and The Queen Of Hearts. With so many cool characters introduced in one story, though, it can get confusing!
Exhibit A: Alice plays croquet with The Queen of Hearts, who introduces her to The Gryphon, before ordering The Cheshire Cat to be beheaded, and imprisoning (and subsequently releasing) The Duchess, whose lost fan is searched for by The White Rabbit, whom Alice followed down the rabbit hole to begin with? Oofda!
To help you keep things straight, the Alice In Wonderland superfans here at HalloweenCostumes.com banded together to create this nifty character map! We're confident it will prove a great resource should you ever find yourself down the rabbit hole. Just remember: steer clear of anything that says EAT ME and DRINK ME while you're there!
(To be on the safe side, that's probably a good rule of thumb in our world too.)
[Click on the infographic for a larger view.]

Embed this Image on Your Site:
Alice in Wonderland Character Map Transcript
Alice
Alice follows The White Rabbit down the rabbit hole.
Alice turns The Duchess' baby into a pig.
Alice meets The Mad Hatter, The March Hare, and The Dormouse at the Mad Hatter's Tea Party.
Alice meets the twins, Tweedle Dum & Tweedle Dee in the sequel "Through the Looking Glass".
Recites a poem about Father William for The Caterpillar.
Recites a poem about the Lobster for The Gryphon and The Mock Turtle
Queen of Hearts
Married to The King of Hearts
Orders the Cheshire Cat to be beheaded.
Introduces Alice to the Gryphon.
Invites Alice to play croquet.
Imprisons then releases The Duchess to resolve The Cheshire Cat's beheading issue.
Accuses The Knave of Hearts of stealing her tarts.
Mistress to the servants Two, Five, and Seven that painted her white roses red.
The Dodo
Convinces Alice and other animals* to participate in caucus race
The Lory*
The Eaglet*
The Duck*
The Mouse*

The Mouse also meets Alice while she's swimming in her own tears.
The White Rabbit
Bill the Lizard is The White Rabbit's gardener

Bill also climbs down the chimney while Alice is at the Duchess' house.

The White Rabbit searches for The Duchess' gloves and fan.
The Duchess
Receives an invitation from The Queen of Hearts delivered by The Fish & Frog Footman
The Cheshire Cat
Directs Alice to The March Hare
The Caterpillar
Tells Alice of the mushroom that will change her height
The Gryphon
Takes Alice to The Mock Turtle
We'd also like to take this opportunity to wish all of you a Very Merry Unbirthday!! (Unless of course it happens to be your actual birthday...which would be quite statistically impressive.)