There's nothing like cool crisp air, pumpkin patches, and changing leaves to get your family in the mood for Halloween. Create your own fall tradition by hosting a Halloween party for the neighborhood kids! Although planning a party may seem overwhelming, all you need are a few fun activities to keep everyone busy. With a few simple ideas, you'll be on your way to having a spooky party that people will talk about long after trick or treating is over.
Gruesome Guessing Game
Kids will squirm with disgust when you play this fun guessing game. Blind fold kids one at a time and have them stick their hands into bowls filled with "brains," "intestines," and other body organs which are actually textured foods or household items. Some fun ideas include grapes for eyeballs, cooked spaghetti or cooked cauliflower for brains, a peeled tomato for a heart, and carrots for fingers. Have them try to guess what the items really are as their imaginations run wild. Whoever guesses the most correct answers wins this ooey-gooey game!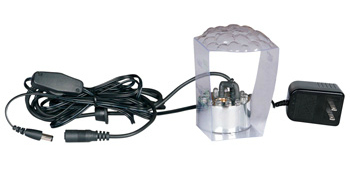 (Use this Mist Maker for an added spooky effect!)
Musical Costumes
This fun activity involves the classic musical chairs game, but with an added twist. Set out a box or two of dress up clothes and accessories; some ideas include a witch hat, superhero cape, pirate eye patch, or cat ears. These items can be picked up at a craft store or your local thrift store. You can even use clothing items from around the house like last year's costumes or dad's old suit jacket, some out-dated high heels, or a winter scarf. Then, put on some spooky music like The Monster Mash or a Halloween mix from a party supply store and have the kids put on as many costume pieces as they can by the time the music stops. Kids will laugh at how silly they look with all those clothes on at once!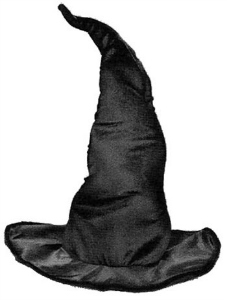 (Check out our witch hats and other accessories for this fun game of musical costumes!)
Apple Bites
This is one of the funniest games to play at your Halloween party. Give each child an apple and hang one apple at a time from the ceiling or a tree outside. When it's their turn, have each child put their hands behind their back and attempt to take a bite out of their hanging apple. To turn it into a contest, you can time them to see who can take a bite the fastest. Everyone will be rolling with laughter at how funny the kids look as they try to bite their apple. Be sure to take pictures so you can laugh later, too!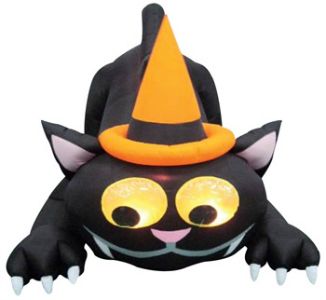 (Decorate your yard to make it extra fun!)
Painting Pumpkins
Get the kids' artistic juices flowing with this fun craft! Gather up some paint, small paint brushes, glue, glitter, jewels, and feathers. Provide enough pumpkins (big or small) for each child, or have them bring their own. Set up an area with newspaper or disposable tablecloths and let the kids decorate and paint their pumpkins. Painting is much safer than carving pumpkins with knives, especially with younger children. Kids will love getting creative and showing off their works of art.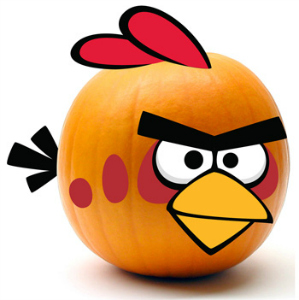 (This Red Angry Birds Pumpkin Kit makes decorating pumpkins easy and mess-free!)
Skeleton Scavenger Hunt
Send kids on a spine-tingling adventure with a skeleton scavenger hunt. Create two skeletons out of craft foam or tag board. Use black marker to draw out the skull and bones. If you are not artistically inclined, trace a skeleton outline from an online print-out. Cut the skeleton into various pieces (by limbs, head, etc.) that you will hide around the house or yard for kids to find later. Make sure the skeleton is large enough that the pieces can be found without too much difficulty. When it's time, send the kids out in two teams to collect the pieces. Once they have found all the pieces, have each team attempt to assemble the pieces into a complete skeleton. You may want to distinguish each skeleton with a different color so one team does not collect the other team's pieces. They'll have fun hunting down the skeleton parts and also learn a little anatomy as they put them together!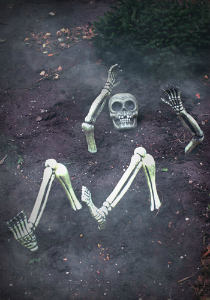 (We also carry these Lighted Skeleton Body Parts which could be used)
These are just a few ideas you can use to create a fabulous Halloween party. Take photos of the kids during the party and follow up later by mailing (or emailing) them out. You'll be able to send the kids home with not only their party creations, but also a bunch of fun memories.
Tonja Thompson is a staff writer for HalloweenCostumes.com, where you can find awesome Halloween costumes for kids, perfect for any spooky party!