Branjelina. Bennifer. Tomkat. And now there's… Kimye! The newest power couple to hit the scene is the bootylicious reality show goddess Kim Kardashian and her fashion-forward rapper beau, Kanye West. The 'super couple' started dating in April and ever since the public has been fascinated with the lavish presents they buy for one another, the extravagant dates and the ongoing usual celeb drama brought on by the Hollywood gossip mill. Nonetheless, Kimye is what everyone is talking about. Showing up to a Halloween party dressed as the celeb couple will give you one of the hottest couples' costumes for 2012 and give you the added bonus of feeling like red carpet royalty. We have many different accessories for both men and women to construct the ultimate Kimye costume that will have heads turning and mouths gaping, but remember you might need to shake off some haters because there's bound to be some jealousy when you look as hot as Kim and Kanye.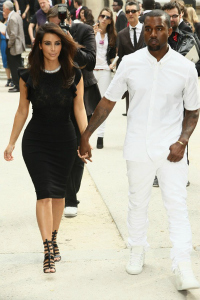 (source)

Well, I'm not saying she's a gold digger but… it's no secret that Kim Kardashian appreciates expensive presents like designer clothing, high speed vehicles and of course, diamonds. Kim can only hope that Kanye puts a ring on it one day! In the meantime, Kim still has the luxury of being able to deck her fabulous self out in ritzy 5-karat diamonds. Our costume diamond ring is the perfect accessory needed for a Kim Kardashian costume. The major bling will make you look and feel like a bona fide reality show diva and it has the added bonus of not weighing down your finger so you can grab candy all night!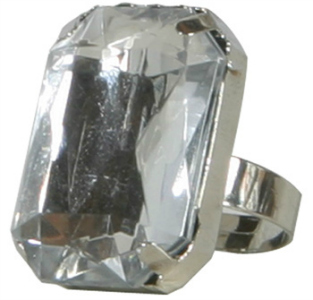 What would the Kardashian clan be without their luscious brunette locks? This sexy Jwoww wig will give you voluminous tresses just like Kanye's main squeeze. Plus, you get the added bonus of throwing on the wig and looking hot, while the real Kim has to fuss with her mane in the mirror for hours! Now you can have Kim's hair without the downfall of primping in the mirror for hours. Kanye would appreciate your low maintenance approach!
Finally, and perhaps the most important component for a successful Kim Kardashian costume is the bodacious derrière. If you weren't blessed with a backside the size of a small island, then you can simply pick up our foam butt accessory or silly bouncin' booty accessory to get a titanic sized tushy. This funny accessory might make you the butt (pun intended) of all jokes amongst Halloween party goers, but you'll have the last laugh when all eyes are on you and your ample assets. You won't even need to dance to make your grand gluteus gyrate, this hefty hiney moves all on its own!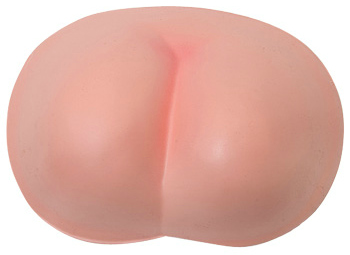 Once you got the Kim costume down, it's time to focus on the Kanye costume, because let's face it, Kanye is just as thirsty for attention as his female counterpart. Kanye is all about having everyone's eyes glued to him, so he usually steps out in the latest Air Jordans, bling bling around his neck, and a classy polo. Wearing anything designed by Ralph Lauren is a good idea paired with some semi-baggy jeans, but not too loose! Remember, Yeezy never wants to look frumpy. Being the hip hop trendsetter that he is, Kanye loves to stand out. He's always wearing a flashy and funky accessory that sets him apart from the others, and our white shutter shades definitely do that trick. Kanye is usually seen out and about in these unique shades, and we sell some just like it. Pick up these shades to look like Mr. West and of course, you'll need to deflect all the haters!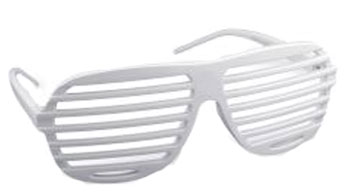 When Kanye has the microphone, something monumental usually happens. Pick up one of our glitter microphones to make sure you make something big happen this Halloween. Find a Taylor Swift look-a-like and snatch the microphone from her to make for a funny photo! One thing is for certain, your Kimye couples' costume will steal the spotlight from fellow partygoers this year!