Organizing a large group of people to do one thing can be hard. This can be especially difficult if you want to make a good impression at a dress-up party! Anyone can show up at a Halloween get-together in matching cut-up sheets and say they're ghosts, but it can take some serious brain-storming to come up with a group costume that's both creative and fun. If you want to arrive on Halloween in a group of costumes that no one has thought of before, you've come to the right place! Check out these ideas.
KIA COMMERCIAL Costumes
"How you like me now?" asks the Kia Sorento commercial that first aired at the 2010 Super Bowl. Well, if you like them a lot, you might as well gather some friends to mimic these toys. Their joyride looked pretty fun on TV, so here's hoping to an exciting Halloween party! If you have more than four people in your group, don't worry. There are plenty of toy costumes to pick from that would fit with the crew, even if they weren't in the commercial.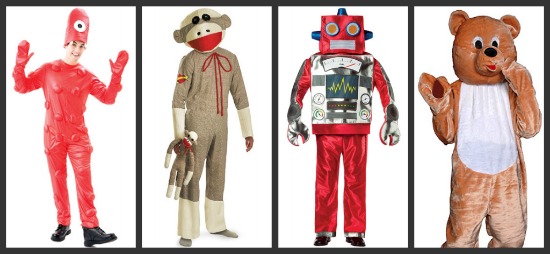 Sock Monkey Costumes
/
Robot Costumes
/
Teddy Bear Costumes
SESAME STREET Costumes
With a large enough group, you could hit the town as the whole crew from Sesame Street! Take over any party with your group of characters: Cookie Monster can steal all the treats, the Count can keep track of how many guests come and go, and Oscar the Grouch can sit in the corner, grumbling about how Halloween candy used to be so much better back in the day.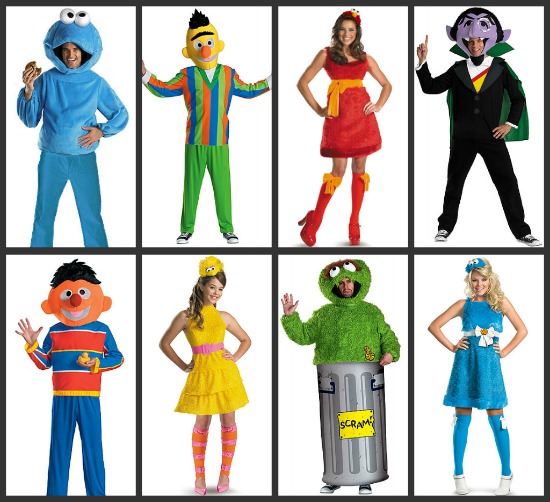 Men's Cookie Monster
/
Bert
/ Elmo / Ernie /
Big Bird
/
Oscar
/
Cookie Monster Costumes
BREAKFAST CEREAL Costumes
For those of you with a sweet tooth, as well as a hankering for cartoons in the morning, a breakfast cereal group theme just might be the perfect choice. Some accessory ideas include: a pitcher of milk, a spoon, and a toothbrush, for that inevitable cavity you'll get from chomping on Count Chocula daily.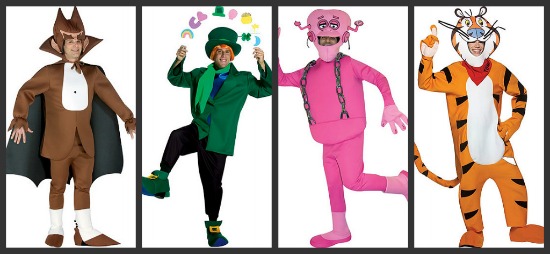 Count Chocula
/
Lucky Charms Leprechaun
/
Frankenberry
/
Tony the Tiger
FRAGGLE ROCK Costumes
Dance your cares away at the next Halloween party you go to. If you and your friends decide to go as the Fraggles, you'll be majorly popular among anyone who watched TV in the 80s. The Fraggles were silly and loved to dance and sing, so if you are ready for a wild party, this would definitely be a great choice.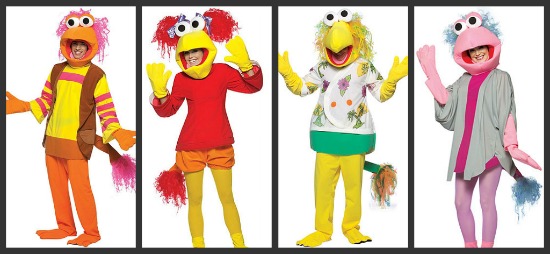 Gobo
/
Red
/
Wembely
/
Mokey
3 LITTLE PIGS & THE BIG BAD WOLF Costumes
Everyone knows the story of the three little pigs, so why not gather your group to dress up as this old story tale? Even though the three little pigs costumes look alike, they all have distinct personalities that can help you plan out your characters: the lazy straw-using pig, the pig that was a little smarter and used sticks, and finally, the know-it-all piggy that used bricks to build his house. Don't forget to pick your hungriest friend to play the wolf!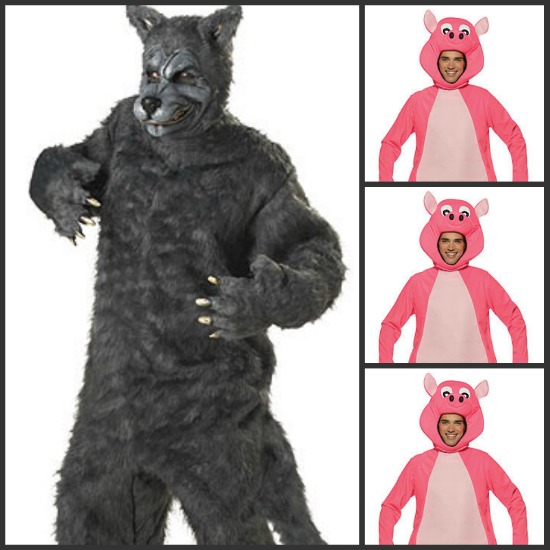 Little Pig
/
Big Bad Wolf
PAC MAN Costumes
Hopefully, the party you go to will have lots of fruit snacks for you to munch on as you make your way around. Dressed as Pac Man and his enemy ghosts, your group will be a hit with all the gamer-geeks at the party. Make sure to master the sound effects and don't forget to bring some power pellets so your Pac Man can turn on the ghosts for once. This creative group costume will fit best with arcade-fans and lovers of retro video games!

Pac Man
/
Inky
/
Blinky
/
Pinky
/
Clyde
GOLDILOCKS & THE 3 BEARS Costumes
What a perfect costume for a girl and her brothers! If you are looking to dress up with a group that's mostly boys, this is the choice for you. Or, if you're a family going out for the holidays, this could also be fun. After all, there is a mama, papa, and baby bear in the fairy tale. Search through our Goldilocks costumes to find which costumes work best for your group!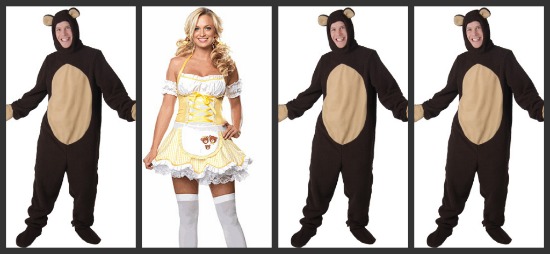 Goldilocks
/
Bear
SEX EDUCATION Costumes
Okay, so you're going to a grown-up Halloween party and really want your group to wear something creative, memorable, and will hopefully cause a scene. What is more exciting than a sex-ed themed group? If you have enough people, you can pretty much depict the whole story from when a boy and girl first meet all the way to a brand new baby! Line up at your next party and tell the tale – I'm sure no one will forget this.
One Night Stand
/
Double Occupancy
/
Halloweenie
/ Super Sperm /
Captain Condom
/
Condom
/
Doctor
/
Adult Baby
GORILLA Costumes
Everyone has a favorite animal. If you luck out (or at least compromise), your Halloween group will all share the same one! In this gorilla-themed costume group, you could wear a variety of monkey gear. You might also want to use some black eye makeup before putting on a gorilla mask to keep your skin from showing through. Make sure to keep the gorilla separate from the banana, though – that could get hairy.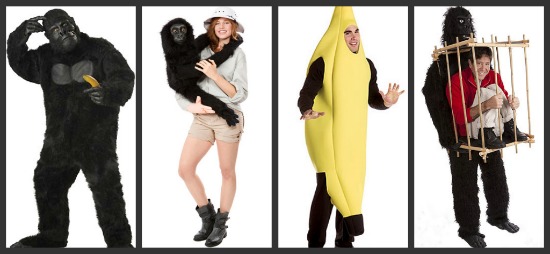 Gorilla
/
Baby Gorilla Arm Puppet
/
Banana
/
Man in Gorilla Cage
CANDY Costumes
I say that dressing as candy for Halloween could be viewed as a public service. Usually, you go trick-or-treating and no one knows what to give you! If you show up on a neighbor's doorstep wearing your absolute favorite treat – say peanut M&Ms or some Skittles – you'll save valuable time. You might as well coordinate it with all your friends, too. That way, at the end of the night, you can divide up what you all got and you can each have a share!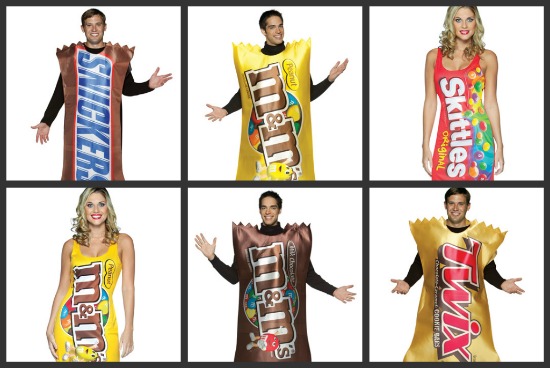 Snickers
/
Men's Peanut M&M
/
Skittles
/
Women's Peanut M&M
/
Plain M&M
/
Twix
CLASSIC JOKES Costumes
So a priest and a rabbi walk into a bar ... You've heard this, right? Dressed as this classic joke for Halloween will be a great way to get people to ask what you're supposed to be. As individuals, it's alright, but all three together? You can act out some great comedy. Be sure to pick up a joke book before you head out, though.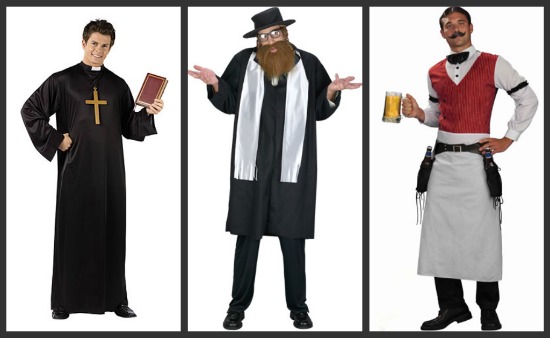 Priest
/
Rabbi
/
Bartender
KISS Costumes
Admittedly, going as a "rock star" isn't all that creative. But ... KISS is another story. Go all out this year and grab three of your girlfriends to form a sexier, more feminine, version of the classic power rock group. You'll be the queens of karaoke and, really, who would mess with four chicks dressed like that? Don't forget the makeup! White and black eye paint is sure to make your costumes sing! Creativity is what helped KISS rise to world fame.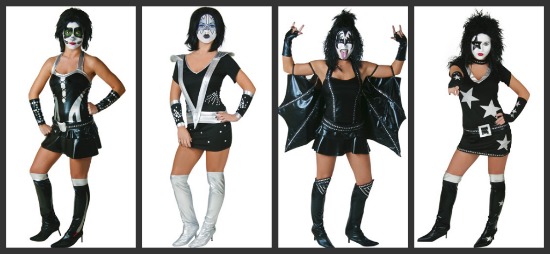 Catman
/
Spaceman
/
Demon
/
Starchild
FRUIT OF THE LOOM Costumes
Alright, alright – we've all seen the Fruit of the Loom commercials with the guys dressed as fruit, BUT – have you ever seen a group of people at a costume party dressed as the Fruit of the Loom guys? Me either. So start a trend and maybe even learn some of the songs from the ads while you're at it. Browse through some fruit costumes to find grapes, leaves and apples so you can be Fruit of the Loom fruit too!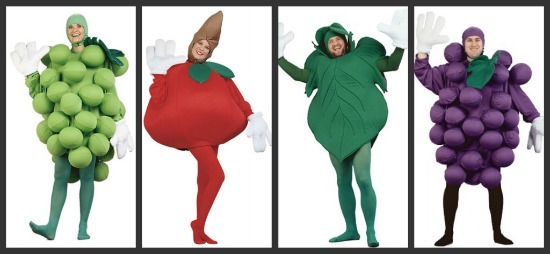 White Grapes
/
Apple
/
Fig Leaf
/
Purple Grapes
SATURDAY NIGHT LIVE Costumes
Saturday Night Live has had some memorable characters, which makes for some memorable group costumes. This theme would be fun to create by choosing your favorite recurring character. There are the Chippendale dancers, the Spartan cheerleaders, Lunch Lady, the Coneheads, the Ambiguously Gay Duo, and hundreds more. You could even find a school girl costume and go as Mary Catherine Gallagher.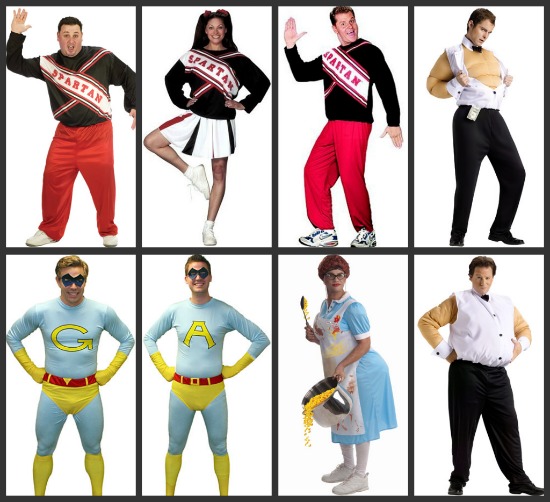 Plus Size Spartan
/
Girl Spartan
/
Men's Spartan
/
Sexy Chippendale
/
Fat Chippendale
/
Gary
/
Ace
/
Lunch Lady
EVIL DISNEY Costumes
If you're thinking of coordinating your group into something scary, but you still want to be sexy or seductive, why not go as a group of Disney villains? Princess costumes can be overplayed and the bad guy is always fun to be. Just think of the havoc you could wreak if you dressed as an evil queen or Cruella DeVille. Multiply that by the number of people in your Halloween group and you'll have a costume theme that will definitely stand out. Disney Villain costumes also present an opportunity to do some great Halloween eye makeup. Get ready to dust off those makeup pallet shades that you don't usually use! Find more Disney villain costumes on our site.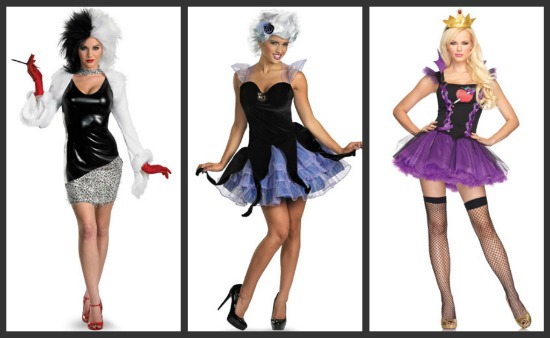 Cruella
/
Ursula
/
Snow White's Evil Queen
JOHNNY DEPP CHARACTERS costumes
It must be nice to have such a wide and recognizable range of roles on your resume that a group of people could dress entirely as you for Halloween. Johnny Depp has played so many crazy characters that a theme of just him would be sure to be a hit. Characters that we've included are Sweeney Todd, Jack Sparrow, The Mad Hatter, Edward Scissorhands, and Willy Wonka. There are even more, though, such as Ed Wood, Cry Baby, Hunter S. Thompson, and Ichabod Crane.

Sweeney Todd
/
Jack Sparrow
/
Mad Hatter
/
Edward Scissorhands
/
Willy Wonka
Header image from
6S
.