Wonder Woman is the most well known of all comic book heroines and what is even more well known is her iconic costumes. Created during WWII in 1941 by DC Comics, she was set against the Axis of Evil as her main foes. While the costume may have changed with the times and through comics, TV shows and more, the patriotic stars, red white and blue motif and gold headband are something that has stayed strong with her and her character for more than sixty years.

(source)

Her first comic book cover in 1942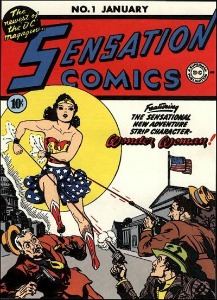 (source)

Wonder Woman's first appreciation on the cover of a comic book saw her iconic clothes in a much more modest tone. While the top was still low cut and had the griffin on it in red and gold (another staple of her outfit), her bottom was not shorts but a knee length star spangled skirt. She also donned a pair of knee red and white boots. A few months after her initial cover slot, they changed the skirt into a loose pair of shorts. Also, check out how ripped she is!
Wonder Woman Comics in the 1950s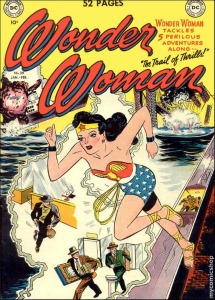 (source)

By the time the 1950s rolled around, she was becoming much more of the Wonder Woman we all know and love. She's ditched the lose shorts for a much more flattering pair and briefly traded in the boots for a pair of gold gladiator sandals. By the end of the decade her top was a bit more modest, her shorts we a little shorter and her sandals had become red, lace up flats.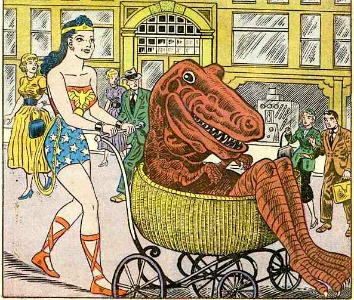 (source)

Wonder Woman in the 1960s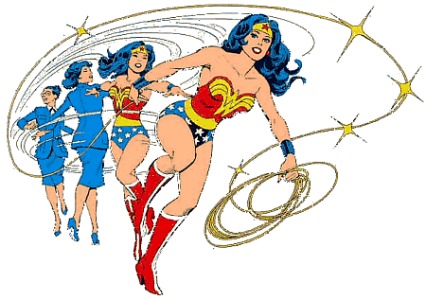 (source)

In the 1960s, she got a huge and short-lived revamp. DC took away her super powers and made her a martial arts expert. Not a huge success. In bringing her back to the basics (superpowers and such), gone were the tight hairstyles and modest shorts. Her hair was loose, her boots were back and the hot pants were in. They made her hip and relatable for a new generation of young girls to look up to her.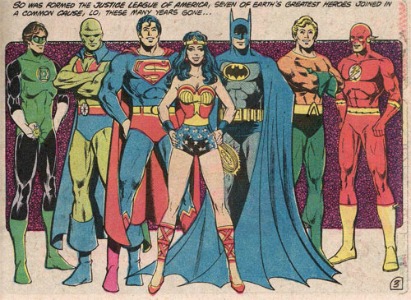 (source)
When it comes to animation Wonder Woman is known for being part of the classic league of superheroes: The Super Friends (AKA The Justice League). They first appeared in 1960 and in 1973 an incredibly successful cartoon was launched that ran until 1986.
Lynda Carter as Wonder Woman in the 1970s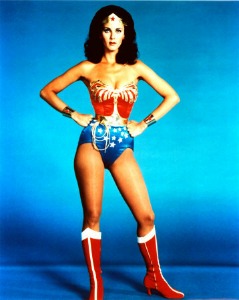 (source )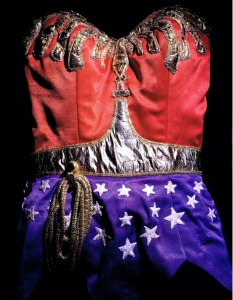 (source)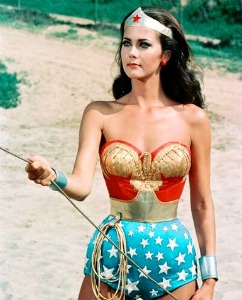 (source)

Probably the most iconic of all Wonder Woman's incarnations was when Lynda Carter brought her to life in the classic 1970s TV series. The costume was made out of a shiny material and some of the patterns were different. There were still stars on the shorts, but they were not completely spangled. In addition, the pattern on the top changed to something that looked more palm tree. Still, she looked awesome and rocked it out as no one else could. At some point during the series, they changed her back to the classic look - stars all over her shots, a griffin on her chest and an incredibly nipped in waist. Lynda's character also introduced the iconic gold wristbands.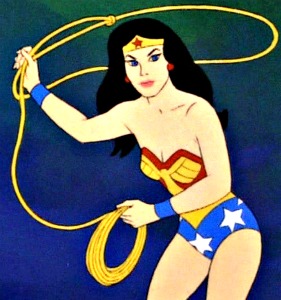 (source)
In the animated series, her outfit was very fitting for the time - classic Wonder Woman style with a 70's twist. They brought back her gladiator sandals and gave her a wicked 70's hairstyle along with some incredible cheekbones.
Wonder Woman in the 1980s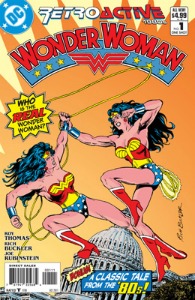 (source)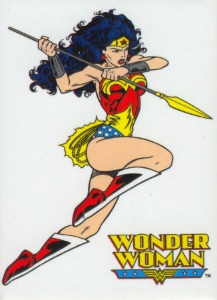 (source)

The 1980s made our girl bigger and tougher than ever. They kept the costume pretty much the same but they did beef her back up a bit and this decade was the first time the legendary "W" logo appeared on her chest. They gave her bigger hair, cut down her top to match with the style of the decade, and traded in her simple white belt for a gold one that matched her headband.
Present day Wonder Woman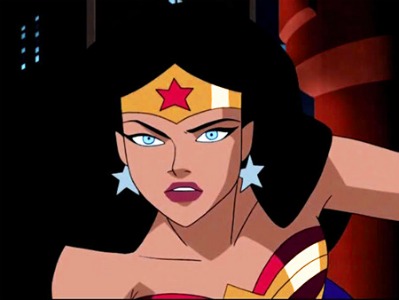 (source)
In the early 2000s, The Justice League was brought back to TV for a short stint and I have to say, she looked fierce. They stuck to her iconic costume but gave it a nice sheen and gave her silver star earrings.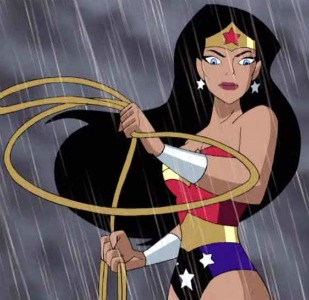 (source)
She also still had those amazing cheekbones!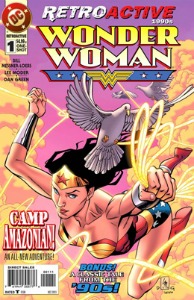 (source)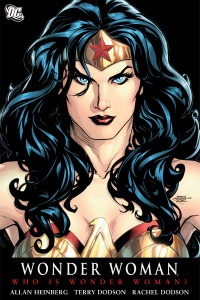 (source)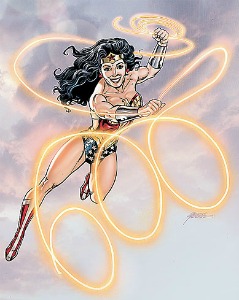 (source)
Through the past 20 years, DC Comics has gone about aiming Wonder Woman to a new generation of comic book buyers. Much more mature and maybe a bit darker. They've made her both stronger and sexier while combining elements of her past outfits and looks into one, beautiful piece of art.
In 2009, Warner Brothers created a straight-to-DVD movie simply titled "Wonder Woman".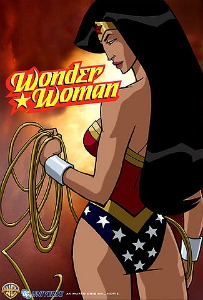 (source)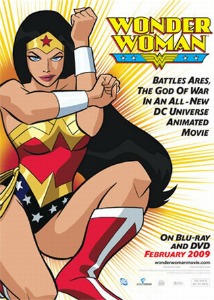 (source)
While her costume was the same, they did sex her up quite a bit. The shorts seemed shorter and her...boobs seemed bigger. Still, she looked amazing as ever.

In 2011, a television pilot was launched and her outfit was completely revamped into something that many fans (including myself) were just not cool with.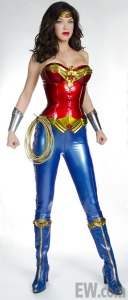 (source)

While the top was pretty much the same, it was the bottom - the blue, shiny long pants, which really threw us for a loop. It just didn't seem right. Thankfully, nothing came of this pilot and we get to keep the immortal image of our favorite comic book crime-fighting feminist the way she was made.
Check out all of the Wonder Woman costumes we have to offer here!
Maribeth Curley is a comic book nerd and staff writer for HalloweenCostumes.com.