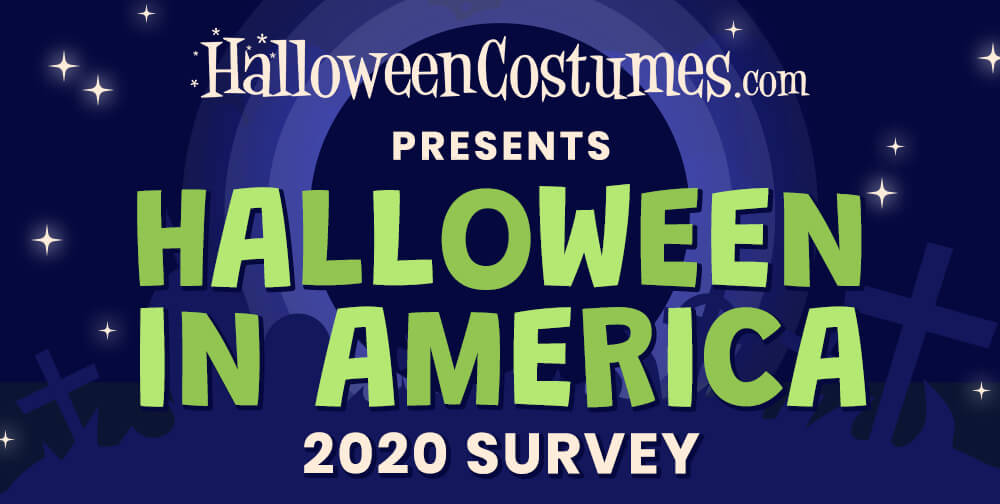 Halloween is almost here and most of us are planning how we'll celebrate safely. That means giving out candy, wearing appropriate costumes, and decorating our homes. We know this because we asked more than 1,500 U.S. adults in our annual Halloween in America Survey. Read on to find out what Americans think about Halloween as we move into October 2020!
Click on Image for Larger View

Embed This Image on Your Site:
2020 Halloween Survey Findings
At what age should kids be allowed to trick-or-treat without a parent or guardian?
7-8: 5.19%
9-10: 8.70%
11-12: 28.70%
13-14: 30.86%
15+: 26.55%
At what age are people too old to trick-or-treat?
11 and older: 2.44%
13 and older: 8.62%
15 and older: 24.29%
17 and older: 27.95%
No age limit: 36.69%
Are there enough age-appropriate costumes for girls?
Yes: 30.75%
No: 28.86%
I'm not sure: 40.39%
Are there enough plus-size costume options?
Yes: 15.54%
No: 34.27%
I'm not sure: 50.19%
Will you dress your pet in a costume?
Yes: 23.49%
No: 40.49%
I'm not sure: 13.63%
I don't have a pet: 22.39%
Will you spend more or less on Halloween this year than last year?
More: 7.86%
The same: 33.65%
Less: 34.17%
I'm not sure: 24.31%
Will COVID-19 affect how you celebrate Halloween this year?
Yes: 39.85%
No: 28.50%
I'm not sure: 31.65%
Will you or your family wear protective face masks this Halloween?
Yes: 44.29%
Yes, but under a Halloween mask: 9.19%
No: 19.96%
I'm not sure: 26.57%
How are you planning on celebrating Halloween this year? Choose all that apply.
Giving candy to trick-or-treaters: 36.70%
Putting out self-serve candy: 19.18%
Going to a trunk or treat event: 12.58%
Attending/hosting an in-person party: 12.44%
Attending/hosting an online/remote party: 5.36%
Decorating and celebrating at home: 42.32%
Working: 0.17%
14.71% of respondents said they would not celebrate Halloween in 2020; this data does not figure into the results above.
Methodology: The study was conducted for HalloweenCostumes.com through Google Surveys. The survey interviewed 1505 U.S. adults between the ages of 18 and 54 on September 8th through 10th, 2020.
We're glad that so many people are planning on celebrating Halloween safely in 2020! Of course we're looking forward to it as well. Halloween falls on a Saturday this year, and Daylight Savings Time will still be in effect, which means an extra hour of celebrating. We'll also have a full Hunter's Moon in the sky; and since it's the second full Moon of the month, that means it'll be a Blue Moon as well. It really will be a "once in a Blue Moon" Halloween, because that combination of events won't happen again for 152 years!
How do you feel about the results? What are you thinking about Halloween this year? And do you have any questions we should ask in 2021? Let us know in the comments! You might be interested in reading our 2019 Halloween in America Survey results, too. We repeated several questions and the changes from 2019 to 2020 were interesting!
If you're still planning how to celebrate Halloween in 2020, you're not alone. We put together a How to Halloween 2020 guide with tips and tricks for safe trick-or-treating, decorating pumpkins, and more! Be sure to take a look!