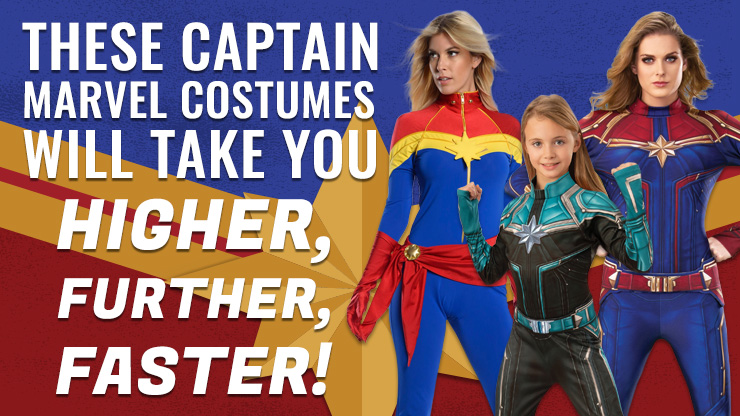 Captain Marvel was Marvel's newest superhero to star in a solo movie. If you're looking for girl power costumes, you won't be disappointed when picking a Captain Marvel Halloween costume. (Screen Rant puts her at #2 in a list of the most powerful Marvel superheroes!) She comes from a military background, has a helmet built to show off her mohawk and she can shoot photon blasts from her hands. Did we mention that Captain Marvel can also fly in space? Anyone interested in being the coolest new superhero on the block can find a Captain Marvel costume to suit their preferences.
Captain Marvel Costumes for Women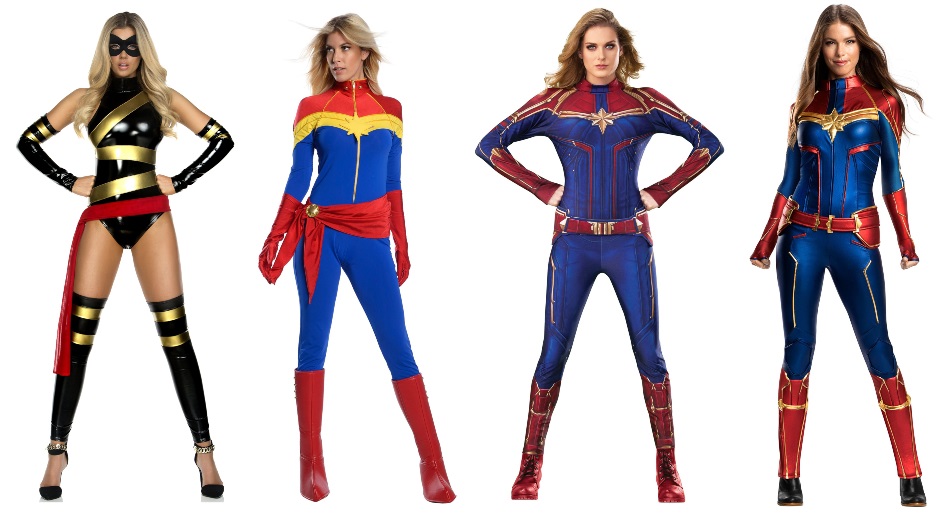 While Captain Marvel's most popular costumes are newer than some of the other more established superheroes, she actually appeared as a character in the comics in the late 60s. These Captain Marvel suits are only three of her superhero outfits, but it wasn't until 1978 that her iconic black and gold Ms. Marvel costume was created. However, Captain Marvel's most well-received costume comes from the reboot of the comic in 2012. If you're more of a fan of the film than the comic books, you can still find a Marvel movie Captain Marvel costume.
Captain Marvel Costumes for Girls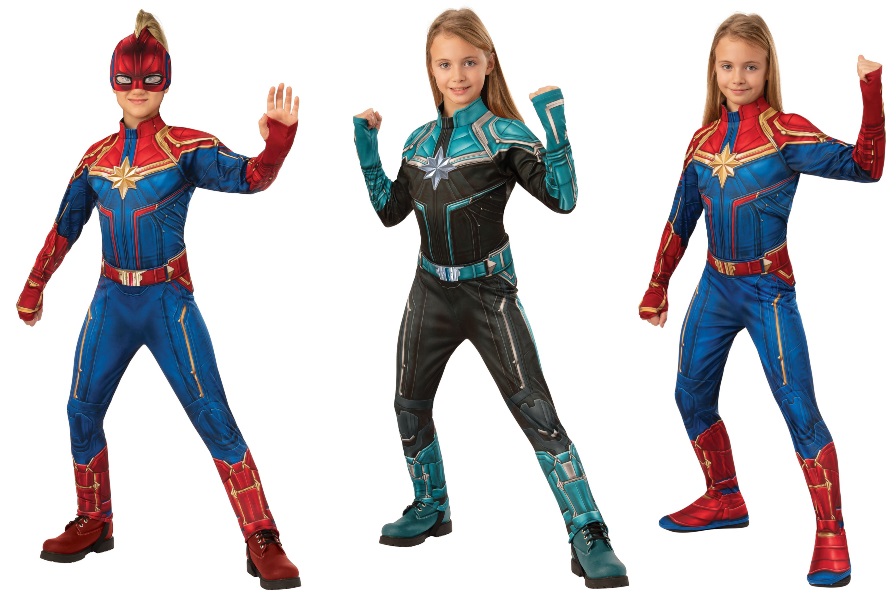 Most girls are too young to have known or read the Captain Marvel comics—unless you as their nerdy parent made sure they had an introduction to superhero comics—but you can still get a variety of movie Captain Marvel suits for kids. The girls' classic Captain Marvel costume has boot tops built into the jumpsuit, while the deluxe versions have stirrups meant to hold the pant legs in place over shoes or boots. These Captain Marvel suits also all come with belts and optional mohawk helmets. Your little girl will feel powerful while she's posing to do her photon blasts!
Captain Marvel Accessories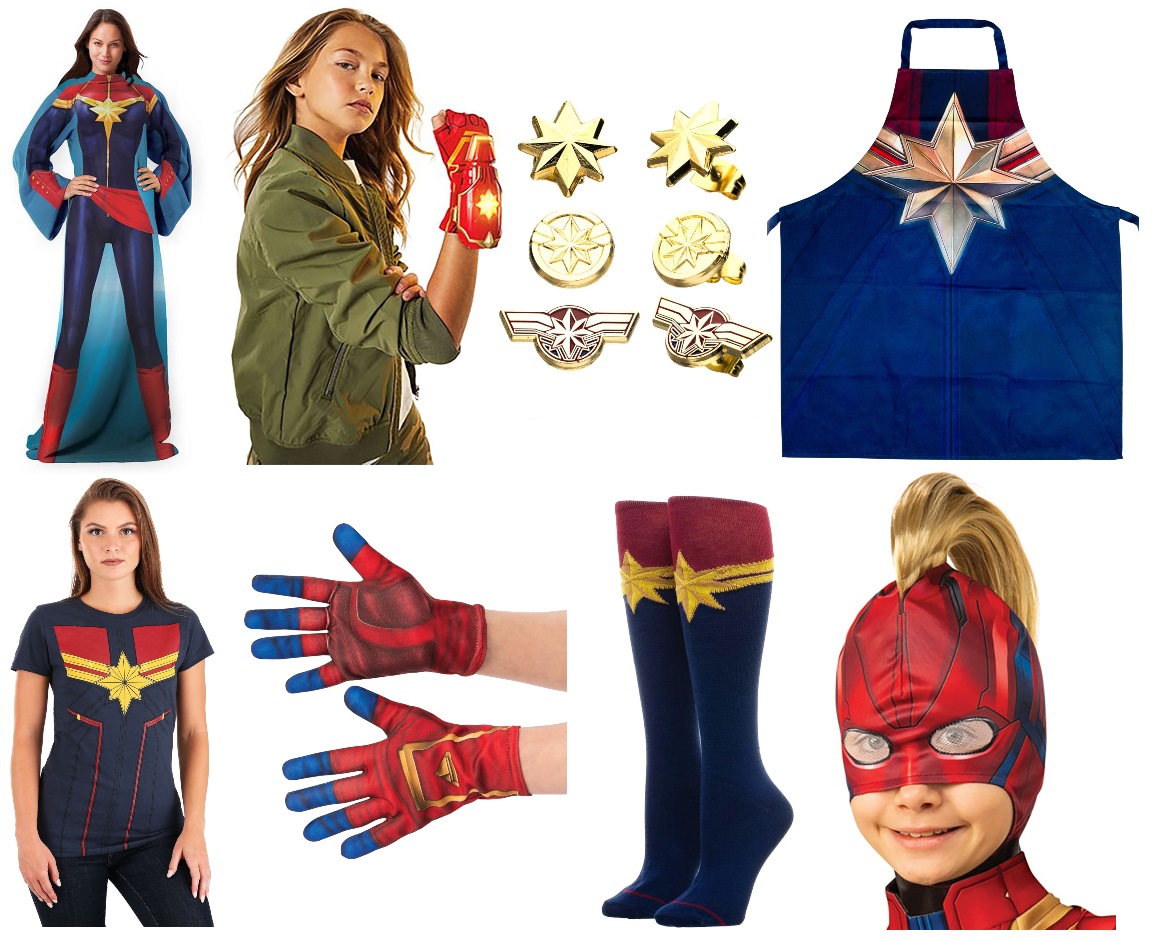 Whether you want to add some finishing touches to your Captain Marvel Halloween costume or you want to wear a casual cosplay, it never hurts to have some costume accessories on hand. Full gloves or a premium mask can add the extra touch that your costume needs. If you're looking for a simple costume for work or you enjoy wearing geek chic apparel, items like a Captain Marvel tee, socks and earrings may be just what you're looking for! Perhaps Captain Marvel is your new favorite superhero or you just like her style, and you want to wear it around the house. The Captain Marvel snuggie and apron are some great options that will keep you snug and splatter-free!
We hope you found the perfect Captain Marvel Halloween costume! Are you a fan of one of Captain Marvel's original costumes? Do you prefer the more practical Captain Marvel movie costume? Do you have the perfect cat to be Goose or Chewie? (If you do and you wear one of these costumes, make sure to take plenty of pictures!) These costumes may not immediately bestow you with cosmic superpowers, but we hope they make you feel higher, further, faster, baby.