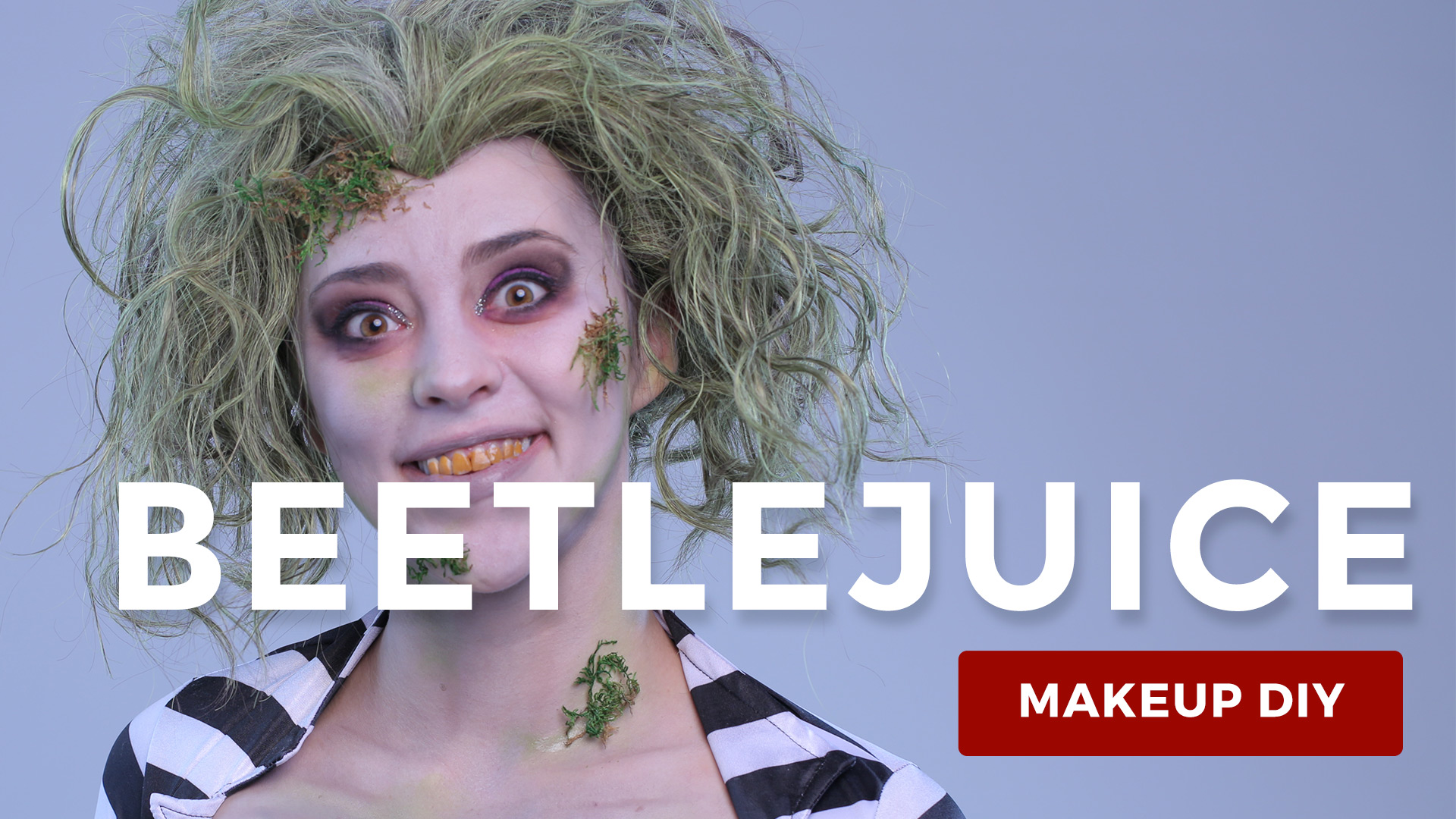 Beetlejuice. Beetlejuice! BEETLEJUICE! Just say the name three times and he will appear, ready to scare you and gross you out as well. Tim Burton's 1988 classic starring Michael Keaton as the ghost with the most himself, Beetlejuice sure burned an image into many minds. Those who were older at the time probably got a good laugh from all the ridiculous sight gags featured in the movie while kids were probably terrified out of their minds. Over the past 30 years, Beetlejuice has had quite a cult following and remained popular enough to warrant a sequel as well as a musical adaptation.
Even though the movie is 30 years old, Beetlejuice remains a popular Halloween costume for obvious reasons, of course. If you want to be everyone's favorite ghost-for-hire this Halloween, you're going to need the costume and, more importantly, the makeup. Check out our video below on how to get the right look to make you appear dead and gross, just like Beetlejuice. You'll have to figure out how to pull off other antics like making your head spin on your own.
Beetljuice Makeup Tutorial Video
It's showtime!
Beetlejuice Costumes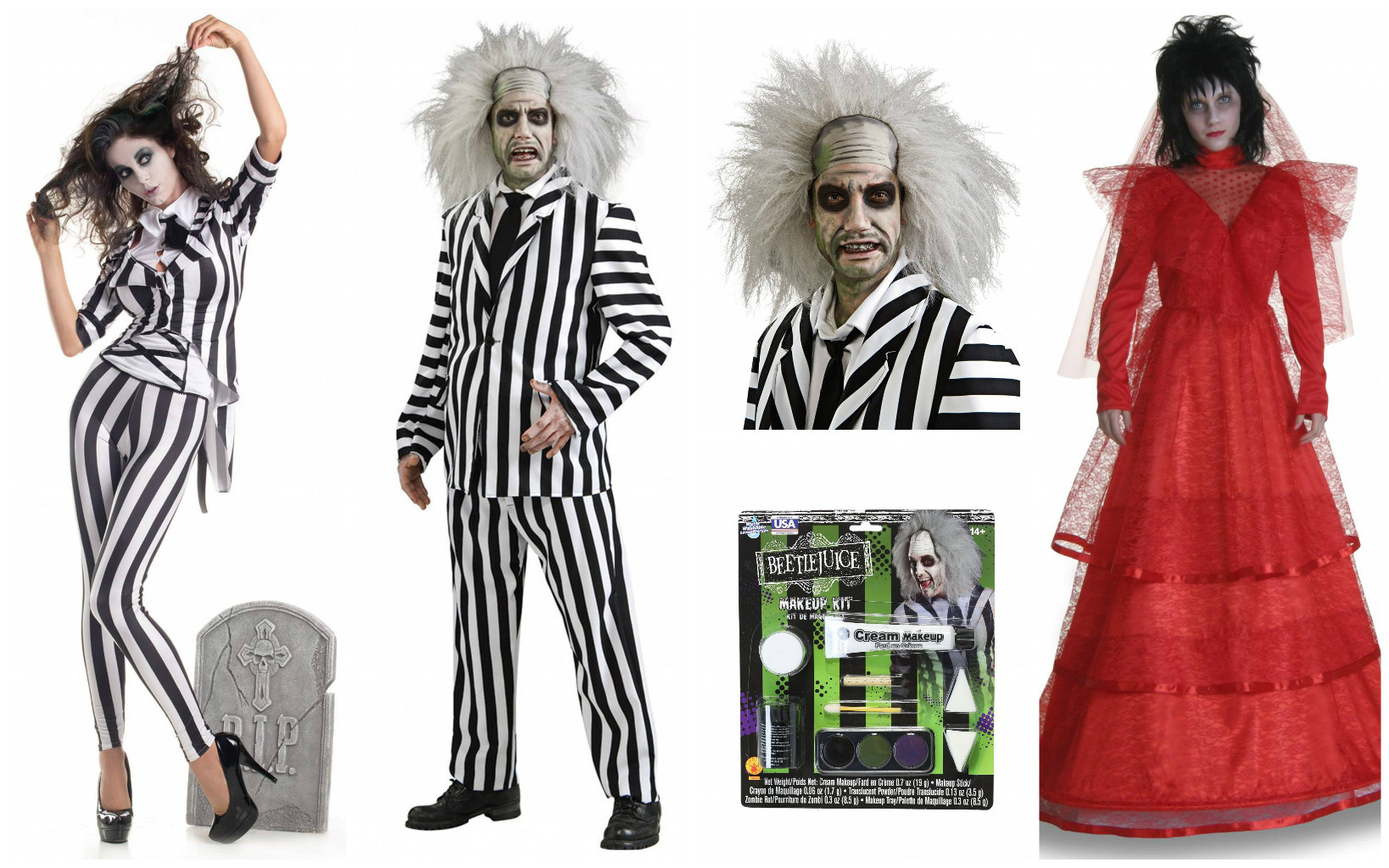 Left to right: Women's Beetlejuice Costume, Deluxe Beetejuice Costume, Beetlejuice Wig, Deluxe Beetlejuice Makeup Kit, Lydia Dress
Once you have the makeup down, you're going to need the costume to complete the look. You can find his classic black-and-white striped Beetlejuice costume for men, women, kids, or even dogs! To get an authentic, fresh from the graveyard look, you might want to get your suit dirty or maybe even use some fake moss as suggested in the video. After all, Beetlejuice certainly isn't a model for cleanliness. If you're looking for a great couples costume idea, find someone to dress as Lydia!
The finished Look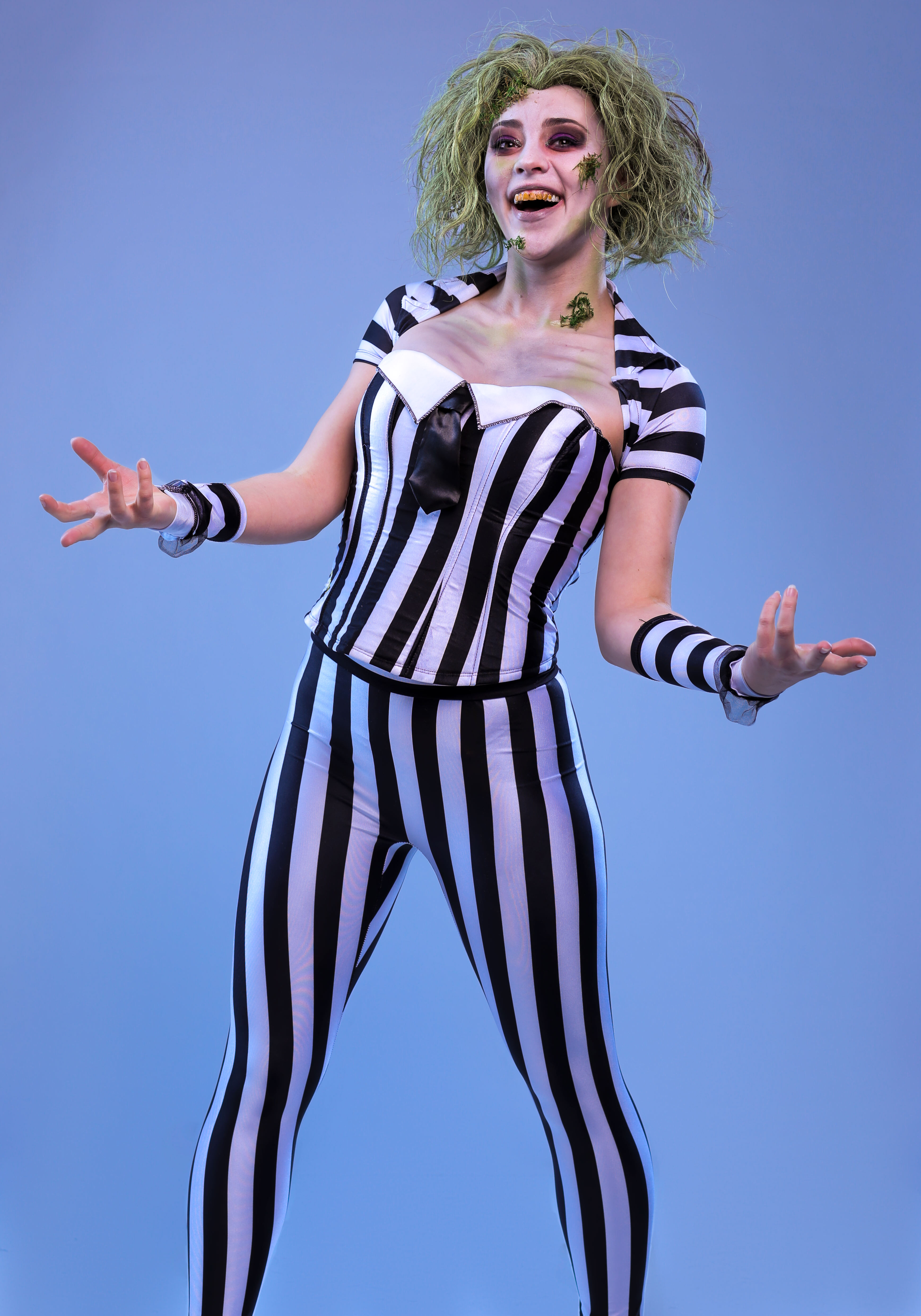 Guaranteed to put some life in your afterlife
Do you think you have what it takes to be Beetlejuice for Halloween? Being that this year marks the 30th anniversary of the movie, it makes for a perfect Halloween costume idea. If you've got your Beetlejuice costume picked out, we suggest you watch Beetlejuice at least a couple times in order to get the mannerisms down. However, we'd recommend watching it any time along with any other Tim Burton movies. We're such huge fans of his that we created content from coloring pages and infographics featuring his movies. If you want to dress to depress, this makeup effect would work with many other scary Halloween costumes as well.