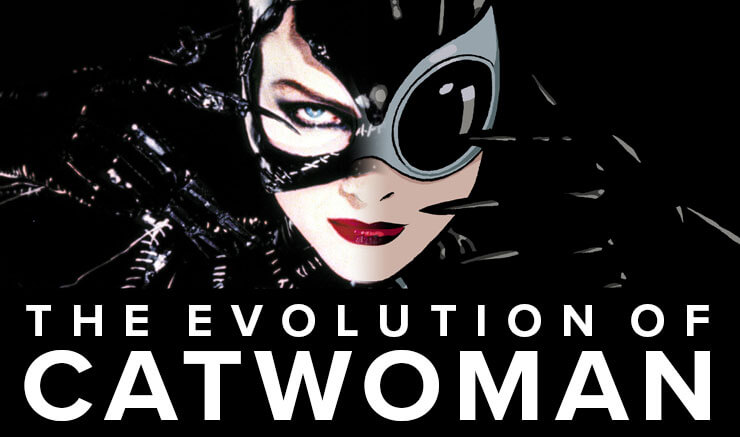 Catwoman made her comic book debut 77 years ago in Batman #1 and has since been one of the Caped Crusader's greatest villains while also being a love interest of Bruce Wayne. Despite the fact that they're both on opposite sides of the law, there has always been an attraction between Batman and Catwoman. He even proposed to her recently! Throughout her early years, she was known as "The Cat" or "Cat-Woman" before being consistently referred to as Catwoman.
The feline villain also went through many costumes with varying styles and colors. It wasn't until the Post-Crisis era of the late 80s when she first donned the jumpsuit that is so common with her look over the past 30 years. One of the more memorable appearances of Catwoman came 25 years ago in Tim Burton's Batman Returns. Michelle Pfieffer's performance in the role was downright scary. From the haunting transformation into a supervillain to the sewn-together black latex suit (complete with claws), this Catwoman was a far cry from her first appearance in 1940. Take a look at all of the main appearances of Catwoman over the years in our infographic below!
Click image for larger view

Embed This Image On Your Site:
77 Years
The Evolution of Catwoman Transcript
1940-2017
Few comic book characters have changed as much as Catwoman. In her first appearance in Batman #1—written by Bill Finger and drawn by Bob Kane—she was nearly unrecognizable as the character we know today. We've compiled a visual history of every notable Catwoman costume in the comics (not including alternate universes), as well as in wider culture.
1940 The Golden Age
The costumed villain we'd come to know as Catwoman was originally known as The Cat, nefarious mistress of disguise. From the very beginning, writer Bill Finger established an attraction between The Cat and The Batman that could never be reciprocated, due to being on different sides of the law.
1940 The Golden Age II
The Cat went full-on supervillain in her third appearance (Batman #3), adding a cape and cat head mask to her usual dress, now colored orange. The captions couldn't seem to decide whether to call her The Cat or The Cat Woman, or The Cat-Woman, rotating between all three throughout the story.
1942 The Golden Age III
In her fourth appearance (Batman #10) she was The Cat-Woman, and in her fifth (Batman #15) it was finally spelled The Catwoman. However, now they couldn't decide what color her costume should be. The evil-marching-band motif was the first outfit to last more than two issues (it lasted for three).
1946 The Golden Age IV
Catwoman's seventh appearance (Batman #35) replaced the cat-head with a cat-ear cowl similar to Batman's. Oddly, her hair was colored yellow despite clearly having been drawn black. This costume also showed up in the Sunday strip that month, but with a different color scheme.
1946 The Golden Age V
The same month Batman #35 hit the stands, Winslow Mortimer drew up a different cowled costume in Detective Comics #112, in which a seamstress dressed as Catwoman for a costume contest. Two months later, the real Catwoman wore it over in the Sunday strip, sans the midriff opening and chest strap.
1947 The Golden Age VI
Bob Kane's take on the Mortimer dress was green and purple, with a shorter skirt, gloved fingers, and thinner lapels. Although each artist had their own take on it, Catwoman stuck with this costume until 1954, the year the Comics Code Authority was founded. She wasn't seen again for a full decade.
1966 TV Show
Pat Barto's design owed more to Emma Peel than to the comics finally putting Catwoman in a catsuit. It was actress Julie Newmar's idea to move the belt from the waist to the hips. Lee Meriwether filled in for Newmar for the movie, when a mask was added. Eartha Kitt took over for the third season.
1966 The Silver Age
Catwoman was largely replaced by the more heroic Batwoman during the '50s, including a will-they-won't-they relationship with Batman. When Catwoman disappeared, reprints of old Catwoman stories appeared. She returned in Superman's Girl Friend Lois Lane #70, wearing a catsuit version of her last-seen costume.
1967 The Silver Age II
The popularity of Catwoman likely played a part in her return to comics. Soon she was being drawn in the TV catsuit, but strangely colored green, perhaps because Batgirl was already wearing black and gold. Artists had trouble rendering the sparkly texture of the fabric, which ended up looking like scales.
1968/1977 Filmation
Filmation's The Batman/Superman Hour based its Catwoman on the comics version, which in turn was based on the TV version. When the Filmation series returned a decade later as The New Adventures Of Batman, she was given a completely new design not rooted in anything that had come before.
1969 The Silver Age III
After the TV show was cancelled, Catwoman was quickly given a new costume. Designed by series writer Frank Robbins, it appeared to be a throwback to '40s comic heroine Black Cat's costume, with a few alterations, most noticeably taller gloves, a high collar, boot buckles, tights, and a tail.
1975 The Bronze Age
The Mortimer dress returned in Batman #266, now with calf-high boots. But once again, each artist has their own take on it. Sometimes it had no belt. Sometimes the cape attached where the choker would be. Sometimes the dress had two splits, sometimes just one that switched sides at random.
1987 Post-Crisis
Frank Miller and David Mazzucchelli rebooted continuity in Batman: Year One. In their take, Catwoman's first costume was a gray catsuit and cowl with larger ears, whiskers, and a tail, giving her a distinctly cat-like silhouette. In later stories taking place in present-day, the costume became purple.
1992 Batman Returns
The stitches were a major challenge for Bob Ringwood and Mary Vogt, because latex can't be stitched—any holes would just tear—so Ringwood and Mary Vogt had to sculpt the stitches and glue them on. The constant shine was achieved by brushing liquid silicon onto Michelle Pfeiffer's costume between takes.
1992/1997 The Animated Series
The studio wanted the costume to look like the movie, but Bruce Timm wasn't sure it would work in animation. He compromised by adding black gloves and boots to a gray catsuit, plus a belt inspired by the TV show to look less "naked." Later he felt more confident and redesigned it all-black.
1993 Post-Crisis II
A spike in Catwoman's popularity due to the movie led to an ongoing series, and with it a new costume. Jim Balent's design was similar to Timm's but in purple, with taller boots and hair out the back. When doing The Long Halloween, Tim Sale mixed it with the Year One look, and Balent later adopted it.
2000 Post-Crisis III
After taking over for Balent, Staz Johnson was asked to design a new outfit. Editorial wanted to get away from typical comic costumes, and the story called for something practical she could assemble from pre-made elements. The idea of using make-up as a mask was inspired by Pris from Blade Runner.
2002 The Modern Age
Writer Ed Brubaker and his wife suggested an Emma Peel catsuit with and aviator helmet and goggles. Artist Darwin Cooke drew up cat-eye goggles and added chunky boots, a whip belt, and a zipper ring, lamenting "the minute I left everyone started pulling her zipper down to her belly button."
2004 Solo Movie
Angus Strathie wanted to use a cutting-edge fabric like previous live action Catwomen had worn—the TV show used Lurex and Batman Returns used latex—opting to mix leather pieces with a brand new silicone fabric. The costume was designed in collaboration with Halle Berry, the director, and the producers.
2004 The Batman
After 2004, most mass-media variations on Catwoman were heavily inspired by Cooke's costume, and Jeff Matsuda's design for The Batman cartoon was no exception. Matsuda added larger ears, anime-esque claws, a hood, and a whip that doubled as a tail when tied around her waist like a belt.
2012 The Dark Knight Rises
Instead of an existing cutting-edge fabric, Lindy Hemming created a fictional fabric by embossing a pattern on spandex and coating it in polyurethane. The high-tech goggles worn by Anne Hathaway formed cat ears when in the up position, and the catsuit was actually two pieces separated by a utility belt.
Sources: Amazing World of DC Comics #4, AnOtherMag.com, AVClub.com, Batman: A Celebration Of The Classic TV Series, Comics.org, CinemaReview.com, ClothesOnFilm.com, Collider.com, Modern Masters: Bruce Timm, Smithsonian.com
Special Thanks: Ed Brubaker, Staz Johnson, Jeff Matsuda
Which Catwoman costume is your favorite? Do you like the black suits or would you rather they bring back the slew of colors from the 40s and 50s? Leave us a comment and let us know! If you're a fan of Catwoman and/or Batman, why not revisit Batman Returns in honor of the film's anniversary. You can even dress up in a Catwoman costume for the re-watch!
Design Credit: Kate Willaert