There's more than one way to dress like a vampire for Halloween. You're probably familiar with the classic Dracula look, and modern vampire movies have taken a more appealing approach to these classic horror movie monsters. But how would you tackle scary vampire makeup for a more Nosferatu-like vampire? Or perhaps Kurt Barlow from Salem's Lot? We'll show you some techniques to make your own scary vampire makeup.
Scary Vampire Makeup Tutorial - Nosferatu
Looking good for a century old!
Scary Vampire Makeup Tutorial Transcript
Welcome to HalloweenCostumes.com! Today, we will be completing the Nosferatu makeup tutorial. Start by placing the bald cap on your head, and trace out where the ears are. Remove the bald cap and cut out the ear holes that you just drew. Replace the cap, and reposition it the best you can. Tuck under any hair, and start gluing with the spirit gum. If you don't have any spirit gum, you can use eyelash glue. Brush the spirit gum close to the edge of the bald cap, and press the cap against the skin for a few seconds until set. Apply a thin layer of liquid latex where the bald cap and skin meet. This will help blend the visible edge of the cap.
Next, put on your prosthetic ears, and tack down any edges with spirit gum. Now, it's time to get painting! Using a white or off-white face paint, cover the entire face, ears, and bald cap. I used an off-white color. Don't forget to blend down the neck! Set with a translucent setting powder so the face paint isn't sticky. This will also help it wear longer.
You can use a bright white face paint and apply an extra layer to the highest points of the face, including the forehead, nose, cheekbones, and chin. This will help create those sharp edges. Once it's blended in, use a highlighting powder over the top. Using a contour color or cool brown eyeshadow, chisel out the hollows of the cheeks, and bring them down to the front of the jaw for that gaunt look. Using the same color, contour the edges of the nose, and fill in the eyelids and the under-eyes, and a little on the mouth. Using a darker brown or black shadow, follow your eyebrow's natural shape and draw hair-like strokes. With that same color, connect the front of the eyebrow to the nose contour, and blend both lines into one another.
Clean up any mistakes with a little bit more white face paint or setting powder. Using a darker brown shadow, fill in the crease of the eyelids, under the eyes, and lips, and even add a bit more to the contour for dimension. You can create a fake eye bag using this dark shadow, and by drawing on an extra crease under the eye.
Put on your favorite shade of black, and you're ready to rule the night!
Nosferatu Makeup Supplies
There are a few things that you'll need in order to look like a scary vampire! (We're not doing the sexy vampire thing here.) Get a bald cap, either separately or as part of a kit that includes spirit gum. If you don't have spirit gum, you'll need to get some separately. You'll want makeup wedges or brushes, off-white or white face paint, setting powder, and large ears to complete the look. It's also good to have colors for shading, either cream-based as part of a makeup wheel or eyeshadow colors if you have them at home. There's always the option to add vampire fangs, too!
Scary Vampire Costumes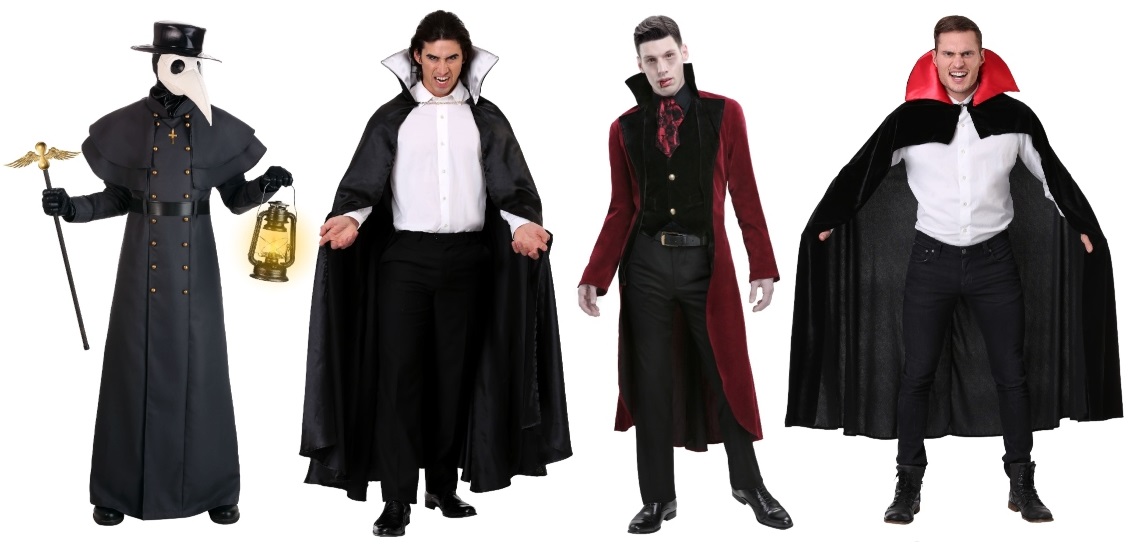 Now while there may not be an official Nosferatu costume, you can find some scary vampire costumes. (Or something that's vampire-adjacent, like the coat from the plague doctor costume. It's giving Count Orlock.) You're welcome to try your hand at a DIY vampire costume if that's in your wheelhouse, or you can assemble a scary vampire costume with a few costumes and accessories. Even a vampire cloak with your own black clothes underneath can be a good solution when crafting a scary vampire costume!
Are you ready to become a creature of the night? Who is your favorite vampire? Do you prefer your vampires scary or a little sexy? We'd love to hear from you in the comments! Also, let us know if there are other vampires or Halloween monsters you'd like to see as makeup tutorials. Happy haunting!