Cinderella Costumes
1 - 60 of 74
---
Cinderella was one of Disney's most successful and most beloved feature films. The American Film Institute chose it as the ninth best animated movie ever. It tells the classic fairy tale story of the young girl who dreams of marrying the Prince. Her circumstances are grim, but she remains kind and good-natured. Ultimately, she triumphs with a bit of help from her fairy godmother and a pair of friendly mice.
Even if you think you have nothing left to believe in, one of our Cinderella costumes just might restore your faith. They come in sizes from infant through women's plus, and we have a range of accessories such as wigs, tiaras and even "glass" slippers to complete your enchanting look. We also have Prince Charming costumes, in men's standard and plus sizes.
So, let your heart make wishes. Your dreams just might come true!

Cinderella Costumes
How to Be Cinderella
Ideas, Tips & Tricks
All of us at one time or another (no matter our age) has daydreamed of being royalty. Very few of us will ever see that dream come true, but that's exactly what costumes and make believe are for! You really can be a princess for a day when you go in one of our many Cinderella costumes. No Fairy Godmother needed. But before you enter into your "happily ever after" in your Cinderella costume, you've got a few things to learn. There's royal protocol and etiquette—the curtsey and the wave, for instance—you'll have to learn both to really sell the transformation. Sure, you can just hang out with your friends, singing or showing off the glass slipper that let your true love find you, but add in some elegance and you'll make that memory all the more memorable. Not to mention the whole Prince situation! Yes, it's a bit of an adjustment, but our suggestions below will give you a great start on your new fairytale role.
How to Pose for Pictures in Your Cinderella Costume
Cinderella Poses
You'll look amazing in your Cinderella gown when you learn a few poses that mimic your character. Because putting on a costume is only the first step to your royal transformation. You have to learn all the tricks of the trade to really prove you're a princess. Don't worry, none of them are terribly hard, and with a little effort we promise all those paparazzi photos are going to be absolutely gorgeous.
"Curtsey"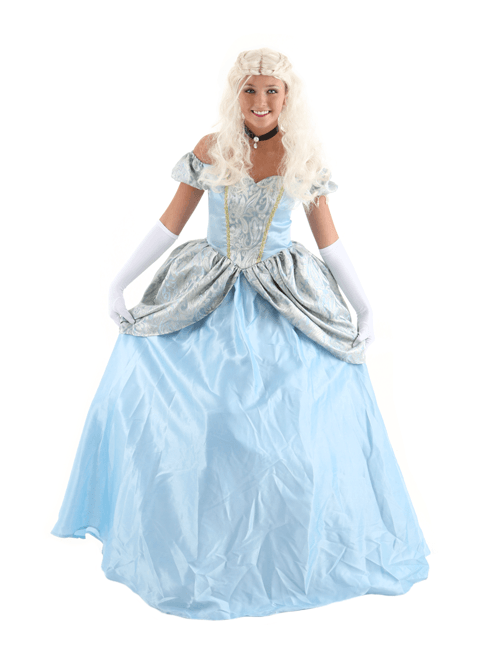 The first step is certainly the curtsey. It's a staple of the princess meet and greet (which happens a lot). For the perfect curtsey, keep your back straight, hold your skirt out to the sides and do a half-knee-bend while placing one foot behind the other. Ta-da! You've just completed your first curtsey, and now that you're a princess it won't be your last.
"Singing"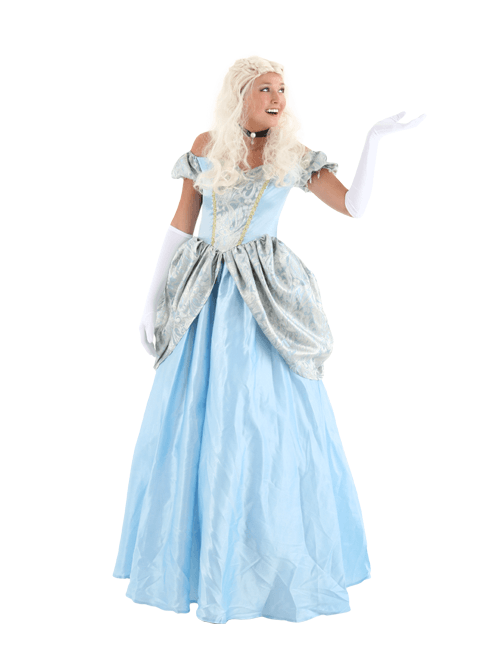 Cinderella often sang while she worked, and all her friends—mostly mice and birds—loved it when she did, often singing along with her. While you may not want to belt out your best rendition of Once Upon a Dream just any old time, we think the singing pose looks great in photos. Lift your hand and pose as if you're calling out to your beloved prince with a beautiful song.
"Wave"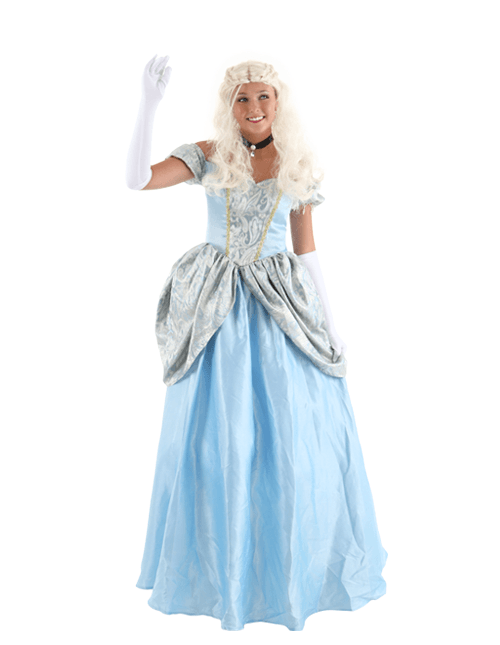 The royal wave is gentle and dignified, just as a member of royalty should be at all times. To do it properly, raise your arm so your forearm is upright, and then rotate your wrist back and forth as if you're screwing in an imaginary light bulb. There you go! Now you just have to do that for hours and hours as your adoring fans cheer and shout.
"Show Off Your Shoes"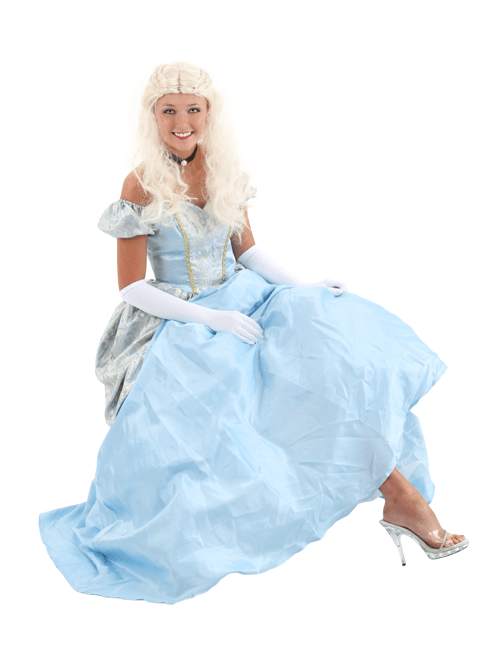 Finally, in the classic fairy tale the glass slipper was the token that allowed Prince Charming to find you, so of course you'll want to show it off! It's iconic. It will be easily seen while dancing and twirling, but if you want to have a seat and show it off, do so by gently lifting your dress from your elevated feet and show your admirers the beautiful and storied glass slippers.
Couples Costumes to Pair with Cinderella
Cinderella Couples
The story of Cinderella reaches its peak when she finally meets Prince Charming at the castle ball. They instantly fall in love, but Cinderella is not what she seems, and she must run off before the stroke of midnight before she is revealed to be a peasant girl. The prince is not dismayed and seeks her out with his only souvenir from that night: a glass slipper. The two meet once again, the slipper fits, and they are married; it's a wonderful fairytale about becoming who you're meant to be, no matter your humble beginnings. While Cinderella is a great costume for anyone, it also makes a fantastic couples idea when you find your very own Prince Charming to go along with you.
Elite Prince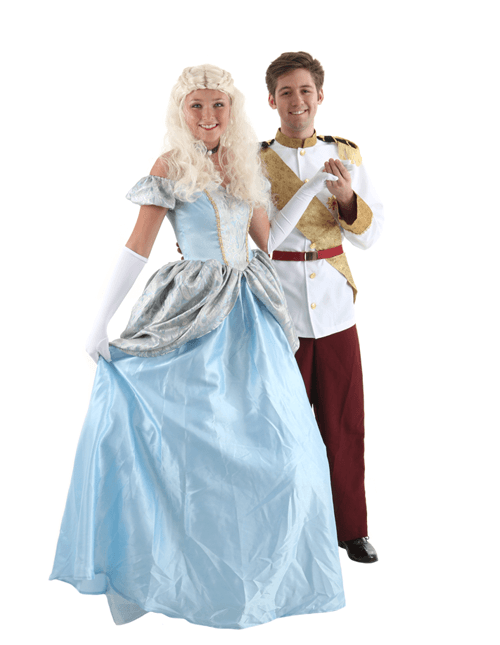 You went to the ball, met the Prince, danced with him and fell in love. Now it's time for the "happily ever after!" Consider the Prince Charming costume if your prince is introducing you to his parents and to the kingdom as his bride-to-be. He's wearing his everyday white uniform. You're holding on to his arm for dear life, because you're maybe a bit overwhelmed! But don't worry, this is a fairytale after all and that means everything will turn out just fine.
Prince Charming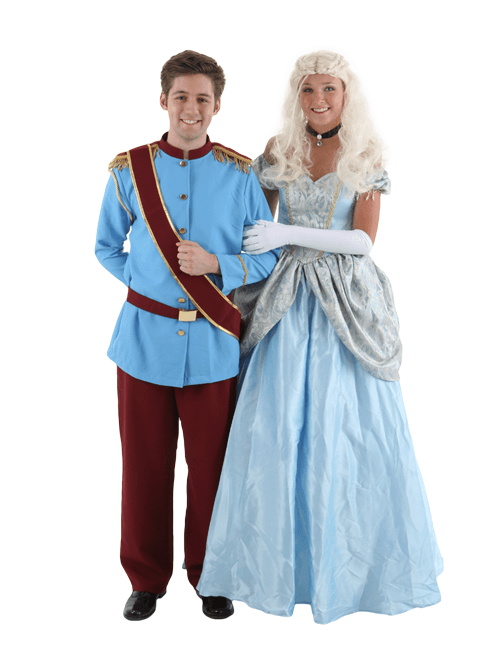 The Elite Prince Charming costume could be for your dreamed-of wedding day! Your prince is decked out in his formal dress uniform for the occasion. You've had time to get used to the idea of becoming a princess, so you're ready to step out into your own spotlight. He will accompany you in an elegant sky blue uniform, fit for a prince and a future king. Together you will make a fitting memory for your entire kingdom; worthy of song, paintings, and tapestries.
How to Talk Like Cinderella
Learn Her Best Lines
Cinderella tried to speak her mind, but because of her status in Lady Tremaine's household, she couldn't truly speak freely. Only through singing could she express her heart's true feelings. If you want to sing some of the classic songs from the Disney film, that would be a wonderful way to get into character, but if singing isn't quite your thing, these few quotes from the film will help show everyone who you are inside and out—a dreamer, a wisher, and a princess.