Scream Halloween Costumes
Spoiler alert: the horror movie monsters don't stay dead.
It's a major contradiction. But scary movies are all about resurrections, especially slashers. Sure, there are decent explanations to this phenomenon. Freddy Krueger is a nightmare demon. Michael Myers is cursed. Soggy Jason Vorhees has demonic powers. And Chucky is a mass-produced doll possessed by the soul of a madman. But that means "magic" is involved and there can only be one of each character, scary movie costumes aside.
Then there's Ghost Face. Ghost Face is just a person (or two) in a costume! That means no otherworldly connection is needed for endless returns of this newer iconic character. In-universe and in real life, all you need for a convincing Ghost Face appearance is a little horror movie knowledge and the right gear. Shop the cloak and mask in our Scream costume collection, practice croaking everyone's favorite Scream quote, and keep Ghost Face alive through cosplay!
Ghost Face Costumes
It's guaranteed droves of horror movie monsters will be out on Halloween. You'll see no shortage of Pennywise or Dracula. But even more prominent is Ghost Face. Both trick-or-treaters and costume partiers turn to Ghost Face for a spooky fun, easy, and recognizable costume option. So, finding what you need for the look should be easy. And you're right! But before you pick the adult or kid costume needed, let's take a closer look at our available Scream Halloween costumes.
Adult Ghost Face Costumes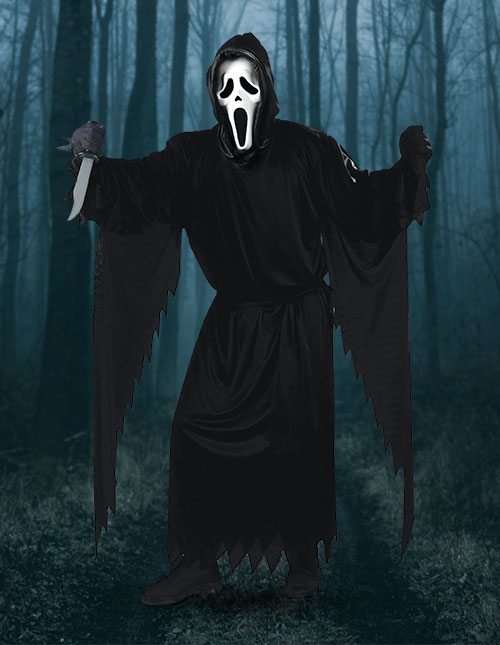 Standard issue Ghost Face is a long black cloak and ghostly white mask. That's the rule. And it's what's made the character so iconic in a relatively short period of time. To slay the look in one swift move, we recommend this exclusive adult Ghost Face costume set. It comes with the essentials plus a couple of props to really solidify your Halloween portrayal.
Of course, icon or not, it can be a ton of fun to turn heads with a surprise twist. And our selection can help! Shop Ghost Face costumes that come with colored masks or gruesome distorted detailing for something a little scarier. Or explore our makeup kits to design an adult Scream costume that's more expressive than ever!
Kids Ghost Face Costumes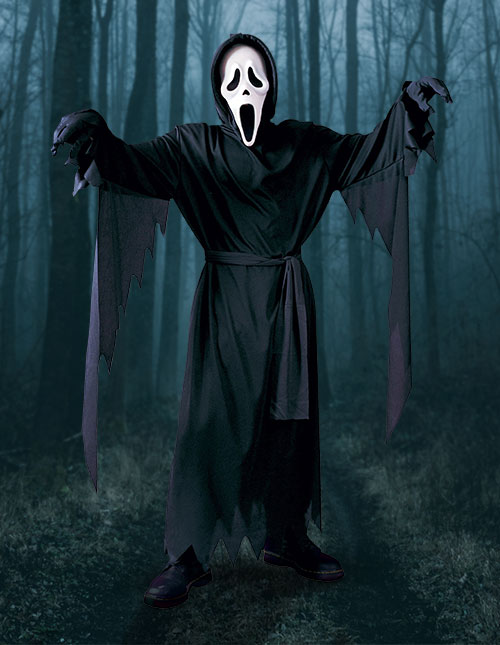 We've asked why kids like dressing in scary costumes. Their answer was simple. They want to scare their family, friends, and neighbors. While clown costumes, classic monsters, and even devils are great choices, the simplicity of throwing a hood over their face and shouting boo from behind a mask is even better.
Children's Ghost Face costumes precisely allow that. And since it's a well-known costume, kids feel encouraged to put on extra entertaining performances! Bring the experience together quickly with our exclusive Ghost Face kid's costume. Or raise the fear factor with a bleeding Ghost Face Scream costume that really slays the spooky costume game!