Hippie Costume Ideas
Hey man, are you all about keeping the mood as mellow as possible? Do others often describe you as, "one groovy cat?" Can you usually be found preaching the importance of peace and love? If so, then you are stuck in the wrong decade, my friend! You need to become one with your inner flower child, connect with our Hippie Halloween costumes, and experience what it's like to be a part of this historical decade. Are you looking forward to doing the Hustle on the dance floor while wearing a shiny 70s costume or are you browsing for a righteous pair of bell bottoms? If you want to look totally out of sight for your party, then you've come to the right place! We have the perfect threads for men, women, teens, and children so the whole family can know what it feels like to be far-out. All you have to do is tie your platform shoes and throw up your peace sign to be the most righteous dude or dudette in the room.
How to Dress Like a Hippie
To truly transform into a hippie, you need more than just a chill vibe and a mellow demeanor. You're also going to need some boss duds. Our hippie costume ideas will give you the inspiration you need to transform into Jimi Hendrix or Janis Joplin. You'll have a total gas outfitting yourself in belled sleeves, peace sign necklaces, and rose colored sun glasses. The tie-dye prints and floral patterned frocks will instantly make you feel happy because it's impossible to be in a bad mood when you're wearing sparkles and a funky afro wig. We've compiled a list of some of our favorite men and women hippie costumes, so take a peek and pick out the one that's makes you feel like boogying on the dance floor all night long!
Men's Woodstock Costume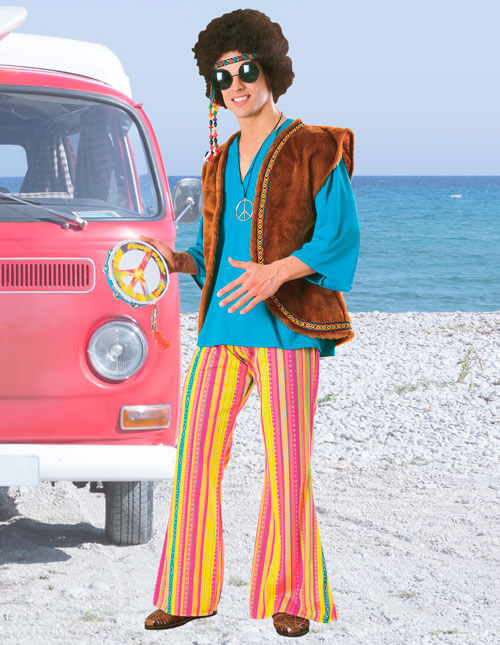 Whether you want to look like you're performing on the stage or blend in with the peaceful audience seated on a grassy hill, this men's Woodstock costume is exactly what you need hanging in your closet. The bell bottomed elastic waistband pants have the signature flare that was all the rage back in the 60s. Not to mention, the wild pastel prints will make them the key component to your hippie costume. Throw on the blue v-neck shirt with attached faux fur vest and you'll start to feel all kinds of happening vibes. We recommend pairing a men's afro wig, colorful headband, and a groovy tambourine so you can really channel a melodic vibe that screams, "I'm on after The Grateful Dead."
Women's Flower Child Costume
Are you the kind of girl who enjoys spending her summer hopping from music festival to music festival? If so, then you were most likely a hippie chick in your past life. Get in touch with your former identity by wearing our trendy women's flower child costume. This costume not only captures the essence of the 60s but it's also a very contemporary look too. First, put on the flowy white tunic with billowing bell sleeves, secondly, drape the long fringe vest over your shoulders for that carefree boho-chic look. Lastly, add the included daisy headband to act as a floral crown. Pick up a pair of brown sandals to complete this hippie girl costume. Everyone will wonder whether you've emerged from a time machine or you're on your way to Coachella!
Hippie Dude Costume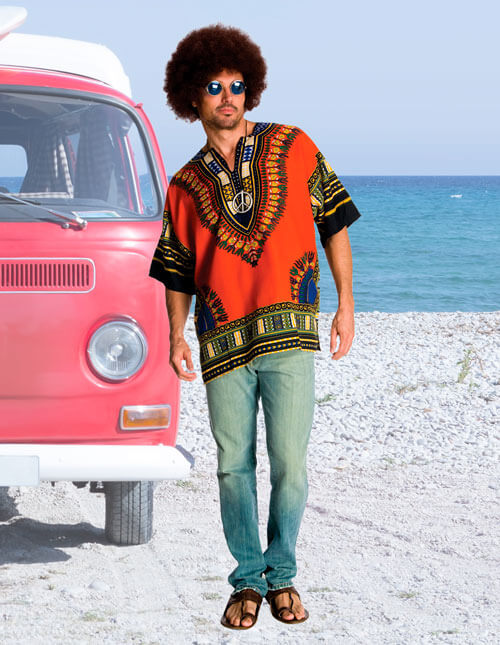 Calling all baby boomers... it's time to relive your glory years; way before the emergence of smartphones or the internet! You'll be brought back to your teenage years, (you know, when your only form of excitement was rolling around in your buddy's VW Bus), once you are wearing this hippie dude costume. Put on the glasses and the peace medallion and you're ready to get out there and start urging people to, "give peace a chance." Don't forget to also pick up a pair of men's moccasins to achieve a style that reflects what people wore during the Summer of Love. Make sure to pose next to a lava lamp or a tie-dyed tapestry!
Women's Hippie Girl Costume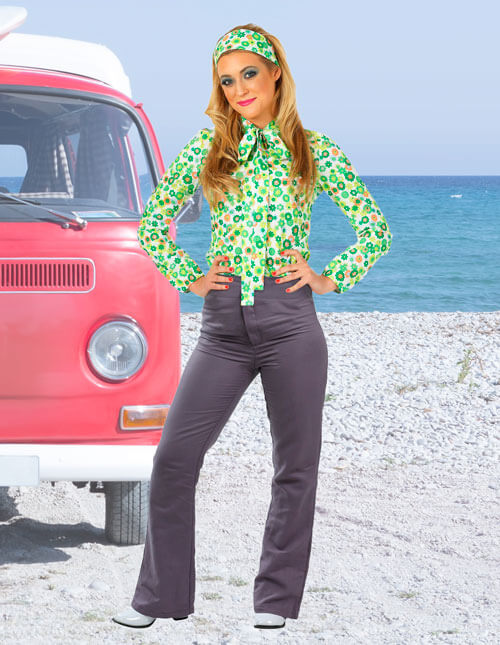 You don't have to tell us about your lifelong dream to be a member of the Brady Bunch! We've always wanted to have our smiling face in a moving square on the TV screen too, that's why we already know that you'll love with this hippie girl costume. You'll look like a trendy new Carol Brady when you don the green flower print button up, twill elastic waistband bell bottoms, and matching stretchy headband. If you really want to transform into the cheery sitcom super-mom then you'll need to add this iconic 70s blonde housewife wig. You'll instantly get Carol's rather uhh, interesting and old-fashioned haircut without making an appointment with your stylist.
60s & 70s Outfits
Of course, there's a bunch of legendary people who emerged during the sixties and seventies. If you want to spend the upcoming Halloween honoring a past role model then you need to check out some of these 70s costumes that we've listed here. All of these costumes depict influential figures or specific trends from the era. So dig out your old favorite records from the basement to use for inspiration then put on the 60s outfit that you picked out. Don't be surprised if you're asked to put on a performance during the decade party. Grab your guitar and start warming up! Just in case...
Adult Jimi Hendrix Costume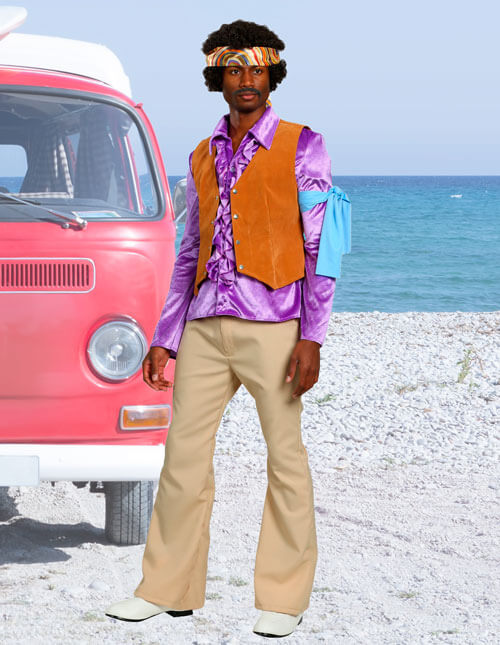 If serenading the 'foxy lady' in your life while simultaneously playing a radical riff on your Fender Stratocaster isn't enough to woo her, then you need to get this costume! Once she sees you dressed as the "Purple Haze" crooner, she'll have no other choice than to cave into your charm. Our adult Jimi Hendrix costume will give you a bona fide vintage look that will make you the evening's showstopper. You'll receive the shirt, vest, pants, bandana, and arm band which is everything you need to transform into the rock and roll legacy. Button up the purple velour shirt then top it off with the tan faux suede vest to instantly feel like a rock star. You can add a Jimi Hendrix wig to this look so you can also sport his signature coif. Get your hands on a wah-wah pedal and you'll really have it all!
Iconic Fab Four Costume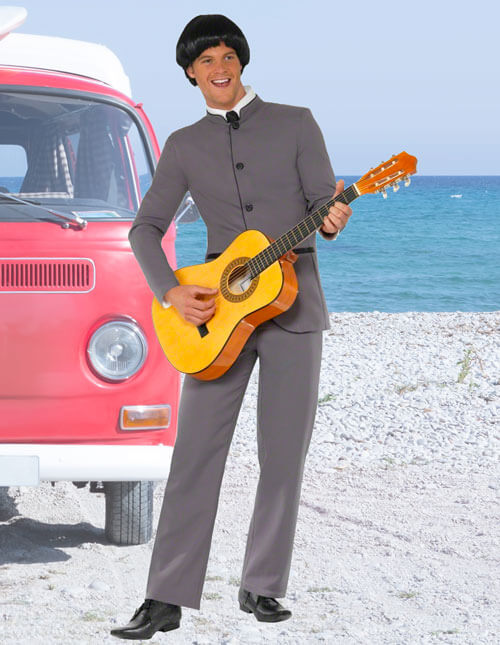 You'll look like a famous British band member who just touched down in American to give the performance of a lifetime when you wear this iconic fab four costume. Everyone will take one look at your outfit and recall the time when they watched a legendary band play their hearts out on the Ed Sullivan Show. You'll receive the gray jacket, which features a high neckline and black buttons down the front. The matching gray pants have an elastic waist and faux pockets at the waist. Pick up the 60s mod brown men's wig and you'll have the same look that made girls weak in the knees back in 1964. Yes, it may be true that all you need is love, but owning this costume definitely makes life a lot more enjoyable!
Women's Carnaby Cutie Costume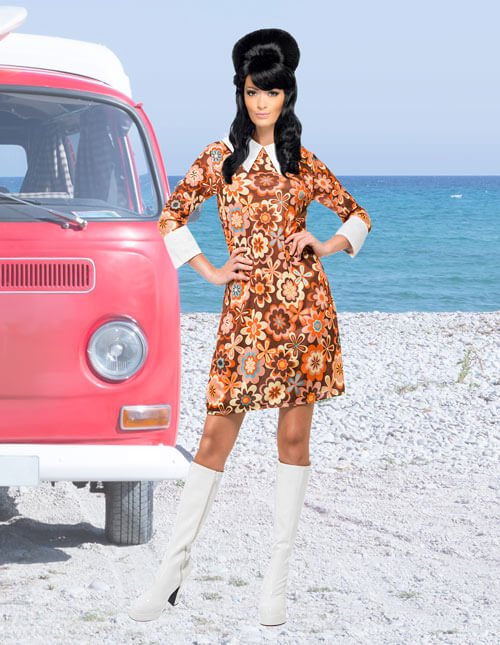 You'll look like a member of a Mod pop group when you don a costume that emphasizes the carefree culture and fun fashion of the 1960s. You'll appear to be going on a shopping trip to score some chic apparel once you're fully clad in this unique women's Carnaby cutie costume. Whether you were lucky enough to take a trip to the infamous street back in the day or it's on your bucket list, you'll love this stylish hippie dress. The retro floral print dress features white cuffs and a turn down collar Add our Brigitte Bouffant wig to get a coordinating hairstyle without having to use gallons of hairspray!
Adult Red Dashiki Skirt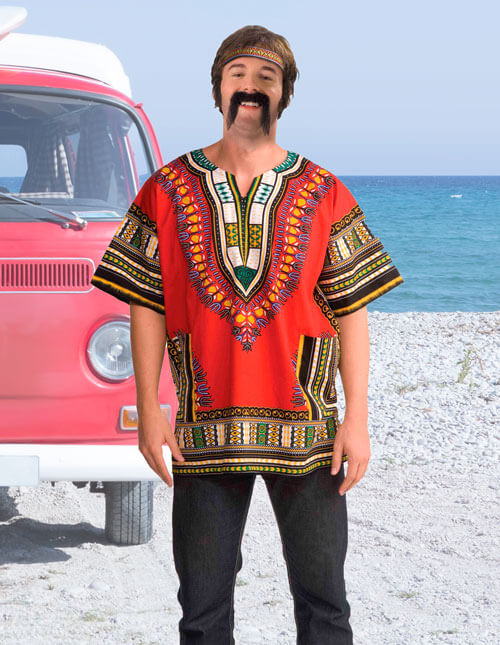 Promoting peace, love, and equality among men became prevalent in the 60's and the world became a better place. Thanks, all you former hippies out there! You'll look like one of the past advocates of acceptance and respect when you wear this red dashiki shirt. Spreading good vibes in your colorful tribal-patterned tunic will be a breeze. Just pick up a braided headband and a faux mustache to achieve this cultural look. We have a feeling that before the night is over, you'll have a group of people seated in a circle singing "Kumbaya, my Lord."
Retro Hippie Costume Makeup Tutorial
Now it's time to make your face look as groovy as your costume. First, you want to coat your eyelids with a light blue eyeshadow, then take the darker blue shadow and place it around the outer corners of your eyes. Next, take a black liquid liner and outline your upper and lower lashline then top it off with a coat of mascara to highlight your eyes. Take the bronzer and contour your face by accenting the edges of your face. Get your pink blush and apply a thin dusting to the apples of your cheeks. Remember, you can never be sporting too many flowers when you're dressed as a hippie! Grab your colored eyeliners and draw some small flowers by the corner of one of your eyes; make sure to use the white liner to draw the petals. Finally, glaze your lips with a pretty pink lipstick to give your whole look a cheery glow!