Easter Bunny Suits
Are you looking to make this Easter a 'hoppy' one? Paint eggs, go on a hunt, and devour some chocolate all while looking like Peter Cottontail. He is the best dressed bunny around and we can help make you look exactly like the radiant rabbit. No matter what type of bunny budget you are on, we have a costume that's perfect for you. Whether you are willing to drop a lot of dough or just some, we have a bevy of bunny costumes that'll have you looking 'egg-cellent.'
Economy: Adult White Bunny Costume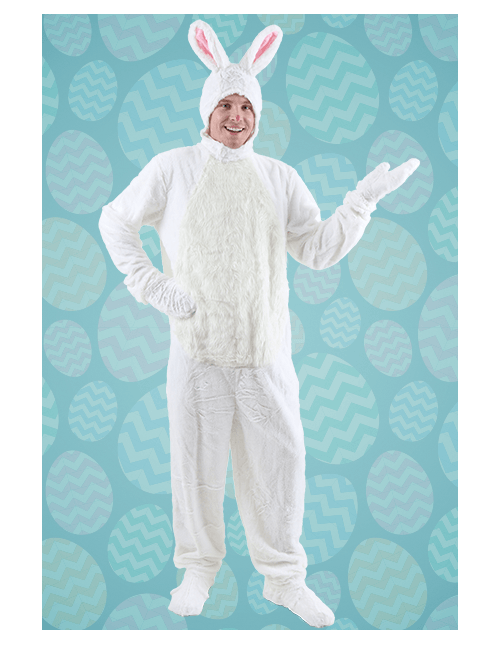 This Adult White Bunny Costume will surely tickle your whiskers. It's our economy bunny costume so you won't have to fork over a lot of carrots in order to look cute. It has a super fluffy chest and the headpiece will let you stuff your face with as many chocolate eggs as you want! The interior of the rabbit ears are pink so they will look perfect with your pink nose.
Deluxe: Adult Deluxe Bunny Costume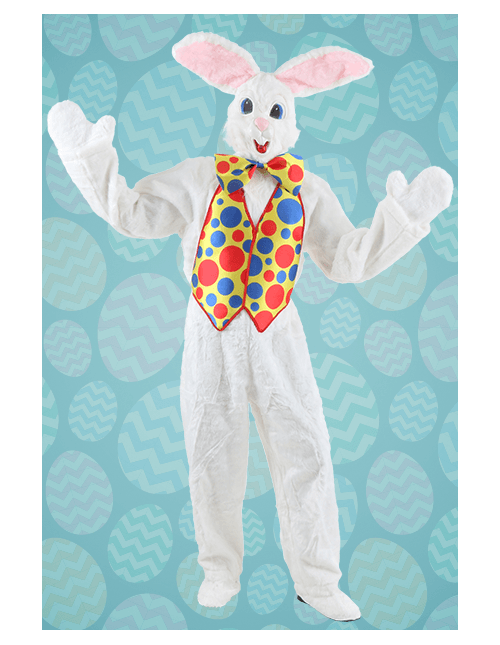 Question: Is there anything cuter than a bunny with a polka dot bow tie? Answer: A bunny with a polka dot bow tie AND a matching vest. This Adult Deluxe Bunny costume definitely takes the cake...carrot cake that is!
Mascot: Easter Bunny Mascot Costume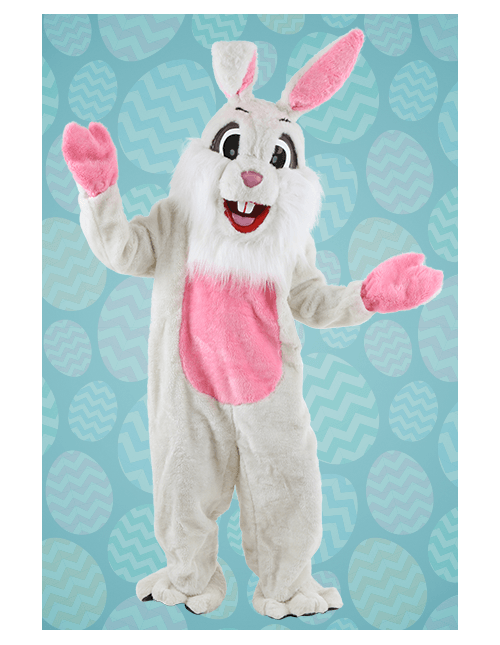 If you are in need of a 'hare-raising' costume this Easter Bunny Mascot costume will certainly do the trick. Judging by the giant smile on his face, this bunny is in a perpetual state of 'hopp-iness.' This costume is perfect for photo opportunities. Sit the little ones on this bunny's lap and start snapping pictures so one day you can look back and say, 'that was an awesome Easter.'
Premium: Mascot Easter Bunny Costume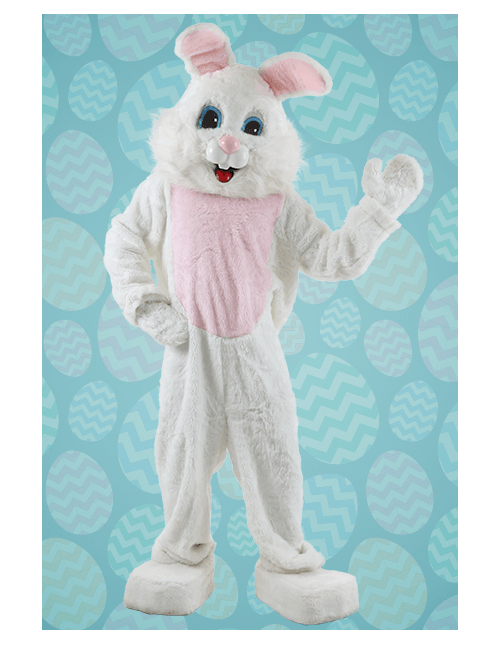 You may have thought Little Bunny Foo Foo was the top bunny in the briar, but you're wrong. Wear this mascot Easter bunny costume and you'll be the rabbit to reckon with. There'll be no more bopping field mice on the head while you're the head bunny in charge.
Women's Easter Bunny Costume Ideas
Bunnies are not just furry and chubby little critters. Bunnies can also be fashionable, trendy, and...hot! We're not talking about bunnies of the Playboy variety either. We have plenty of cute bunny costumes that will wiggle your tail. From furry dresses to pink satin ears, we have cute costumes that will put some extra bounce in your step.
Women's Blushing Bunny Costume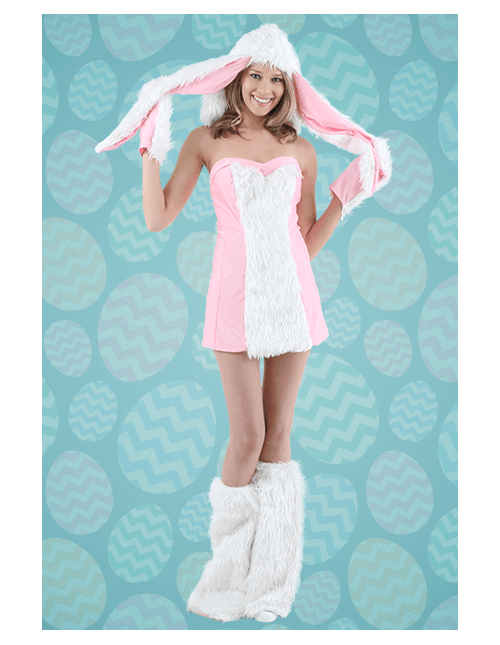 If you think having long hair is fun then you'll love having long ears. You'll feel as luscious as ever as you throw your two long ears behind your shoulder. Tie them in a knot or tie them in a bow, either way you'll be looking adorable in this Women's Blushing Bunny costume.
Women's Cute Bunny Kit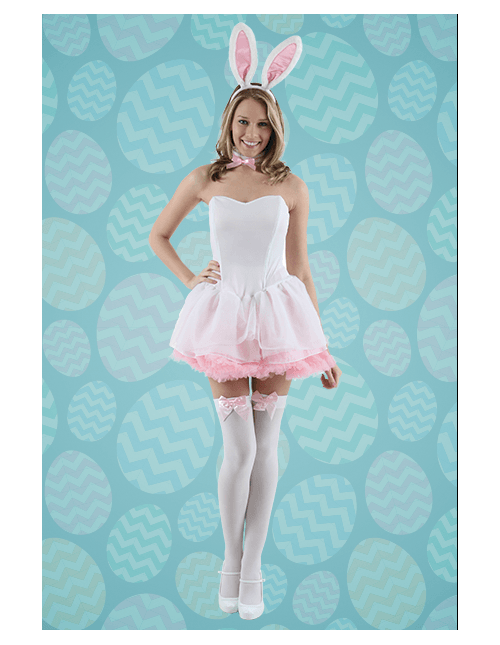 If you hop down the bunny trail in this flirty combo you are going to turn a few heads. This Cute Bunny Kit includes the pink bow tie choker, bunny ears and a fluffy tail. Add it to our white tutu dress with a pink tulle petticoat and some white and pink bow stockings and you'll definitely be the greatest one in the Easter parade!
Easter Bunny Accessories
What if you took away a bunny's twitchy pink nose, round fuzzy tail, and adorable little paws? You basically just have a ball of fluff. It's a very cute ball of fluff, however, but still just a ball of fluff. In order to be a full-fledged rabbit you need ears, paws, and a tail. Make sure you add these accessories if you want to dress up as a successful Easter Bunny.
Bunny Ears Accessory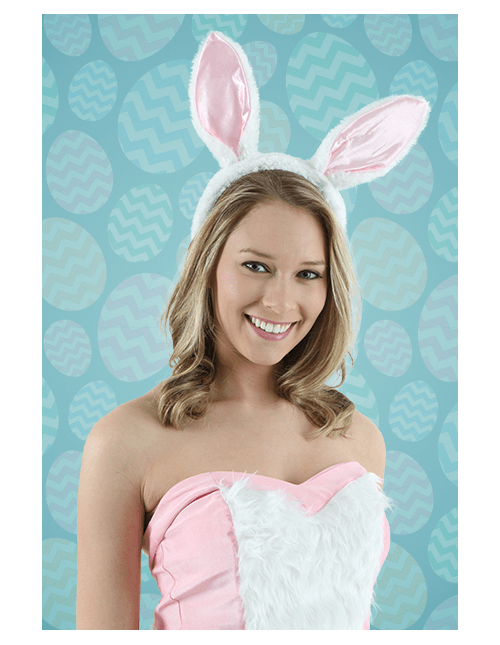 Have you ever heard the saying about bunny ears? It goes: the longer the ears, the happier the bunny. It's safe to say that you'll be one jolly rabbit while you wear these cute bunny ears. These big ears stay on your head just like a headband, so they're pretty comfy too. You may also be able to hear people chit chatting from across the room; just another perk of having long ears!
Bunny Nose Accessory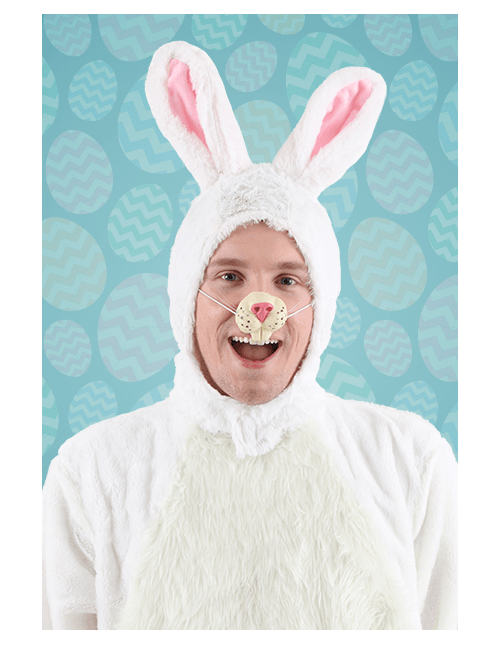 If you suddenly get a craving for a handful of carrots and some lettuce, don't panic. You are not turning into a giant rabbit. You can blame your keen sense of smell on this bunny nose accessory. This accessory has whiskers, a pink nose, and large teeth - all the bunny essentials in one little mask.
Bunny Tail Accessory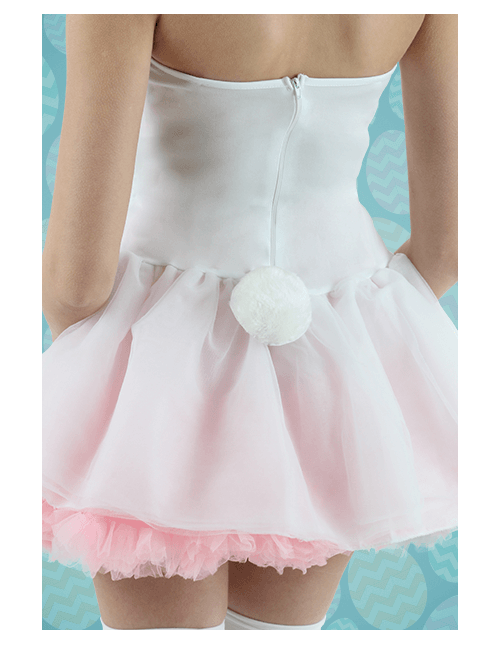 You may have thought dancing the Bunny Hop at parties was fun, but imagine all the fun you'd have if you had a tail. The tail bounces when you bounce and wiggles when you wiggle. You'll find that this cute bunny tail is the perfect touch to add to any costume. The tail will change your Bunny Hop experience for the better.
Jumbo White Bunny Accessory Kit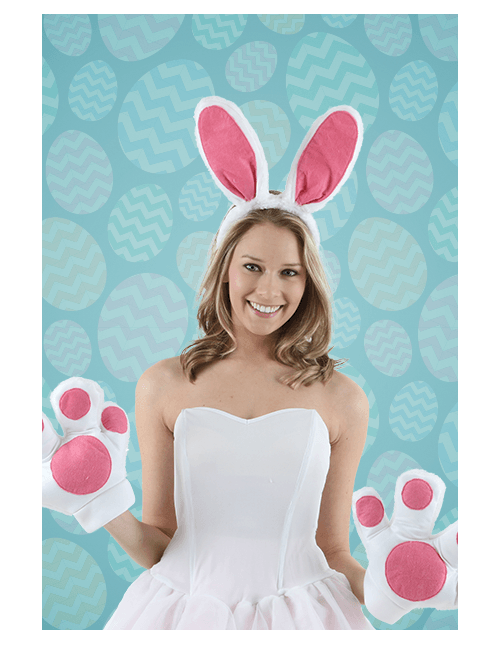 This jumbo white bunny kit will give you the perfect cartoon bunny look! It comes with the ears, gloves, and tail. When you are wearing these accessories you'll be ready to blissfully bounce off with your basket of dyed eggs. Roger and Jessica Rabbit will be so impressed by your cartoon bunny look that they'll beg you to come live in Toontown.