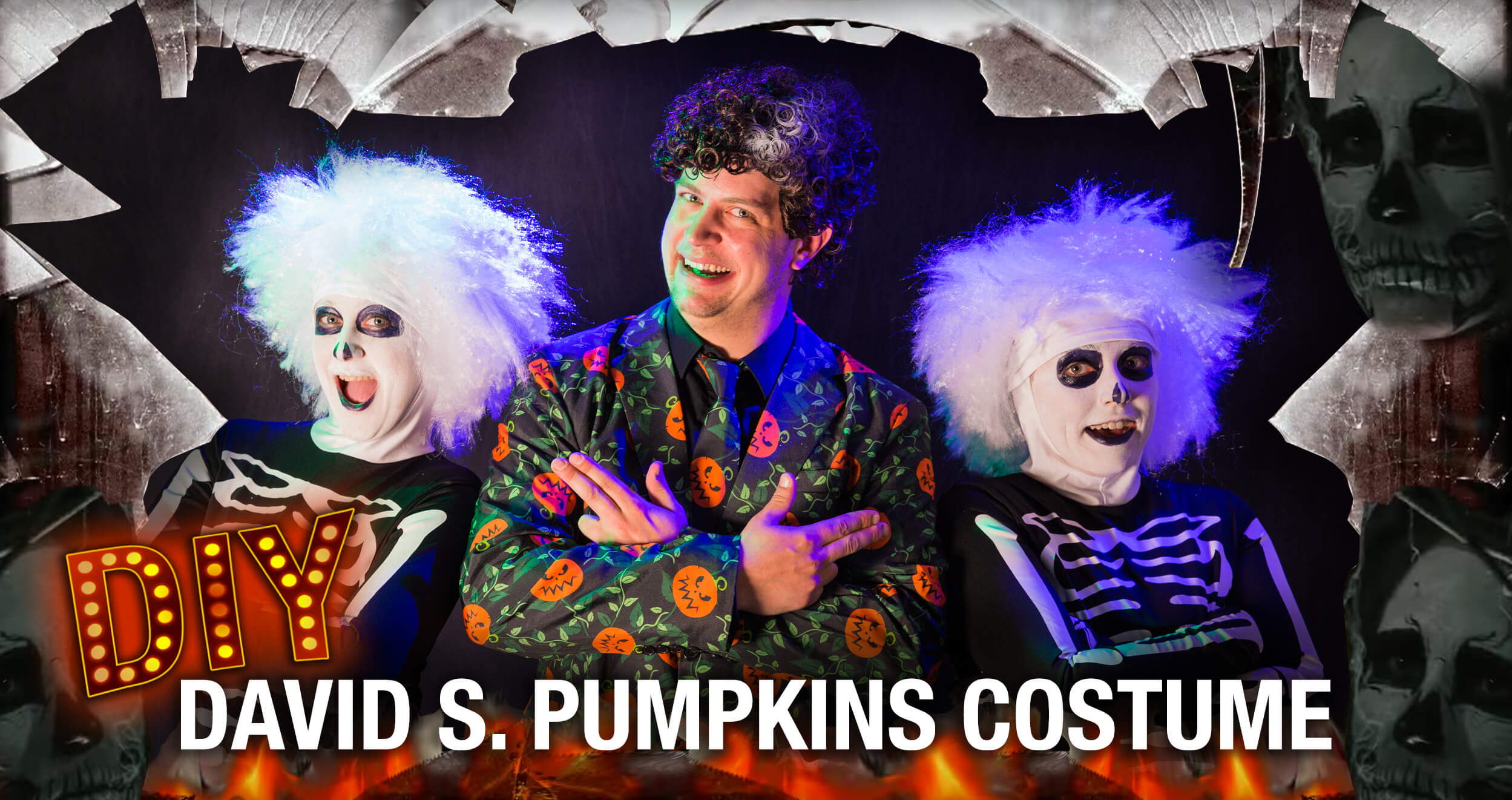 We're going all in on David S. Pumpkins. Obviously, after watching last night's Saturday Night Live, one skit stood out to us. That skit? David. S. Pumpkins. Any questions?? In the 100 Floors of Fright, they can't all be winners, buuuuut this DIY Halloween costume will hopefully be as memorable as the two b-boy skeletons and Tom Hanks as David Pumpkins, whoever that is. Here's how to dress in this easy, funny, yet somewhat confusing group costume, inspired by the instant-classic from SNL. Now hold on for dear death!!
David S. Pumpkins Halloween Costume
The Inspiration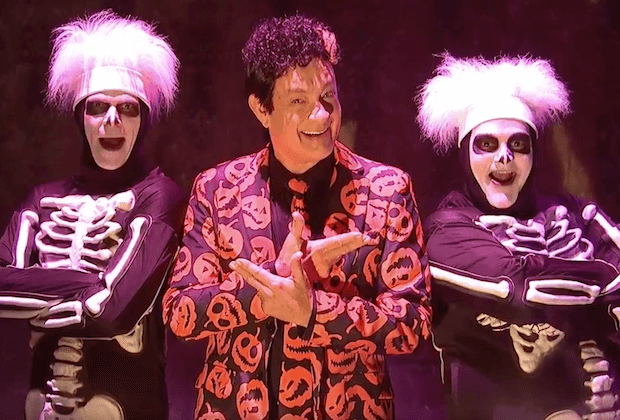 "How's it hanging? I'm David Pumpkins!"
First of all, do yourself a favor and watch the skit right now. Does it make sense? Well, no. But is it funny? YES. Hailed as an instant Halloween classic, David S. Pumpkins finds himself among the ranks of Candygram and Adam Sandler's Halloween costume ideas on Weekend Update. (You know. "Hey, I'm squishy man! And I want some candy!!") It's the perfect mix of absurd and, uh… we guess just absurd. But in 2016, with all the ups and downs and stresses we've gone through, don't we deserve a skit like David Pumpkins as the year winds down? WE DO. David Pumpkins is that hero we need and deserve.
The Finished Product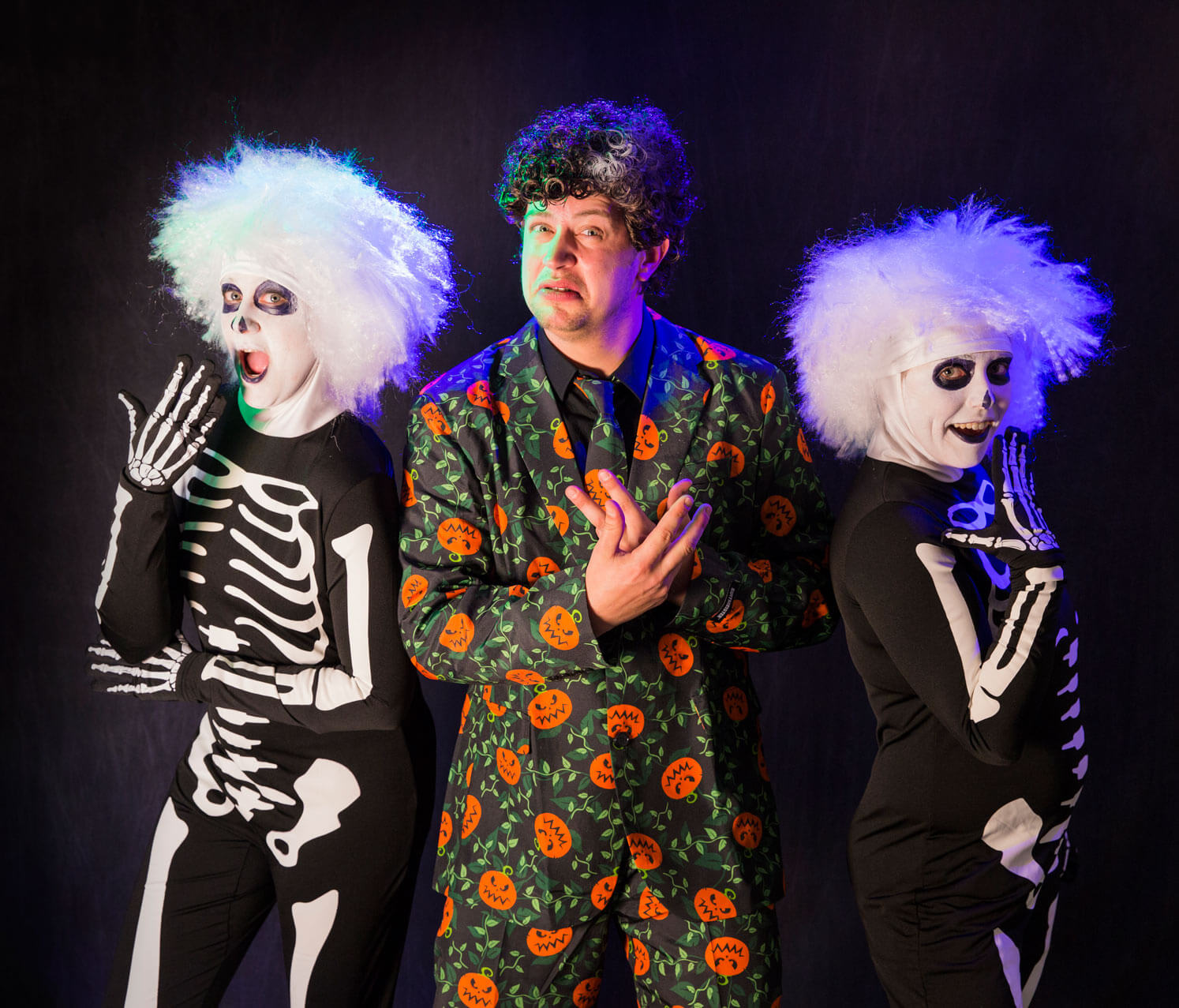 "Why did you go all in on David Pumpkins?!"
While you're busy trying to wrap your head around David Pumpkins (no, you're not supposed to know who he is), we'll help you plan this DIY David S. Pumpkins costume. Get that music ready, papi…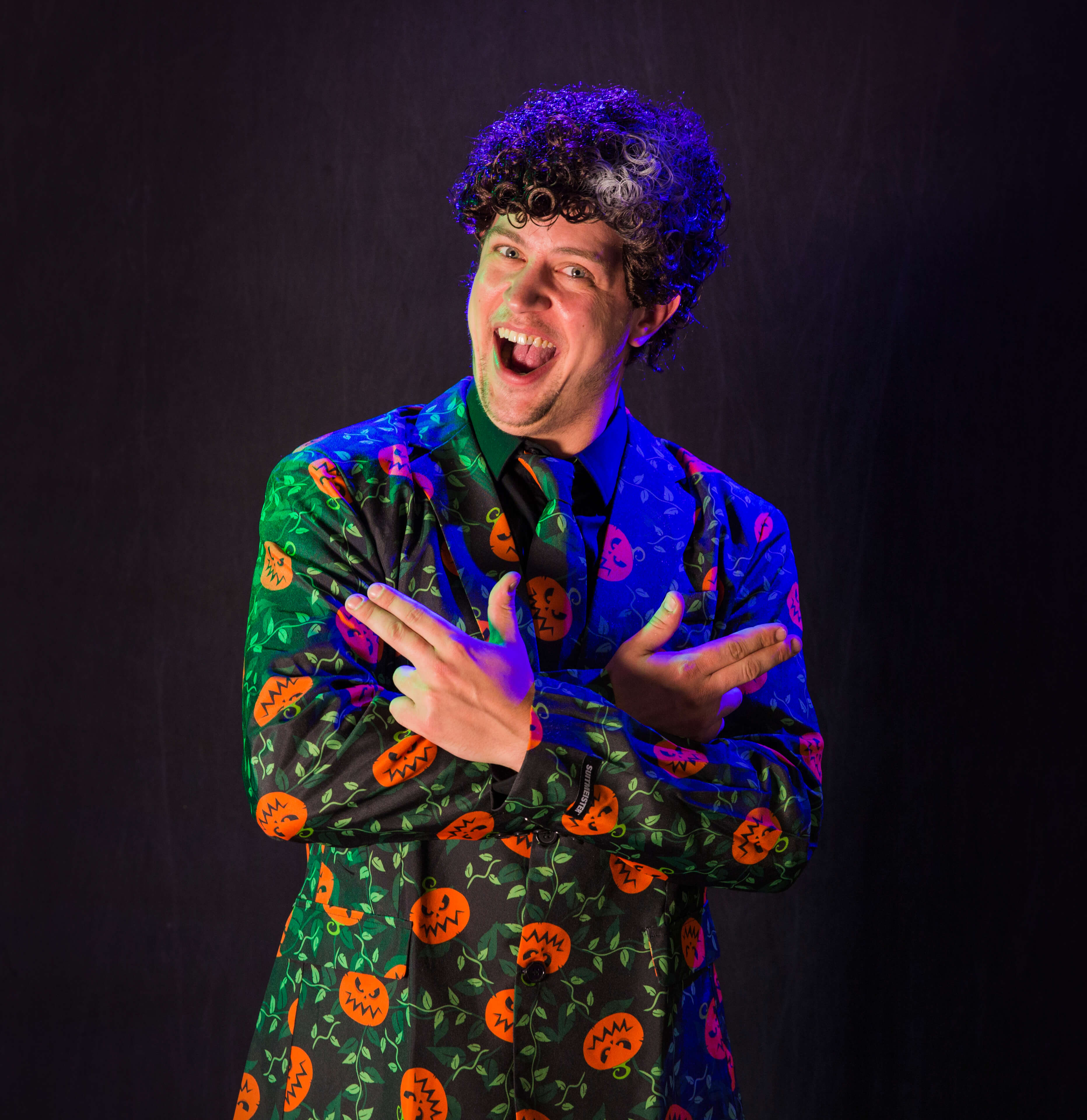 "And David Pumpkins Is?..." "His own thing!"
We fully admit that the costume itself is not too hard (that's good!), but it's the attitude and dance moves that will sell it. We have this pumpkin print Opposuit that is peeeeerfect for a David Pumpkins suit. Pair it with a black button up dress shirt, add a streak of blonde to your dark curly hair (we cut up this mullet wig!), and soon people will be asking if you're from a local commercial or something.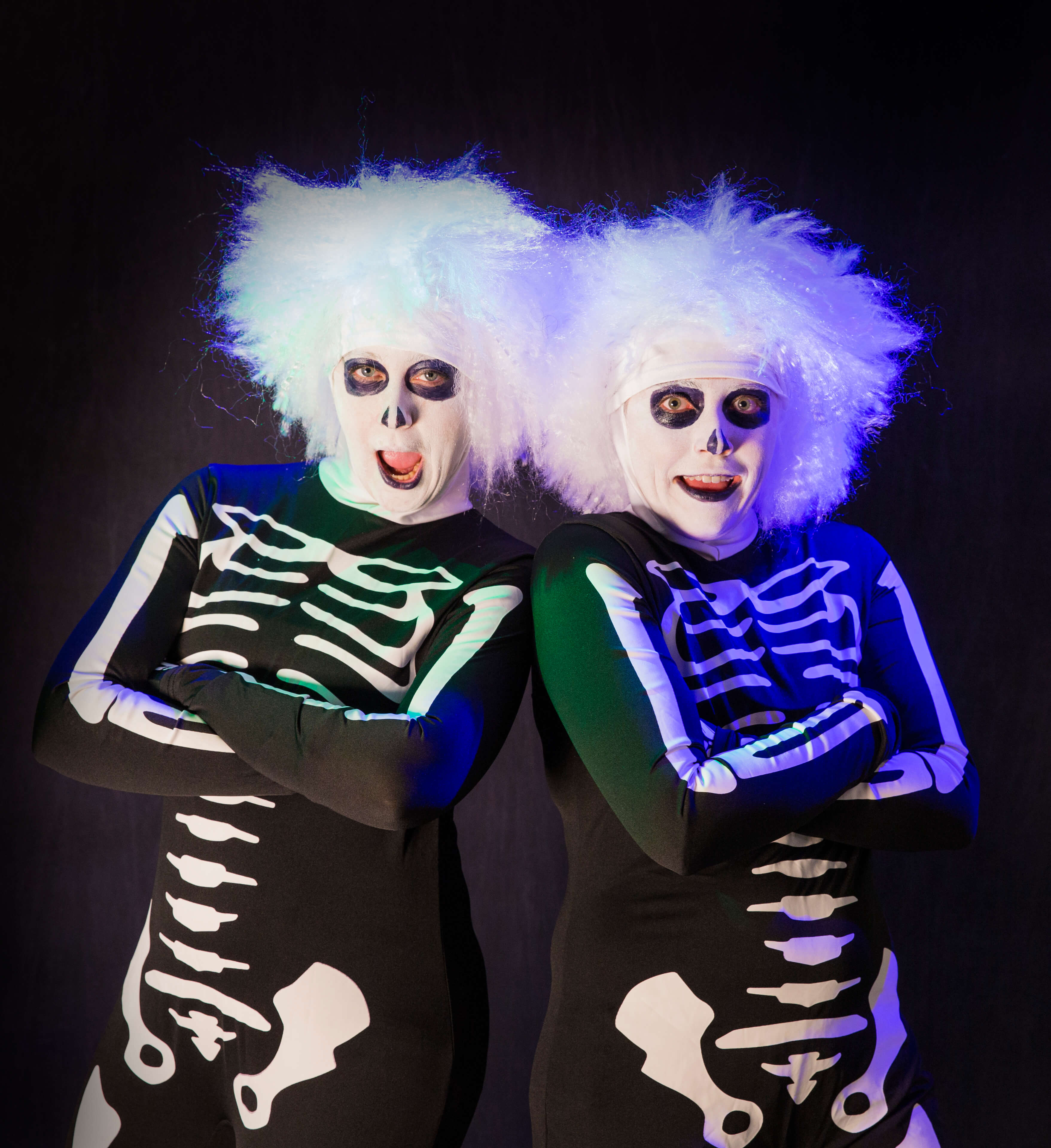 "And the skeletons are?..." "Part of it!!"
The skeletons take a bit more time, but seriously not a ton. Use this Beetlejuice makeup kit to paint your face. All white all over, and then black around the eyes and on the nose. Scary, huh? This is a whole blog post of frights, babe, we're probably screaming, too. The mad scientist wig completes the look, but don't forget to add that white yoga headband. (Weird? Why are they wearing those? We have several questions about this skit.)
Products Used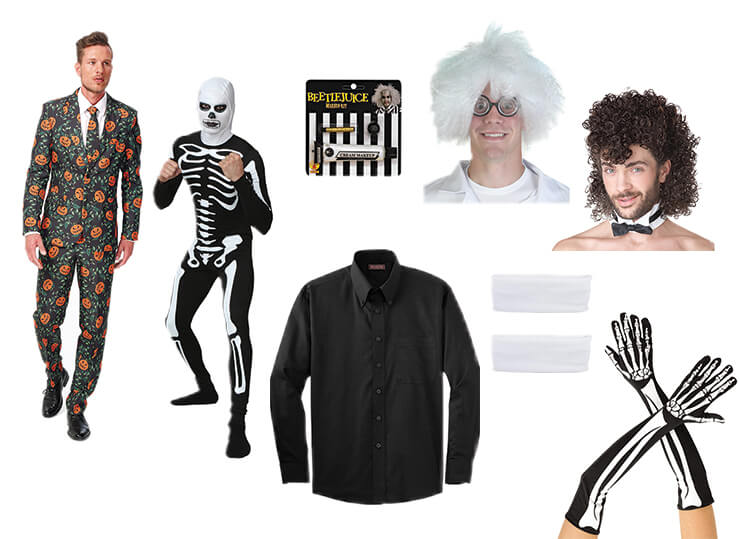 Pumpkin Suit - Shop Skeleton Suit - Shop Beetlejuice Makeup - Shop
Mad Scientist Wig - Shop Curly Wig - Shop Skeleton Gloves - Shop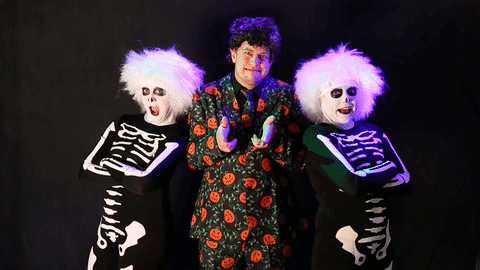 "Ready or not, here we … dance?!"
Do it! Please! We're telling you right now that putting this David Pumpkins costume together in our photo studio was one of the best moments of our life. We just couldn't stop dancing, right after we scared the hell outta all our friends. Sooo – that means you'll have an absolute blast if you go to a Halloween party dressed as these three weirdos. Yum!!