Every year, there's at least one new movie that inspires a popular new Halloween costume for kids. Whether it's Minions, Elsa from Frozen, or even an inflatable T-Rex costume from Jurassic World, once the children see them, they want to be that character. 2016 was no different with several popular children's films like Disney's Zootopia and Finding Dory along with Universal's The Secret Life of Pets that were released featuring several popular characters who are soon to be worn as several popular Halloween costumes. Animal costumes are always a well-loved option among children and each of these movies provided animal costume ideas for many characters.

Zootopia was the biggest hit of the year, passing 2003's Finding Nemo as the highest-grossing original animated film of all time and earning over $1 billion at the worldwide box office. The film follows the unlikely duo of Zootopia's first bunny police officer, Judy Hopps, and the sly fox, Nick Wilde, as they work together to uncover the mystery of who is causing the animals of Zootopia to turn evil. The two make a formidable pair, as well as a pair of cute Halloween costumes. We've put together some fun DIY tutorials to create some adorable Judy Hopps and Nick Wilde cosplay. Check them out below!
Judy Hopps in Zootopia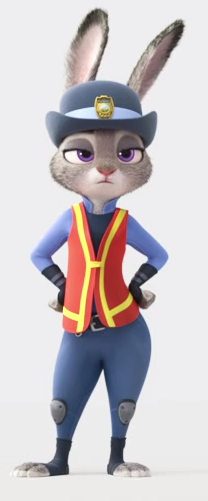 In the movie, Judy Hopps is thrilled to make it through training to become the first bunny police officer in Zootopia. However, her excitement is tempered upon learning that her first beat is parking meter duty. On the other hand, the position is what led her to meeting Nick Wilde in the first place so, in hindsight, it ended up being a good thing for her.
DIY Judy Hopps Costume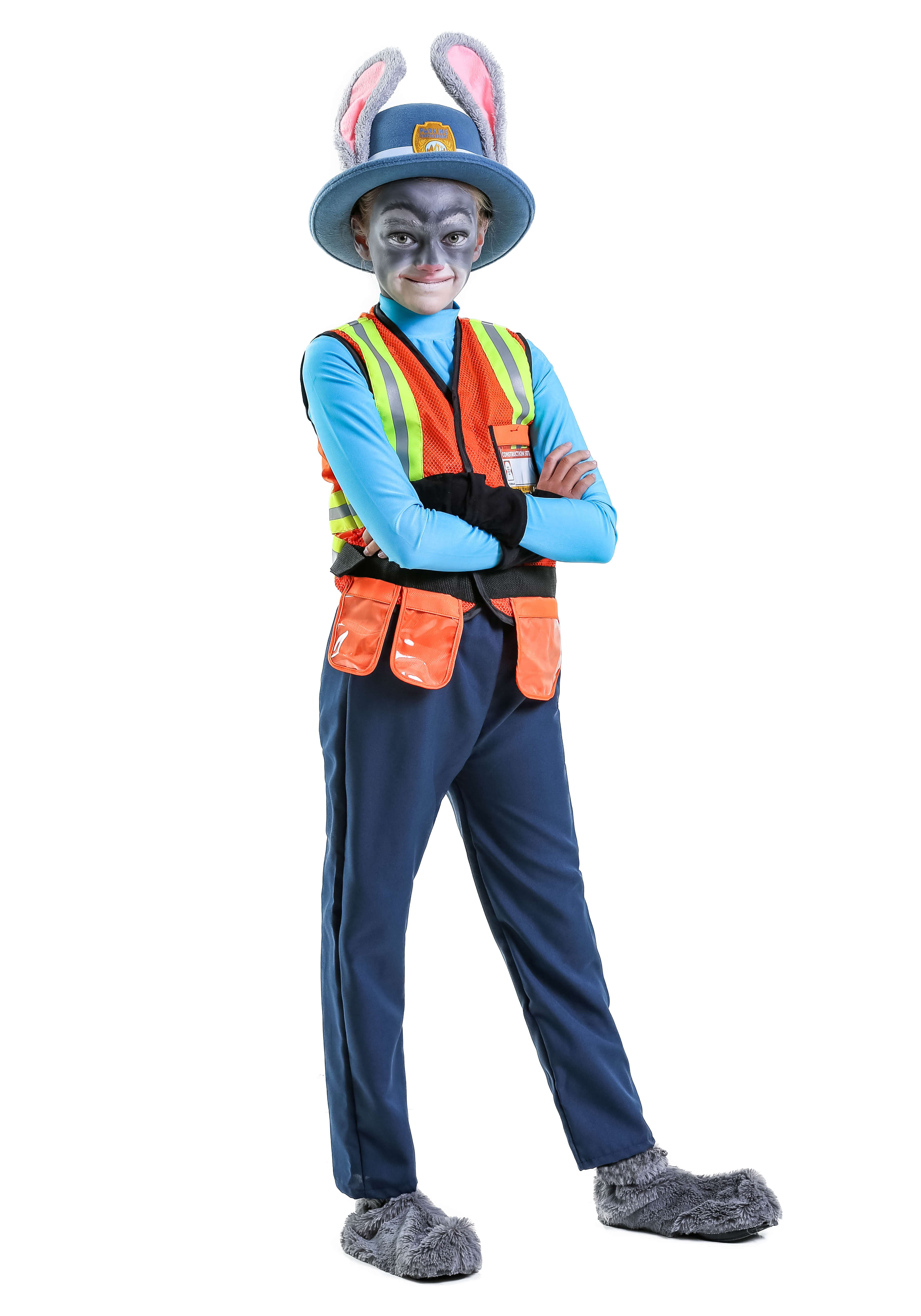 "I am a real cop."
Products Used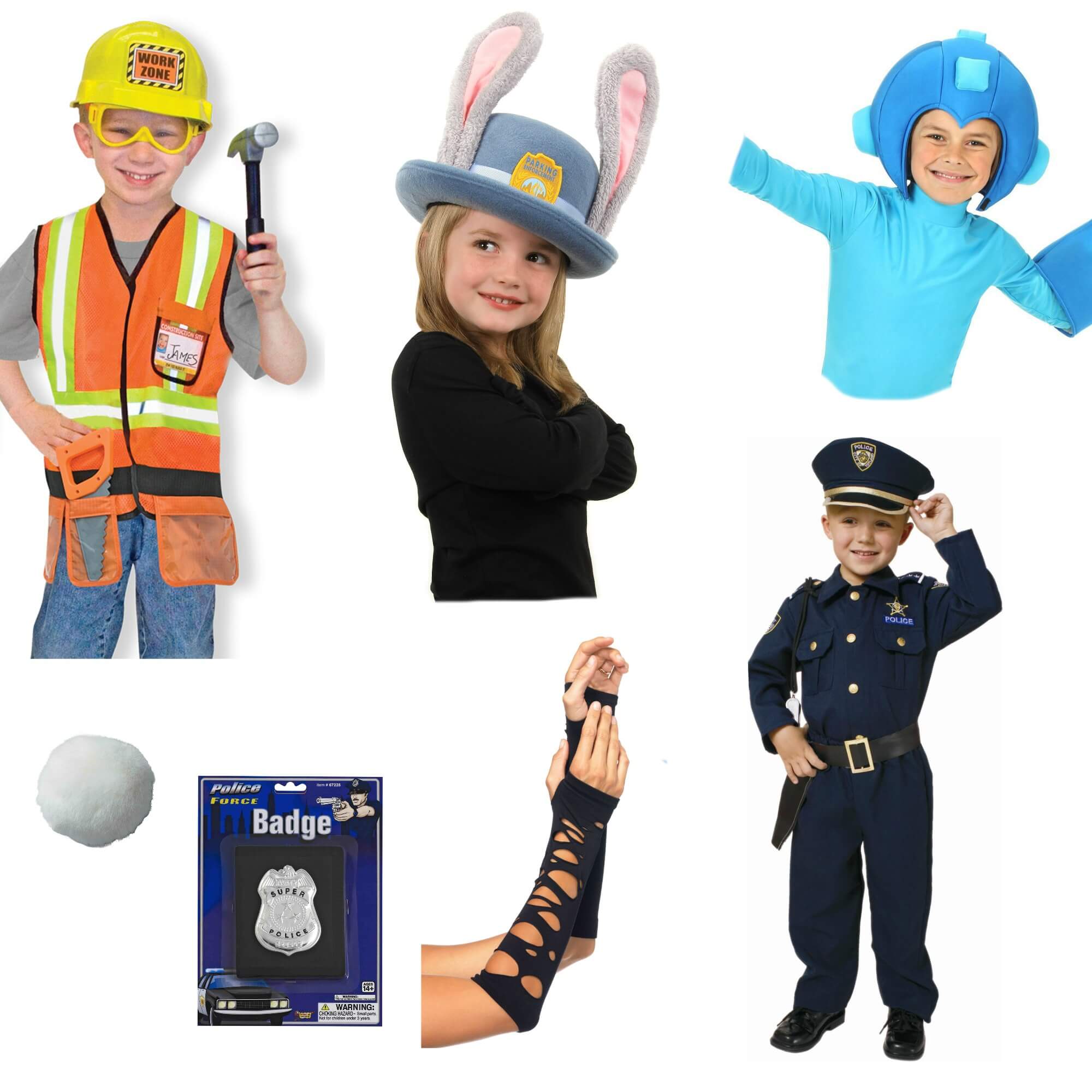 Judy Hopps Hat Mega Man Costume

Bunny Tail Police Badge Wrist Sleeves Police Costume

To create the look of meter maid Judy, we used dark blue pants from a child's police officer uniform together with a light blue shirt. Accessories like wrist guards, bunny ears, and tail pull the look together. And don't forget the police badge! You can find all the makeup tips you need in our tutorial video below.
Judy Hopps Makeup Tutorial Video
Judy Hopps Makeup Tutorial Video Transcript
First thing you'll want to do is use and Elmer non-toxic gluestick and a mascara wand, and glue down the eyebrows. Then, set them with translucent powder. Next, go in with a light gray cream paint to shape and shade out the main parts of the face. You'll want to layer the paint until you get just the right pigment.
Then, take a slightly darker gray and outline and shade the lighter gray areas. Next, take the white paint and apply it around the mouth and eyes. This makes them seem larger than they really are. Now, take black paint and outline the eyes, and then shade around the face.
Next, take pink eye shadow and make the nose and mouth. Once you've finished with the nose and mouth, set the full face paint with powder. Finally, take some black and gray, and make the furry eyebrows. And, you're done!
Nick Wilde in Zootopia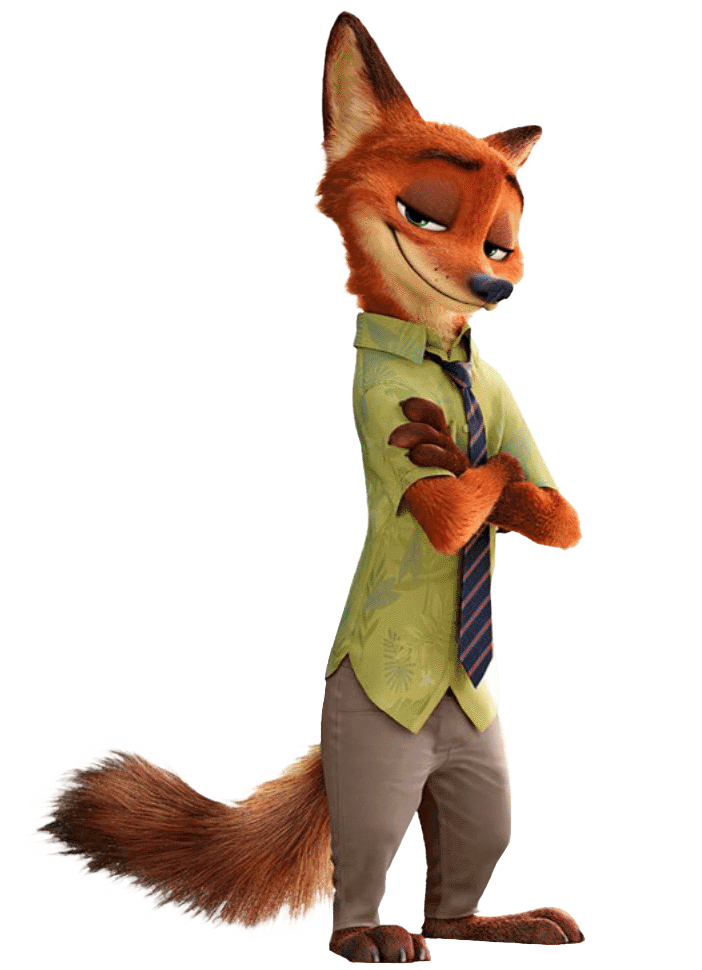 When it comes to being sly as a fox, Nick Wilde is the ultimate scam artist. When we meet Nick in the movie, he's pulling off a scam with his small partner-in-crime, Finnick. After being caught red-handed by Officer Hopps, he is forced to assist her in solving her mystery in order to avoid jail time.
DIY Nick Wilde Costume

"It's called a hustle, sweetheart."
Products Used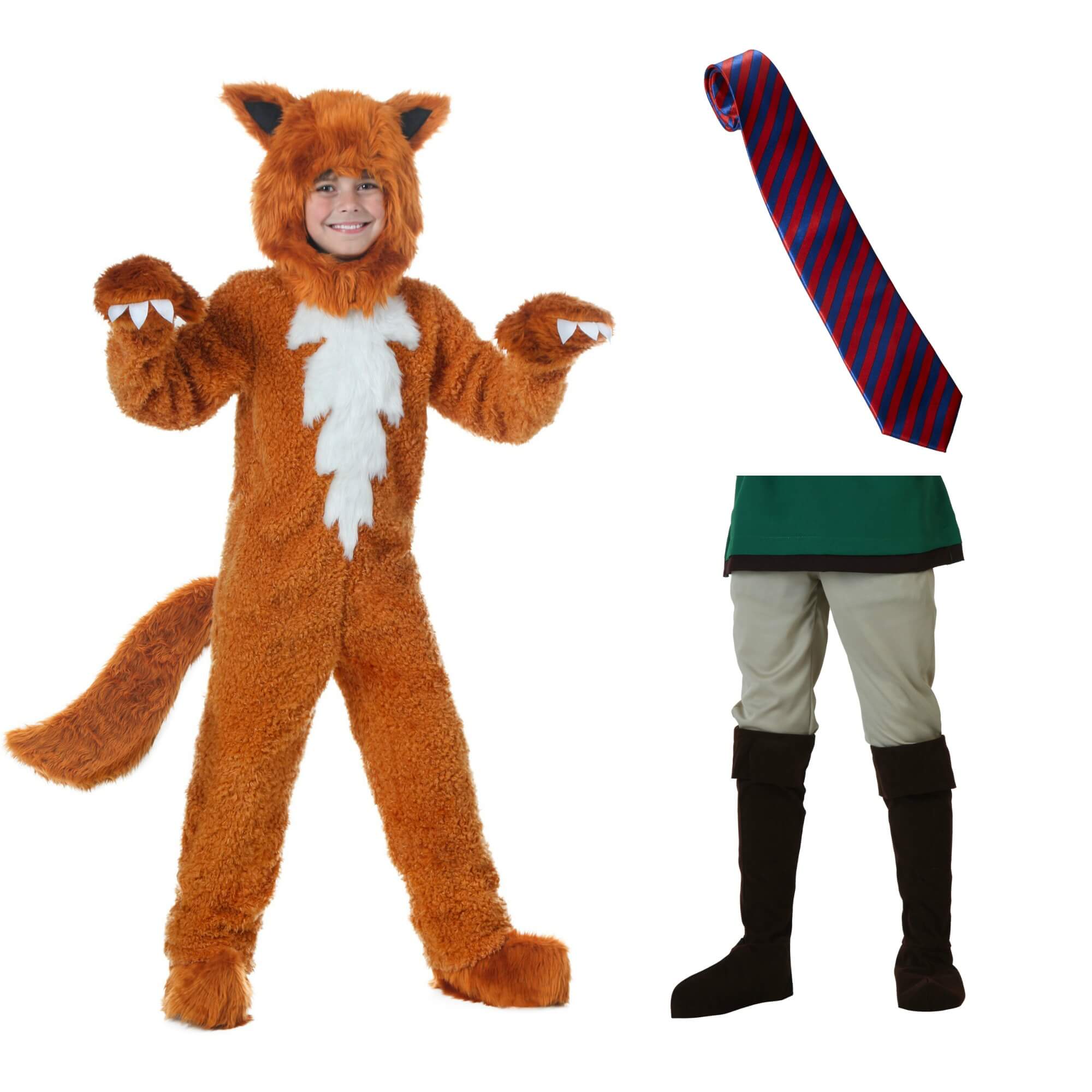 Fox Costume for Kids Tan Pants Striped Ties

Dressing as Nick Wilde for Halloween is easy and makes for a quite comfortable costume (especially on a cold Halloween night). All you need is a fox costume, khaki pants, a green shirt, and a tie! Want a different look? [Spoiler Alert] Because Nick Wilde ends up joining the police force and becoming Judy's partner, you can dress up in a child's police officer costume.
The Finished Look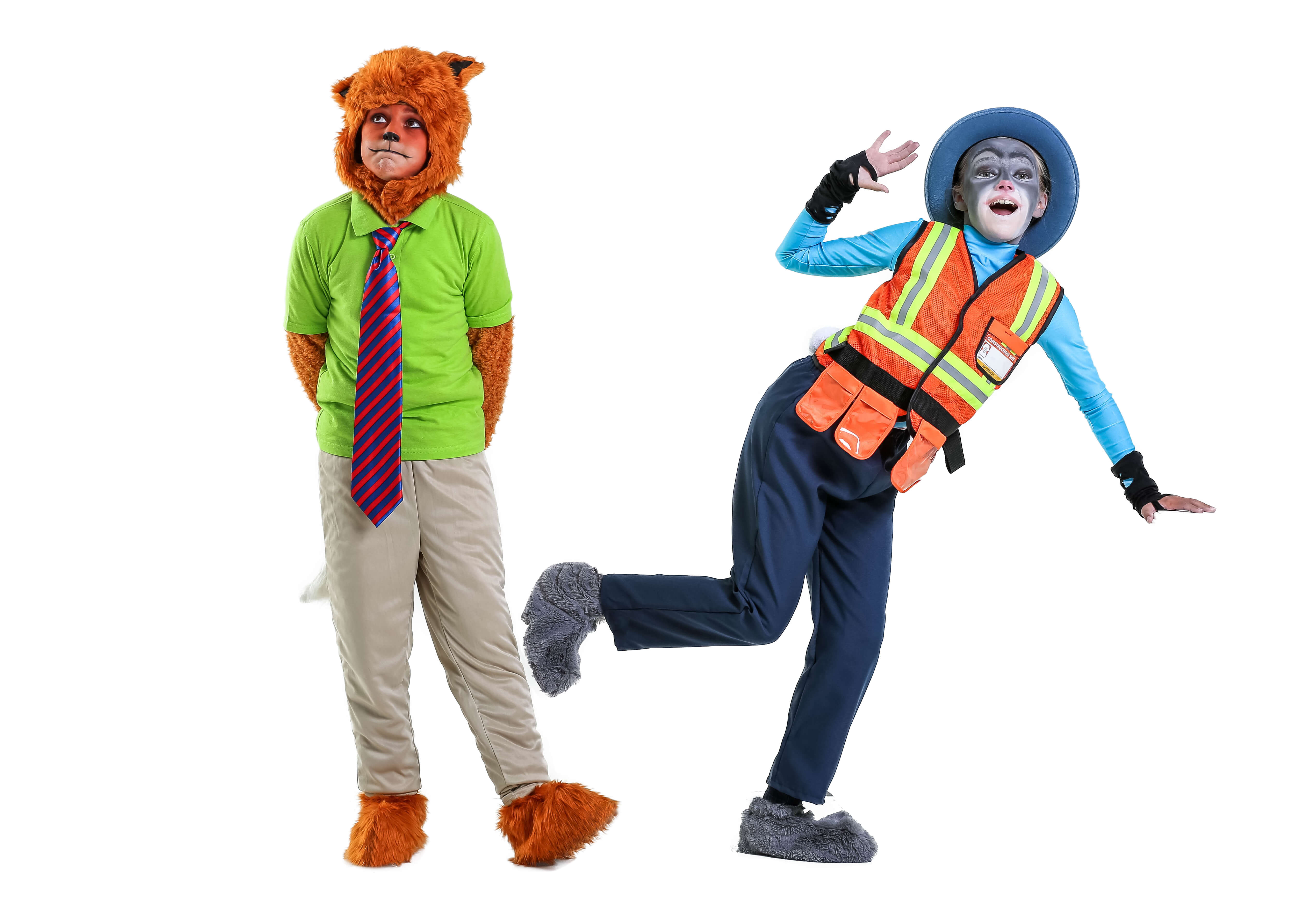 A familiar scene from this trailer.
Zootopia Halloween Costume Ideas

If you want to be someone like Flash the sloth or one of the many other great characters from Zootopia, all you need is the appropriate animal costume. Once you have your costume, just dress it up in the proper attire. Dress your lion costume up in a blue suit for Mayor Lionheart or, like Judy Hopps, find a police uniform for the Cheetah costume to dress up as Officer Clawhauser. The options are endless. As they say in Zootopia, "anyone can be anything."

Do your kids want to dress up as Zootopia characters for Halloween? Who are some of their favorite characters? The "good" thing is that Zootopia was recently made available for streaming on Netflix, so whether you've seen it only once or if your kids have watched it a hundred times, you can always watch it again and again. If your family loves the movie and wants to dress up in Zootopia costumes, check out our full selection animal costumes and try to figure out what characters you can create.