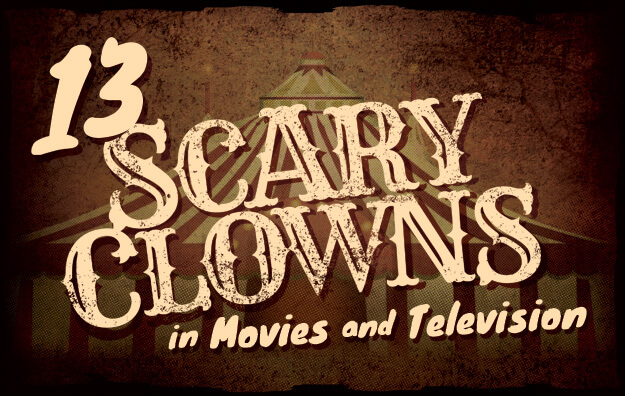 Why are clowns so terrifying? Is it the blood-red lips? Or the perpetually-smiling mouths? Maybe they terrified us as children, like Santa Claus or the Easter Bunny. For someone with a fear of clowns, often called "coulrophobia", even the most joyful clowns are downright sinister. And even when they're actually harmless, clowns can appear unsettling or weird. As far as we're concerned, all clowns are scary clowns! With this in mind, we looked at the 13 of the most iconic scary clowns in movies and television, along with a number of honorable mentions.
Click Image for Larger View

Embed This Image On Your Site:
Our apologies to anyone with coulrophobia! If you're scared of clowns or know someone who is, we've also made a less-scary version of this same infographic. Click on the image below to see it in full!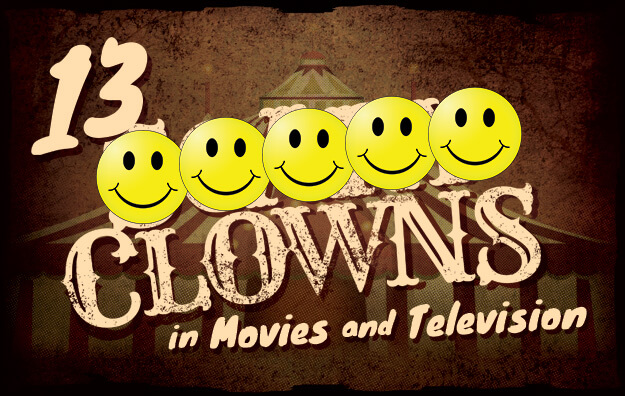 13 Scary Clowns in Movies and Television Transcript
Clowns are supposed to be funny characters, entertaining children, and adults alike with their gags and slapstick comedy. But they can unintentionally appear creepy and weird, provoking the opposite reaction. Horror films often take advantage of this, preying on people with coulrophobia (fear of clowns), portraying clowns as terrifying, murderous villains. This is a timeline of our favorite scary clowns-both disturbing and outright evil- from movies and television.
Clown Doll
Poltergeist (1982)
Dollmaker: Annette Little
Weapon: Arms
Note: The clown's arm nearly strangled actor Oliver Robins on set
Clown Paramedics
Peewee's Big Adventure (1985)
Weapon: Fire, Pinchers, Danny Elfman
Note: The "Large Marge" effects in the film were designed by the Chiodo Brothers, directors of Killer Klowns from Outer Space.
Marvelous Mervo
Blood Harvest (1987)
Actor: Tiny Tim
Weapon: Shotgun
Note: Blood Harvest was Tiny Tim's one and only appearance in a drama or horror film. He was otherwise known for his version of the song "Tiptoe Through the Tulips".
Killer Klowns
Killer Klowns from Outer Space (1988)
Actors: Scotty Beatty, Harrod Blank, Mitch Bryan, Michael Harrington Burris, Charles Chiodo, Paul Haley, Genie Houdini, Brett Leonard, Jimmy Locust, Paul Parsons, Geno Ponza, Steve Rockhold, Karl Shaeffer, Greg Sykes, Dennis C. Walsh
Weapon: Shadow Puppet, Cotton Candy Guns, Acid Pies, Giant Straws
Note: This B-movie had since become a cult classic.
The Joker
Batman (1989) and The Dark Knight (2008)
Actors: Jack Nicholson and Heath Ledger
Weapons: Laughing Gas, Guns, Explosives, Pencil
Note: The Joker is often called "The Clown Prince of Crime"
Pennywise
Stephen King's It (1990)
Actor: Tim Curry
Powers: Knows the fears and phobias of his victims, can transform into anything
Note: Pennywise is widely regarded as the most iconic clown in horror films.
Violator
Spawn (1997)
Actor: John Leguizamo
Powers: Can transform into other creatures, including his true form, a massive horned demon
Note: The clown costume and makeup took nearly four hours to apply every day. Luckily for John Leguizamo, the demon form was animatronic and computer-generated.
Captain Spaulding/ Cutter
House of 1000 Corpses (2003) and The Devil's Rejects (2005)
Actor: Sid Haig
Weapons: Guns
Note: In the films, Captain Spaulding runs the Museum of Monsters and Madmen, a tribute to circus sideshow acts.
Pogo the Clown
Drive-Thru (2007)
Actor: Van De La Plante (body) and Gordon Clapp (voice)
Weapons: Deep Fryer, Clown Cleaver
Note: The bit character, Robbie, was played by Morgan Spurlock, He also directed Super Size Me, a documentary about the dangers of fast food. Health dangers, at least. There were no clown cleavers.
The Laugh
Amusement (2008)
Actor: Keir O'Donnell
Weapons: Knives
Note: Keir O'Donnell is better known for his comedic roles and improv standup comedy.
Clown Zombie
Zombieland (2009)
Actor: Derek Graf
Weapons: Bite
Note: The zombie is killed by a mallet from a carnival high striker game.
Twisty
American Horror Story: Freak Show (2014-2015)
Actor: John Carrol Lynch
Weapons: Juggling Pins
Note: John Carrol Lynch was so terrifying as Twisty that other actors often had to leave the set.
Honorable Mentions:
Gwynplane

The Man Who Laughs (1928)

Cooky

The Bozo Show (1968-1994)

Michael Myers
Binky
Dippo, Dippo, and Cheezo
Jamie Lloyd

Halloween 5: The Revenge of Michael Myers (1989)

Shakes
Zeebo

Are You Afraid of the Dark? (1992)

"Crazy" Joe Cavola
Clown Bed
Louis Seagram
Killjoy

Killjoy Franchise (2000-2012)

Billy the Puppet

Saw Franchise (2004-2010)

Gurdy
Snuffles
Clown

The Cabin in the Woods (2012)

Stitches
Art
Frowny
Wasco, Skidoo, and Old Harry

The Legend of Wasco (2015)
Sources: Wikipedia, Wikia, IMDB, The RPF
So who's your favorite scary clown? Or clowns? Did they make the top 13 or the honorable mentions? Tell us in the comments! And feel free to mention any scary clown movies that we overlooked. If you're thinking about scary clowns for Halloween, check out our variety of clown costumes, including Pennywise the Clown!
Design Credit: Abby Bartels