Usually, the half of the date who wears a tuxedo to a formal event knows that they might not look as exciting as the person wearing a glitzy, glam party dress (men's prom wear can be boring). However, folks, it's 2016, and that kind of sad fact is just no longer true! For those of you who want to inject a little personality into your black-tie attire, rest assured, we've got quite a few prom tux ideas for you to choose from. Ditch the black and white prom suits - from bright orange to camouflage to the American flag, we've got tons prom tux colors and prom outfits for guys!
Dumb and Dumber Tuxedos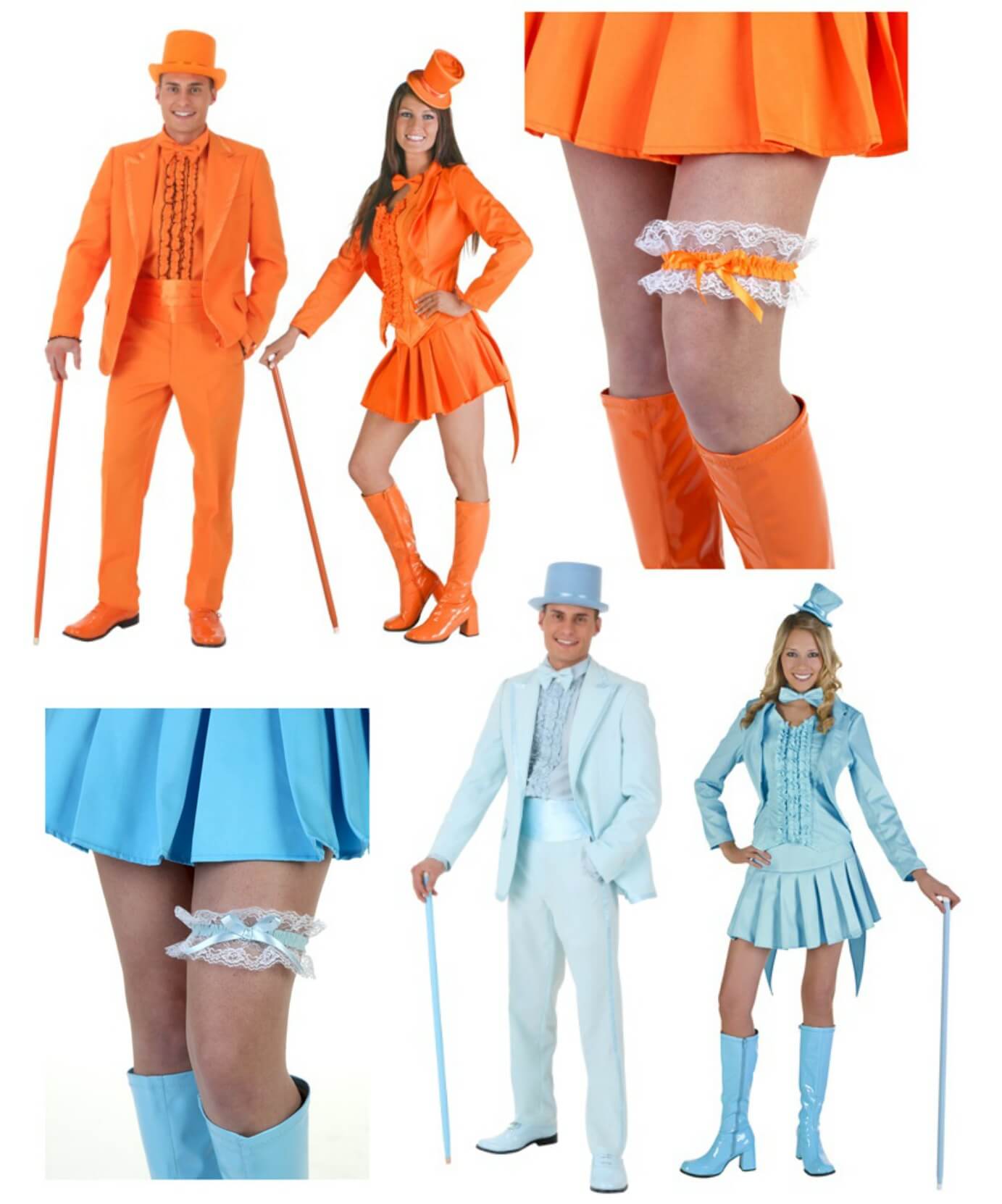 Dumb and Dumber Lloyd Tuxedo Orange Cane Women's Orange Tuxedo Costume
Dumb and Dumber Harry Tuxedo Blue Cane Women's Blue Tuxedo Costume
Harry and Lloyd are known for lots and lots of things, but, for the sake of this blog post, let's focus on their fancy dress. Powder blue and bright orange suits - now that's a way to make a statement at prom. And great news, we have girl versions, too! You could color coordinate with your date, arrive on the scene, and reenact your favorite parts of Dumb and Dumber in these orange and blue prom suits. Know what would be even cooler? If you rolled up to prom in the infamous Mutt Cutts shaggin' wagon.
Opposuits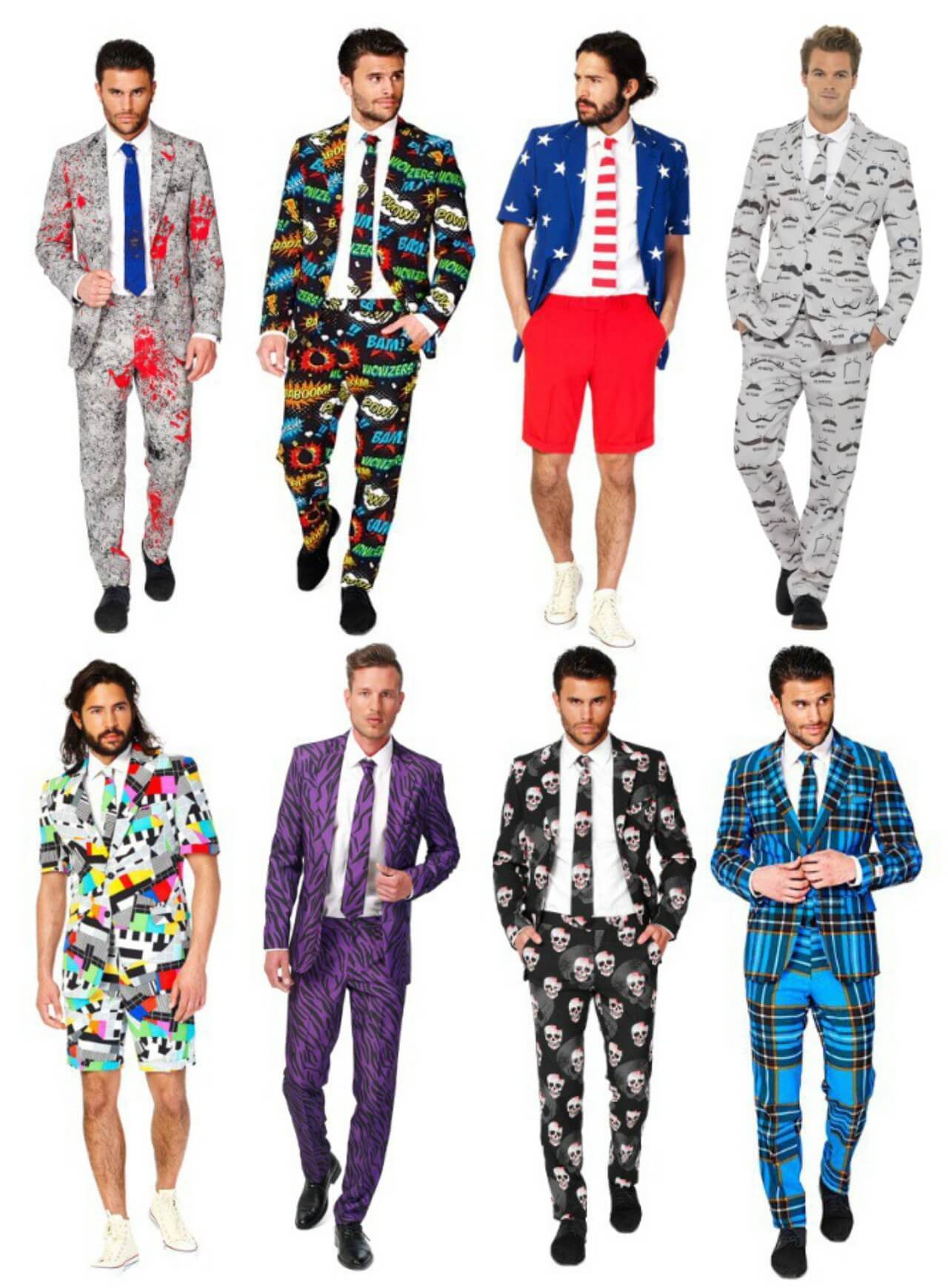 Opposuits Zombiac Suit Opposuits Badaboom Comic Suit
Stars & Stripes Summer Opposuit Mustache Suit
Testival Summer Opposuit Opposuits Pimp Suit
Opposuits Skulleton Suit Opposuits Braveheart Suit
Opposuits are named that way because they're opposite of what you think about traditional tuxes; stuffy, boring, plain, gross. They're bright and they're loud, but they're also super fun. If you wore an Opposuit to prom or homecoming or, dare we suggest, YOUR WEDDING, everyone would want to get a picture with you. However, please let your date know far in advance about your prom suit ideas. Can you imagine trying to match a prom dress to a bright blue plaid pattern?
Bright Colored Tuxedos and Suits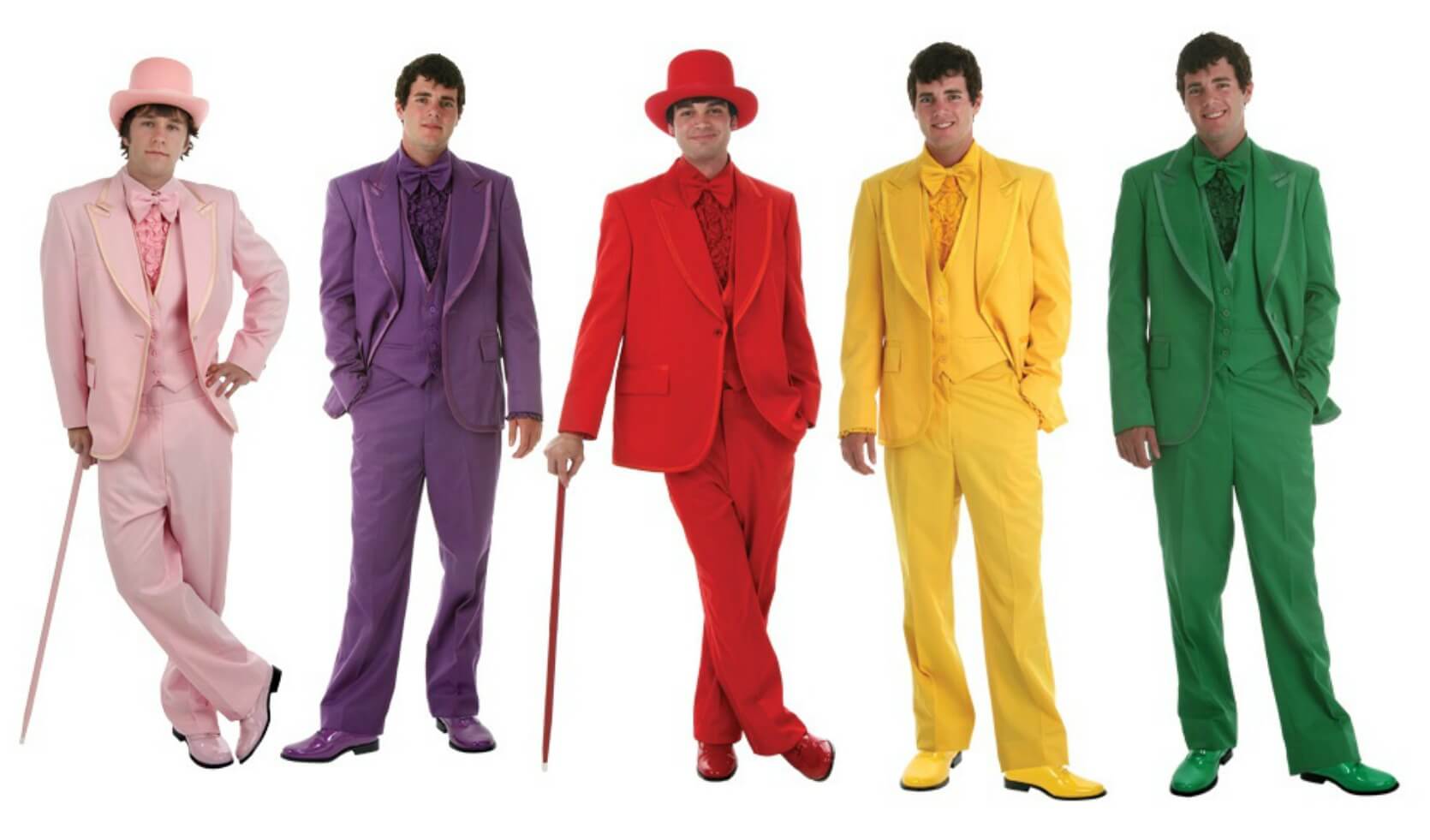 Pink Tuxedo Purple Tuxedo Red Tuxedo
Ok, here is a good compromise to solve the problem addressed above. You wanna wear some unusual prom tux ideas, but your date has informed you that she can't find a dress to go with your multi-colored comic book print Opposuit? Solid colors, our friend. You still will look absolutely smashing in a purple prom suit/pink prom suit and you'll save your date a few headaches. OR you can do a little mix-and-match, and pair the vest or shirt or, really, ANYTHING from these sets with a black suit. These different colored tuxedos might just do the trick for your fun men's prom wear!
Camouflage and Mossy Oak Suits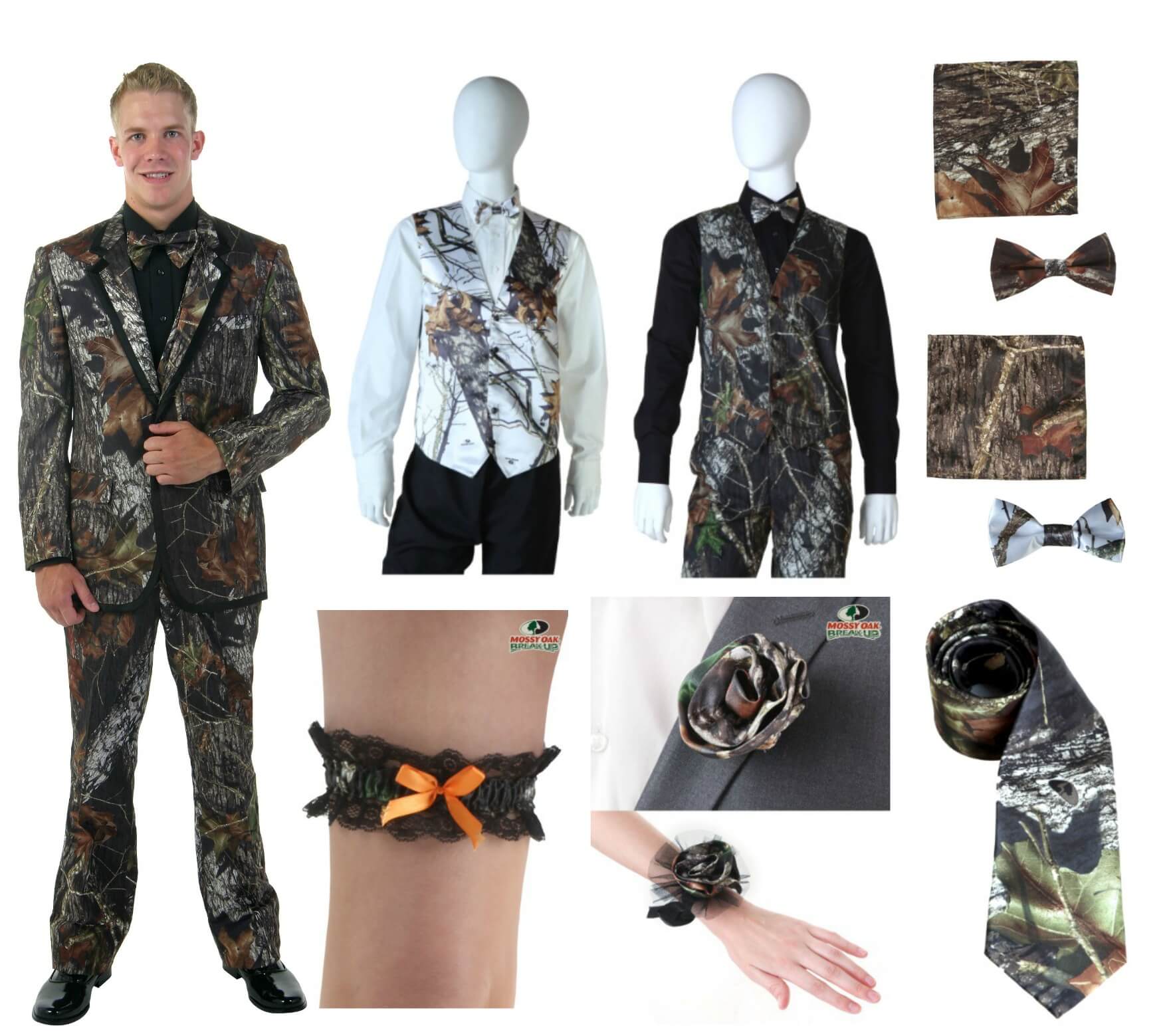 Mossy Oak Alpine Formal Tuxedo White Mossy Oak Full Back Vest
Black Mossy Oak Tuxedo Vest Mossy Oak Bow Tie and Pocket Square
Mossy Oak Pocket Square White Mossy Oak Pre-Tied Bow Tie
Mossy Oak Orange Garter Mossy Oak Boutonniere and Corsage
Some people really love superhero movies. Some people really love football. Some people REALLY LOVE HUNTING, and for those people, there are Mossy Oak themed tuxedos. You can go all out and wear head-to-toe camouflage tuxedos, or you could be a little more subdued, and stick with a little accent here and there, like a pocket square or bow tie. Just be prepared for the jokes your significant other will hear, like, "Oh, where's your date? I don't see him anywhere!" Everyone's a comedian...
Secret Identity FUN Suits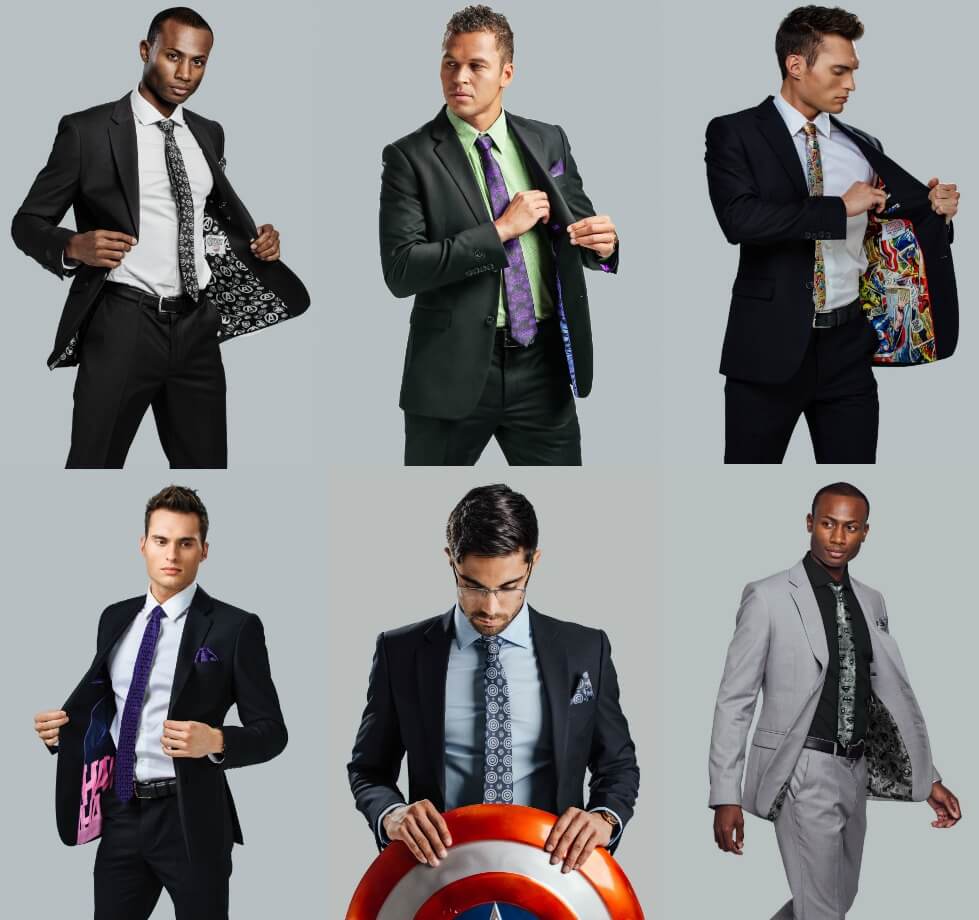 Avengers Suit Incredible Hulk Suit Marvel Comic Strip Suit
The Joker Suit Captain America Suit Justice League Suit
If you're a fan of comic books and superheroes/looking for fun prom suit ideas, you can dress as stylish as Bruce Wayne or Tony Stark in these Marvel and DC secret identity suits from our sister company, Fun.com. These high fashion suits are all business until you open up the jacket to reveal stunning superhero designs and comic book prints. The interior pattern of your suit will also be featured on your tie and pocket square to stand out a bit and give people a preview of the comic mayhem underneath.
Alter Ego FUN Suits
Dark Knight Suit Iron Man Suit Superman Suit
Prom-goers who are superhero fans and want to bit more over-the-top, fear not! FunSuits are available in a whole other series, alter egos, that feature various hero costumes printed right on the outside of the suit. Dress as superhero heavyweights like Batman, Superman or Iron Man and you're ready for any event even if you have to leave for a bit to save the world. Just keep in mind that wearing these suits won't give you any actual superhero abilities.
Prom Suit and Tuxedo Accessories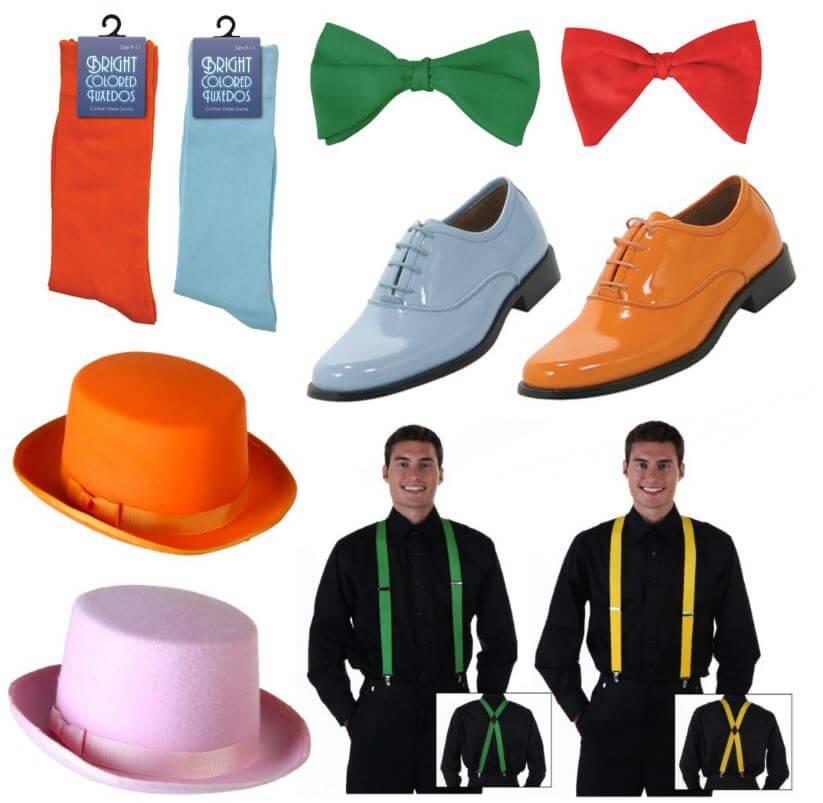 Blue Socks Orange Socks Bow Ties
Suit Shoes Top Hats Suspenders
We also have plenty of prom suits and tuxedo accessories in a wide range of different colors, if that's more up your alley. These options are great for wedding parties, too. The groomsmen can all wear their traditional suits, but with a fun-colored pair of suspenders or a flashy bow tie. Just think of the cute photos you can take on the day of the wedding, like all the guys pulling up their pant legs to show some bright green socks. Cute!
We hoped these options gave you some ideas on how to put some of your personality into your tux outfit. Prom season is coming soon, so you better start preparing now! Let us know in the comments what you're planning on wearing! You can see all of our tuxedo costumes, including an all-white prom suit (we know you want it), as well, for more ideas and inspiration.