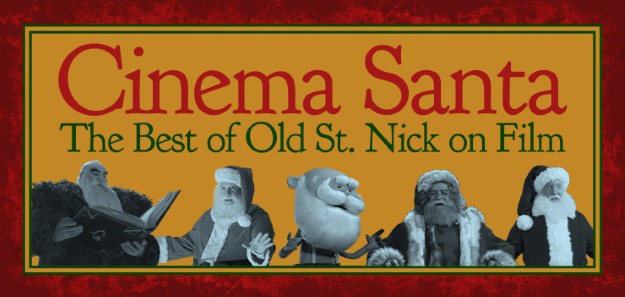 Christmas time is here once again, and if you're a good little boy or girl, you've already got everyone on your list exactly what they wanted. Now that all the shopping is done, do you just kick back unentertained, drinking copious amounts of egg nog in silence? No… you spend the rest of December watching Christmas movies, of course!
Santa has always been a significant part of almost any Christmas movie: he has a specific concept of good and evil, he always prefers faith over skepticism, and he can even be duplicitous—is he out to help us or is he out for himself? The best Santa movies have these kinds of themes that get to the heart of our holiday mythos. On the other side of the [chocolate] coin, there are the Santa movies where he goes to Mars or he gets his sleigh stuck in the sandy beaches of Florida. No matter which type of Christmas film you prefer, we think you'll enjoy this chronological look at Santa Claus' cinematic exploits in this very merry infographic.
Ho, Ho, Ho… now on with the show!

Click the Image to Enlarge
Embed This Image On Your Site:
Cinema Santa Infographic Transcript
The best of Old St. Nick on film
If it's December and you're out to the movies, we'd bet our last cup of egg nod that you're going to see the latest Christmas film. Christmas films or, more specifically, Santa films, can be seen as their own genre, each with recognizable tropes. Some Santa films go after the "true" meaning of Christmas- faith, family, love, and trust, and maintaining that sense of childish wonder through adulthood. Other Santa films go for the Anti-Santa story where the omni-present gift-giver is maniacal or wields ill-intentions; he's misunderstood as a good guy when in fact he is the antithesis. No matter which kind of Christmas film you prefer, we're almost certain you have a favorite. They're here every year and they're unavoidable, even as guilty pleasures. This list goes through Santa's most interesting, and perhaps most notorious celluloid exploits in chronological order so you can trace your fascination (or distrust) of jolly old St. Nick through the years as you've seen him in feature films.
Santa Claus
1898
Santa Claus is the first time Santa ever appeared on film. Early cinema was thought of as an illusion, a magic trick, and the film uses groundbreaking editing and special effects (for the time) to make Santa appear and disappear "magically."
The Adventure of the Wrong Santa Claus
1914
Another relic from the silent era, The Adventure of the Wrong Santa is more about a detective foiling a Santa imposter than Santa himself, but it's a good example of the mistaken identity streak that still runs strong in Santa films to this day.
Santa's Workshop
1932
An early Disney cartoon in the Silly Symphony series, this short gives us a gag-driven look at Santa's infamous workshop. It's been a part of the beloved holiday special From All of Us to All of You which has aired annually on Christmas Eve in Nordic countries since 1959.
Miracle on 34th Street
1947
Miracle on 34th Street features one of the most iconic film Santas of all time. Edmund Gwenn stars as Kris Kringle and plays him as a sincere, kind old man who is the actual Santa Claus. This Christmas favorite is played year after year on television and falls in the category of faith vs. skepticism, with childlike wonder winning out in the end, even for the cynical adults.
Santa Claus
1959
This is the first but certainly not the last of the films on our list to be featured on Mystery Science Theater 3000, and that's because Santa Claus is just a weird movie. Instead of living on the North Pole, Santa lived in outer space, works with a horrifying talking computer, and yes, there's even a red devil running around on Earth causing trouble. Because why not?
Santa Claus Conquers the Martians
1964
Is Santa Claus Conquers the Martians the worst film ever made? Some like to think so, as yes, it's been featured on Mystery Science Theater 3000, too. It's another Santa kidnapping story, but with Martians. And in the end, the Martians get their own version of Santa and all is well. this is one of those "so bad it's good: films and its absurdness has made it a cult classic.
Rudolph the Red-Nosed Reindeer
1964
This beloved Christmas classic first aired in 1964 and has been airing every holiday season ever since. This stop-motion animation film features Santa as more of a background hero, but his look is memorable with that big mustache and beard and thin, suit-less body. Rudolph inspired many sequels, but this one has Burl Ives so you know it's the best.
Frost the Snowman
1969
This animated weepy first aired in 1969 and still airs to this day on CBS. Frosty the Snowman and little girl Karen are the real stars here, but when Frosty melts (and we melt in a puddle of tears with him), Santa comes to save the day Deus Ex Machina style, resurrects Frosty anew, and puts that magician twerp back in his place.
Santa and the Ice Cream bunny
1972
Perhaps the king of the weird Santa films, Santa and the Ice Cream Bunny remains almost inexplicable. Santa gets stuck in the sands of Florida, uses telepathy to summon some children, then we cut to a very long sequence of Thumbelina, and finally, the Ice Cream Bunny comes out of nowhere to save him with a fire truck. Yes, it's very very weird.
The Year Without a Santa Claus
1974
The Year Without a Santa Claus is another Rankin/Bass holiday production using stop-motion animation, and it features Santa Claus in an existential crisis. The Miser brothers really steal the show here, but Santa comes out victorious over his funk after it's proven that the world still believes in him. It's a test of faith story, but this time it's Santa who has stopped believing in himself.
Silent Night, Deadly Night
1984
This film caused a firestorm of criticism for its subject matter, release window, and advertising campaign when it was first released. It's the first horror Santa film on the list, and though the Santa in the film is not meant to be the real Santa Claus, it does a good job of making you suspicious of any mall Santa ever. It's a typical slaughter-filled bloodfest, but with Santa.
Don't Open Till Christmas
1984
1984 was the year for Christmas horror movies, and Don't Open Till Christmas doesn't shy away from a high Santa kill count. This time it's not Santa doing the killings, but a total Scrooge going around killing anyone dressed as Santa. The killer had a bad experience with a Santa when he was little and decided to hunt them down. Perhaps this serves as a cultural critique of Santa's annual holiday ubiquity.
Santa Claus: The Movie
1984
Santa Claus: The Movie erases the horror cynicism of just a year before by taking Santa back to his roots. The film fills in the gaps of Santa's mythology, and the story falls into a true meaning of Christmas vs. consumer-driven holiday frenzy. John Lithgow plays a hilariously over the top corporate villain, but Santa (and the warm fuzzies) wins out in the end.
Ernest Saves Christmas
1988
80's kids will recall the magic of a new Ernest movie, and Ernest saves Christmas does not disappoint. Ernest discovers Santa's magical sack of goodies and goes on a quest to return it to him and, what else, save Christmas! Santa on the other hand goes to jail and otherwise has to deal with people who have lost their sense of Christmas wonder.
The Nightmare Before Christmas
1993
The Nightmare Before Christmas is another Santa kidnapping story, but with lots of great songs, gorgeous animation, and a big world where holidays have their own lands. Jack Skellington is our hero and anti-hero both, as he kidnaps Santa out of admiration, but also has to save him from the evil Oogie Boogie. It wasn't well-received in its first run, but it's now considered a Christmas classic.
The Santa Clause
1994
Get it? It's a legal clause! Then television star Tim Allen became Santa Claus when he accidentally startles the real Santa Claus resulting in his death. It's a warm and fuzzy movie that spawned two sequels, making it a certified Christmas classic. We'd also like to point out that this is not the only Santa movie to deal with the replacement of Santa as a legal obligation. Yep, that's a thing.
Spirit of Christmas
1995
You've no doubt seen South Park since it's been around over 20 years, but did you know it started with Christmas specials? this is the second short in the Spirit of Christmas short films where Jesus and Santa duke it out for Christmas supremacy but, in a typical South Park non-sequitur, Brian Boitano skates in and saves the day.
Elf
2003
elf stars Will Ferrell as a human "elf" named Buddy who was adopted by Santa Claus after he crawled into his sleigh, Elf is a nice throwback to other classic Christmas stories wher the family is broken butrepaired through the belief in something bigger- namely Santa Claus. The sleigh is powered by faith and is powered just in time for Santa to bring a merry Christmas to all.
Bad Santa
2003
Bad Santa gives us exactly what its title promises. The film stars Billy Bob Thornton as a mall Santa who thieves, drinks, smokes, has sex, and otherwise does everything a good Santa shouldn't. It's become a cult classic for audiences who don't typically have the warm feels for Christmas. There's also an unrated version called Bad(der) Santa should you want to see him being even "badder".
The Polar Express
2004
The Polar Express is an adaption of the children's book and is the first fully motion-captured feature film. It stars Tom Hanks playing many characters, including Santa Claus, because if anyone can play Santa it's probably Tom Hanks. While the animation is eerie at times, the film is now seen as a holiday classic, and we think it falls into the trope of childish wonderment winning out over cynical adulthood.
The Chronicles of Narnia: The Lion, the Witch, and the Wardrobe
2005
Okay, so he's not called Santa in the film, but The Chronicles of Narnia's Father Chrismas is pretty much Santa. He's got the beard and the sleigh and he even gives gifts to the Pevensie children when they're in Narnia. No wooden toys here; he gives them weapons and magical items. Narnia Santa sure has some good gifts!
Fred Claus
2007
What happens when Santa can't deliver his gifts and someone else has to do it? According to Fred Claus, legally it goes to the next of kin and thus slovenly and boorish Fred delivers Christmas to an unsuspecting world. The film uses the Santa replacement idea mixed with family drama for most of its gags, and while not a classic by any means, Paul Giamatti nails a modern take on Santa Claus,
Rare Exports: A Christmas Tale
2010
A recent horror Christmas movie that garnered lots of praise from critics, Rare Exports: A Christmas Tale tells the unknown and evil origin of Santa Claus as a pagan elf master that commands from the grave. It's weird, it's Nordic, it's suspenseful, and it's scary. While certainly a downer with little holiday cheer, it's a clever and disturbing take on the established Santa mythos.
Rise of the Guardians
2012
Rise of the Guardians features a slew of mythical figures from holidays, seasons, and childhood legends, but Santa Claus (or "North" as he's known here) leads them all. He's big, tough, and has a thick Russian accent, and if anyone can beat the Boogeyman, it's him. also, North is voiced by Alec Baldwin, so do we have a winner for best Santa ever? Possibly.
Krampus
2015
If you lose your Christmas spirit you better watch out, because Krampus is coming to town. The 2015 horror film Krampus tells the story of a cynical family getting together for the holidays only to be visited by the mythical demon. It's gory, it's weird, it's funny- it's already a new Christmas horror classic! So, you best keep on the nice side of Krampus of you could wind up getting a bauble with your name on it.
Well, there you have it. Twenty-five Santa movies for every day of December until Christmas. Which is your favorite of these films or your favorite Christmas film ever? Let us know in the comments below! And if you want to wear your own Santa costume while watching these movies, more power to you.
Design Credit: Abby Bartels