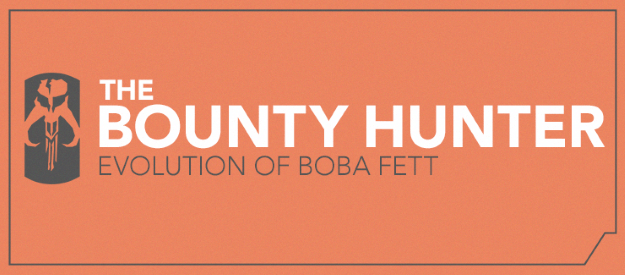 Besides the dark, sloping helmet of Darth Vader, there are few things more villainous and iconic in the Star Wars universe than Boba Fett. Officially introduced in the second film of the original trilogy, The Empire Strikes Back, the rollout of Boba Fett to the already ravenous fandom in the late 1970s was a carefully orchestrated affair. Before the film, Fett appeared in cartoons, action figures, and even in a small-town parade. Lucasfilm clearly intended for Fett to be a memorable character. There is no stronger evidence to this fact than the many revisions the character went through before his debut in Empire. See how the galaxy's most fearsome bounty hunter arrived at his influential look with this evolution of Boba Fett infographic.
Click Infographic to Enlarge

Embed This Image On Your Site:
The Bounty Hunter: Evolution of Boba Fett Transcription
1978- Concept Art I
Designed By: Ralph McQuarrie, Joe Johnson
Ralph McQuarrie, the man behind much of the creature and character design for the Star Wars universe, was tasked by George Lucas to create a new villain for public appearances, as there was fear they were overexposing Darth Vader. In a stark white uniform with a heavy rectangular jetpack, this early version of Boba Fett was originally designed as a snowtrooper officer.
1978- Concept Art II
Designed By: Ralph McQuarrie, Joe Johnson
After conceiving the rough outline, McQuarrie passed design duties to future director Joe Johnson, who was tasked with fleshing out the look of the mysterious character. This "supertrooper" became Boba Fett, a ruthless assassin who played an important role in the second draft of The Empire Strikes Back. Throughout the development process, Fett was designed wearing an earth-colored poncho, a clear homage to Clint Eastwood's Man With No Name.
1978- Pre-Production Supertrooper
Boba Fett Portrayed By: Duwayne Dunham, assistant editor of The Empire Strikes Back
The Ralph McQuarrie and Joe Johnson concept was further refined for this screen test version of Boba Fett. Very similar to the final version of Fett seen in The Empire Strikes Back, this version featured all of the familiar goodies, from the wrist gauntlets and shoulder cape to the T-visor and steel-tipped boots. the only difference was that this prototype version was still all white. This design would be changed last-minute to the iconic green and red to help the character stand out from the stormtroopers.
1978- Pre-Production San Anselmo Parade
Boba Fett Portrayed By: Duwayne Dunham
Before even his appearance in the Star Wars Holiday Special, lucky onlookers were able to get a glimpse of Boba Fett at the Anselmo County Fair parade on September 24, 1978. This public appearance was a rare opportunity to present the cinematic version of Fett to the public—with Darth Vader by his side. This version is slightly more colorful than his more muted version in Empire, featuring yellow and orange gauntlets, a bluer jumpsuit, a ragged green poncho, and eye decals on the helmet.
1978- Star Wars Holiday Special "The Story of the Faithful Wookiee"
Produced By: Nelvana Limited
Boba Fett Portrayed By: Don Francks
The infamous Star Wars Holiday Special is well-known for featuring the first official appearance of Boba Fett. While the special itself was critically panned, the 10-minute cartoon featuring Fett is seen as the high-point of the television special. In the short, Fett saves Luke, Han, and Chewie from a dinosaur-like monster. Fett eventually betrays the rebels to Darth Vader and rockets away. Sporting a blue helmet and yellow chest piece, Fett is armed with a twin-pronged rifle that is never seen again.
1979- Kenner Action Figure
Produced By: Kenner
The beginning of Star Wars action figures as we know it, the original Kenner line proved massively successful, jumpstarting the behemoth that is Star Wars merchandising. The Boba Fett figure was highly sought after, only available via mail-in with the purchase of four other Star Wars figures. Originally advertised as featuring a rocket-firing backpack, this feature was removed from the final product due to safety concerns. The figure closely resembles Fett's appearance in the holiday special, but with a green chest plate and red and black accents on his helmet.
1980- Star Wars Episode V: The Empire Strikes Back
Directed By: Irvin Kershner
Boba Fett Portrayed By: Jeremy Bulloch, John Morton, Jason Wingreen (original voice), Temuera Morrison (2004 DVD voice)
As the first cinematic appearance of Boba Fett (before he was retroactively added to the A New Hope special edition), there was much hype surrounding this new villain in the Star Wars saga. Despite having only four lines of dialogue, Boba was an instant hit with fans.His battle-scarred Mandalorian armor and T-shaped visor became an iconic symbol of the franchise on par with Vader's swooping black helmet. boba's intricate armor is part of his appeal, and features a jet pack, wrist gauntlets, flamethrower, external targeting rangefinder, and trusty E-33 carbine rifle.
1983- Star Wars Episode VI: Return of the Jedi
Directed By: Richard Marquand
Boba Fett Portrayed By: Jeremy Bulloch, Mark Austin (SE*), Don Bies (SE), Nelson Hall
*Special Edition
Boba Fett returned in the first half of Return of the Jedi. A year after The Empire Strikes Back, Han Solo's friends have hatched a plan to rescue him from Jabba the Hutt. Boba is on-hand to watch as Luke Skywalker and his friends are captured and sentenced to death by digestion in the Sarlacc. A mixture of underestimation and pure bad luck causes Boba to tumble into the Sarlacc's open maw. notable differences in his attire are various new silver, black, and gray scratches on his helmet, red gauntlets, a dark green cape, and a more colorful and weathered jetpack.
1985- Star Wars: Droids "A Race to the Finish"
Produced By: Nelvana Limited & Lucasfilm Ltd.
Boba Fett Portrayed By: Don Francks
In the episode "A Race to the Finish" from the short-lived animated ABC TV show Star Wars: Droids, Fett appears as a capable bounty hunter, using his suit's various weapons in an attempt to thwart the heroes and win the Boonta Speeder Race. Beyond his distinctive helmet and cape, his appearance is significantly simplified, with a blue helmet and gauntlets, white pants, and a yellow-tinged chest piece. An action figure was released to coincide with his appearance on the show. The figure is now a very rare collectible, selling for thousands of dollars mint in box.
2002- Star Wars Episode II: Attack of the Clones
Directed By: George Lucas
Boba Fett Portrayed By: Daniel Logan
A fan favorite of the original trilogy, Boba Fett made his first prequel trilogy appearance in Attack of the Clones. Shown as a young boy, Fett's origins are explained as being an unmodified clone of his father, bounty hunter Jango Fett. Young Boba appears as an olive-skinned youth with long brown hair, a blue tunic-style shirt, and an impetuous attitude.
2008- Star Wars: The Clone Wars
Created By: George Lucas
Developed By: Dave Filoni
Boba Fett Portrayed By: Daniel Logan
The Clone Wars takes place between Attack of the Clones and Revenge of the Sith. After the death of Jango Fett at the hands of Mace Windu, Boba is left to fend for himself and falls in with bounty hunters Aurra Sing and Bossk. His appearance in the series shows him with both longer hair like in Clones, as well as a short, cropped crew cut. He is cunning, intelligent, and ruthless—a bounty hunter in training who is looking to avenge his father's death at the hands of the Jedi.
2012- Star Wars: 1313
Developed By: LucasArts
Revealed at the Electronic Entertainment Expo in 2012, there was a lot of hype surrounding Star Wars: 1313. What appeared to be a gritty, original story of Boba Fett's youth in the infamous slums of Coruscant's criminal underworld, 1313 was postponed indefinitely when Disney purchased Lucasfilm and LucasArts was dissolved. 1313 was to be a third-person, next-gen video game where players took on the role of the famous bounty hunter in the early days of his trade. Preliminary artwork for the game showed Fett looking less armored and more human, with his trademark jetpack exchanged for a high-powered rifle.
Sources: bobafettmp.com, wookieepedia.com, Star Wars Costumes: The Original Trilogy by Brandon Alinger
What was your favorite version of Boba Fett? It's hard to argue with the final version seen in Return of the Jedi as the best, especially after seeing how much work went into refining and designing the character be perfect. With the announcement that Disney and LucasFilm are working on a Boba Fett film that will focus on his early days as a bounty hunter, we expect to see a new version of Fett to add to the list. If you are feeling villainous, check out our wide array of Boba Fett merchandise, featuring everything from deluxe costumes to bodysuits, to helmets, to tank tops.
Design Credit: Jacob Kuddes