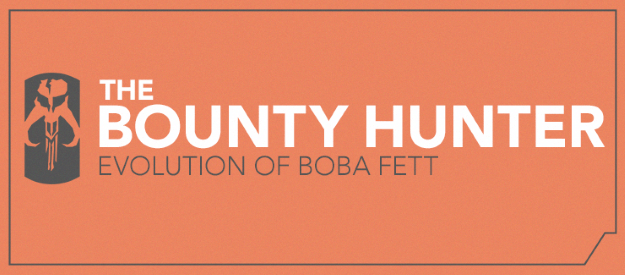 Besides the dark, sloping helmet of Darth Vader, there are few things more villainous and iconic in the Star Wars universe than Boba Fett. Officially introduced in the second film of the original trilogy, The Empire Strikes Back, the rollout of Boba Fett to the already ravenous fandom in the late 1970s was a carefully orchestrated affair. Before the film, Fett appeared in cartoons, action figures, and even in a small-town parade. Lucasfilm clearly intended for Fett to be a memorable character. There is no stronger evidence to this fact than the many revisions the character went through before his debut in Empire. See how the galaxy's most fearsome bounty hunter arrived at his influential look with this evolution of Boba Fett infographic.

[Click Infographic to Enlarge]
Embed This Image On Your Site:
What was your favorite version of Boba Fett? It's hard to argue with the final version seen in Return of the Jedi as the best, especially after seeing how much work went into refining and designing the character be perfect. With the announcement that Disney and LucasFilm are working on a Boba Fett film that will focus on his early days as a bounty hunter, we expect to see a new version of Fett to add to the list. If you are feeling villainous, check out our wide array of Boba Fett merchandise, featuring everything from deluxe costumes to bodysuits, to helmets, to tank tops.
Design Credit: Jacob Kuddes