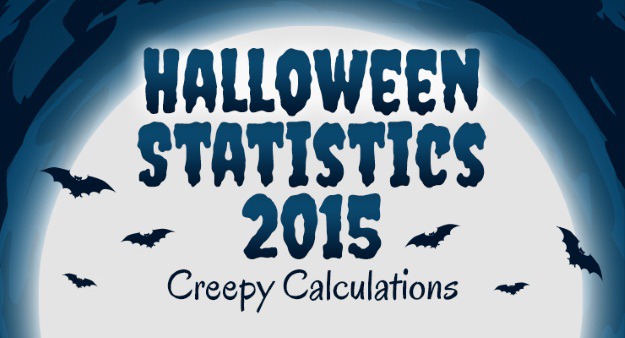 The batty ballots have been tallied. The spooky stats have been gathered. The demon data has been mined. The Frankenstinian facts have been foraged. The Nosferatu numbers have been pulled...you get the idea. We present to you, the 2015 edition of our Halloween facts and stats infographic, Creepy Calculations! Are you one of the 50% of American households that will run out of trick-or-treat candy this year? Are you part of the quarter of all Americans that waits until the last two weeks of October to shop for your Halloween costume? Is your pet's costume one of the five trendiest of Halloween 2015? See how you measure up by cheking out our chilling visual guide below!

[Click Image to Enlarge]
Embed This Image On Your Site:
Halloween Statistics 2015 Creepy Calculations Transcript
How Adults Plan to Celebrate Halloween
64% of American adults age 18+ plan to celebrate Halloween in 2015
Hand Out Candy: 68%
Decorate Home & Yard: 45%
Dress in Costume: 44%
Carve a Pumpkin: 41%
Throw or Attend a Pary: 32%
Take Children Trick-Or-Treating: 28%
Visit a Haunted House: 18%
Dress Up Their Pet: 13%
When Americans Shop
Before September: 6%
September: 28%
The First 2 Weeks of October: 41%
The Last 2 Weeks of October: 25%
Where Inspiration Comes From
Online: 31%
In Stores: 27%
Friends & Family: 18%
Pop Culture: 14%
Breakdown of Online/Outside Inspirations
Pinterest: 13%
Printed Media: 13%
Facebook: 13%
YouTube: 8%
Current Events: 7%
Instagram: 7%
Twitter: 4%
Blogs: 3%
How Much Americans Will Spend
Adults: $1.2 Billion
Kids: $950 Million
Pets: $350 Million
Popular 2015 Costumes
Kids
Dinosaur
Minion
Big Hero 6
Inside Out
Star Wars
Adults
Harley Quinn
Marty McFly
Creepy Dolls
Donald Trump
Grease
Pets
Dinosaur
Minion
The Pope
Star Wars
A Bat
Favorite Candy Types
Chocolate: 70%
Candy Corn: 13%
Chewy Candy: 6%
Gummy Candy: 5%
Candy Calculations
50% of households claim they sometimes or often run out of candy on Halloween night

You are more likely to run out of candy if your household doesn't have children at home

78% of parents confess to eating candy from their children's Halloween collection

more families in the Midwest hand out candy to trick-or-treaters than in any other region

60% of households claim that having an especially unique or cute costume doesn't affect how much candy they hand out

Men are 9% more likely to reward Halloween costume creativity than women are

72% of households hand out 2 to 3 pieces of candy per trick-or-treater

51% of households let the trick-or-treaters select their own candy, while 49% select the candy for the trick-or-treater. Nearly half and half!
Sources
Internal Data, NRF (National Retail Federation), NCA (National Confectioners Association)
1.5 billion dollars spent on adult costumes this year? Wow! Don't become a statistic in next year's creepy calculations infographic by missing your chance to dress in costume! There's still time to pick out the perfect disguise for yourself or for your family members. You can browse our selection of nearly 6,000 adult costume ideas HERE, or take a gander at 4,000 kids costume ideas HERE!