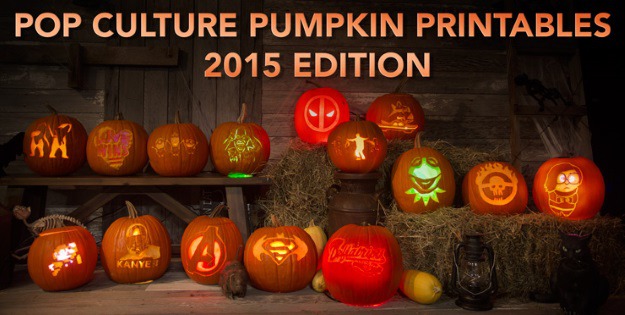 What an eventful year 2015 has been so far! The supreme court ruled to legalize same-sex marriage, a clumsy shark with bad rhythm stole the show at the Super Bowl, The Muppets got their own reality TV show, and Kanye West announced his intentions to run for P.O.T.U.S. in 2020. These stories have been covered by the news, discussed at water coolers, and turned into Halloween costumes, but now they're taking on a new form...one that's rather round, orange, and full of seeds: we've turned them into printable pumpkin patterns! If you're tired of carving witches and bats, and aren't afraid to get the neighbors talking, then try your hand at any one of our 15 free printbale pop culture pumpkin patterns!
Carving Key: as with any standard pumpkin pattern, black areas should be cut out and removed completely, grey areas should be shaded, and white areas should remain uncarved. What you do with the seeds, on the other hand, is totally up to you. Good luck and have fun!
1. Left Shark Pumpkin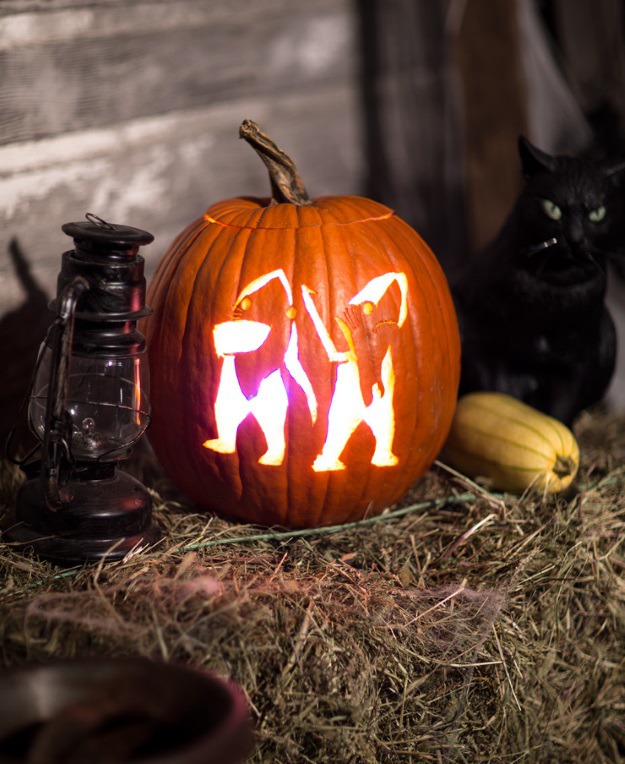 With her bright hair color choices and flashy costumes, Katy Perry is used to being the center of attention at her live performances. At this year's Super Bowl, however, it was move over Ms. Perry, helloooo "left shark!" Since the fateful February day where fans watched this bumbling mascot flub choreography, left shark has turned into a symbol of encouragement for dancefloor underdogs, and the inner "fail" in us all! Get your groove on and carve a left shark pumpkin this Halloween.
Free Left Shark Pumpkin Pattern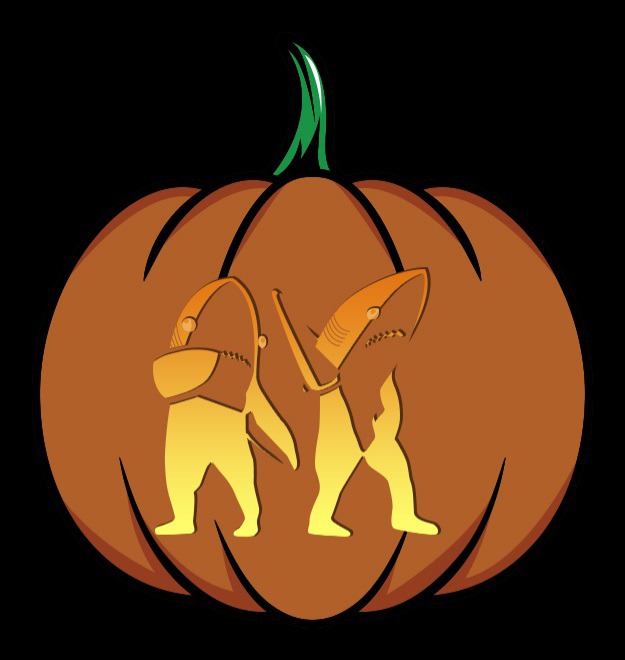 Click Above for Printable PDF
2. Love Wins Pumpkin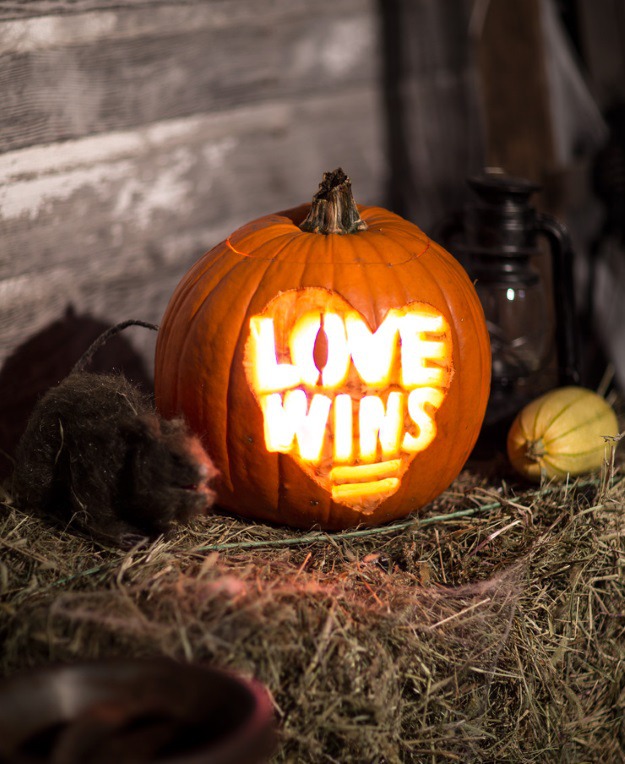 In the days and weeks following the supreme court decision to legalize same-sex marriage in the United States, it was impossible to browse the internet without seeing the #LoveWins hashtag! If you were one of the thousands of people to share your support by changing your Facebook profile picture to a rainbow filter, then this Love Wins pumpkin pattern may be right up your alley!
Free Love Wins Pumpkin Pattern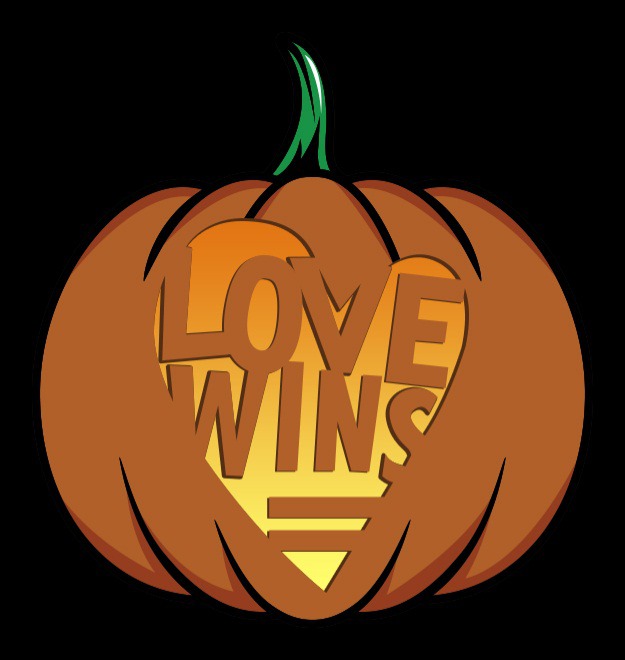 Click Above for Printable PDF
3. Minions Pumpkin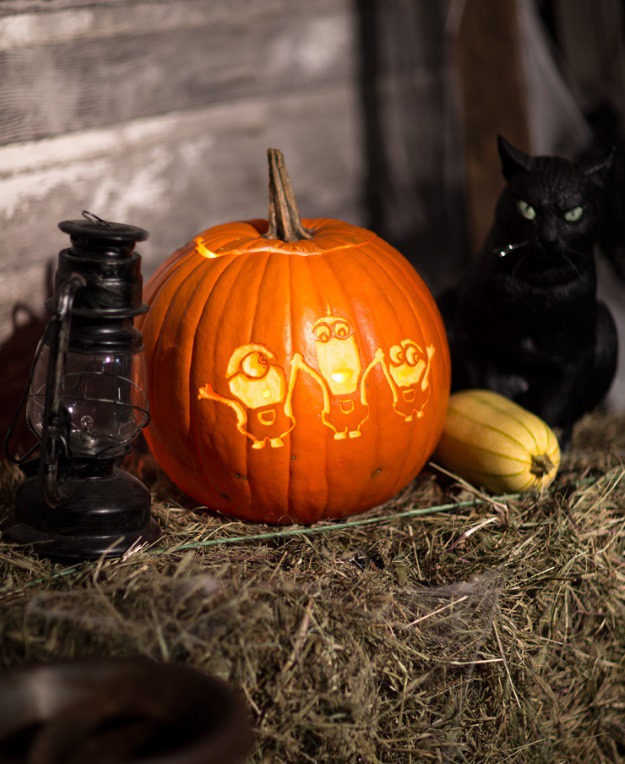 The Minions have been steadily taking over the world (just like their master!) since they first appeared in Despicable Me back in 2010, but the crowning achievement in their pop culture careers has to be starring in their own dedicated film, Minions. It's especially perfect that Kevin, Bob, and Stuart, should star on your 2015 pumpkin, since we already KNOW they look great in yellow!
Free Minions Pumpkin Pattern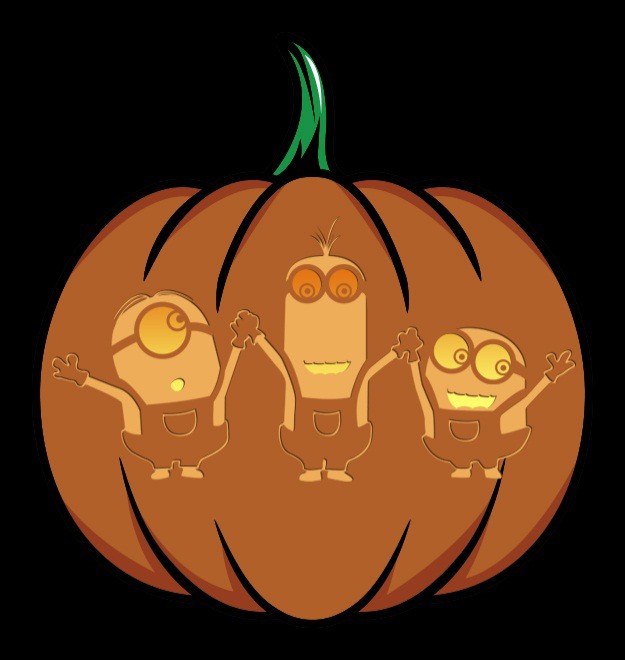 Click Above for Printable PDF
4. Suicide Squad Joker Pumpkin
Even though the Suicide Squad movie doesn't come out until summer 2016, it has been making pop culture news headlines steadily throughout the year in 2015. When Harley Quinn's new costume was first revealed, geeks were agog. When footage of the Batmobile screeching down closed set streets was released, fans were fascinated. But the tantalizing tidbit that started it all? The image of the tattoo-laden Jared Leto, all dressed up as The Joker. Recreate this intricate pumpkin pattern, and you'll have the last laugh. HA. HA. HA.
Free Suicide Squad Joker Pumpkin Pattern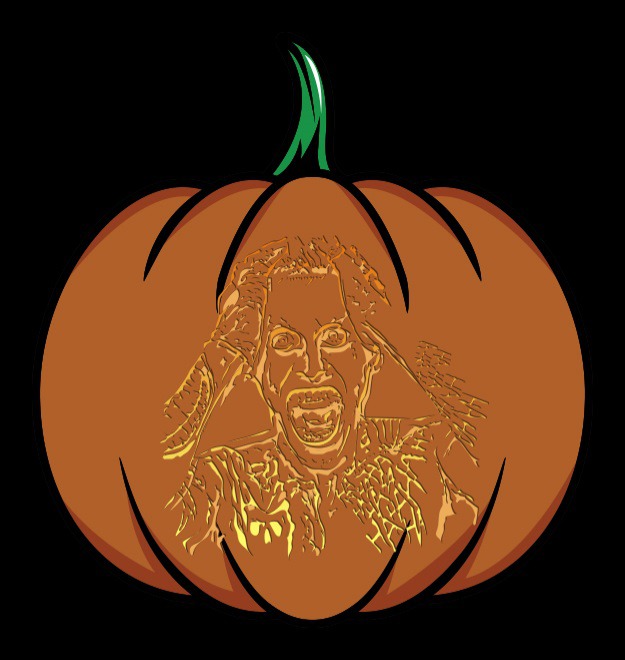 Click Above for Printable PDF
5. Deadpool Pumpkin
Even if you aren't all about superhero movies, and even if you're not into comic books, there's still something to love about the upcoming February '16 release of the Deadpool movie, you can still choose between two other things to love about it: (1)Ryan Reynolds is the film's star. (2)Deadpool loves irreverent humor, puns, and breaking the fourth wall. No matter what, it's going to be entertaining, and no matter what, this simple Deadpool pumpkin is...smashing.
Free Deadpool Pumpkin Pattern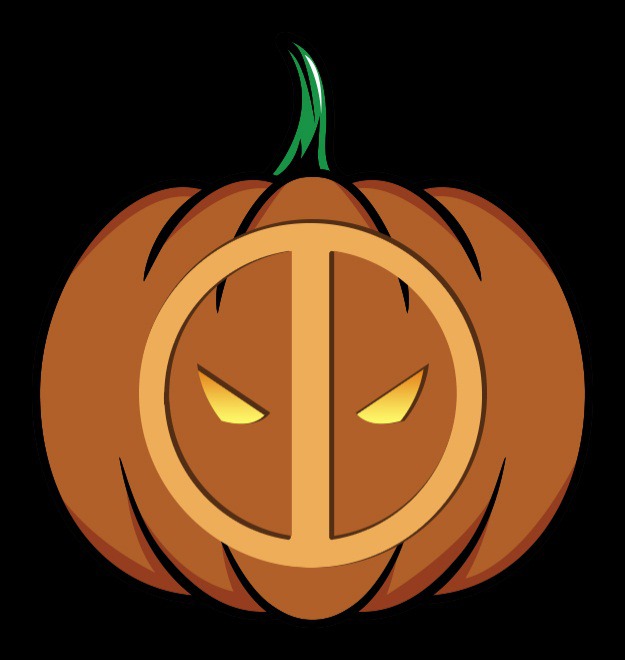 Click Above for Printable PDF
6. Jurassic World "Pratt-ing" Pumpkin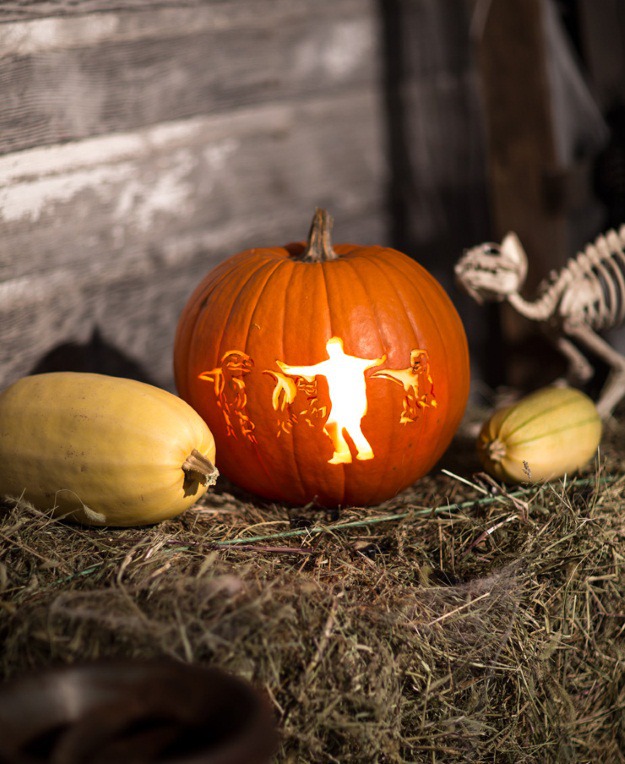 The Indominous Rex was cool and all, but Velociraptors Charlie, Delta, Echo, and Blue, really stole the show in this summer's record-breaking Blockbuster, Jurassic World. They were fast, fierce, and fiery tempered, so the notion that Owen Grady (played by Chris Pratt) had at least partial control over them, elevated him to instant idol status. He was even emulated by zookepers across the world, who tried their own hands at Pratt-ing. If you pull off this detailed pattern, maybe you'll earn the respect of your very own raptor squad!
Free Jurassic World Pratt-ing Pumpkin Pattern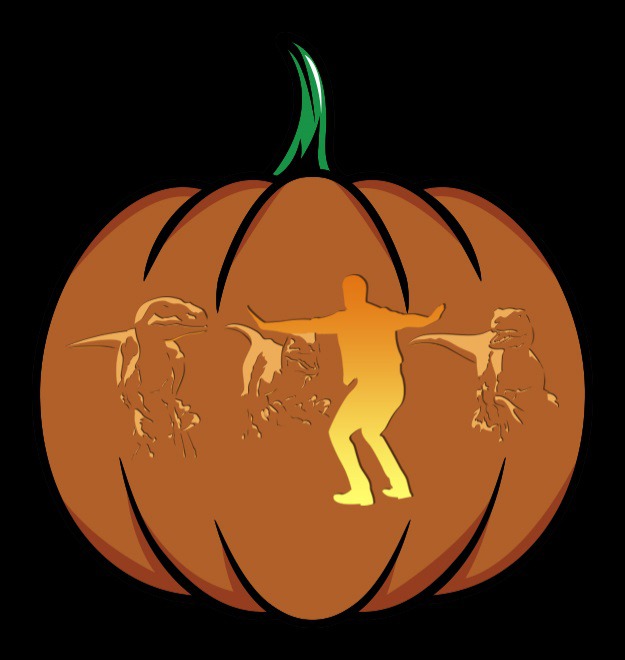 Click Above for Printable PDF
7. Back to the Future II Pumpkin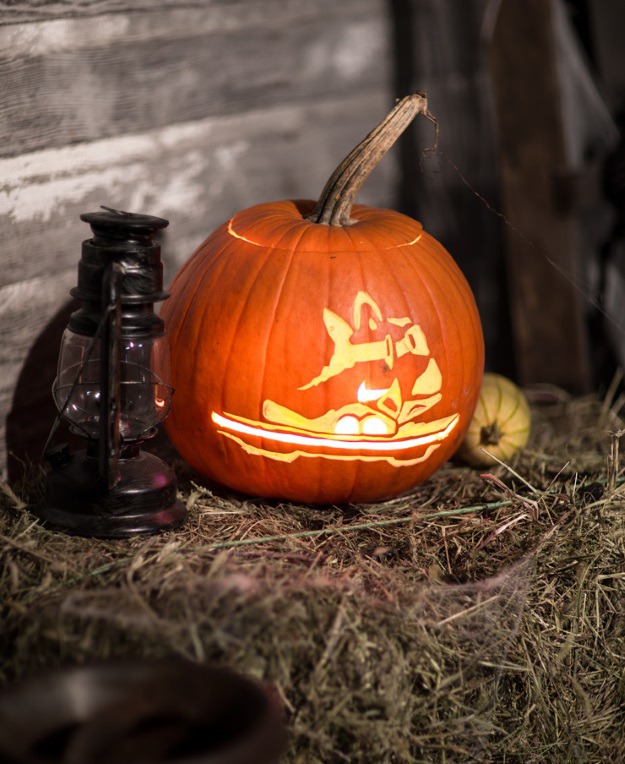 By now, Back to the Future fans are well aware: 2015 is the year of BTTF! October 21st has even been declared "Back to the Future Day," as it is the precise calendar date that Marty and Doc traveled to in Back to the Future Part II. So, while carving a BTTF-related pumpkin ANY Halloween is completely socially acceptable (encouraged, in fact!), 2015 is undoubtedly the most perfect year to give this cool stencil a try.
Free Back to the Future II Pumpkin Pattern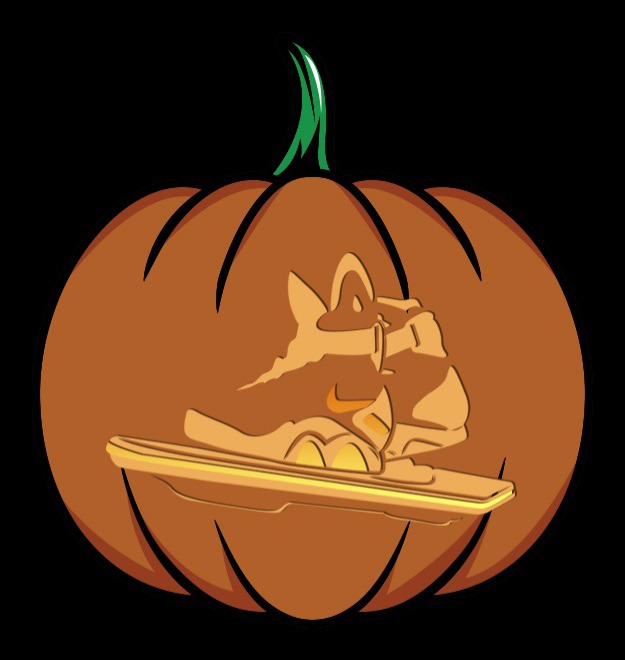 Click Above for Printable PDF
8. Kermit Pumpkin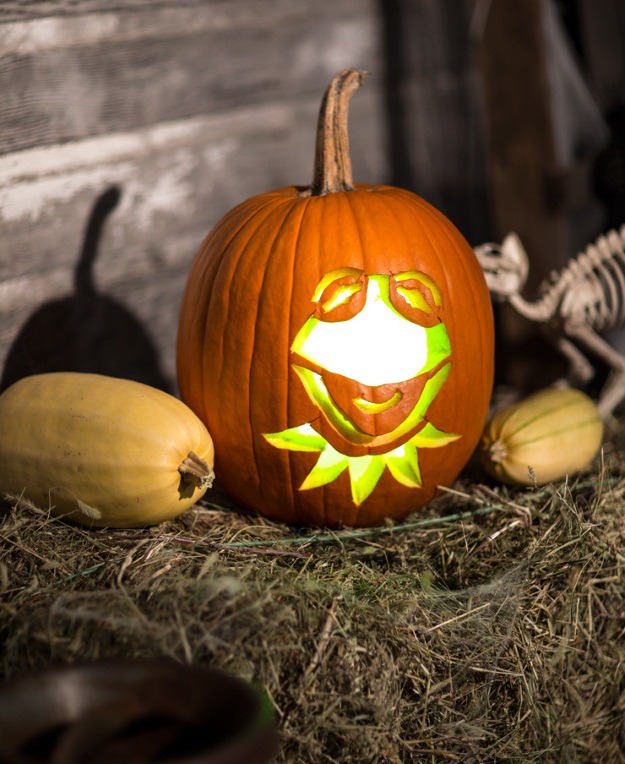 Kermit has pretty much always been America's darling. In fact, he should have a title by now, like "First Frog." Whether or not he officially secures that position, he has recently secured his very own ABC reality show, "The Muppets." Since this has been an especially successful year for Kermie, it's an especially perfect year to carve a pumpkin featuring his smiling frog face. Don't forget to use a green light inside, like we did!
Free Kermit Pumpkin Pattern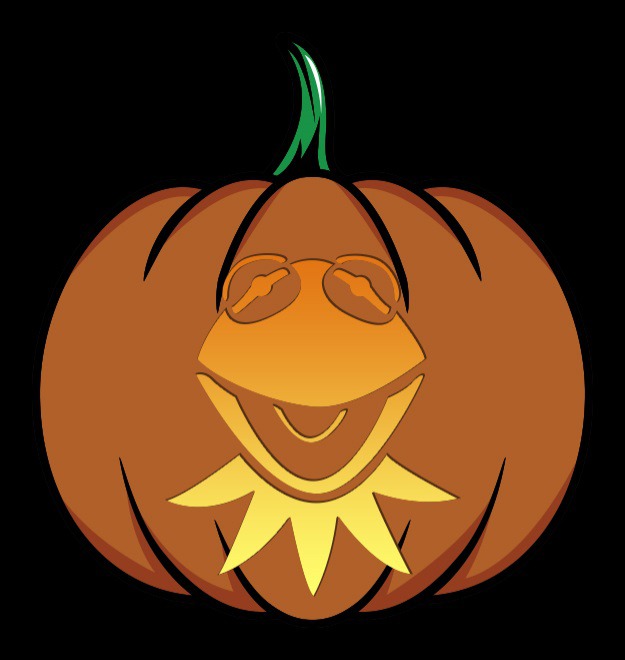 Click Above for Printable PDF
9. Mad Max: Fury Road Pumpkin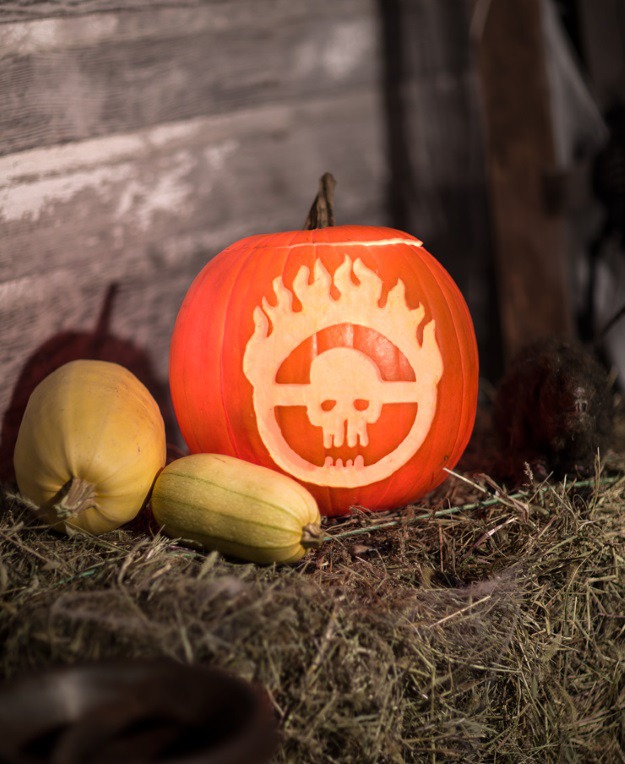 Oh what a pumpkin. What a lovely pumpkin. If you carve a pumpkin with the War Boys' infamous emblem on the front, your neighbors will have no choice but to "witness you" and your amazing skills as an artist! Mad Max: Fury Road was a huge hit in theaters this past May, so if you, like us, are still ecstatic that this famous franchise had a successful reboot, then toss on some leather chaps and get to carvin'.
Free Mad Max: Fury Road Pumpkin Pattern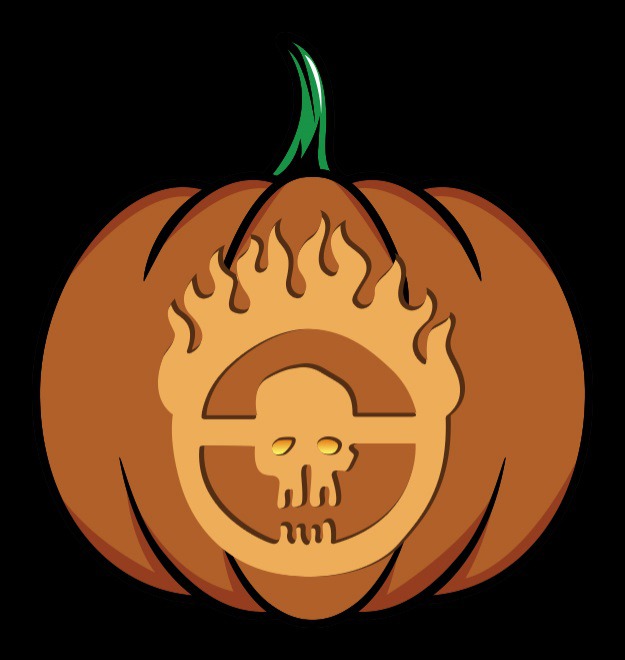 Click Above for Printable PDF
10. Inside Out Sadness Pumpkin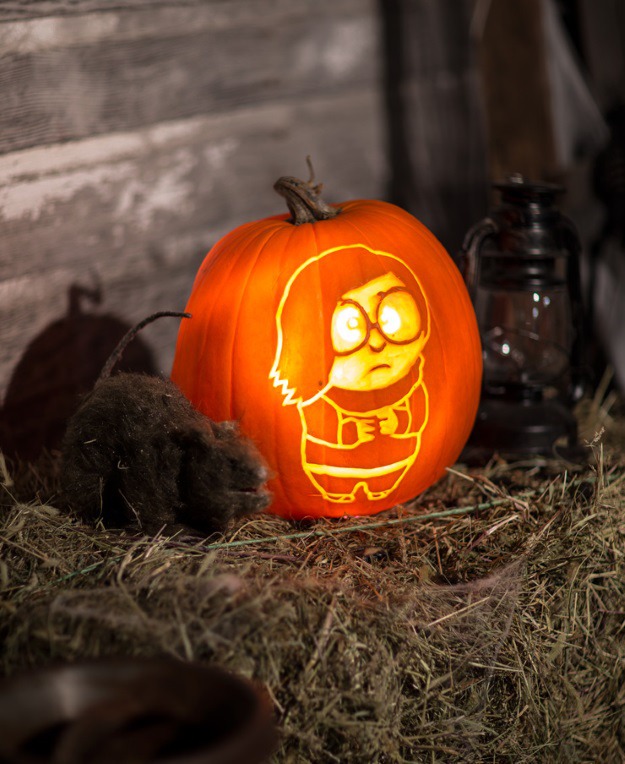 Even though it just premiered four months ago, Inside Out is already a wildly popular film with fans all across the world, both young and old. In fact, one of the emotions from the film, "Disguist," is a top-selling girl's Halloween costume this year! Because this is such a family friendly movie, carving this cute "Sadness" pumpkin with your family would be the perfect fall bonding activity. Just be warned - having cold, slimy pumpkin guts all over your hands can get a little...disgusting!
Free Inside Out Sadness Pumpkin Pattern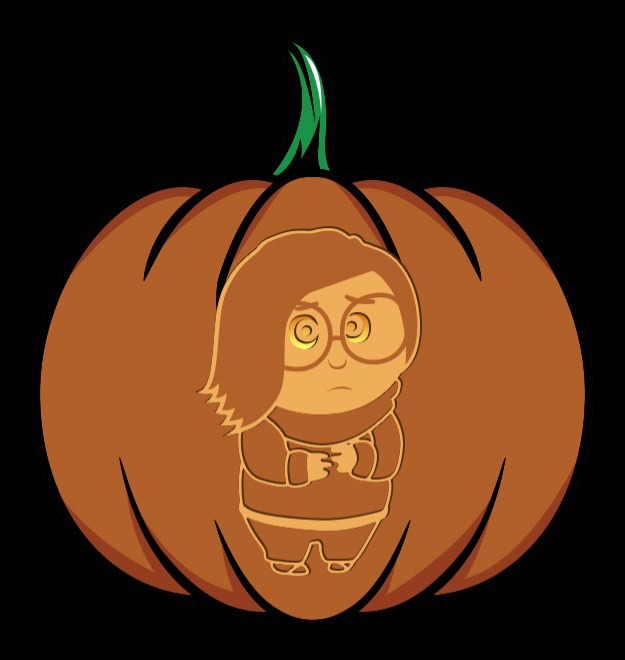 Click Above for Printable PDF
11. Skinny Mario Pumpkin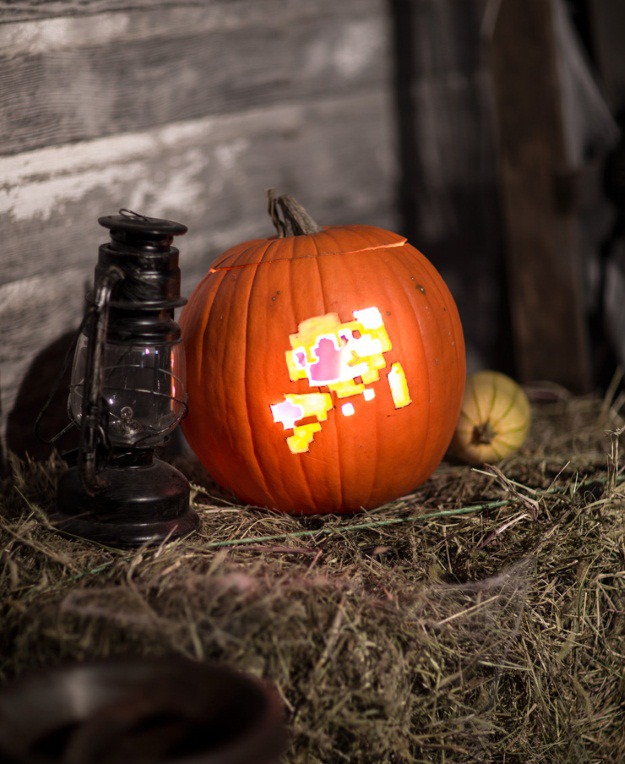 Did you know that there's a "glitch" (we're calling it that because it had better not have been on purpose...) in the new Mario Maker Nintendo game, where Mario eats a "Luigi mushroom" and turns into...SKINNY MARIO? Skinny Mario has been labeled as "an atrocity," "an abomination," "a horror," "terrifying..." you get the idea. The cool thing is that all of those adjectives are totally perfect for Halloween, when it's practically the goal to be as scary as possible! Our team was too creeped out to even attempt carving the skinny Mario pattern, so they carved a classic 8-bit Mario instead. But go ahead and print the PDF below. If you dare.
Free "Skinny Mario" Pumpkin Pattern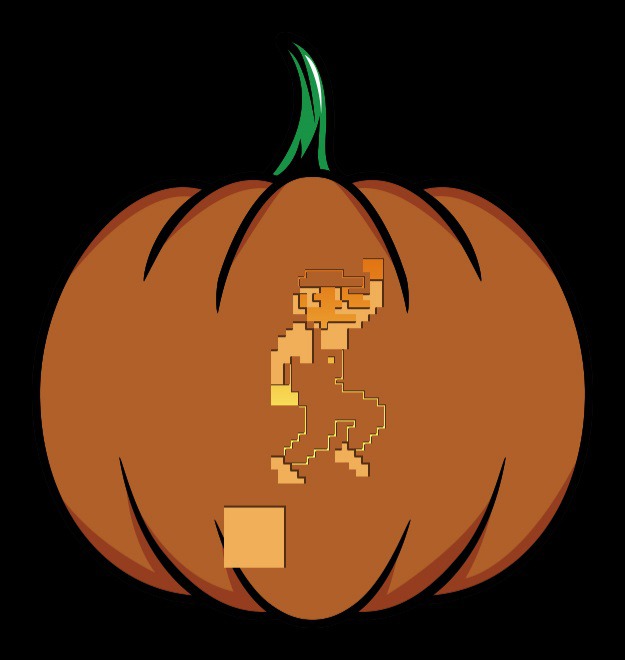 Click Above for Printable PDF
12. Kanye 2020 Pumpkin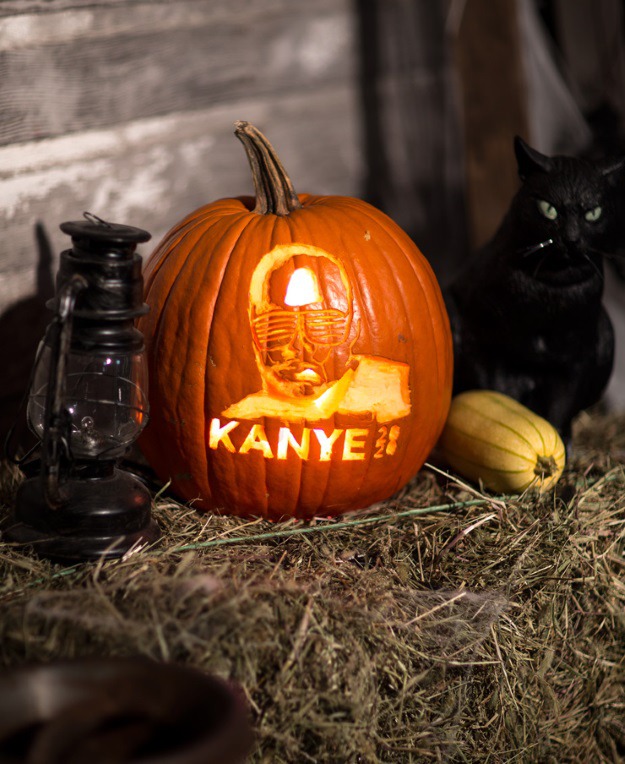 How is it that Kanye West alwaysss manages to pull off some attention-grabbing, controversial stunt at the MTV VMAs? In 2009, it was when he famously interrupted Taylor Swift in the middle of her acceptance speech. In 2015, it was the announcement during his "Video Vanguard" acceptance speech, that he intends to run for president in the year 2020.There's literally nothing else to say about this pumpkin, as we're still in shock. Is he kidding? Is he serious? Does he just have the best PR team ever? All we can hope is that if your mom calls you to dinner while carving this pattern, she sees how great it is and simply says, "Imma let you finish."
Free Kanye 2020 Pumpkin Pattern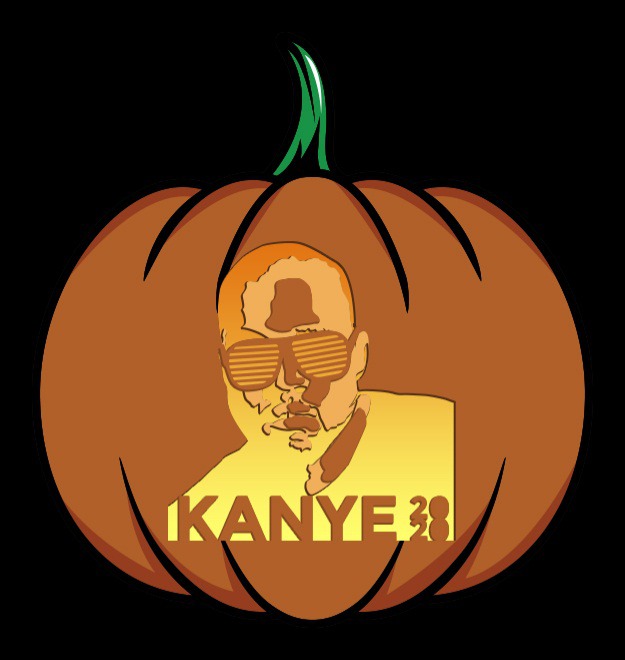 Click Above for Printable PDF
13. Avengers Logo Pumpkin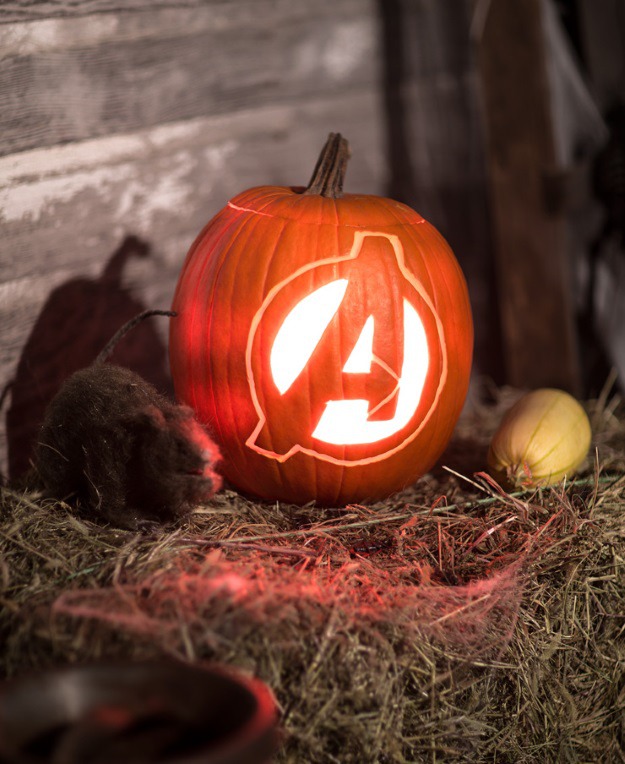 Bahhhhh, Avengers: Age of Ultron was just soooo cooool. it had new characters doing cool new stuff, bad guys with awesome accents turning into good guys, Black Widow singing lullabies to Hulk, Tony Stark doing super smart technology things, and so many big budget special effects. Since we know it's basically impossible to pick just one favorite Avengers character to carve, why choose at all? Carve this Avengers logo and show your support of the whole gang, old and new!
Free Avengers Logo Pumpkin Pattern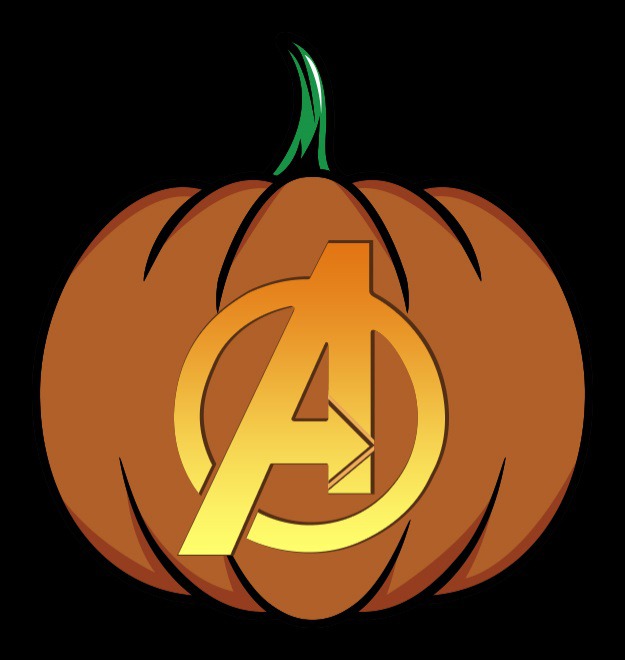 Click Above for Printable PDF
14. Batman V. Superman Pumpkin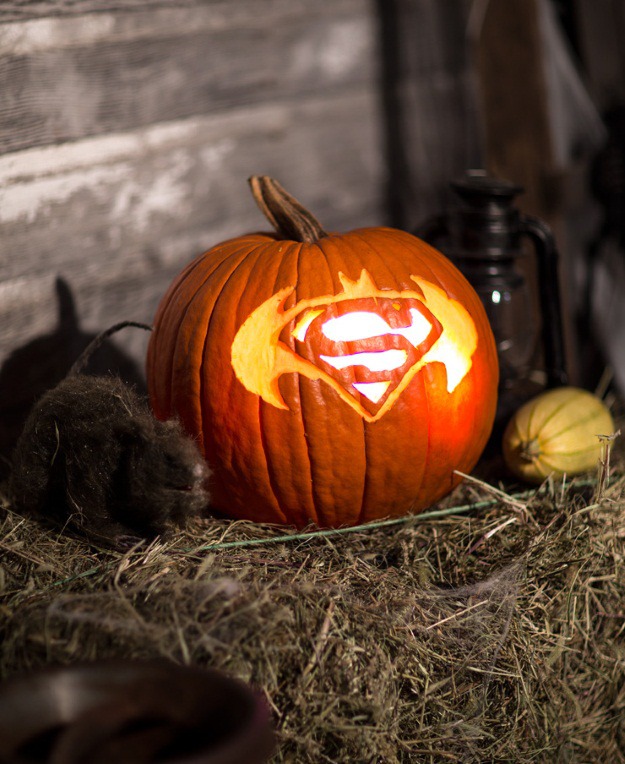 Are you batty over Superman? Do you think Batman is super? Well then you probably can't wait for next spring's release of Batman v Superman: Dawn of Justice. Just like with Suicide Squad, any time a new casting detail is shared, a new plot point is revealed, or a new photo from set is released, it's instantly splashed across pop culture headlines. Broadcast your love for team DC by carving this striking mash-up logo.
Free Batman V. Superman Pumpkin Pattern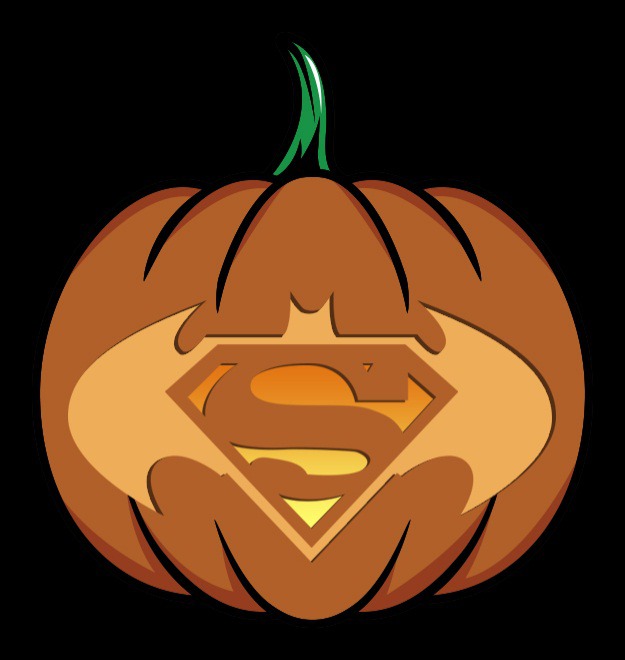 Click Above for Printable PDF
15. Deflategate Pumpkin
Did Tom Brady know that the footballs were slightly deflated, or didn't he? Is the Patriots' Super Bowl XLIX victory tarnished because of the scandal, or is the story just a bunch of hot air? Wherever your opinion lies on #DeflateGate and the humorously-dubbed "Deflatriots," if you carve this pumpkin pattern and display it on your front porch this year, you may have to pull out a friendly brew to share with the neighbors that stop by and insist on having a deflate debate!
Free Deflategate Pumpkin Pattern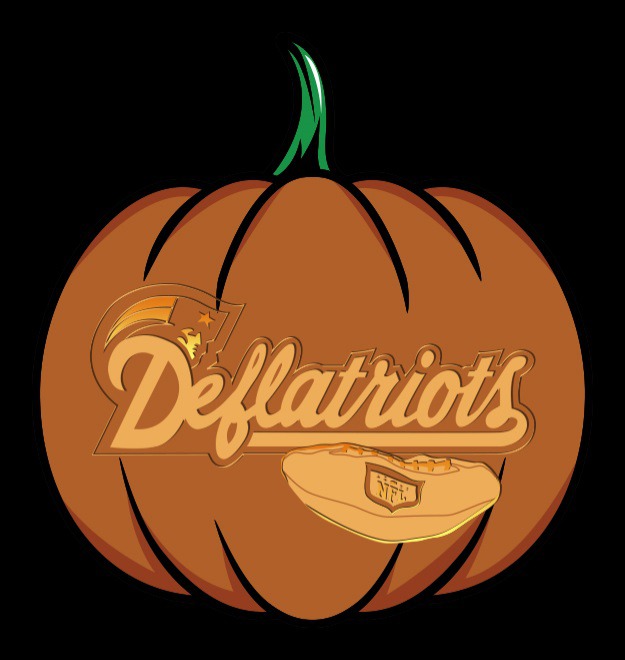 Click Above for Printable PDF
Pumpkin Carving Tools and Kits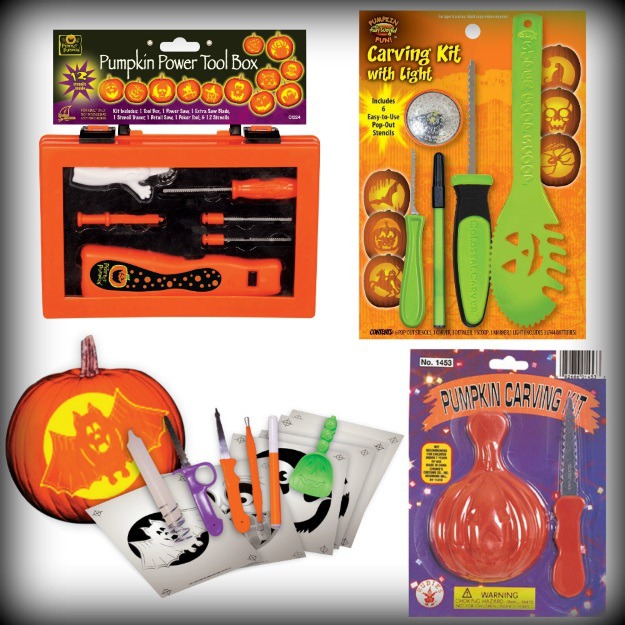 20-piece Green Carving Kit Scoop and Serrated Knife Kit
Now that you've picked out your favorite 2015 pumpkin stencil and printed our the corresponding PDF, you'll need the proper tools to create your work of art. We have several different carving kit options, that range from a simple plastic scoop to a kit complete with tiny power tools!
Which of these patterns calls out to your inner carve-master the most? Were there any 2015 pop culture moments that we missed? Would that moment look great translated into a pumpkin pattern? Let us know the answers to these, and any other carving connundrums that you come up with! And remember, smashing pumpkins makes for a great band name, but a terrible Halloween habbit. These carved pumpkins, and all carved pumpkins, are hand-crafted works that take time and energy, so always be respecful...even if your neighbor carves a Skinny Mario pumpkin. Yes, even then.
Stencil Design Credit: Kate Lemke