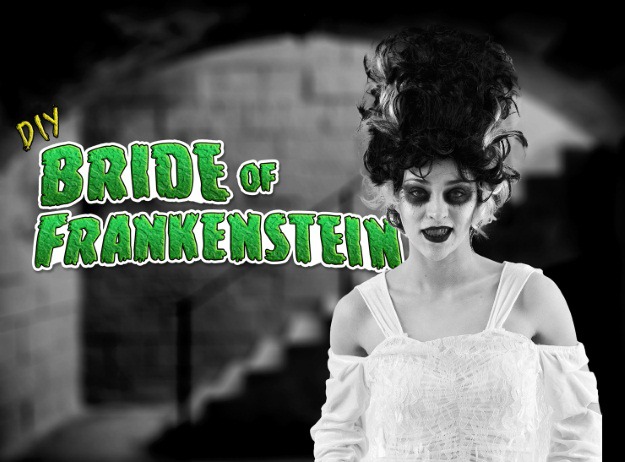 The Bride of Frankenstein has been an iconic Halloween look for decades, although it's one that relatively few people attempt themselves. Much of that comes from its perceived difficulty, from the dress to the makeup to that elaborate hairstyle. But this DIY experiment doesn't require an M.D. in Mad Science, and we've got everything you need to bring the Bride of Frankenstein costume to life!
Elsa Lanchester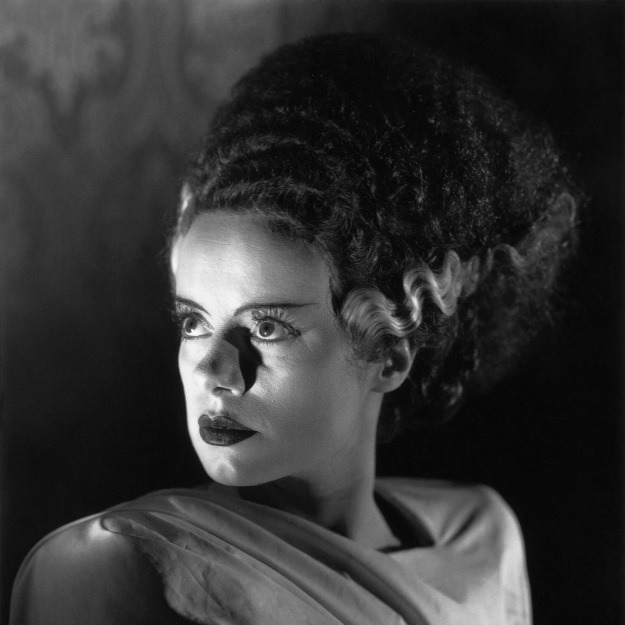 [Source]
The iconic Bride of Frankenstein originated in, you guessed it, the 1935 film Bride of Frankenstein. This was the sequel to 1931's Frankenstein, starring Boris Karloff as The Monster. Not Frankenstein, who was actually the scientist who created The Monster. (With us so far?) Elsa Lanchester played the woman created to be The Monster's "mate," which means the movie should more accurately be named Bride of The Monster. And then there's the scientist Frankenstein's wife, Elizabeth, the literal "bride of Frankenstein" who is just, you know, Elizabeth.
Confused yet? It's okay, all you have to remember is that the titular "Bride of Frankenstein" referred to in the films (and costume) is really just The Monster's bride and partner-in-crime. Forget about Elizabeth. Shhh. It'll be fine.
DIY Bride of Frankenstein Costume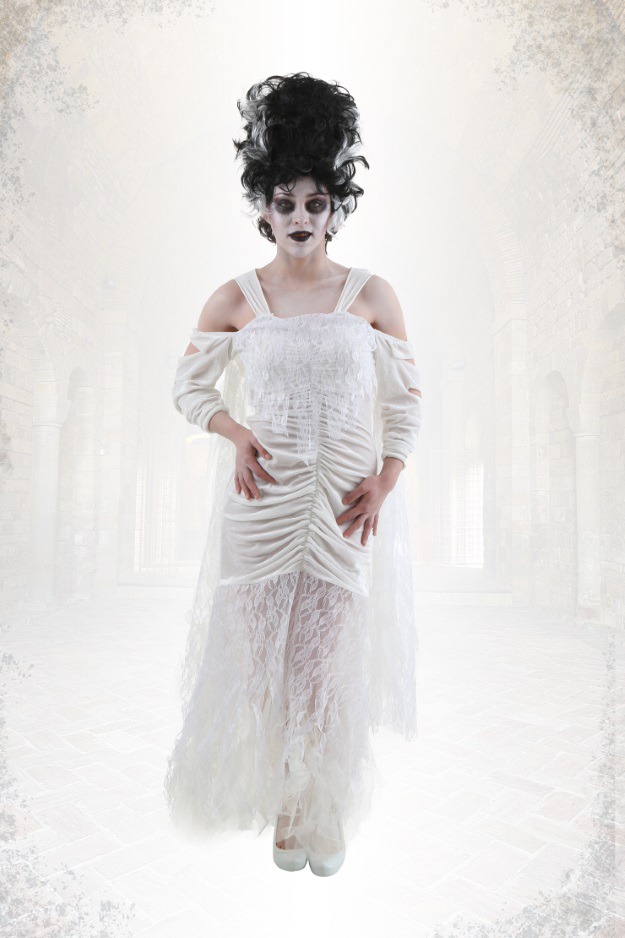 Here is our fully constructed Bride of Frankenstein costume, complete with makeup. We've included details on our products and process below!
Products Used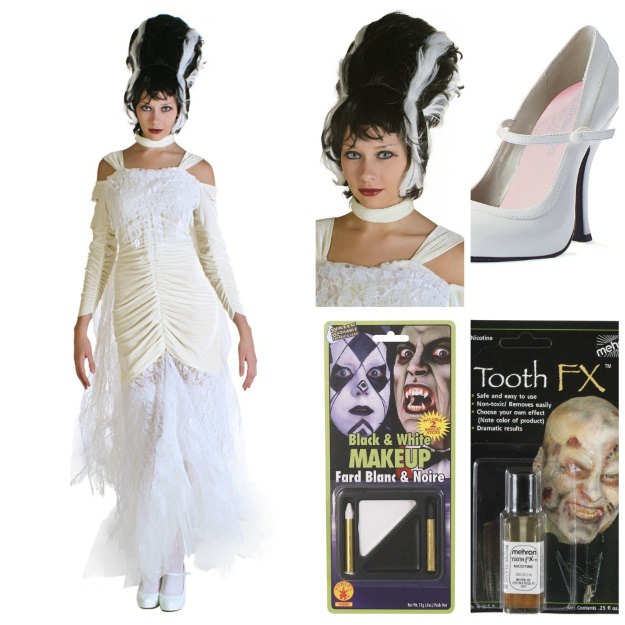 Bride of Frankenstein Dress Costume Women's Transylvania Wig Sexy White Heels
Vampire Makeup Teeth and Fangs
This bride was easy to assemble! For clothes, we used our exclusive Bride of Frankenstein Costume, Women's Transylvania Wig, and Sexy White Heels. As far as makeup, we went with black and white Vampire Makeup and some Tooth Decay. It's literally all you need for this Bride of Frankenstein costume (DIY. Unless it's cold out, then take a jacket.)
Bride of Frankenstein Costume & Makeup Tutorial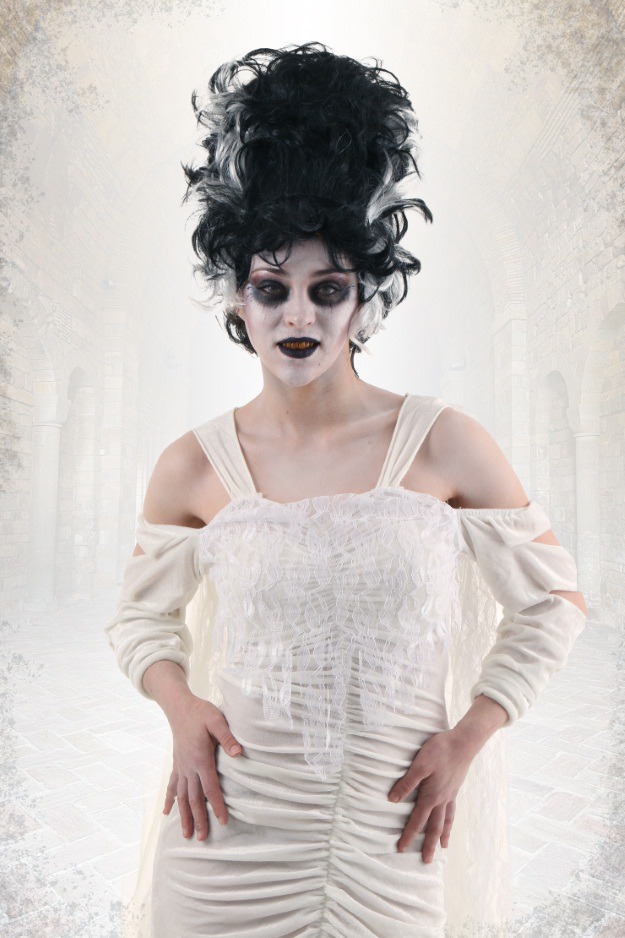 Clothing:
The clothing on our Bride of Frankenstein is straightforward. We didn't make any adjustments to the Bride of Frankenstein costume, but we did spend some time fluffing up the Women's Transylvania Wig. You can buy fancy hairspray that's made for wigs, but–hint hint!–regular hairspray works just fine. We thought the Sexy White Heels matched everything else best.
Makeup:
The Bride of Frankenstein makeup will be more time-consuming. Start with a white base, and make sure to apply a light coat on the neck and shoulders, if only to reduce the contrast between face and neck. (Unless your skin is naturally this white, in which case you are probably dead. You might want to get that looked at.) Next up is the black makeup. Apply it around the eyes, smudging it outwards. Use the black makeup stick for the lips, and try for a fine, crisp line and maximum contrast. Finish with Tooth Decay on the teeth, and smile for the camera!
Are you thinking of dressing as the Bride of Frankenstein for Halloween or Cosplay? Have you already in the past? Let us know about it in the comments below. If the Bride of Frankenstein isn't exactly your style, we have a variety of scary Halloween costumes to try out in the lab!