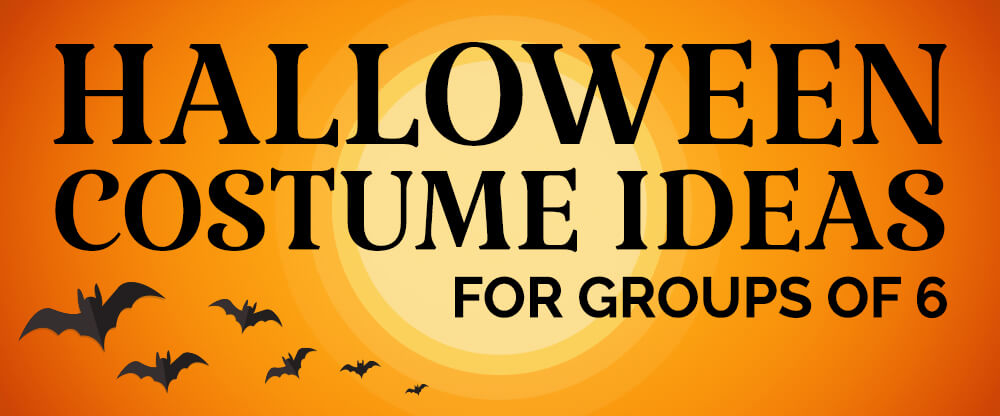 Hanging with your friends on Halloween is pretty much the best thing ever, especially if you're all wearing costumes. (Because who doesn't wear a costume with their friends? Don't be that person.) Also, while friend groups are great, perhaps you're part of a family of six people. And, what's even better is when everyone is coordinated to fit a specific series or theme! So get your friends and family together, pick some costumes, and rock your next Halloween party. Here are several iconic group costume themes and more than enough Halloween costume ideas to get you started!
1. Star Wars Costume Ideas for Groups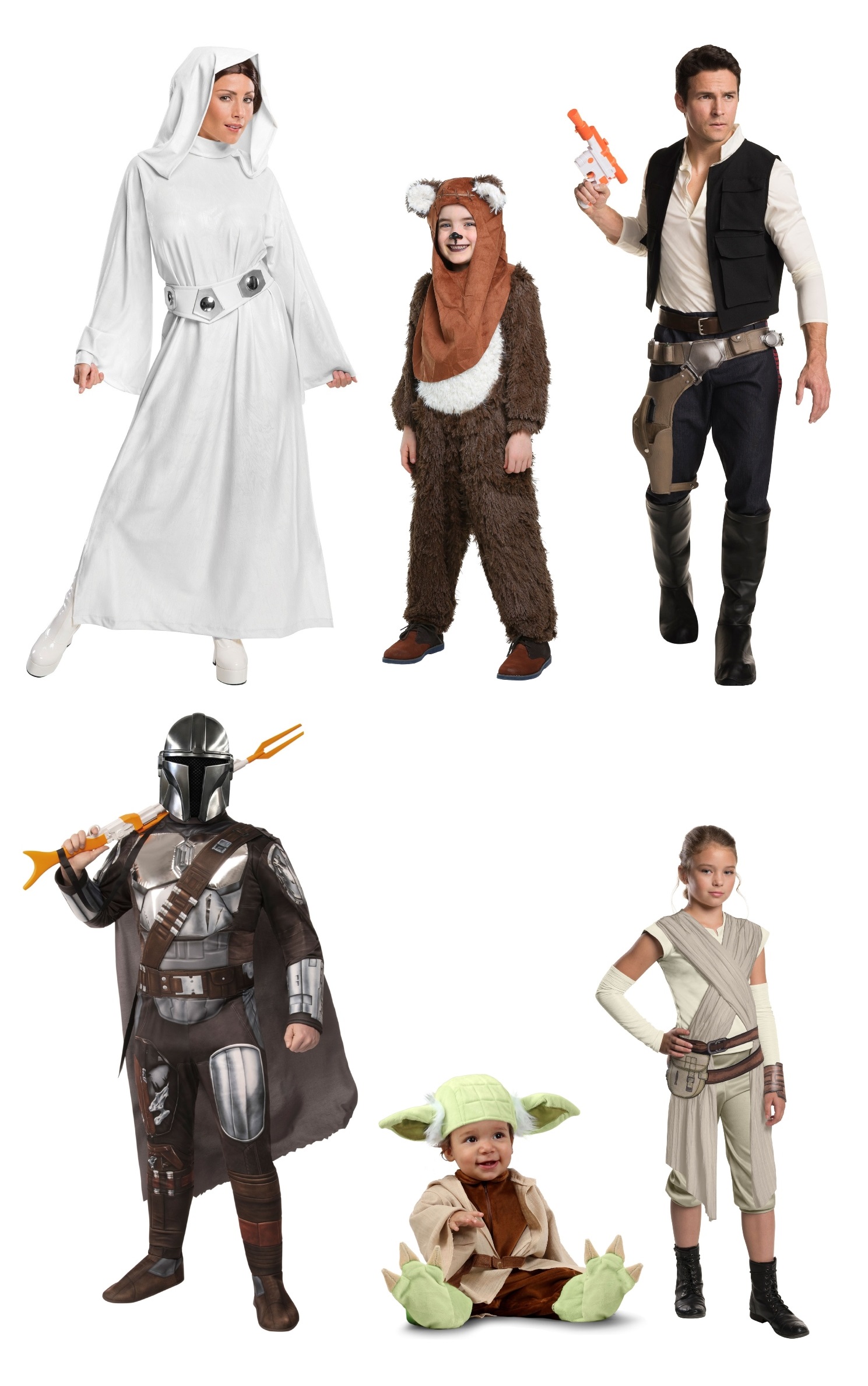 Star Wars is always hot for Halloween, and with so many characters, you can see how easy it is to make a group of 6 Star Wars costumes. Whether you prefer to stick with the original trilogy or you enjoy some of the newer movies and television series, there are plenty of Star Wars costumes for adults and kids. So whether your friends and family want to want to go old-school or new-school Star Wars, you're in luck!
2. Disney Costume Ideas for Groups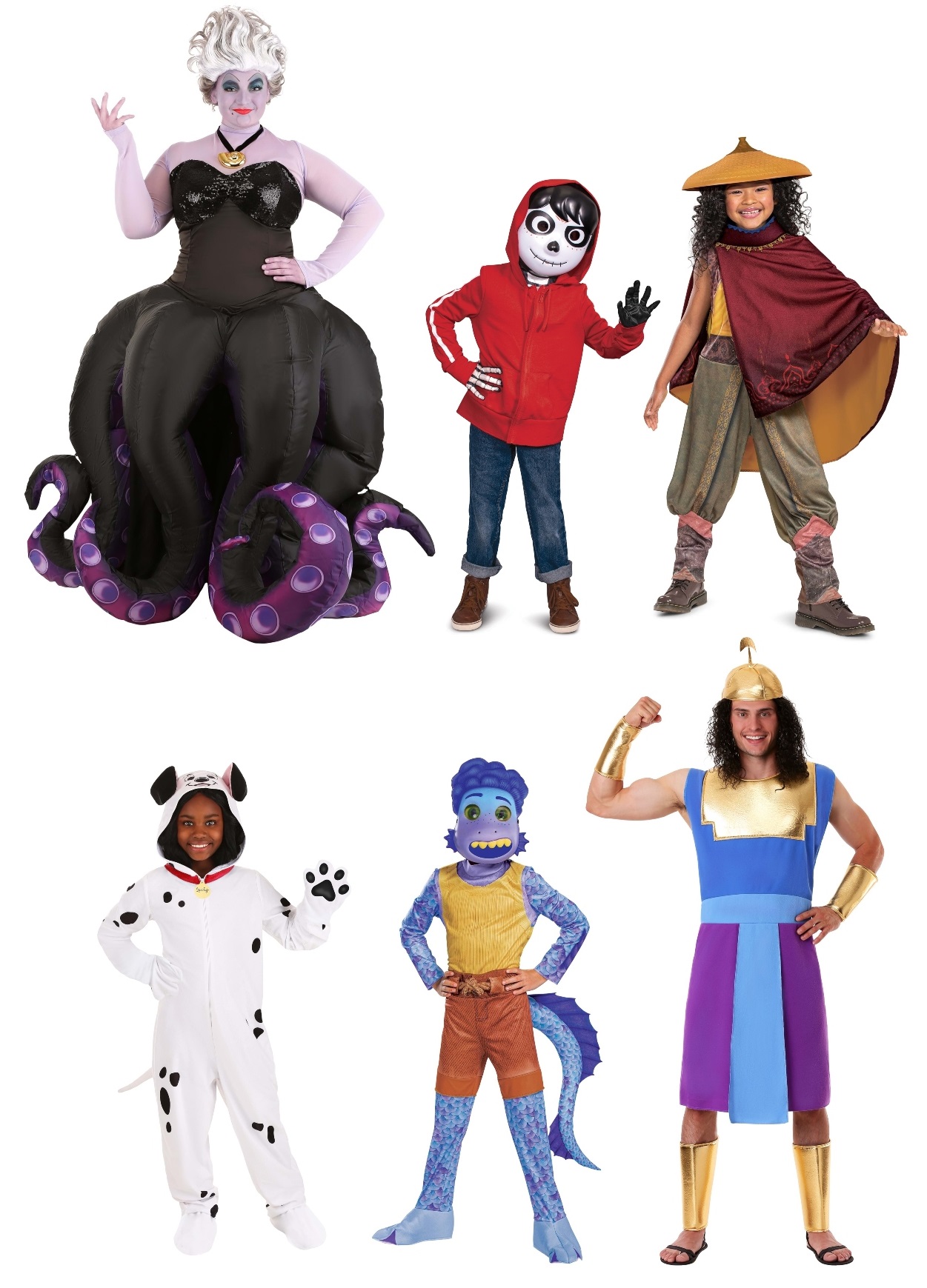 If you're looking for an incredibly flexible group costume idea, it's hard to beat Disney costumes. You can get the gal pals together for a Disney Princess group costume, make a Disney villains group, or try a number of other family of 6 costume ideas. After all, flexibility is a plus when working with large group costumes. Nothing is stopping you from going beyond a group of 6 costumes—you can easily have 10 or more!
3. Horror Movie Costume Ideas for Groups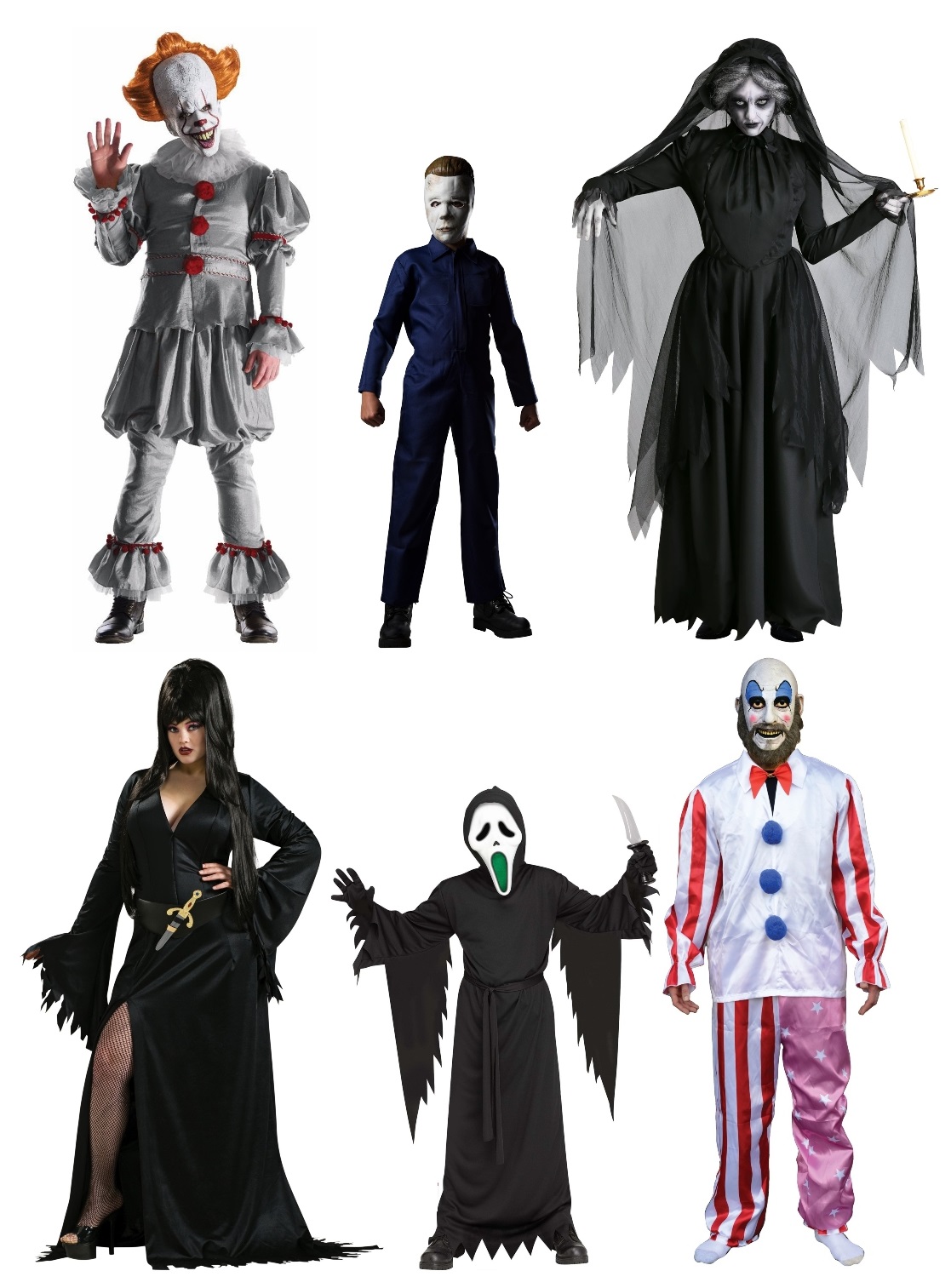 Is there anything more perfect for Halloween than a group of 6 of your favorite horror movie villains? (We certainly don't think so!) Getting together a group of scary Halloween costumes is pretty easy with horror icons like Pennywise, Michael Myers, Annabelle and more. However, this group costume idea is probably best for adult costume parties so that you don't scare anyone's kids.
4. Avengers Costume Ideas for Groups
The Avengers is another great option for costume groups. And with the popularity of superhero movies, you can bet a full group in Avengers costumes would be a hit at any Halloween party. Plus, if all of the Avengers are accounted for, your Marvel costume group can play a game of "Can you lift Thor's hammer?" It's, like, a law or something.
5. Justice League Costume Ideas for Groups
When it comes to superhero costumes, Batman and Superman are Halloween staples. But they're not exactly group-friendly, unless your plan is for everyone to growl "I'm Batman!" at each other. Take advantage of the excitement for new DC Comics movies and get the Justice League gang back together! Your family of 6 or group of friends will love picking out their favorite DC superheroes.
6. Jurassic Park and Dinosaur Costume Ideas for Groups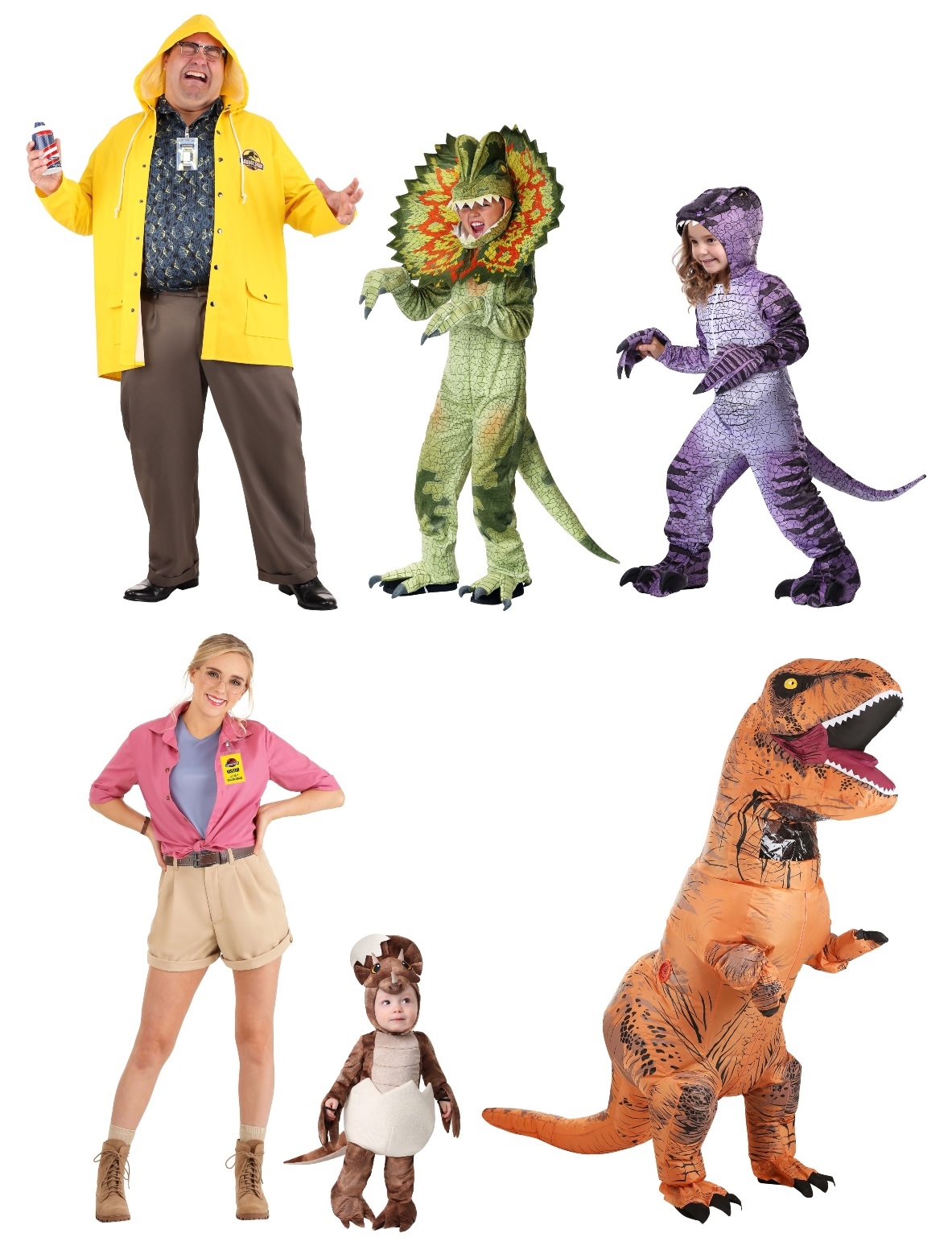 Jurassic Park is appropriate for all kinds of groups, whether you're planning for adults or kids, or if your theme is cute or scary. And we've got dinosaur costumes of all kinds, so you can be sure to find something for everyone. Just stay away from using actual road flares or goats chained to sticks. Trust us, that type of Halloween party always ends up in tomorrow's paper.
7. Super Mario Bros. Costume Ideas for Groups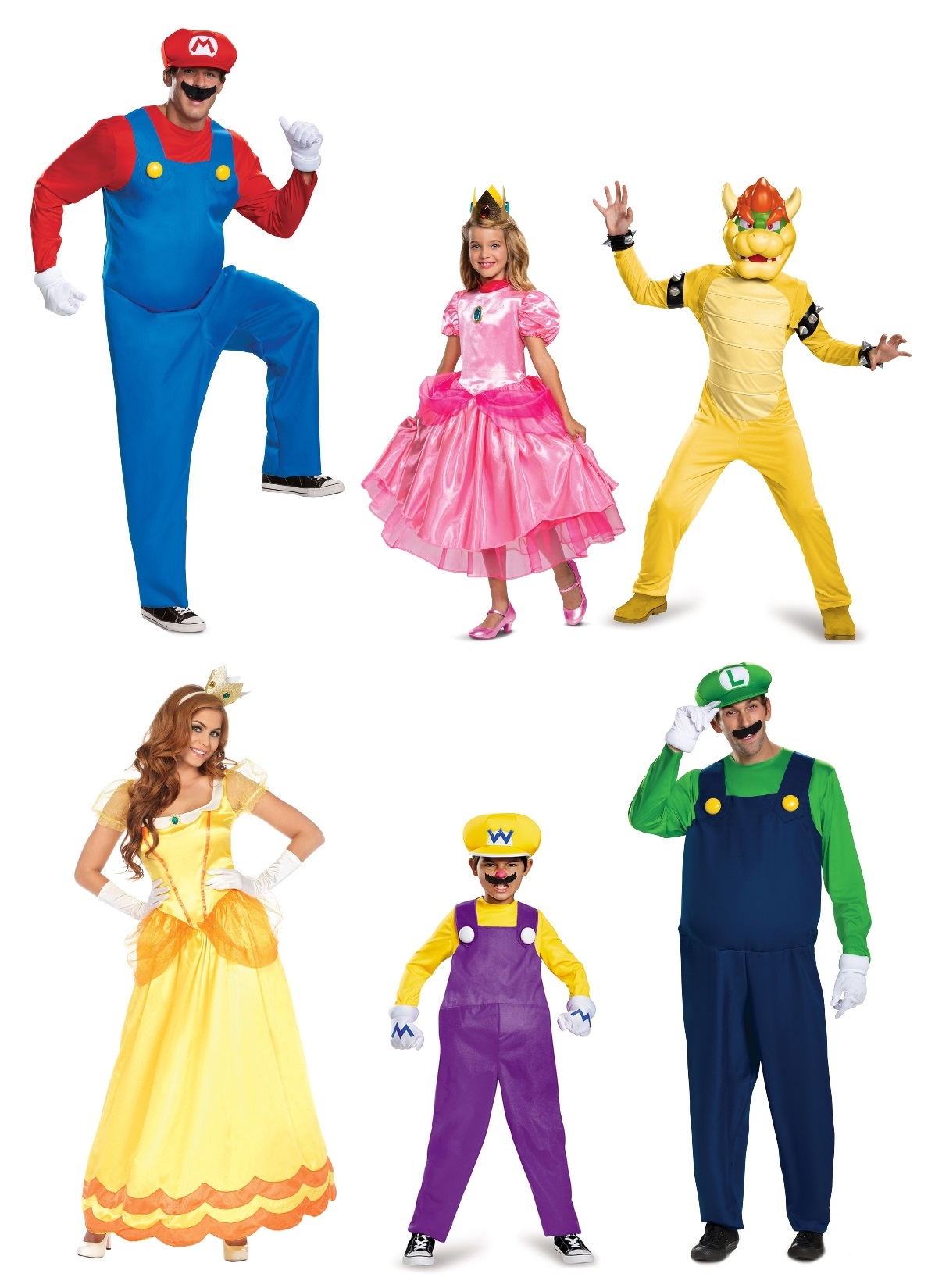 Super Mario Bros. is a fun group idea simply because of the diversity of characters. You've got your humans, your dinosaurs, and whatever Toad is supposed to be. You know, other than a Fun Guy. (We're here all week, folks.) What we're saying is this: if you can put together a full Super Mario Bros. costume crew, you'll never be told that the party is in another castle!
8. Group Toy Story Costume Ideas for Groups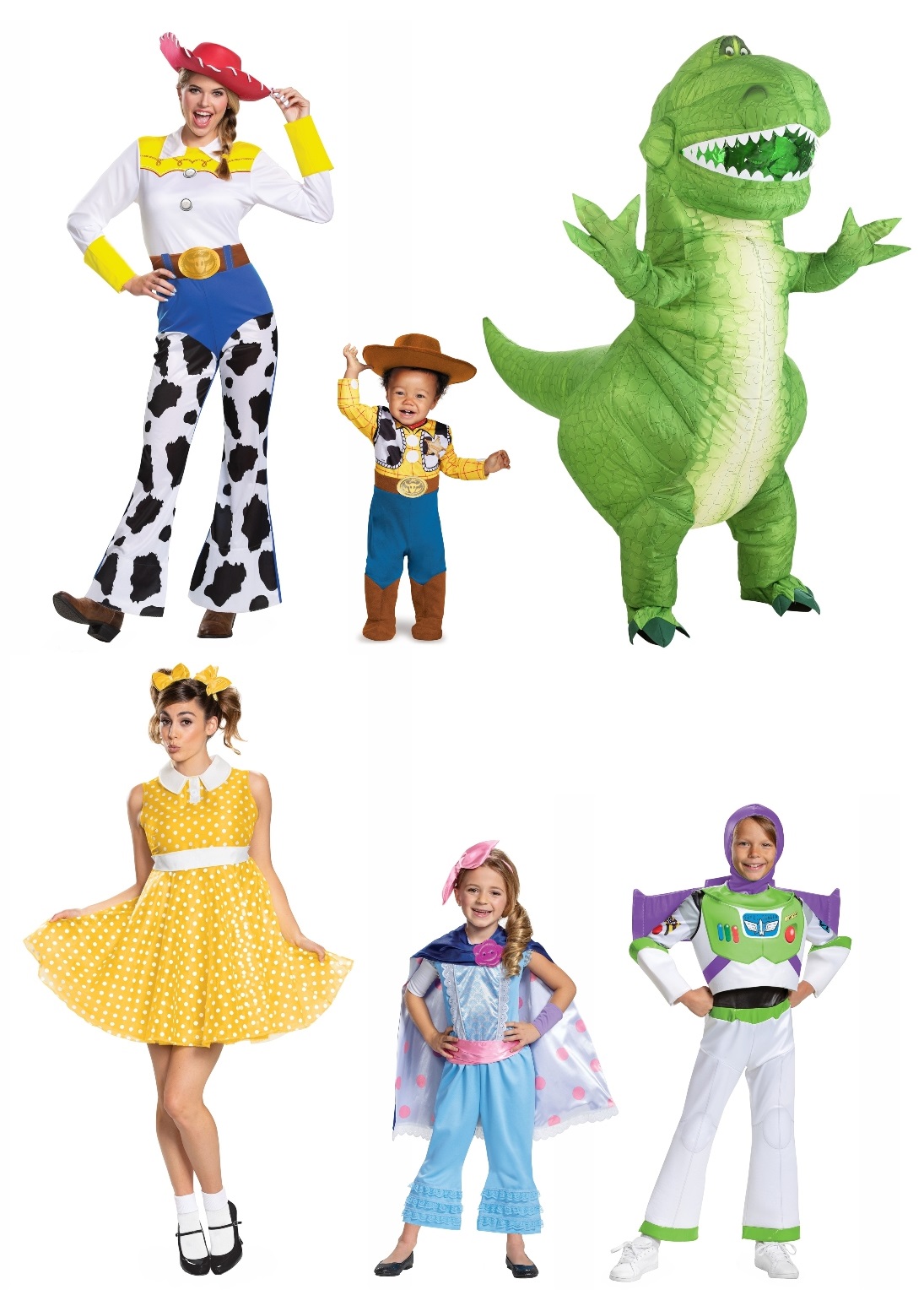 Toy Story is a family-friendly film franchise that kids and adults love. And, of course, we have Toy Story costumes made for both kids and adults! Just remember to play no more than two Randy Newman songs per hour for the safety and sanity of your Halloween party guests.
9. The Wizard of Oz Costume Ideas for Groups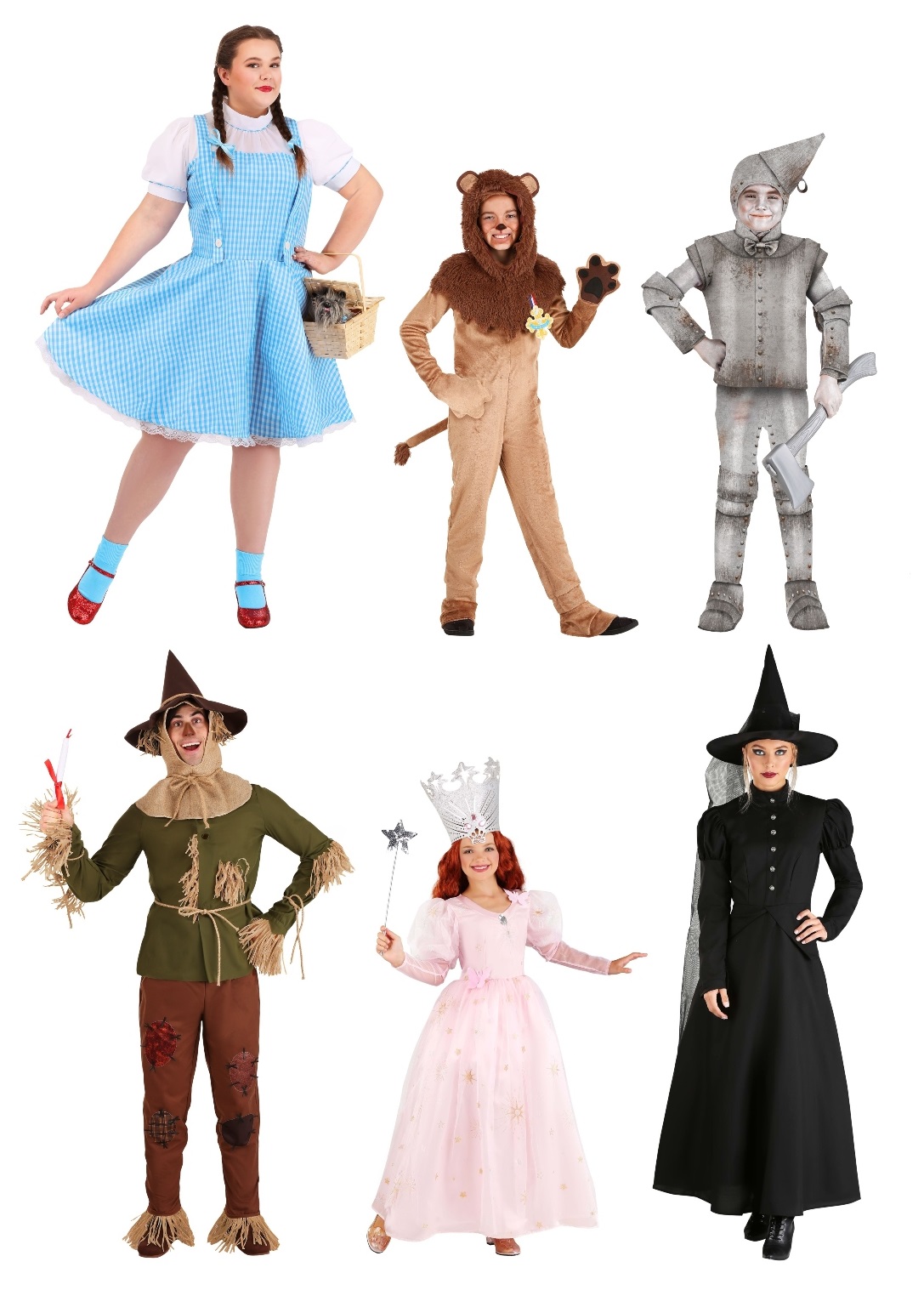 The Wizard of Oz is a perennial favorite, even decades after its release! And its varied, iconic cast makes it a great choice for large groups. We went with Dorothy, her three companions (Scarecrow, Cowardly Lion, and Tin Man), plus the Wicked Witch and a Glinda. But you can also substitute Toto, a flying monkey, or even the Mayor of Munchkin Land!
10. Alice in Wonderland Costume Ideas for Groups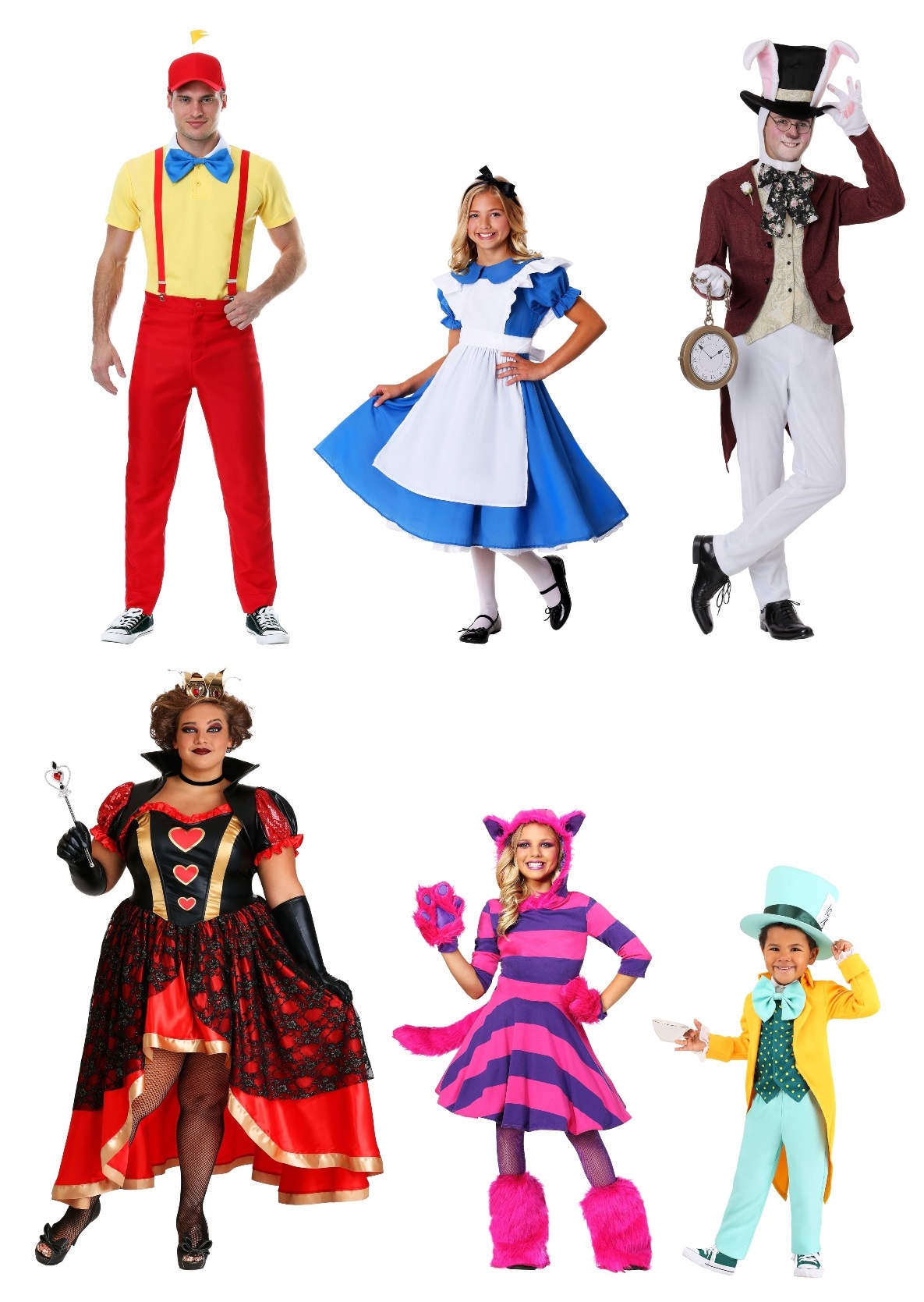 Whether you prefer the book or the movies, there are tons of characters and costumes for Alice in Wonderland. Be the Queen of Hearts with an entourage of card minions or dress up as the core cast. There's no wrong way to slice it. You can't deny that Alice in Wonderland is one of the best group Halloween costume ideas around! (If anyone doesn't agree, you can just yell "off with their heads"!)
11. 80s Movie Costume Ideas for Groups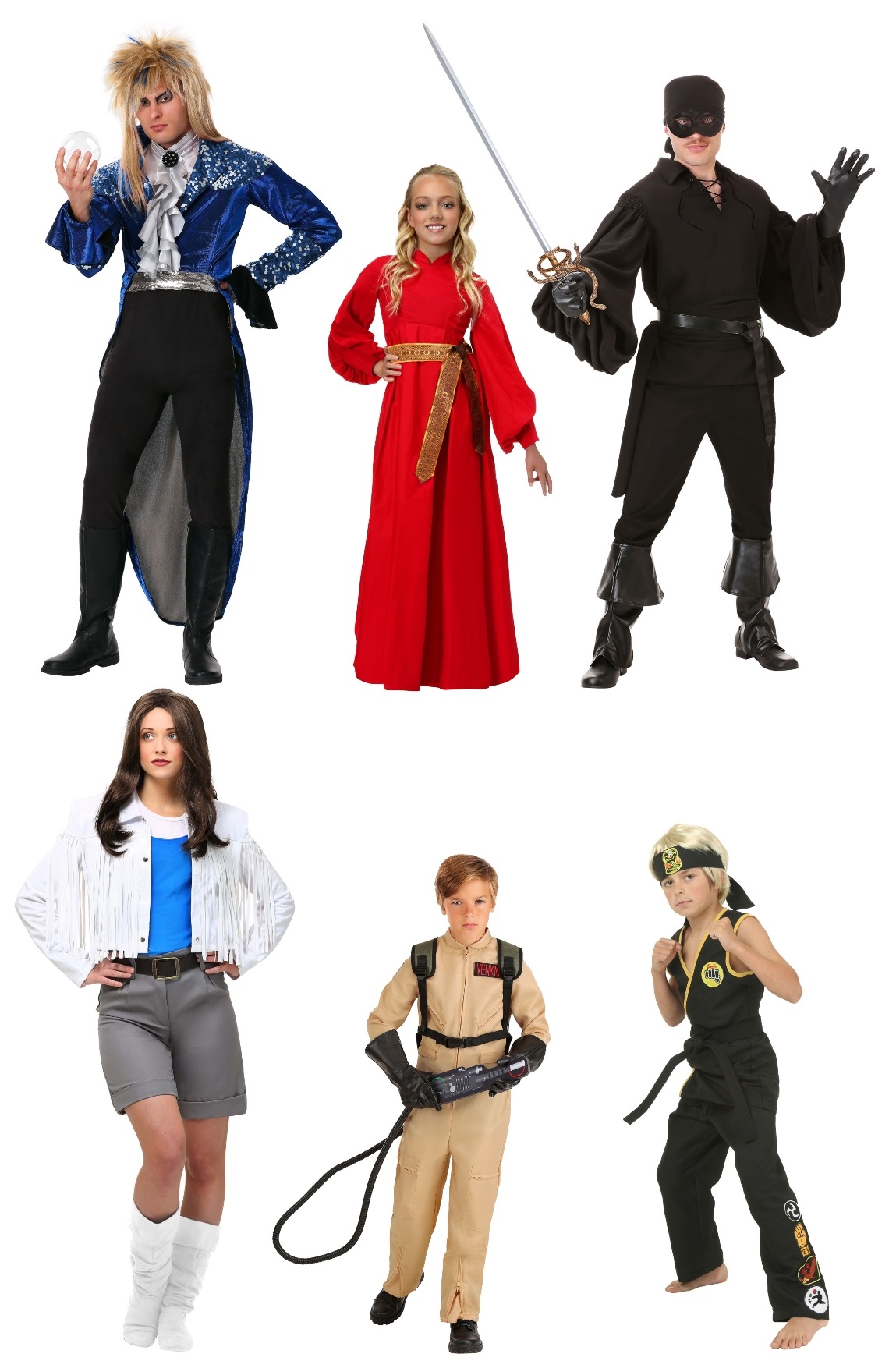 Who doesn't love a good 80s movie? If you're a fan of movie Halloween costumes but you can't manage to collect enough characters for a group of 6, why not try selecting a series of 80s movie characters? You can include favorites from Labyrinth, Ghostbusters, The Karate Kid and more! While this is a fun idea for a group of adults that may actually remember the 80s, even kids can get in on the fun and help turn this into the coolest family costume for six people.
12. Circus Costume Ideas for Groups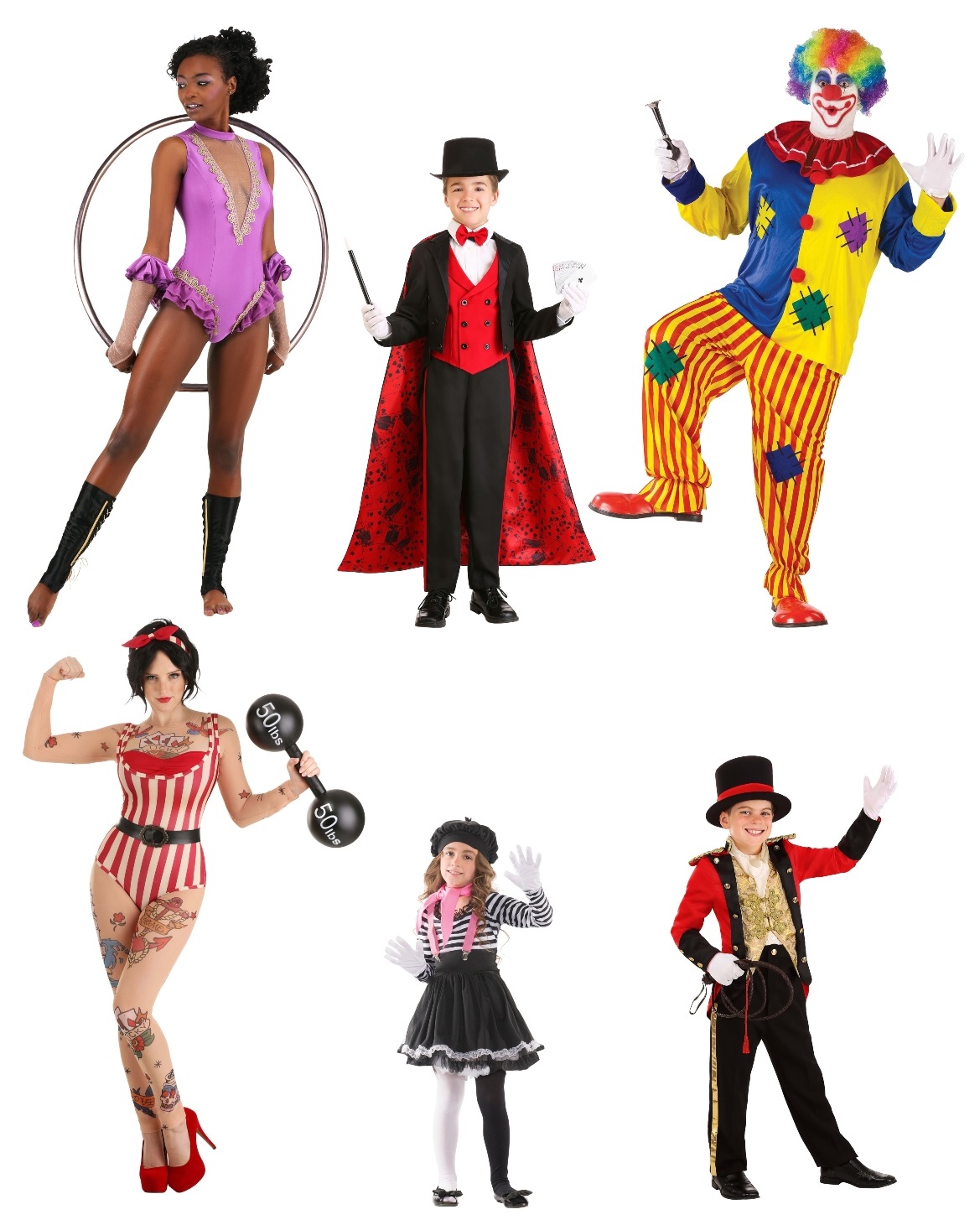 Circuses may not be as common as they once were, but these circus costumes are full of costume ideas for big groups! Of course, you'll need a ringmaster, but after that, you can have as many clowns, acrobats, magicians and other characters as you see fit for your costume group. Maybe you're not as keen to stick to a normal circus vibe, and that's okay! We also have plenty of dark circus costumes if you're a fan of the circus's freakier side.
13. Flintstones Costume Ideas for Groups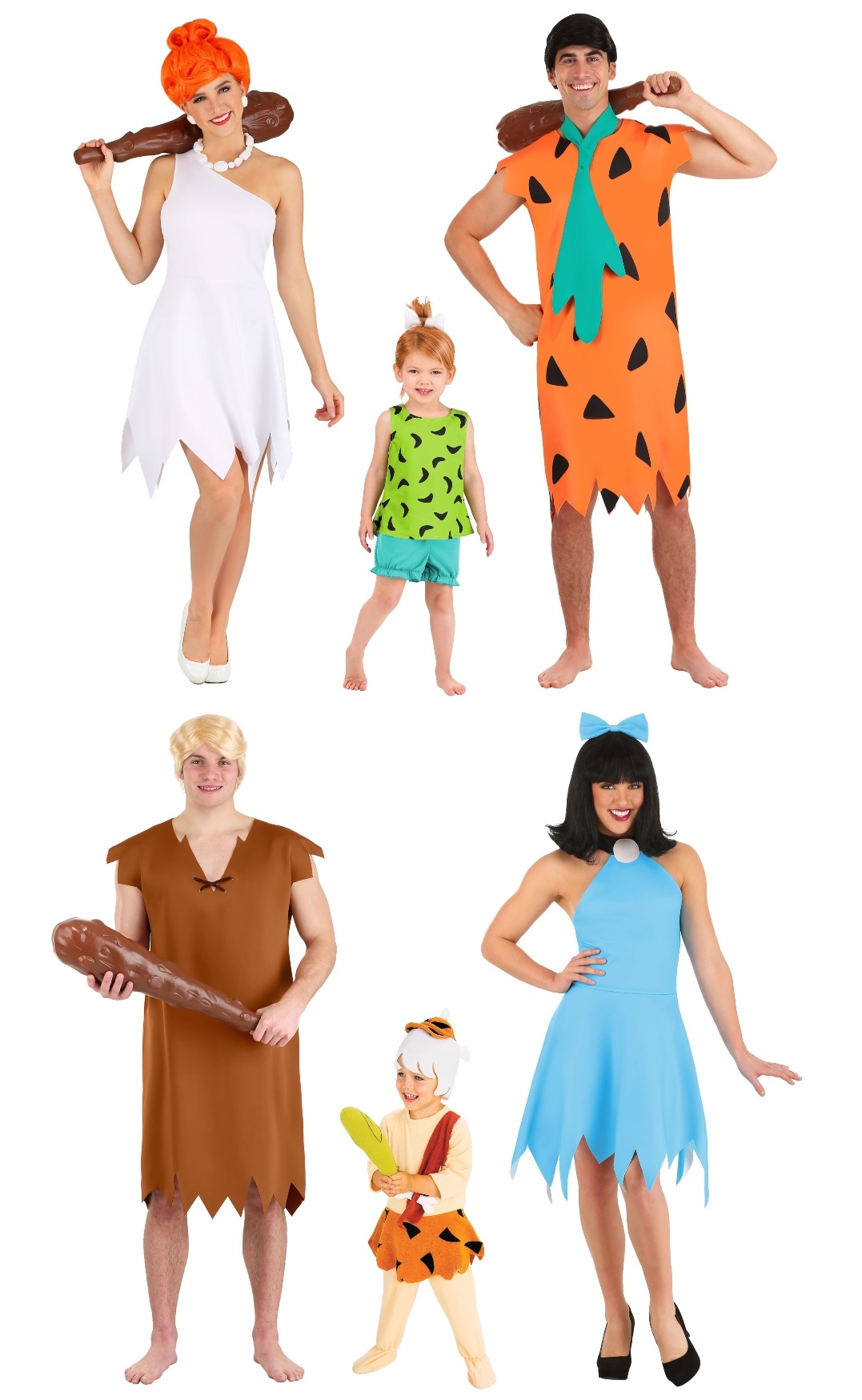 Get a couple of 3-person families together, and you instantly have an iconic Flintstones group costume idea! (Seriously, you'll be making waves on Instagram.) There's also the option of swapping one of the kids with Dino too. As an added bonus, these classic cartoon costumes are seriously comfy. If you know your Halloween is destined to be on the warmer side, you can stay cool in these costume tunics.
14. Harry Potter Costume Ideas for Groups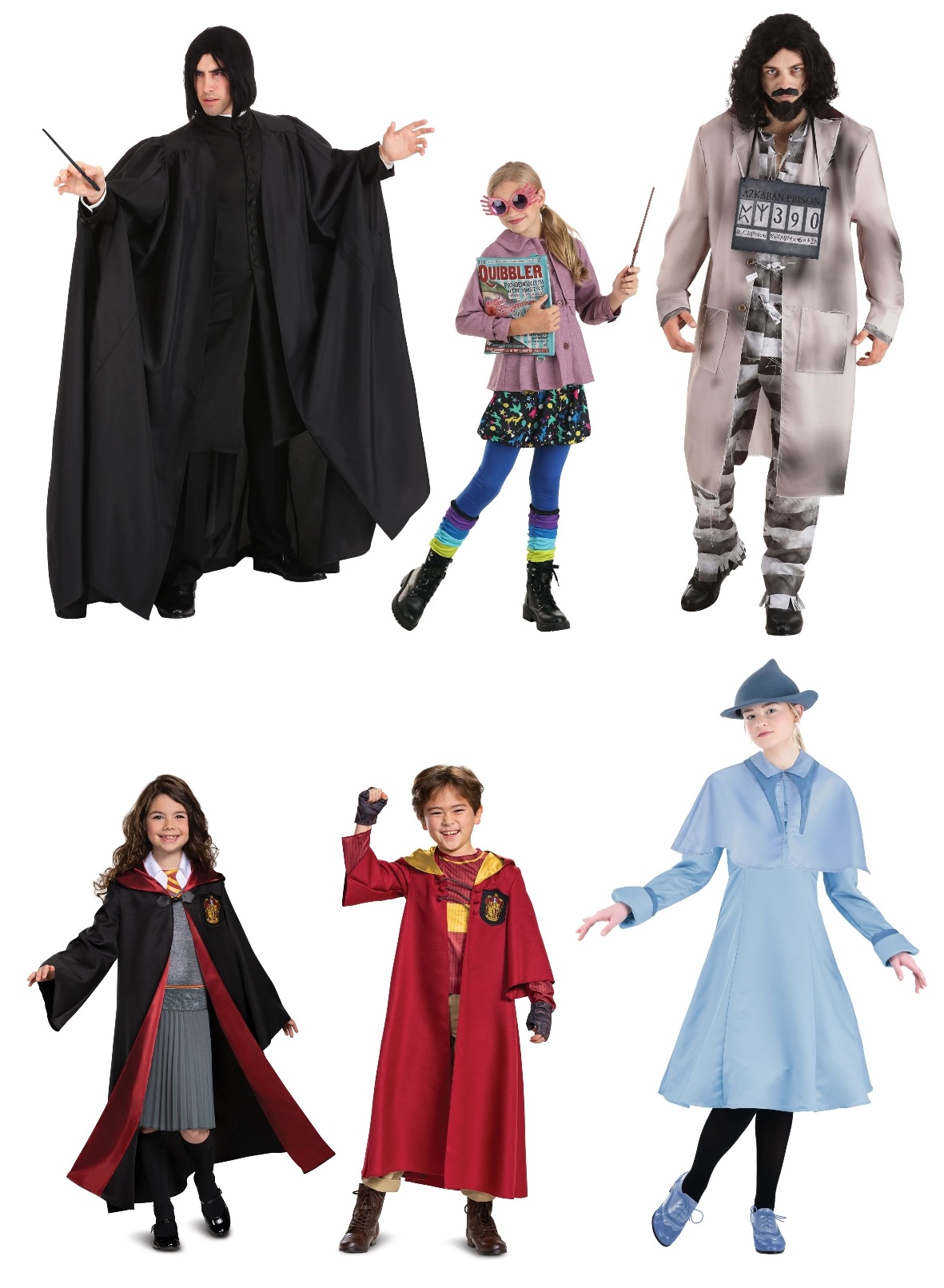 The cast of Harry Potter is absolutely huge, so it's no wonder that you can find enough Harry Potter costumes to outfit a large family. While the book characters are fun, there are also house robes for Hufflepuff, Slytherin, Ravenclaw and Gryffindor, so you can dress as your own custom character too. (After all, you probably took the Pottermore quiz and found out what house you belonged to if you're interested in making a group of Harry Potter costumes!)
15. X-Men Costume Ideas for Groups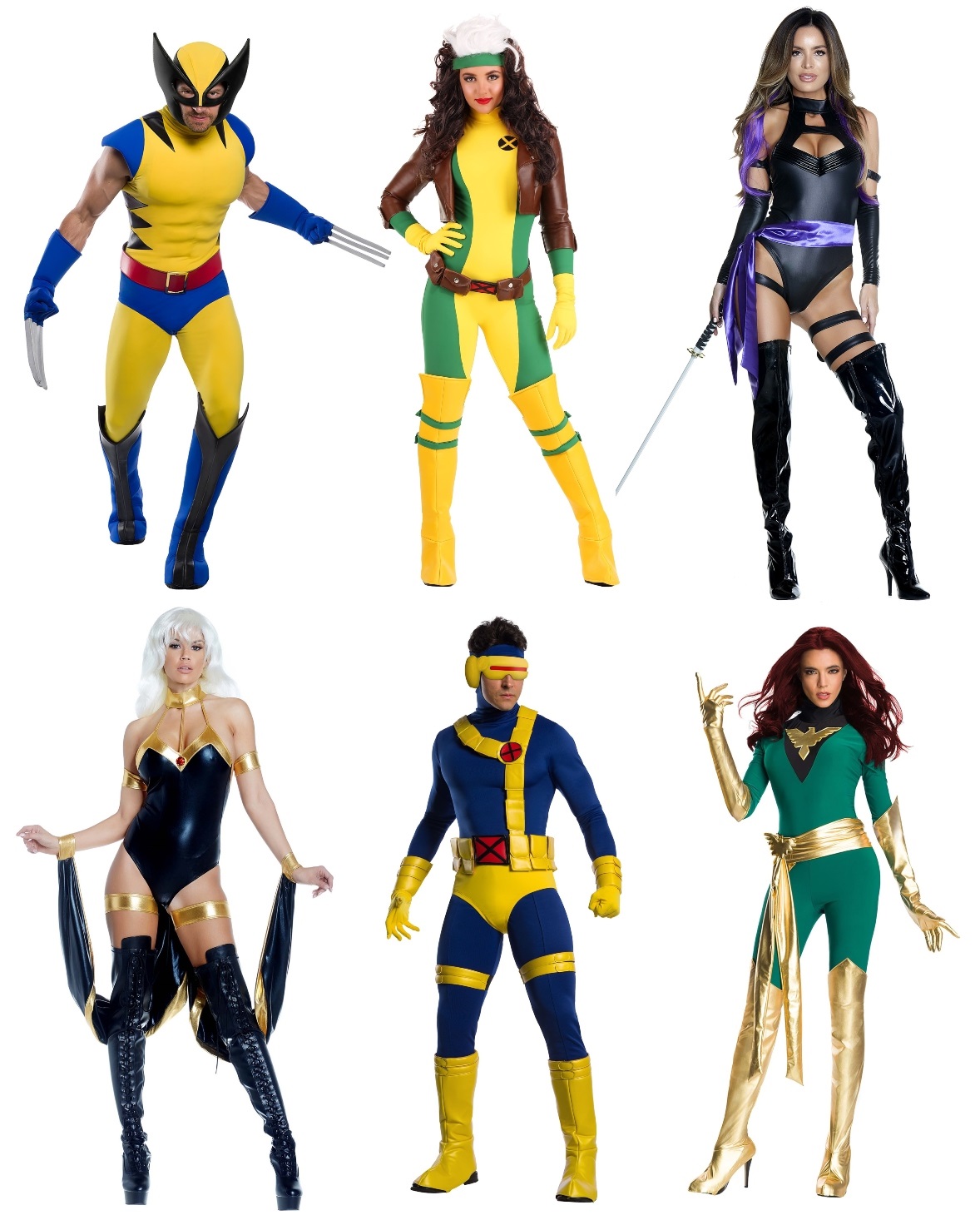 Superhero groups are all the rage, whether you're going out for Halloween or Comic-Con. Kids may be a little less familiar with the X-Men, but they had an excellent 90s cartoon! There are so many great X-Men costumes that it's hard to pick just one, so going as a group will help you include all of your favorites. (Just know that you may have to come to a compromise when it comes to who gets to be Wolverine, Storm or Rogue!)
Did you see any you liked? Or did they give you inspiration for other group costumes? Do you have your group of 6 besties selected yet? Let us know your plans in the comments below. And take a look at our Group Costume Selector for even more great ideas!