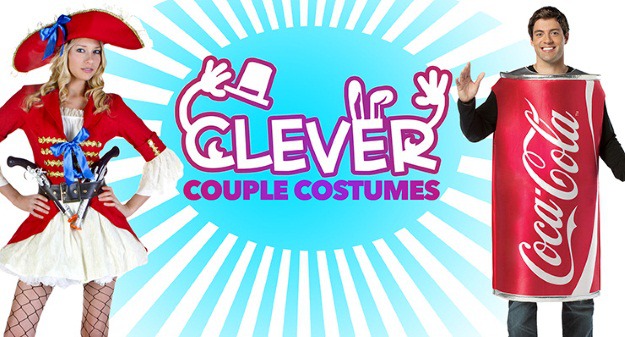 Putting together a perfect couples costume that blows people away can be difficult, but it is certainly a worthy quest! You're the creative type, so you're no longer impressed by the video game couples, the movie star couples, even the famous couples from history. You're looking to do something a little different. You want a couples costume that makes people think a bit. A creative couples costume gives you the opportunity to show off your wit, your hobbies, your romance - sometimes all of the above.
We got you! By themselves these costumes are great, but when you pair them together, they become something magical! Any of the combinations below will make for great stories and will surely get you some chuckles. So sit back, relax, and let us inspire you with these clever couples costume ideas.
Hot Dog Costume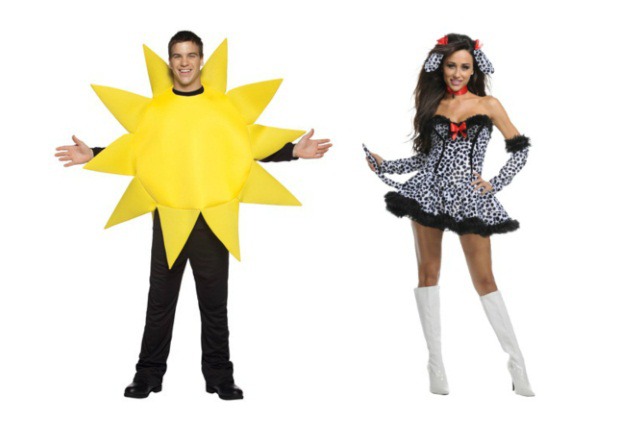 Sunny Days Costume Sexy Dalmatian Costume
Reminisce about the dog days of summer with this costume. Who needs a bun when you're looking this cute in your dog costume? Add a little bit of sun and you've got yourself a Hot Dog couples costume. For any potential haters just remember these words, "I don't want none, unless you got buns hun."
Captain Rum and Coke Costume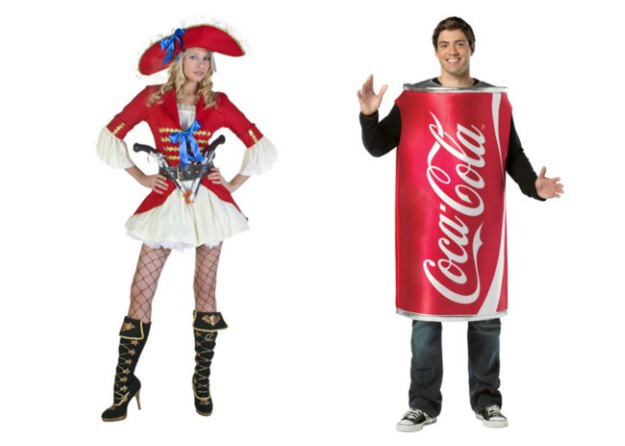 Sexy Captain Morgan Costume Coca-Cola Can Costume
A couple of common costumes that form a very clever, and very tasty, couples idea. This costume combo is perfect for the rum-lovers who enjoy sipping on Captain Morgan and a little Coca-Cola. This couples costume will have you standing on one leg all night.
Sharknado Costume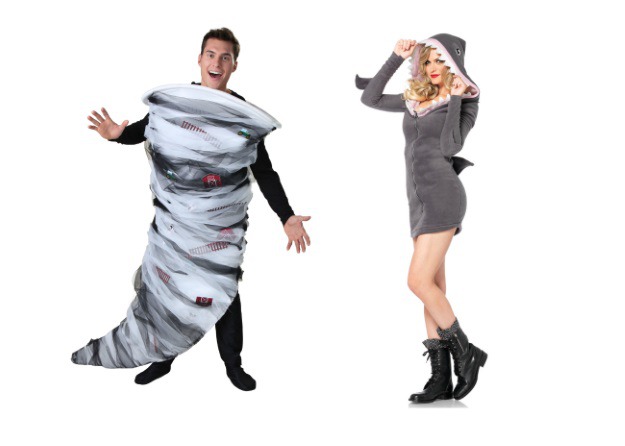 Adult Tornado Costume Cozy Shark Costume
2015 saw the release of the 3rd installment of the Sharknado film series, "Sharknado 3: Oh Hell No." The perfect couples costume for doing the Twist on the dance floor. The Sharknado combination is sure to get some laughs.
Peanut Butter & Jelly Costume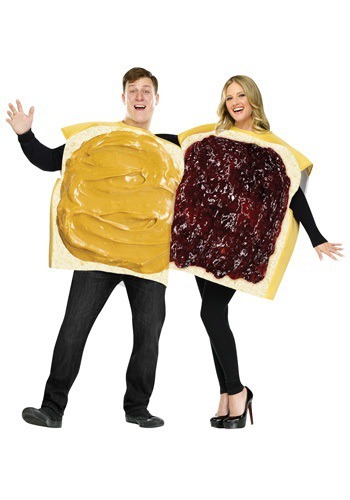 Peanut Butter and Jelly Costume
You may say this isn't clever, but other than Halloween, what opportunity will you and your partner get to express your love for each other AND this greatest of sandwiches? Add in a dancing banana and you've got yourself the opportunity to sing "Peanut Butter Jelly Time" all night long.
Birds and the Bees Costume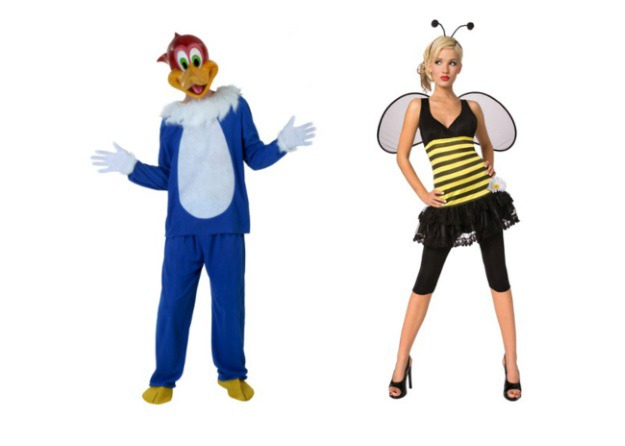 Wood Woodpecker Costume Adult Honey Bee Costume
Did you have the talk yet? You know, THAT talk? Ok good, then this costume will be a LOT funnier. Don't wear this to the kid's party, though, unless you want to be the ones explaining "the birds and the bees" to young ones. Woody Woodpecker is just one bird option, but a great way to add some flare to this costume
Candy Corn Costume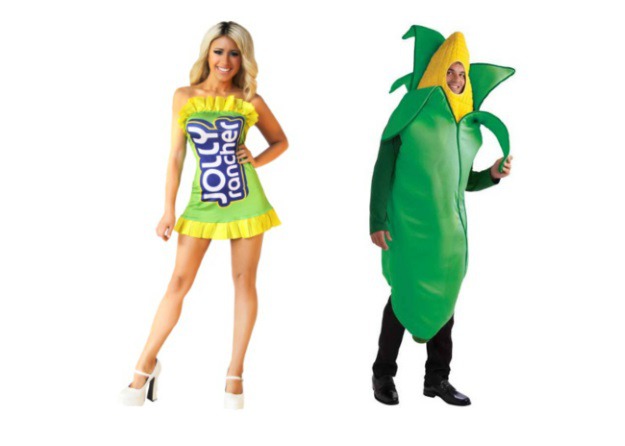 Jolly Rancher Green Costume Dress Adult Corn Stalker Costume
Candy corn is one of the most polarizing sweets associated with the Halloween season. Fans love it and look forward to consuming it by the ton, while people who dislike it seem to hate it with the fiery passion of 1000 suns. Should you choose to dress as "Candy Corn" we can promise you'll hear the phrases, "I hate Candy Corn," and "I Love Candy Corn," at least once.
Cookie Dough Costume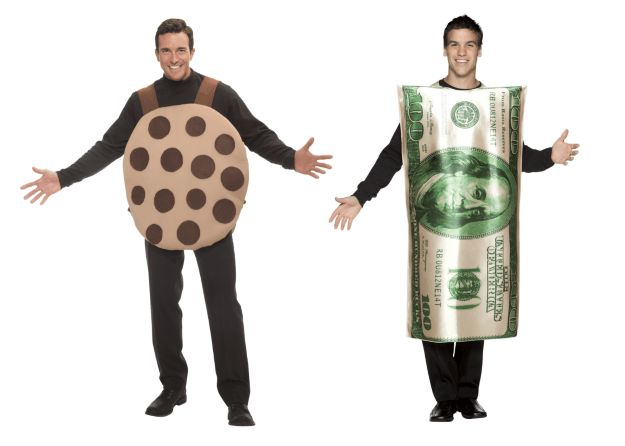 Adult Cookie Costume 100 Dollar Bill Costume
What's the only thing that's better than cold, hard cash? Cash and cookies, duh! Get together with your partner and dress like some literal cold cash. Add in ice cream accessories to be one of the most popular Halloween treats!
Monster under the Bed Costume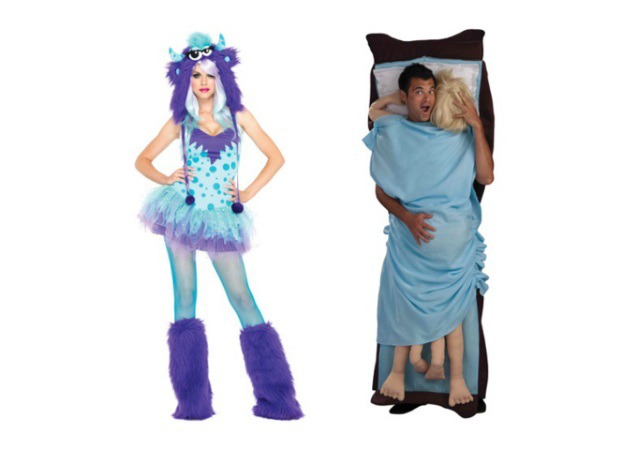 Polka Dotty Monster Costume Bed Costume
All kinds of things may go 'bump' in the night when you and your partner don this hilarious take on the Monster under the Bed. While you will be bumping on the dance floor, your partner, in this funny costume, can be scaring up a good time!
Cat Burglar Costume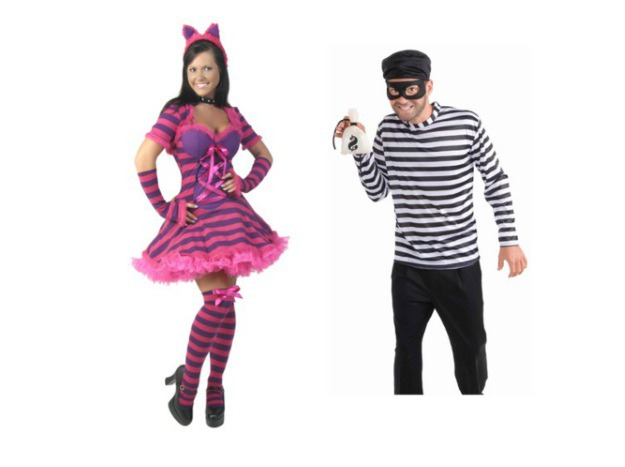 Wonderland Cat Costume Men's Burglar Costume
Are you light on your feet, with sticky fingers, and an affinity for stripes? If you answered yes then we've found you the perfect combo costume. Show your stripes as the perfect (purr-fect?) feline felon when you and your partner go as the combo, "cat burglar."
Salt and Pepper Costume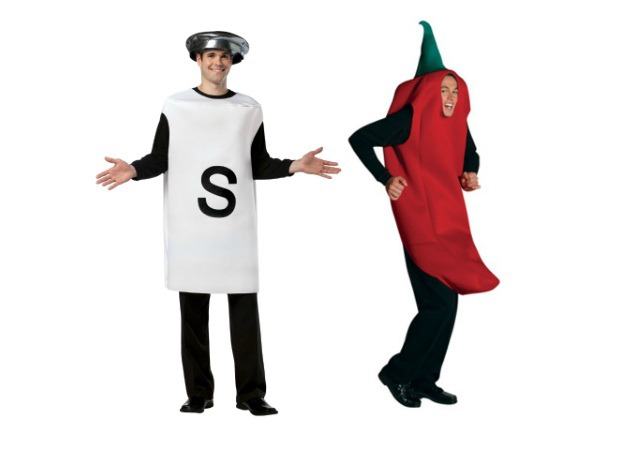 Adult Salt Costume Adult Chili Pepper Costume
Spice up your next Halloween party as a refreshing take on this classic couples costume. Instead of the black granules that get everyone all sneezy, instead don your best red hot chili pepper (see what we did there?) and shake it like a salt shaker.
Snow Cone Costume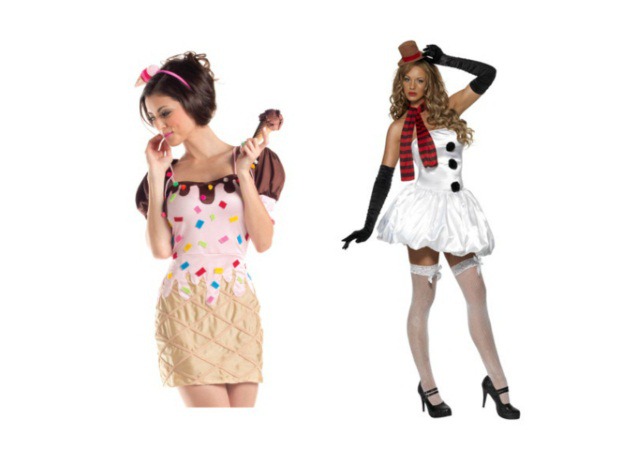 Frozen Treat Cutie Costume Sexy Snowman Costume
The perfect couples costume for a couple of girlfriends who are just looking to chill. The sexy snow woman is the perfect complement to the sweet ice cream cone dress. Get yourself some brightly colored drinks and you can even be a flavored snow cone!
Fish Taco Costume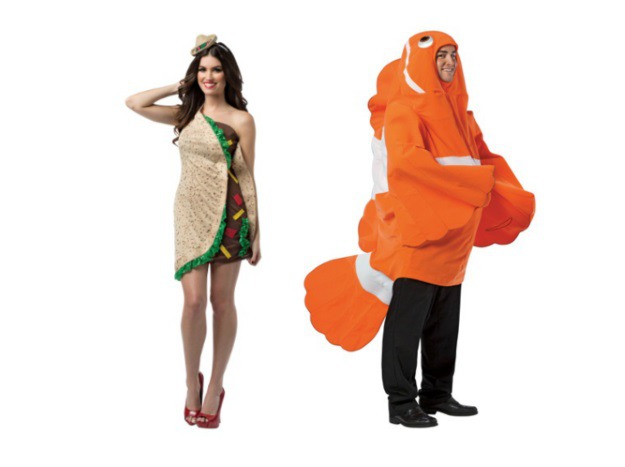 Though many may cringe at the prospect of consuming a fish that looks like the hero from "Finding Nemo" that's not the point here. Dress yourselves up as a delectable taco and a fish to emulate that ever-popular dish from the west coast, Fish Tacos!
Bread Winners Costume
Adult Ham and Swiss Costume Award Winner Necklace
You're the couple that brings home the bacon, bread, and cheese. The ham and cheese of this sandwich costume might throw people off, but just tell them you're winning so much bread they're letting you bring home the bacon too. You're the Breadwinners, providing for your house and making a mean costume out of it.
Banana Split Costume
Women's 80s Workout Costume Adult Banana Costume
If bright colors, dancing, and a high level of potassium are what you and your partner enjoy, then this banana and gymnast coming together to form a Banana Split should be on your Halloween costume menu. You would be best served by this costume if one of both of you have the ability to do the splits, otherwise it might be a bit of a stretch (tehehe).
What a whirlwind of a list! Are you feeling inspired? Did you find the couples costume combo that is going to win you "Best Couple" at the next Halloween party? (If you're HOSTING the next Halloween party and need to print out the awards, then here you go!) If we haven't found you the perfectly clever couples Halloween costume yet, we have a Couples Costume Selector Tool that you can use to mix and match to find the perfect combo!