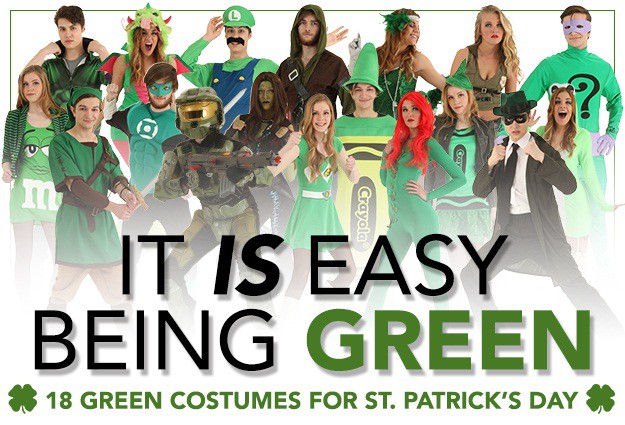 It's not easy being green... or is it? We think so! In honor of Saint Patrick's Day, we've compiled our top green costumes to make it easy for anyone to be green. Whether you're a video game whiz, pop culture debutante, or chic geek, HalloweenCostumes.com has the perfect green costume for you!
Gaming Costumes
We have yet to see someone wear a Link costume to the bar on Saint Paddy's Day, but there is a first time for everything! If you want to maximize your girl power and send the message that you came here to kick some booty, perhaps the Mortal Combat Deluxe Sonya Blade Costume is the perfect outfit for you. If you really want to get things done in your green costume of choice, you can't go wrong with Deluxe HALO Master Chief armor. Just make sure to leave those green aliens alone... they're just trying to get their Irish on.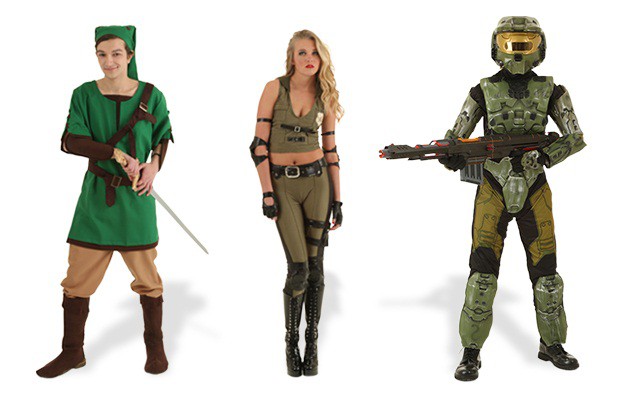 Adult Elf Warrior Costume Mortal Combat Sonya Blade Costume
Deluxe Halo Master Chief Costume
Luigi deserves some credit for being green on Saint Patrick's Day. Normally resigned to his position as "player 2," the greenest of holidays provides Luigi a time to shine. Be Luigi. Go on, we know you want to? It's the year of the dinosaurs, and everyone's favorite gaming dinosaur, Yoshi, will be on full display in vixen mode. Paired with thigh-high white stockings and sexy white heels, this is the ultimate "geek chic" gaming costume.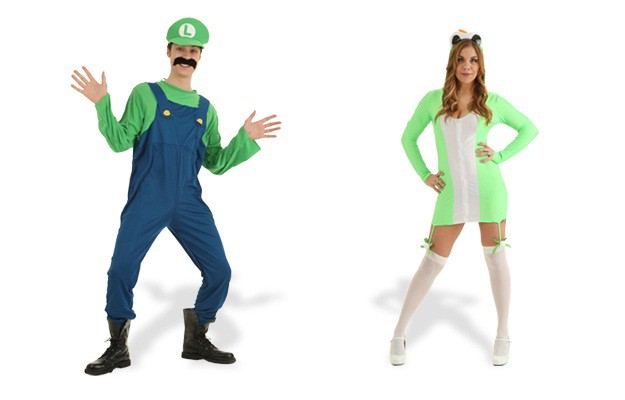 Adult Luigi Costume Women's Yoshi Costumes
White Stockings Sexy White Heels
Comic Book Costumes
Speaking of "geek chic," with the debut of the Guardians of the Galaxy movie in 2014, Gamora officially entered the arena of most powerful green women. And no one can deny that the Hulk makes for the most imposing of greeness. Sporting the Hulk Sublimated Costume Hoodie says, "I came here to be green and have a good time, but don't test my patience." Even if you didn't care for the Green Lantern movie in 2011, you have to respect the hero's green costume. You're more of the classic superhero type, you say? Put on a green fedora and embrace your super alter-ego as The Green Hornet!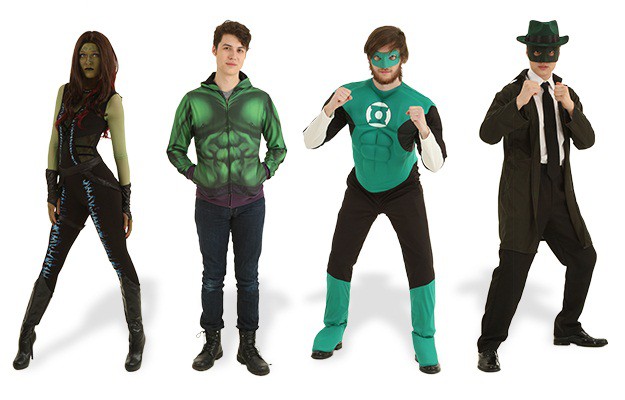 Adult Gamora Costume Hulk Costumes Green Lantern Costume
Looking for something a bit more...batty? We've got multiple options for you! The Riddler is always a good choice for the feisty types looking to get all up in their greeness. For the more deadly females (the female of the species is more deadly than the male, btw), embrace your green thumb (and spandex) with our Ivy Vixen costume.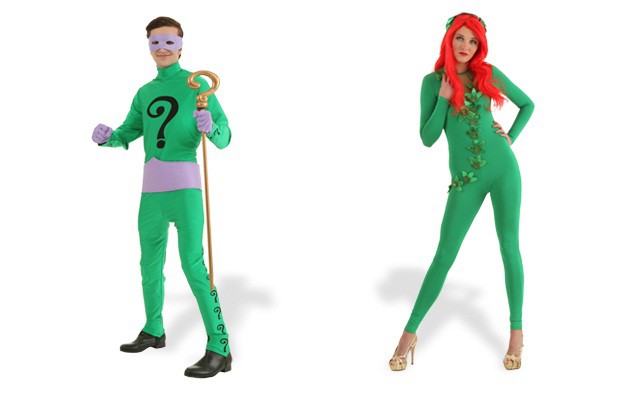 Riddler Costume Poison Ivy Costumes
Pop Culture Costumes
"But... but," you say, "I want to truly express what it means to be green!" Look no further than the source of the spirited color of green, verde, vert, grun, and groen! Pick up your crayons, boys and girls, and let's get creative! Pair an adult green crayon costume with a black leather jacket and you too can be "true green."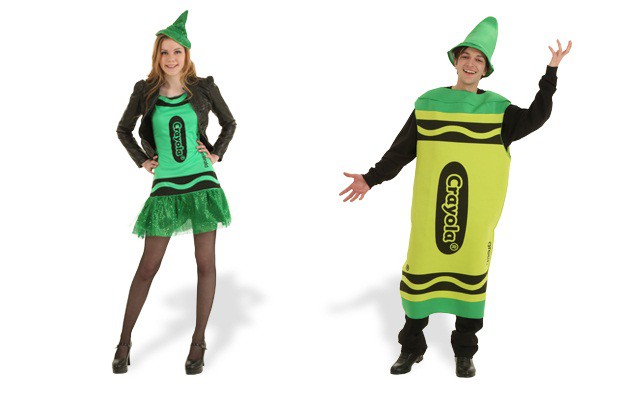 They say green is the color of lust and these ladies' green costumes are here to prove it. The green M&M is by far the most popular candy color for a reason. Strut your green stuff in this Women's Green M&M Costume. Or, if you're looking for a nostalgic trip down early 90's memory lane, maybe the Green Power Rangers Dress is the right choice for you. That way, if a giant robot attacks the city while you're out celebrating your Irish heritage, you can keep things in line by harnassing your superpower rangers powers.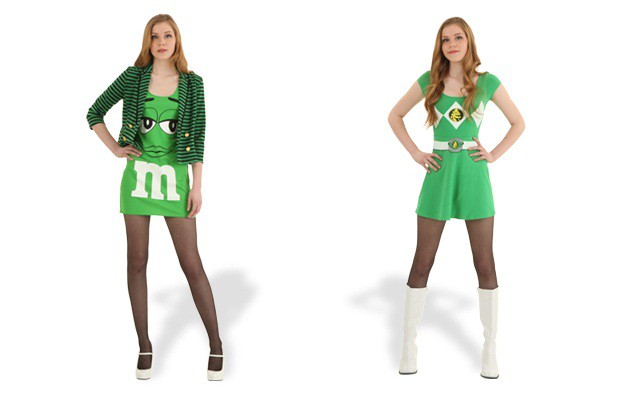 Women's Green M&M Dress Green Power Ranger Dress
Fantasy Costumes
Maybe when you think "green" you think of lush, mystical forests, dragons, and classy heroines from another era? Ok, we've got those too! Check out our green sequin flapper dress, because... well... it's shiny! And goodness knows you love shiny things. Accessorize this gorgeous dress with white gloves, a feather boa, cigarette holder, beads, and practically anything else your heart desires! If you're the rugged, take-from-the-rich-give-to-the-poor, manly type, perhaps Robin Hood is the costume character for you. The ladies love a strong, silent type and the hood helps with this presentation. Let's say you're the type to breathe fire after a few Guinnesses at the local pub. You're probably Irish. And you're probably a perfect fit for this sassy Magic Green Dragon costume! Add green furry leggings to complete the sexy ensemble and you're good to go (green)!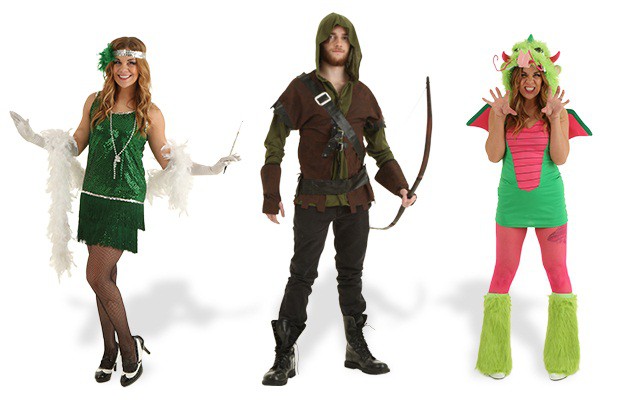 Green Sequin Flapper Costume Fishnet Stockings White Feather Boa
Cigarette Holder Long White Gloves Wingtip Heels
Men's Robin Hood Costume Dragon Jumpsuit
Didn't find the perfect green costume in our lineup of 18? We've got lots more where that came from! Take a look at more green costumes and accessories!