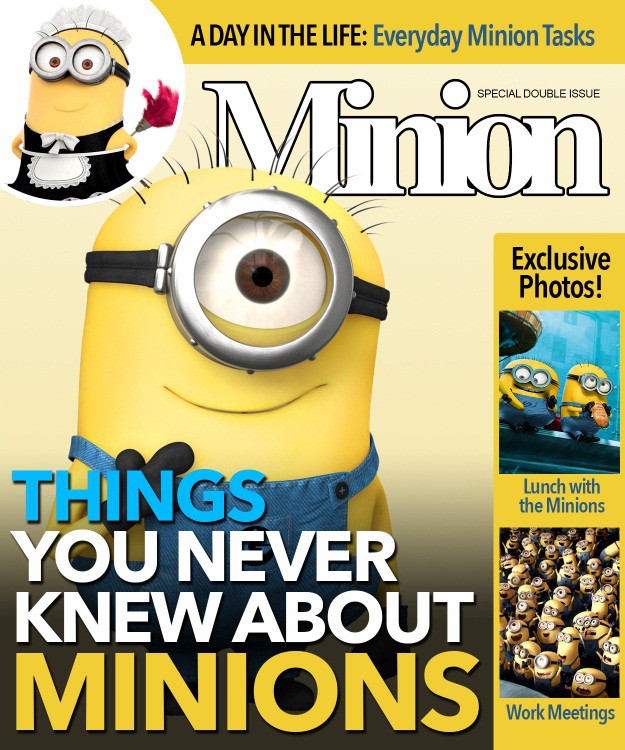 Since the 2010 release of Despicable Me, the little yellow creatures we have come to know as Minions have topped the popularity scales. Many people fell in love with the cute little guys and their myriad of tomfoolery. Sure, these mini-fellas are adorable now, but the original concept for Minions in the first Despicable Me movie might surprise you. Here are 10 things you probably didn't know about Minions!
1. MINIONS HAVE BEEN AROUND SINCE THE BEGINNING OF TIME
[source]
The story behind the Minions is that they have existed for many years and it was kind of a mystery as to where they came from. We don't know their origins, but we do know that their lives have been dedicated to serving evil overlords. The new Minions movie coming out in July will take us back to their lives before Gru.
2. MINIONS WERE ORIGINALLY LIKE STORMTROOPERS
[source]
Okay, this probably wasn't the picture the directors had in mind, but Minions were originally intended to be Gru's henchman, modeled after Stormtroopers from Star Wars. The goal was to make them cloned drones because they were supposed to help with evil plots. Can we just be the first to say we are glad that didn't happen?! The creators were worried that with this evil henchman concept, Gru would not be likeable enough, therefore they scrapped the henchmen idea and took a more pleasant character approach.
3. MINIONS WERE AT ONE POINT THOUGHT TO COME FROM EGG YOLKS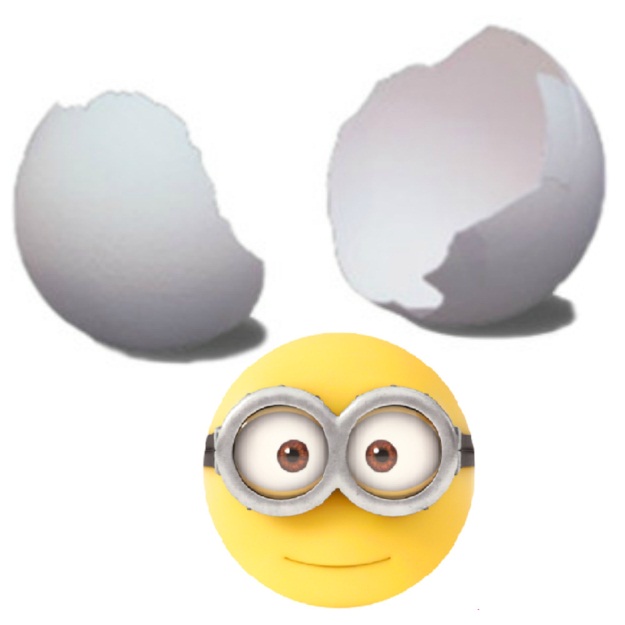 Once they started to reconsider the original design of Minions, the movie makers thought that they would incorporate a fun idea into the movie regarding how Minions are made. Early ideas were hatched (eh?) to show that they were created from the yolks of eggs, but the filmmakers ultimately decided to eliminate that component all together. As of now, we do not know how the Minions are created and we may never know.
4. MINION BODIES ARE MODELED AFTER TWINKIES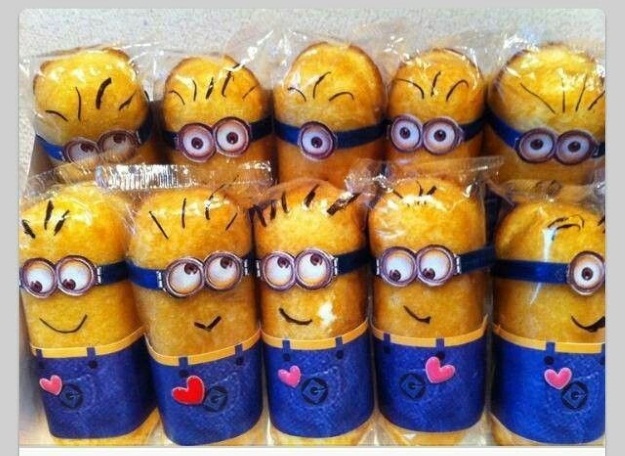 [source]
With the henchman idea out of focus, the directors had to brainstorm other style concepts for the Minions. Eventually they drew inspiration from Twinkies, Tylenol capsules, and tennis balls to create the famous look we have all come to know and love!
5. MINIONS HAVE ONE OF 36 POSSIBLE LOOKS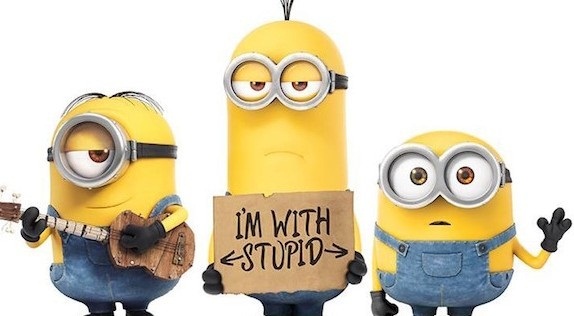 [source]
Minions have three different body shapes: short and squatty, tall and skinny, or a medium build. They also have a variety of hairstyles, six to be exact, which includes short spikes, a comb-over, and bald. (Is that even a hairstyle?!) Mathematically speaking, when you consider some have one eyeball and others have two, there are 36 possible Minion variations.
6. MINIONS ARE INNOCENT SO MORE PEOPLE WOULD LIKE GRU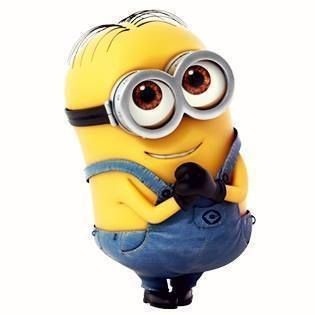 [source]
In order to make Gru a likable character, animators had to make the Minions likable as well. For this reason, the goal was to write the Minions into various storylines as innocent and irresponsible creatures with a sense of humor.
7. MINIONS CAN ONLY BE SEEN BY CHILDREN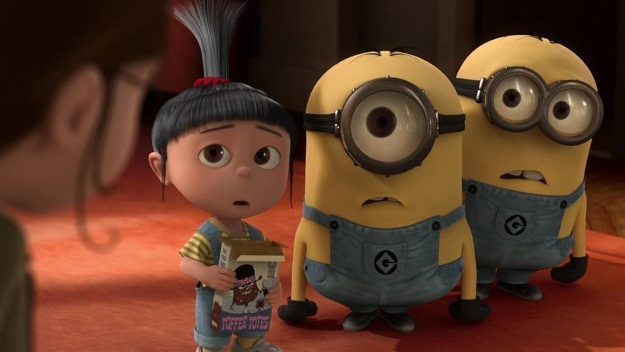 [source]
Due to the silly nature of Minions, the directors thought it would be a good idea to create a "rule" for the yellow guys to only be seen by children. However, that fact is never mentioned on screen and the idea sort of faded out with plot progressions.
8. MINIONS COULD ONLY APPEAR IN DAYLIGHT WHILE IN COSTUME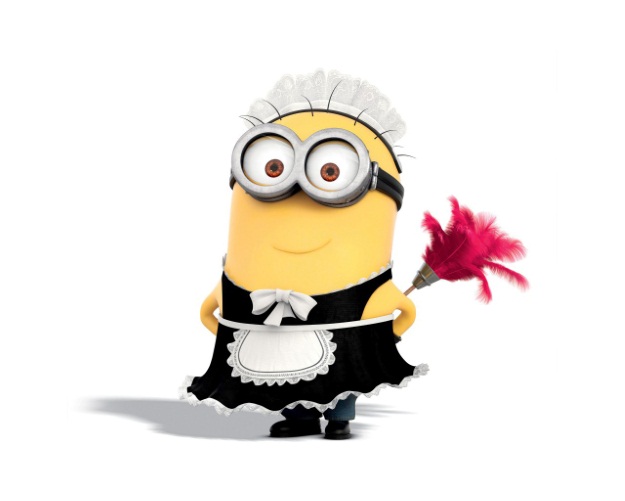 [source]
Another interesting Minion fact is that they were originally never supposed to appear in daylight, and, if they did, they would be in costume. While we see several costumes on the Minions in the movie, this idea also faded out of the storylines.
9. MOST OF THE MINIONS WERE VOICED BY THE DIRECTORS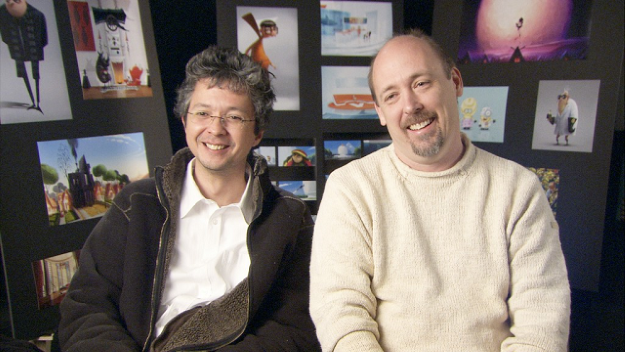 [source]
The director Pierre Coffin (left) voices most of the Minions with a little help from the other director, Chris Renaud (right). Pierre used his native French language to help create the Minion "banana language." (Want to know more about the banana language? Here's a quick Minion-ese tutorial!)
10. MINIONS ARE MADE OF GLOW STICKS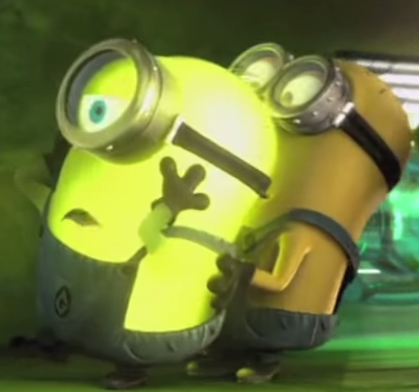 [source]
In one of the scenes, we see the directors imply that Minions are made of glow sticks. If Minions have been around for a long time, longer than glow sticks, how do we know that glow sticks aren't actually made out of Minions? MIND BLOWN!
Don't forget to catch the new Minion movie in July. Do you think it will answer any of our questions? Where do you think Minions come from? Let us know in the comments! Be sure to pick up a Minion costume to get yourself into the Minion mood. Poopaye!