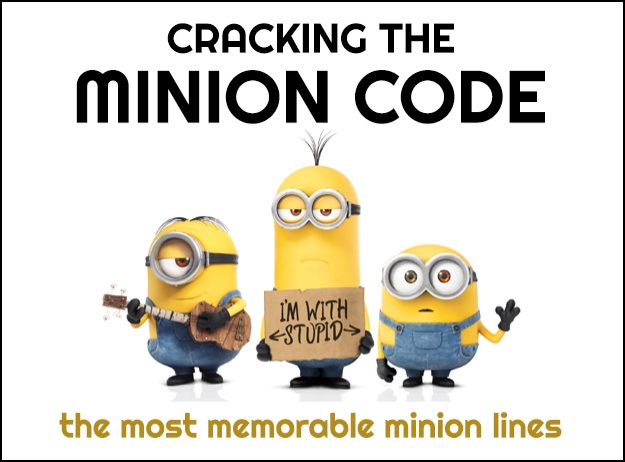 The new movie Minions is set to hit theaters in July and we can't contain our excitement any longer. Seriously, who doesn't love watching little Minions dressed up as the Village People, singing and dancing to "YMCA?" in Despicable Me 2? Try to watch 90 minutes of countless shenanigans without cracking a smile – we dare you! While these little, jar-headed, yellow creatures were initially part of evil plots in the original Despicable Me movie, they've since won the hearts of children and adults everywhere. Not only that – they've managed to steal the show without even speaking many words of decipherable English – it's all part of their charm!
So, what language do the minions speak, exactly? Some call their speak "minionese" and others refer to it as "banana language," but according to Director Pierre Coffin, the Minion vernacular's true roots stem from a combination of many languages including English, Spanish, Italian, and Korean, to name a few. No need for a Minion language translator, we watched the movies several times to crack the code! (You can thank us later.) Now you and your friends can dress up with Minion makeup and act out your own scenes. Here are some of the most famous minion lines translated to English:
How to Talk like a Minion
Hello and Good-bye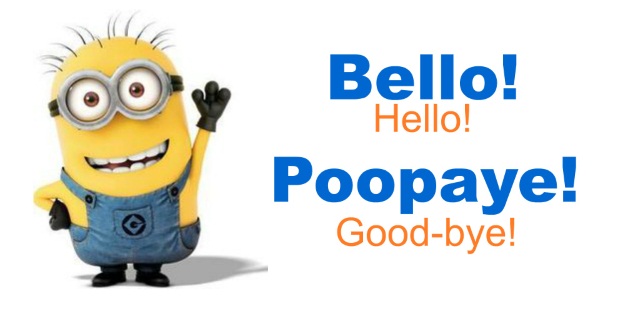 Let's start with the basics: Hello and good-bye are arguably two of the more commonly used words in any language. The Minion hello couldn't get any easier. Just switch the "H" to a "B" and you're set. "Good-bye!" is flat-out hilarious. Seriously, who wouldn't want to say poopaye over and over again? It's no wonder those minions are always giggling!
Thank You and What?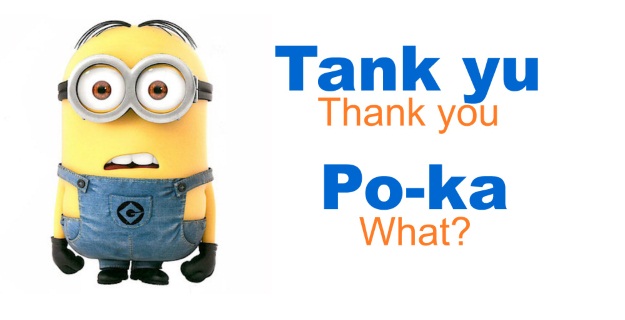 Po-ka? Did you say something? I thought I heard you say poopaye! Po-ka?! Alright, enough of that. We can move on to other commonly used words that you will hear throughout the movie.
I'm Hungry and Apple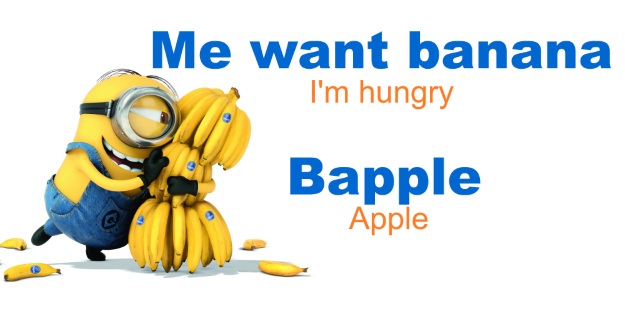 One of the most memorable Minion quotes - Not only do Minions resemble Chiquita bananas, they love to eat them as well. After this lesson, you can speak the banana lingo right along with 'em.
Ice Cream and Toy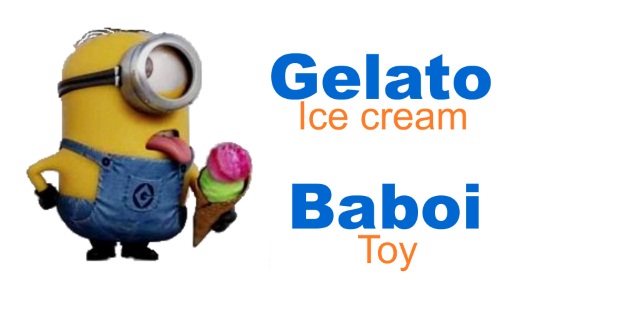 Did you also notice how much Minions love ice cream? (Would banana ice cream be the ultimate??) There needs to be a Minion ice cream truck to fulfill the demand. At least we aren't alone in chasing ice cream trucks down the road yelling GELATO! Fact: the word gelato is Italian for ice cream. Speaking of which, we hear an ice cream truck now… Poopaye!
We Love You and Marriage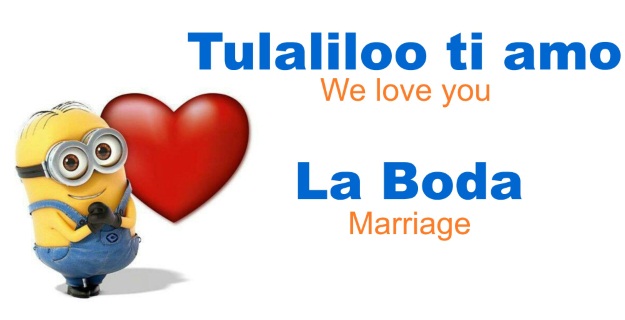 We think it is safe to say that we love Minion sayings even more than Agnes loves unicorns! Hard to say though, since unicorns are AWESOME! When Gru decides to abandon his evil plots, we learn that those cute little Minions were never destined for evil and they have a soft side to them! Tulaliloo ti amo, little guys!
Ugly and I Hate You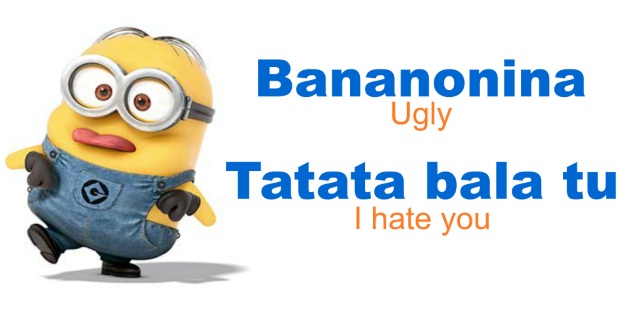 Just because these lovable yellow friends have a soft spot for Margo, Edith, and Agnes, it doesn't mean they are always nice to each other. We have seen a gibberish squabble or two and we were able to identify a few insulting words amidst the nonsense. Use with caution!
Fart and I'm Sorry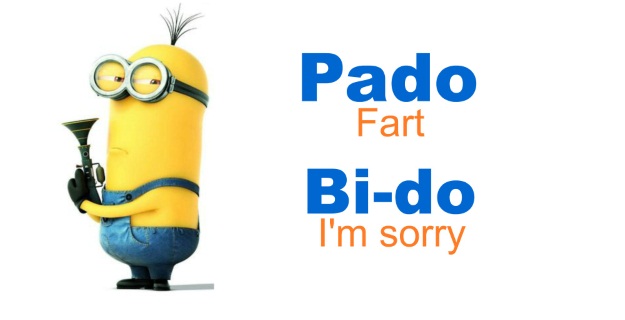 In case you need to apologize for your banana language insults, we have you covered! A simple bi-do should do the trick. The other word up there? You can come up with your own situation for that vocabulary. (And at least you'll know how to apologize, too.)
Fire! and One, Two, Three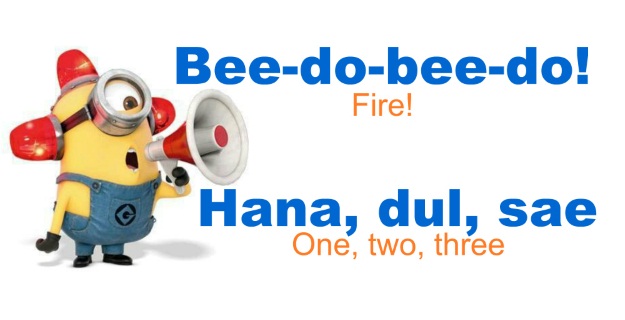 Bi-do and bee-do are two words you do not want to confuse! When learning the jargon remember to keep your vowel sounds on bi-do short and emphasize your vowels on bee-do to differentiate the two. We don't need any unnecessary fire drills! Bee-do-bee-do-bee-do!
I Swear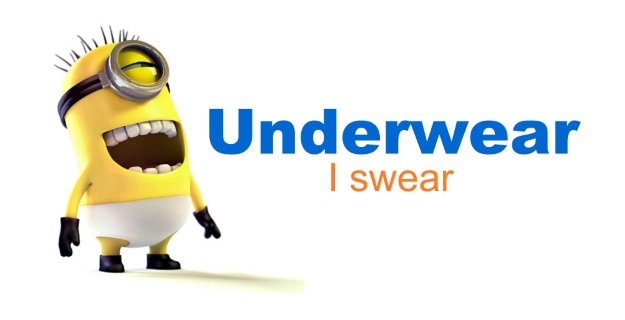 Just when you thought you were getting minionese down pat, the creators had to throw us for a loop! An English word with a different meaning? Po-ka?!
Who can resist watching a little minion singing about underwear? You just have to see it for yourself!
How to Dress Like a Minion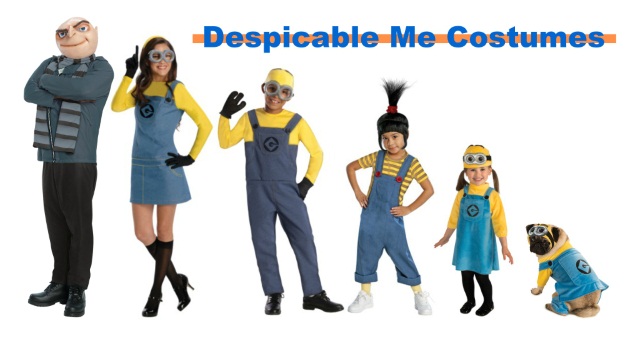 Are you excited for the new Minions movie this summer? How about Despicable Me 3 coming out in 2017? We can hardly contain our excitement. You can scroll through all of our Despicable Me and Minion costumes as you impatiently await for these films to premiere. Poopaye!