"Sin City is where you go in with your eyes open, or you don't come out at all." - Johnny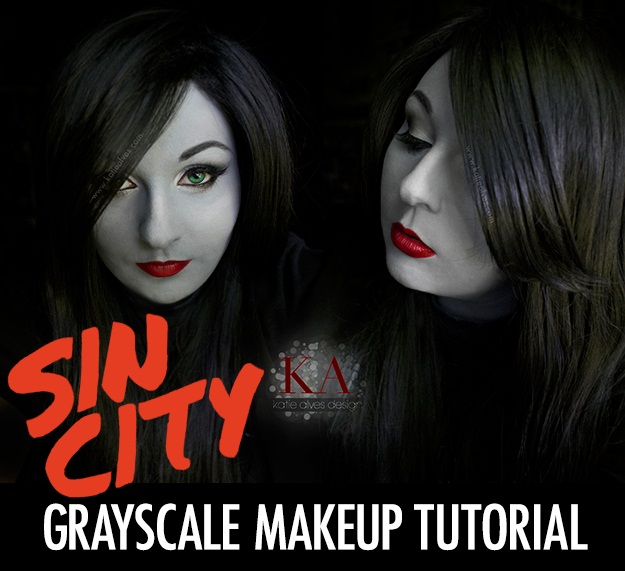 Are you ready to take a trip back to the old days, the all-or-nothing days? Just like Marv said in Sin City, they're back! We haven't stepped foot in Sin City since the first movie released back in 2005, but we're itching to go back this Friday when Sin City: A Dame to Kill For hits theaters.
Sin City's style is unmatched when it comes to the use of greyscale. It's not the first grayscale movie to use splashes of color here and there, but there is something about the way Sin City pulls it off that works on a whole 'nother level. Maybe it's the use of lines and shadow, or maybe it's the snappy dialogue, but either way, we can't wait to scope out A Dame to Kill For.
We thought it would be cool to emulate the style of the new movie with a Sin City makeup tutorial, so we called in our friend (and expert makeup artist) Katie Alves to give us a hand. You might be thinking, "pshh, how hard can it be to do gray makeup?" But do not be deceived, friends, for a good grayscale makeup requires a keen eye, perfect blending, and an understanding of how light reflects off features of your face. Katie will show us how it's done.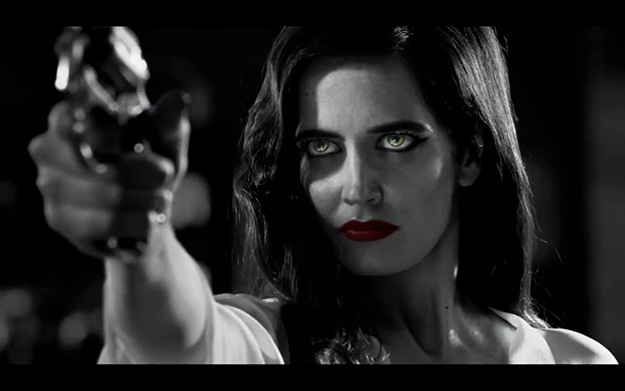 Greyscale Makeup Tutorial Video
So, to borrow lines from our deceased friend Jackie Boy, "you want to see it? You wanna see what we got?"
Greyscale Makeup Tutorial Video Transcript
Hey guys! Welcome to my Sin City-inspired greyscale makeup tutorial. HalloweenCostumes.com asked me if I might be interested in doing a tutorial for the new movie coming out, and I haven't done a lot of grayscale makeups before, so I did a few test runs, and this is what I came up with! If you want to do full grayscale, just take out the red on the lips, and just do black or gray. Sin City is Grayscale, but they've got a few splashes of color here and there, so I did that to the lips. So anyway, enjoy!
With a damp sponge and Mehron's white from the paradise palette from HalloweenCostumes.com, start covering the face. You can use a brush if you prefer, but I find it leaves streaks sometimes. With the same sponge, lightly dab some black onto the sponge, and back over the white to create a gray. Keep repeating this until you've got the color you want, then cover the face. If you have a gray, use that instead. Make sure to note that, when putting the gray down, it will dry darker than what you're putting down wet, so make sure you don't go too dark. Go all the way down the neck as well. I'd suggest wearing an old shirt before changing into whatever you'll be wearing. It can get everywhere.
Clean up the lips using a q-tip. If you leave some face paint on there, it could affect the lipstick. For highlights, use Sugarpill's tako. Next, add Star Crushed Mineral's eyeshadow in shooting star to the inner corner of the eye.
Then, add Lime Crime's lotus noir from the Cina doll palette to the outer corner, and blend out. Make sure to avoid getting any black fallout on the face. You might need to sit at weird angles to avoid this. With Physician's Formula black eyeliner, wing out the liner. Add mascara and falsies.
Fill in your brows. I find that eyeshadow is easiest for this. Line your waterline with Nyx jumbo pencil in black bean. Then, line your lips with Nyx red lip liner. Add Revlon's colorstay red lipstick in top tomato. And that's it! You're done!
Supplies Needed for Greyscale Makeup
Q-tips
Sugarpill pressed eyeshadow in Tako
Star Crushed Minerals eyeshadow in Shooting Star
Lotus Noir Lime Crime eye shadow
Black eyeliner by Physicians Formula
Falsies Mascara by Maybelline
Black Bean jumbo pencil by Nyx
Nyx lipliner pencil in 813 Plush Red
Revlon Colorstay Liquid Lipstick in Top Tomato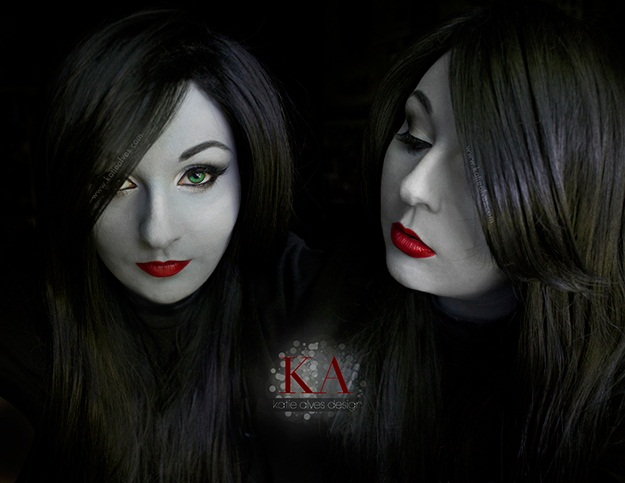 Katie really brought the look of Sin City to life and we can't thank her enough for this amazing tutorial. To take the grayscale makeup look a step further, go for broke and replicate the elegant but powerful look of Ava Lord. To complete her style, grab these other accessories:
Just be careful, or you'll end up asking favors from Herr Wallenquist. He's uglier than Marv!