2019 Update: Check out new couples Halloween costume guide too.
Wow, has it been a year already? We still love these ideas–you can never go wrong with Wesley and Buttercup–but did you know that we also have couples Halloween costumes that are sold in pairs? That's right, we've done the pre-"work" (it was super fun) of pre-packaging two costumes together that fit a theme! Here are some ideas: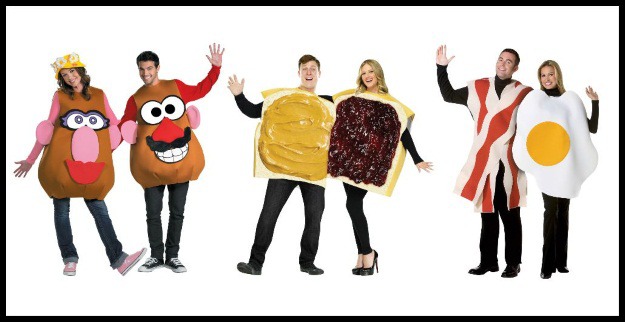 Mr/Mrs. Potato Head Plus Size Costume Adult Peanut Butter and Jelly Costume
Mr. and Mrs. Potato Head are classic toys, but are best known as the funny sweet-and-sour couple in Toy Story. Peanut Butter and Jelly or Bacon and Eggs are also great for a laugh!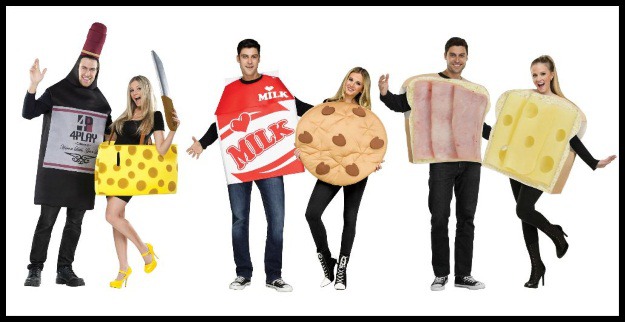 Wine and Cheese Costume Adult Milk and Cookies Costume
Sensing a trend here? Food costumes are fun alone, but couples take them to another level. And if you like these, you may be interested in some additional clever couples costume ideas we wrote about recently.

[ sources clockwise from left: One I Two I Three I FBI.gov ]

So far we've explored some of the best couples costumes from the comic and video game worlds, but those may not appeal to everyone. Here are six couples costume ideas that are less about a specific theme, and more about just plain fun! The following ideas are either rooted in history or some type of easily accessible pop culture reference.
1. Mark Antony and Cleopatra costume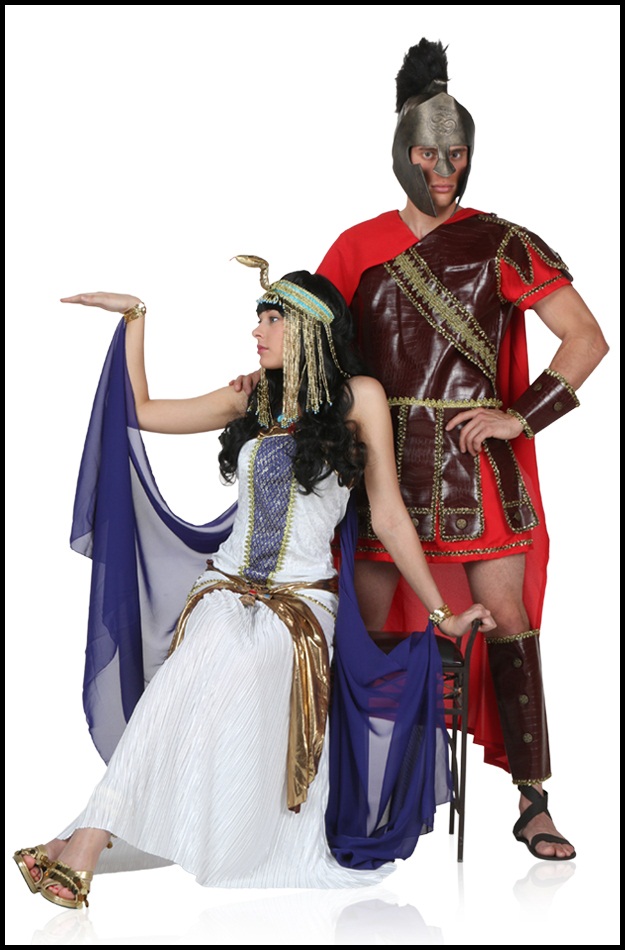 Mark Antony, a well-known Roman general and politician, and Cleopatra, the last Ptolemaic ruler of Egypt, are one of the most famous couples in history. Their relationship has been romanticized by poets and playwrights like William Shakespeare. The true nature of their relationship is impossible to know, but they loved each other enough to risk it all for one another. The costumes for these two are elegant and timeless.
A Roman general's outfit epitomizes Antony as he was known as a soldier and a man of the people. The Egyptian attire of Cleopatra is regal and immediately recognizable thanks to famous portrayals of the lovely pharaoh by stars like Claudette Colbert, Elizabeth Taylor and Lyndsey Marshal.
2. Bonnie and Clyde costume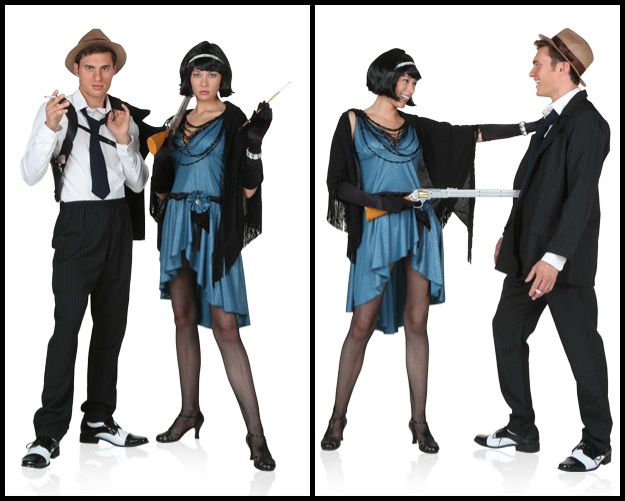 Bonnie Parker Costume Clyde Barrow Costume
You can't talk about famous couples costumes without mentioning Bonnie and Clyde Halloween costumes. The well-known outlaws shot their way across the central US back in the 1930s. The couple is famous for knocking off banks and small stores, but also for cold-blooded murder. The duo killed numerous police officers and civilians alike. Already famous for their exploits, Bonnie and Clyde were further immortalized on the big screen by Warren Beatty and Faye Dunaway in 1967. Their wild nature and classic style make them perfect costume party options.
3. Lloyd Christmas and Harry Dunne costume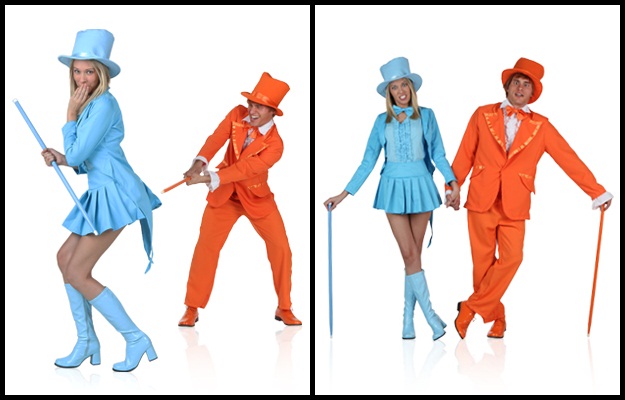 Sexy Powder Blue Tuxedo Orange Tuxedo Costume
Few movies invoke 1990's nostalgia more than Dumb and Dumber. Lloyd and Harry's famous road trip to Aspen will go down in history as being one of the funniest adventures in cinema. The baby blue and orange tuxedos these two wear to the charity fundraiser remain some of the most recognizable costumes in recent years. Another perk of this costume option is that it gives you free license to act like a complete moron! Be sure to complete the ensemble with matching canes and give each other a good whack. More tuxedo size and style options here.
4. Jan and Wayne Skylar costume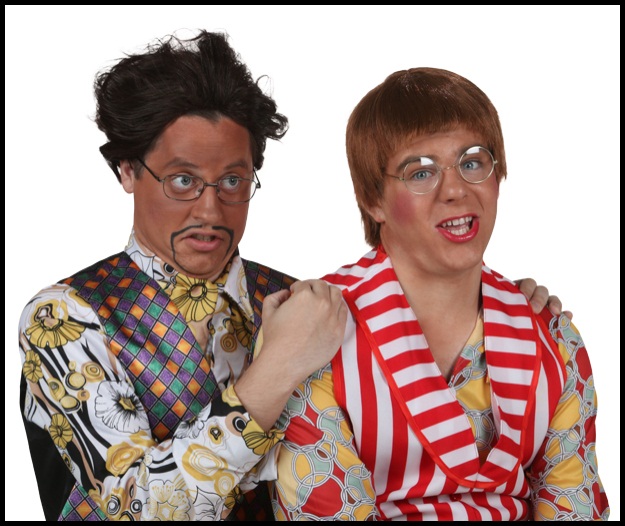 Since we're discussing fun costumes, we have to mention one of our favorite ideas. Do you watch the Channel 5 News with Jan and Wayne Skylar? They're the only married news team in the Tri-County area! They also happen to be incredibly hilarious friends of our favorite doctor, Dr. Steve Brule. This strange couple makes the perfect costume for any duo as long as you're not afraid to act the uncomfortably awkward parts of Janny and Wayne. (Just be sure to steer clear of red wine - it's the worst for Jan's sores.)
For those unfamiliar with the reference, 1/2 you're welcome for this and 1/2 sorry for this
5. Dread Pirate Roberts (Wesley) and Buttercup costume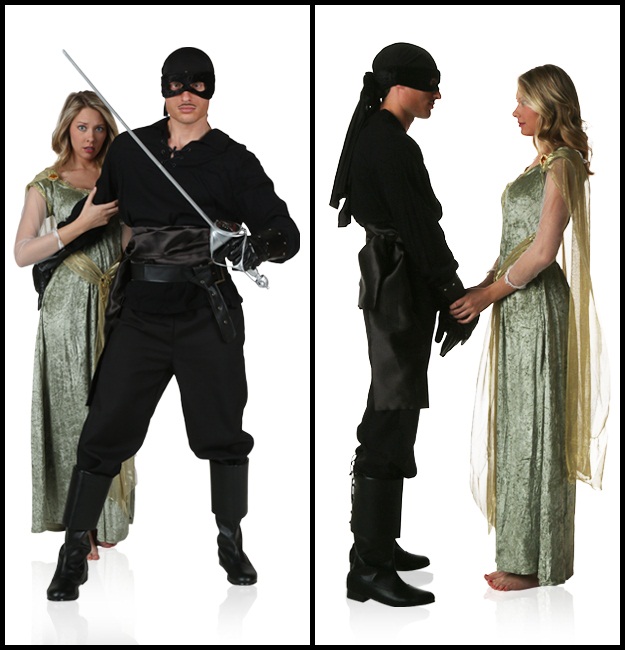 Dread Pirate Roberts Costume Princess Buttercup Costume
The Princess Bride wasn't a huge box office success but it has developed a legacy of devout followers since its 1987 release. This film is a cult classic and it's easy to understand why. The imagery, costumes, and dialogue are all incredibly recognizable and evoke a wonderful sense of adventure. There's fencing, fighting, torture, revenge, giants, monsters, chases, escapes, true love, and miracles! Wesley's Dread Pirate Robert's look is just plain cool, and Buttercup's royal gown provides a great contrast to his full black ensemble.
6. Xena and Gabrielle costume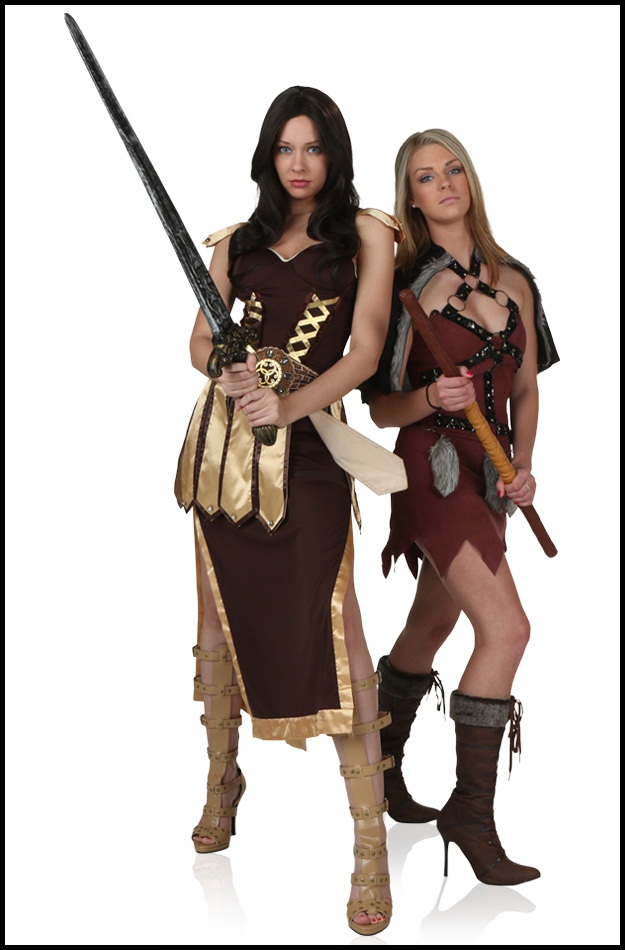 Xena Costume Gabrielle Costume
Speaking of 90's nostalgia, Xena and Gabrielle from Xena: Warrior Princess make an awesome costume duo! The princess and her faithful sidekick made quite the memorable team as they kicked butt across the ancient world. With these strong female lead characters, the show has been recognized as a beacon for feminism. If you decide to wear these epic costumes, be sure to unleash several warrior "Ayi-lalala!" cries over the course of the night. Hercules and his pal Iolaus would make the perfect male costume substitutes for this idea.
Looking for even more couple costumes? Give our couple costumes selector tool a try.