[ sources clockwise from left : one I two I three ]

In this installment of 2014 couples costume ideas, we will focus on five costume pairs for the video game lovers out there. Picking a gaming costume can be tricky because you want to find a costume that is recognizable, but at the same time cool enough to set you apart from the rest of the crowd. Since Ultra Street Fighter IV was recently released, we thought highlighting a famous Street Fighter duo appropo. Let's start this off with a bang…or shall we say, a hadouken? Round one…FIGHT!
1. Ryu and Ken Couple Costume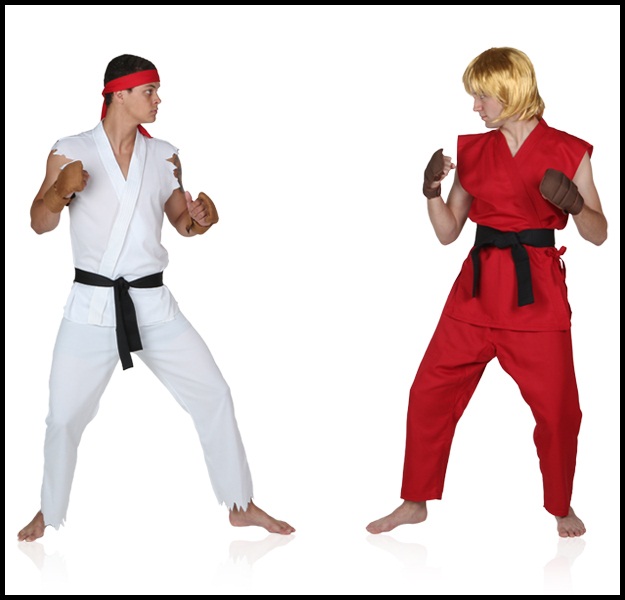 Ryu Costume - Shop Ken Costume - Shop
Ryu has been battling alongside (and against) his friend Ken Masters since 1987, when Street Fighter first came out. They both spend their days participating in the ultimate street fight tournament, with hopes of being recognized as the strongest fighter. These karate champs work so well as a Halloween costume duo because of their distinct contrasts in both personality and uniform color. Plus, they have a great love/hate relationship. Best friends that constantly fight each other? If you have a friend that fits the bill, consider these costumes!
Things to know when dressing as Ryu

: Ryu is typically stoic and calm. Training in the martial arts has become his life, and as a result of embracing a path of simplicity, he owns few material possessions. His tattered white gi, hachimaki (a Japanese headband), and gloves, are basically all that he owns. They are instantly recognizable, so make sure your costume includes these elements!
Things to know when dressing as Ken

: Ken Masters is Ryu's best friend, training partner, and rival. Like Ryu, Ken constantly strives to become a stronger fighter, but he does so with the flash and style of a confident showman. His long blond hair and red sleeveless gi offer a stark contrast to Ryu's white uniform.
2. Sonic and Tails Couple Costume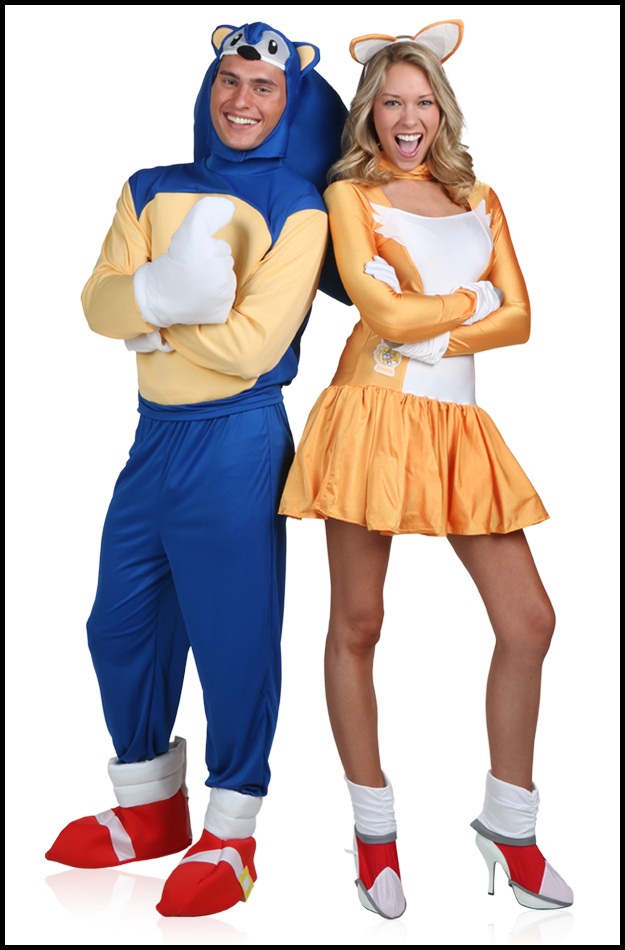 Sonic Costume - Shop Tails Costume - Shop
Things to know when dressing as Sonic: If there is any character that can match the clout of Mario, it's Sonic the Hedgehog. In fact, Sonic was introduced in 1991 to give Sega a mascot to rival the Italian plumber from Nintendo. DIY some simple gold ring accesories using cardboard and spraypaint, and your costume will steal the show.
Things to know when dressing as Tails

: Miles "Tails" Prower has a slightly different backstory. Tails showed up in Sonic the Hedgehog 2 as a sidekick and later as a playable second player. Sonic and this two-tailed fox are the best of friends. They make a great costume couple because of their mutually beneficial relationship: Tails is a mechanical genius, and Sonic mentors young Tails and helps bring out his courageous side!
3. Super Mario Bros: Mario and Luigi Couple Costume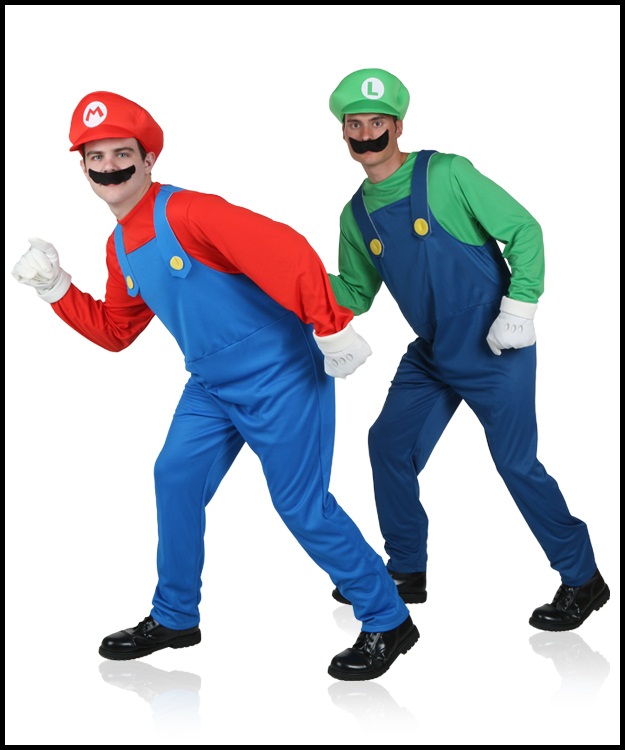 Mario Costume - Shop Luigi Costume - Shop
You can't have a video game couples costumes list without including Mario and Luigi! These two brothers have been jumping into pipes, smashing goombas, and saving the princess for 31 years now! This is a perfect costume choice for best buddies and significant others alike. We even have sexy versions!
Things to know when dressing as Mario: Mario is the older brother, and he first arrived on the gaming scene in the 1981 game, Donkey Kong. Originally called Jumpman, Mario is the more confident and collected of these two mustached fellows.
Things to know when dressing as Luigi

: Between 2013 being declared "the year of Luigi," and this year's popular "Luigi Death Stare" meme, Luigi has recently enjoyed increased time in the spotlight. He is a character perpetually loved by younger siblings everywhere, as these are the siblings that were inevitably forced to "be Luigi" back in Super Mario Bros. gaming days. Whereas at one time the only difference between the brothers was their costume color palette, Luigi now enjoys his own personality and is fondly described as "the world's bravest coward."
4. Legend of Zelda: Link and Zelda Couple Costume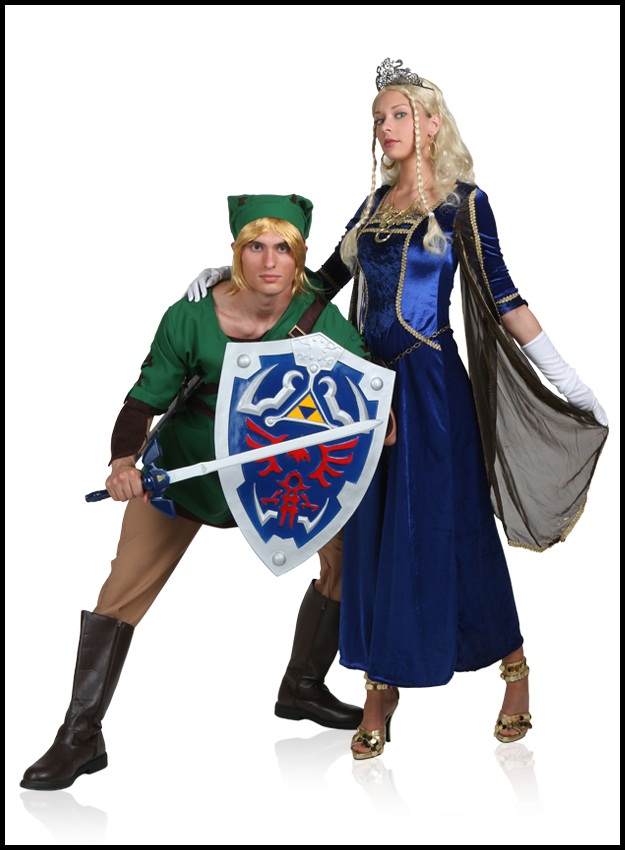 Link Costume - Shop Princess Zelda Dress - Shop Tiara - Shop Blonde Bradiable Wig - Shop
Things to know when dressing as Link: Link has been using the triforce to quell evil from the world of Hyrule since 1986. The actual character has been portrayed numerous times in a seriously confusing timeline, but he's always the archetypal protagonist. Is your personality on the quiet side? This may be the perfect choice for you! In nearly every Legend of Zelda game, this "silent hero" hasn't uttered a word. The most you hear from him is a series of grunts and shouts such as, "Hhhut!" and "Hee-yah!" Don't forget to pick up a Hylian Shield and Master Sword.
Things to know when dressing as Zelda: Princess Zelda was introduced as a heroine in distress, captured by Ganon for her Triforce of Wisdom. She too has seen numerous portrayals throughout the Legend of Zelda series, but has since developed character details in a way that even Link hasn't! Zelda is best described as kind, wise, and a worthy ruler. Zelda has been known to mascarade as a wicked ninja-like-warrior named Sheik from time to time, so if you've got a hidden wild side, this is the costume for you!
5. Assassin's Creed: Ezio and Sofia Sartor Couple Costume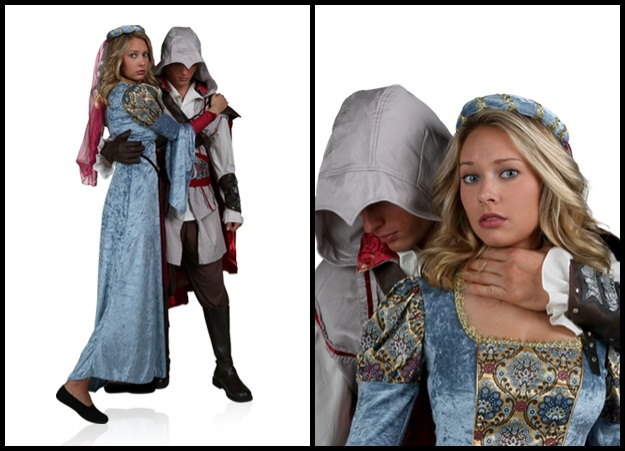 Assassin's Creed Costumes - Shop Sofia Sartor Costume - Shop
Things to know when dressing as Ezio: The protagonist of Assassin's Creed II, Ezio Auditore da Firenze is a Renaissance nobleman from Florence. After witnessing the death of his brothers and father, he flees the city with his mother and sister and soon learns that his family is part of a secret order known as The Assassins. He combines this knowledge with athletic and acrobatic skills, and seeks justice for his family. Not one to shy from women, Ezio is a playful ladies' man with great taste in clothing. If you're a snappy dressor, bigtime flirt, or part of a secret order, give an Ezio costume a try!
Things to know when dressing as Ezio's love interest

: There were several women in Ezio's life, so dressing in any one of a number of Renaissance style women's dresses would work well! Ezio has been known to wander the streets of numerous cities with maidens of all sorts (group costume, anyone?). Of course you could opt to dress specifically as Sofia Sartor, Ezio's wife. A strong willed and intelligent woman with a passion for literature, Sofia plays an important part in carrying on the Assassin's heritage.
There you have it, folks! If you're looking to base your costume on video game characters, take a suggestion from us and pick one of these classic couples and duos. We carry loads of sizes and styles for each character, so you will certainly be able to find your perfect fit. You'll be guaranteed to get a few nods of appreciation from fellow gamers, as you proudly show your love for some of the most iconic video game couples from the digital realm.
For more couple costume ideas, visit our couples costumes selector tool!