Friday the 13th - that's today by the way - also happens to land on a full moon!

(Pauses. Absorbs.) Yes, you heard that right. The scariest day meets the scariest moon…it's got to be rare, auspicious, and all things bone-chilling, right?
Well, the last Friday the 13th with a full moon occurred 14 years ago on October 13, 2000 and the next won't occur for another 35 years on August 13, 2049. If that isn't a cause for celebrating the macabre, gothic and generally spooky, then what is?
Queue the Theramin and pipe organ. It's time to get weird! And we're talking full moon, Friday the 13th weird! So deck the halls with blood spatters, trim the mantle with decapitated heads, and lock down your favorite Jason costume. We're here with not just any costume party ideas, we're here with Friday the 13th party ideas. Tonight is going to be one chilling night for a party!

Blood Guts and Horror: Friday the 13th Decoration Ideas
Absolutely the best part about throwing a Friday the 13th party, is that "spooky" is built into the blood-drenched fabric of the day. Unlike Halloween where people can be sexy, funny, ironic, cute, etc, Friday the 13th is good for one thing and one thing alone – pure, unadulterated horror! Here are some scary decorations perfect for a Friday the 13th party. Make it clear that the dress code requires blood, guts or the like, and buckle down for a night of scary movies, horror-inspired cocktails and all things that go bump in the night.

Swap Your Bowls for Bowels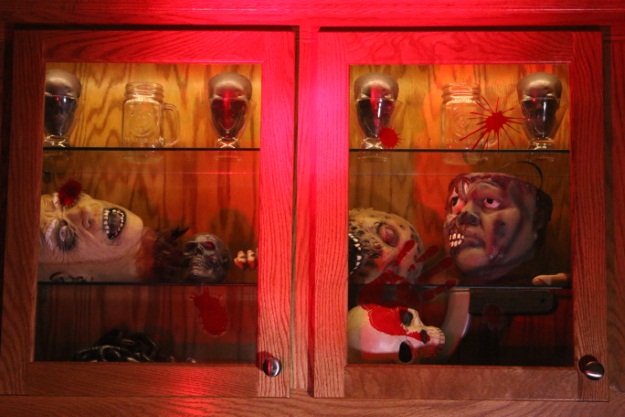 When throwing a proper horror party, spooky decor, dismembered body parts, and Halloween props are really shriek, errhmm, we mean chic. If your cupboards are currently filled with bowls, it's time to replace them with bowels, bloodied limbs, and heads. Between iron chains, implements of torture, skulls, and anything else your twisted little full moon-infused mind can think up, it's pretty easy to transform your living space into Jason's lair in no time.

The Fixins that Sicken
Sometimes the simplest answer is the right answer. When it comes to cocktail hour, make it coctail horror with a themed Bloody Mary bar!
The best part about a Bloody Mary is that everyone makes theirs just a little differently. Be sure to give your ghouls of honor plenty of options (and vodka) to meet their Bloody-Mary-lust.
Sick Flicks
Slasher flicks are essential for a horror themed party (duh), and not just for the obvious reasons. It's not like we are hanging on the edge of our seats to piece together the intricate plot movements between victim six and victim seven in most old horror flicks, right?
Horror movies are great background entertainment, where tuning in and out between conversations doesn't leave the viewer completely lost. A little bit of conversation mixed with a little bit of squirming and gasping sets a nice tempo!
The classics can play amid a boisterous crowd and still mess with the senses: The Halloween/Michael Myers', Jasons, Chuckies, Nightmare on Elm Street/Freddie Kruegers, Pet Cemeteries, Night of the Living Deads, Nosferatus, Psychos, and Children of the Corns of the horror industry are obvious go-tos. There are tons to choose from, so go nuts!

For a smaller group that's more likely to actually pay attention to the plot twists of a movie, a psychological horror should make people feel good and uncomfortable. In the last couple of years, many of the movies on the IMDb most popular horror feature films list fit the bill. Sure some of them might be more on the slasher side of the tracks, but there is no doubt that the paranormal - less than the axe wielding maniac - is on the rise in the horror industries in the 2010s!

Don't Forget the Re-Flesh-Ments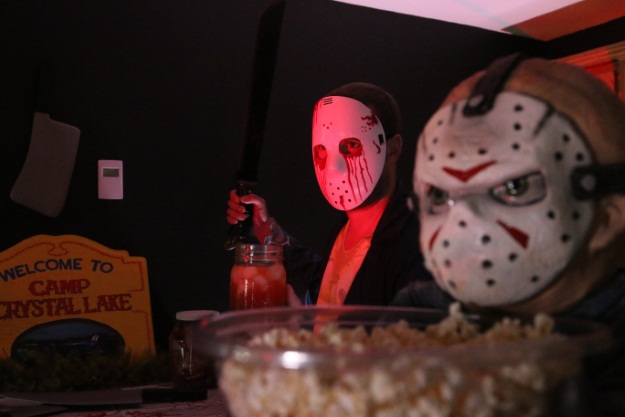 Now, in all honesty, usually the scariest part about any horror party is that it's not <gasp> catered. Expending all that mental energy on horror movies makes people hungry! So make sure they have all the grub they need.
In the end, just don't overthink it. A good horror party is like any costume party - the fun is in the company, costumes, and entertainment. If you can make it through tonight's party alive, you just might have another 35 years to plan your next full moon Friday the 13th party!
Until then, Happy hunting!