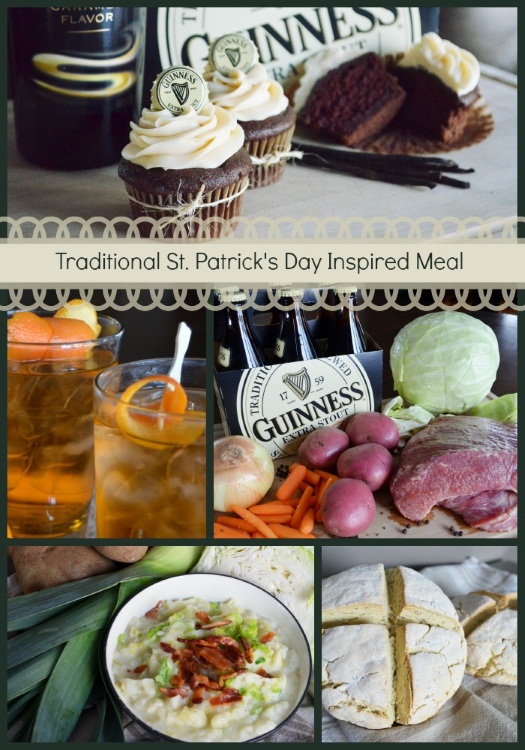 Modern St. Patrick's Day has a bit of a...rep-beer-tation, shall we say? Since that aspect of the holiday gets plenty of press, we thought we'd explore some other traditions of the yummy variety. We fused the classic and the modern, creating 4 tradition inspired Irish recipes, including ones that are gluten free and paleo friendly. We also concocted 4 modern Irish drink recipes, because not all St Patty's Day celebrations need green beer!
THE MEAL
Corned Beef and Cabbage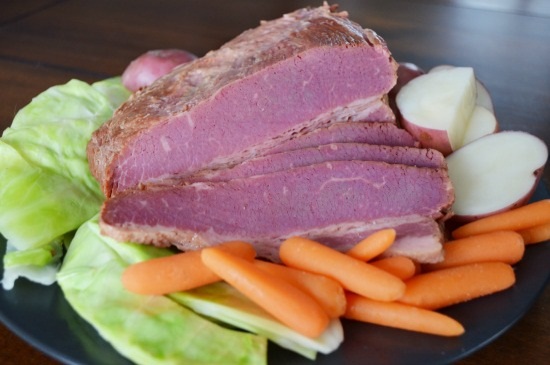 Corned Beef and Cabbage Slow Cooker Recipe -
Here
Contrary to modern notions, corned beef and cabbage is not actually a"traditional" Irish recipe. Corned beef was first discovered by Irish-American immigrants in New York's Jewish delis. The inexpensive and salty meat paired with cabbage was a tasty and thrifty alternative to the more traditional Irish meals of pork and potatoes. Known in New England as a boiler dinner, corned beef and cabbage became synonymous with St. Patrick's Day in the early 1990s. Traditional or not it's an undeniably delicious dish, and this slow cooker version couldn't be easier to prepare!
Colcannon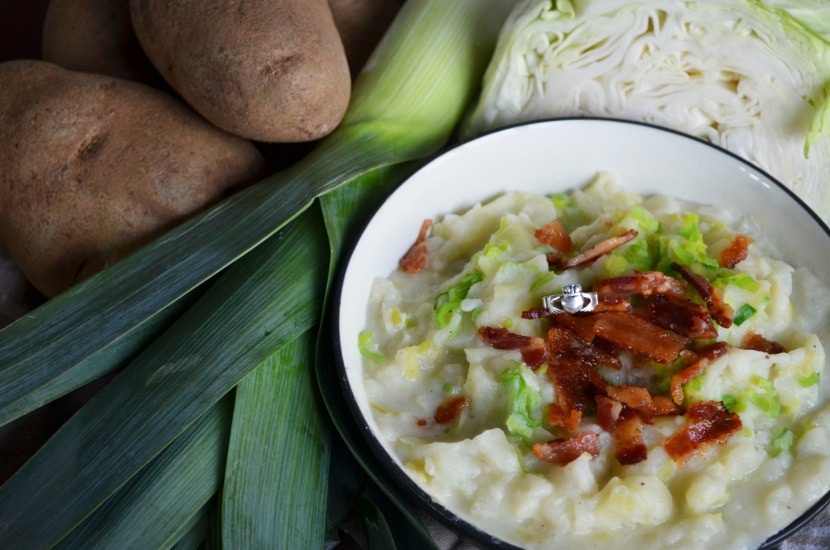 Irish Colcannon with Bacon Recipe -
Here
Irish Colcannon Fauxtatoes with Bacon Recipe -
Here
Colcannon is a delicious Irish dish made with foods found in a typical country garden: potatoes, cabbage or kale, and milk. Modern variation inlulde scallions, leaks, and onions or chives (shh, we've also added bacon to our recipe!). A Halloween tradition, colcannon was historically served on or around October 31st. Another fun fact? Charms were placed in this potato based dish, to make various predictions:
If there is a RING in your dish, you'll be the next to marry
If there is a THIMBLE in your dish, you'll end up a spinster
If there is a BUTTON in your dish, you'll remain a bachelor
If there is a COIN in your dish, you'll become wealthy
This recipe is naturally gluten free, and it can easily be made dairy-free with a milk substitute. We have also included a paleo friendly version, made with turnips and parsnips.
Irish Soda Bread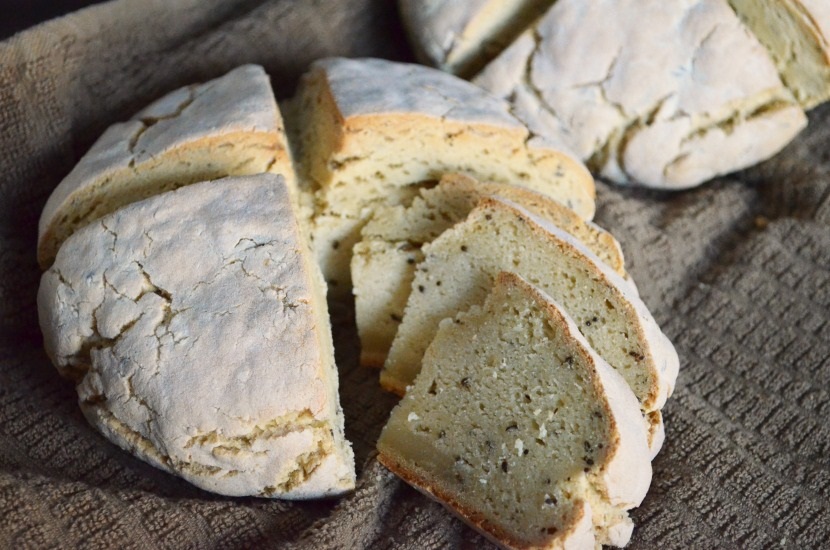 Irish Soda Bread Recipe-
Here
Gluten Free Irish Soda Bread Recipe -
Here
Better known as wheaten bread in Ireland, this quick bread became a staple because it uses very few, and extremely affordable ingredients. It is a round, very dense loaf, and a cross is traditionally carved into the top of the dough before baking. It is believed that this wards off evil spirits and protects the household. (It is also necessary for the expansion of the bread while cooking.)
DESSERT
Guinness Chocolate Cupcakes with Bailey's Caramel Buttercream Frosting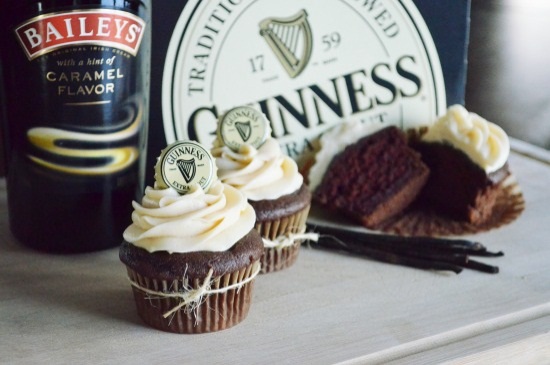 Guinness Cupcakes Recipe -
Here
Gluten Free Guinness Cupcakes Recipe -
Here
Bailey's Caramel Frosting Recipe -
Here
Guinness chocolate cake has become a modern tradition which many people delight in participating in. What could be a more delicious flavor combination than rich chocolate and the deep, earthiness of an Irish stout, topped off with a buttercream frosting infused with Bailey's caramel liqueur? Adding the Guinness makes for a deliciously moist and dark chocolate cake.
BEVERAGES
Guinness Ginger Ale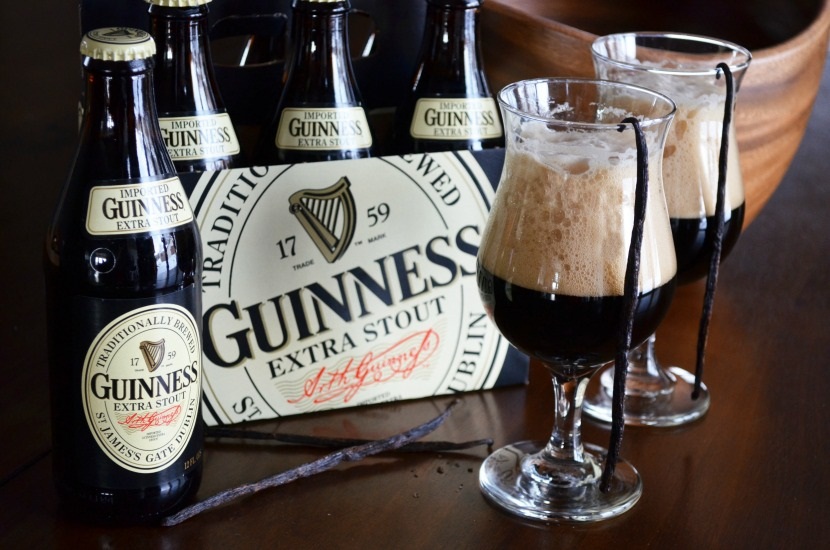 Drink Recipes -
Here
With the leftover bottles of Guinness from the corned beef and cabbage recipe or the cupcake recipe you can create this smooth, full bodied Irish beer cocktail. It is sweetened with ginger and vanilla liqueurs.
Irish Trash Can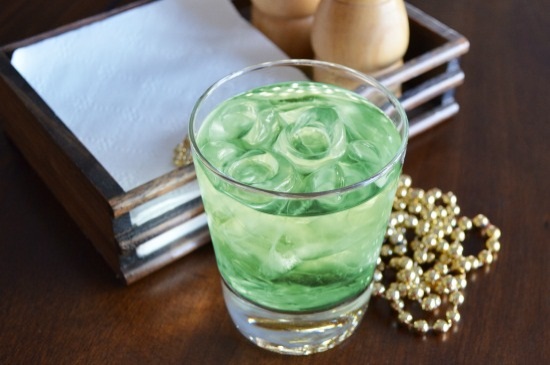 Gold Beaded Necklace - Shop Drink Recipes - Here
Although it doesn't have the most appetizing name, this tasty cocktail is made with Red Bull and packs a sweet punch! See what other Irish trash can ingredients are included in this tantalizing drink by checking out the recipe!
Irish Gold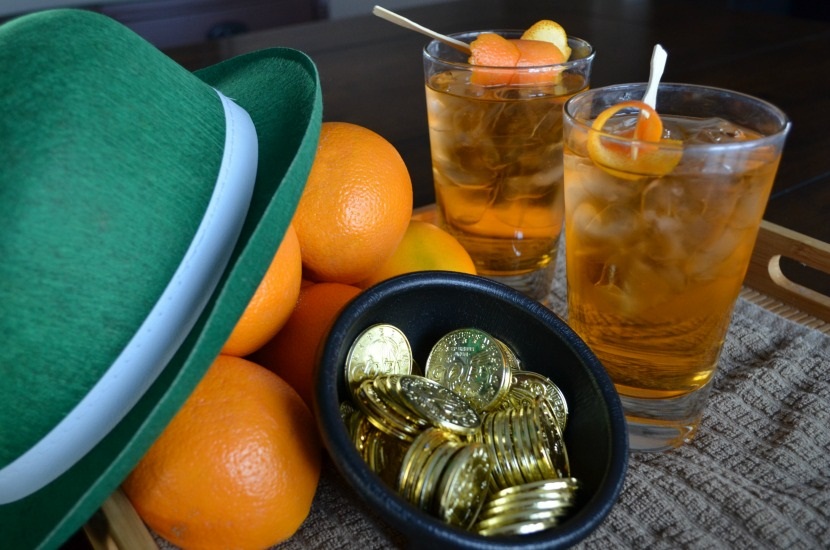 Green Derby Hat Gold Coins - Shop Drink Recipes - Here
We can't throw an Irish inspired celebration without including a recipe with whiskey, so here it is! A delectable fusion of clean, oaky flavors complemented by bright citrus notes.
FOR THE KIDS
Frozen Leprechaun Float
Drink Recipes -
Here
This drink is tame enough for the kids and fun enough for the adults. We also included vanilla wafers as a nice snack which playfully doubles as the leprechaun's gold. Alcohol-free and ice cream-full, this float will make for a memorable holiday!
DIY St. Patrick's Day Wreath

This basic wreath is made with green boas wrapped around a wire wreath form, and it's easy enough that the whole family can get involved. We also added a leprechaun's hat and his pot of gold, and used the leprechaun's remaining gold stash as hanging string. Add any craft store details or ribbons to further personalize your St Patty's Day wreath!
Items Used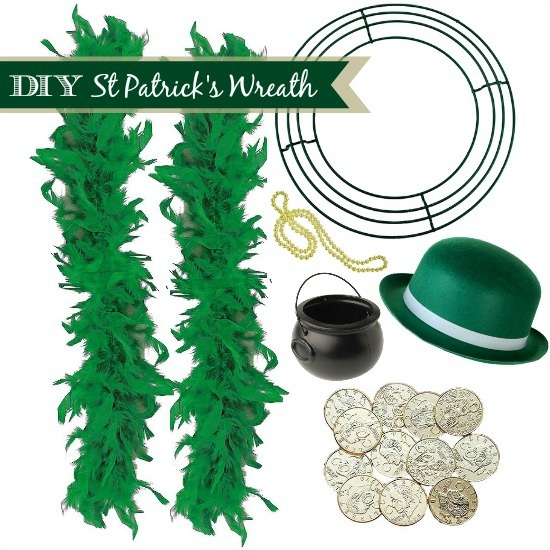 Green Feather Boa
Gold Coins
Gold Beaded Necklace
Green Derby Hat
GRANNY'S LOST RECIPES
Can you believe it? Digging through a historic old hutch tucked away in the back of our warehouse we came across the recipe cards for these amazing Irish dishes! Click Grandma's love-worn and stained recipes below for a free printable:
Alright, you called our bluff...they're not from an old chest. But, these are amazing recipes, most of which have been revised for certain dietary needs. We hope you enjoy making and eating these delicious recipes, and have a very Happy St. Patrick's Day!