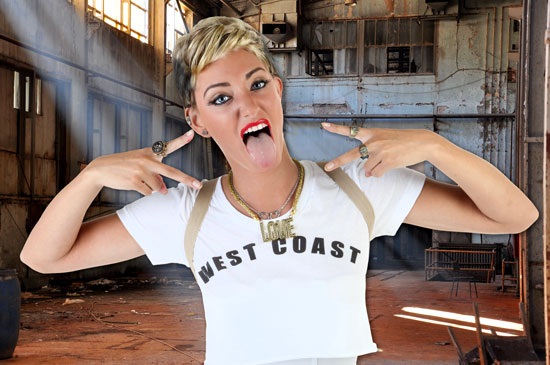 We can't stop, and we won't stop...our obsession with Miley Cyrus these days! Between her twerk-tastic antics that have been making headlines, the bizarre music video for her smash single "We Can't Stop," and her bold fashion choices, what's not to love? If you're similarly obsessed and looking for a Halloween costume sure to be a show-stopper this year, feast your eyes on our DIY Miley Cyrus costume tutorial.
***BONUS *** We included a simple DIY Robin Thicke tutorial for a unique couples costume idea!
The Inspiration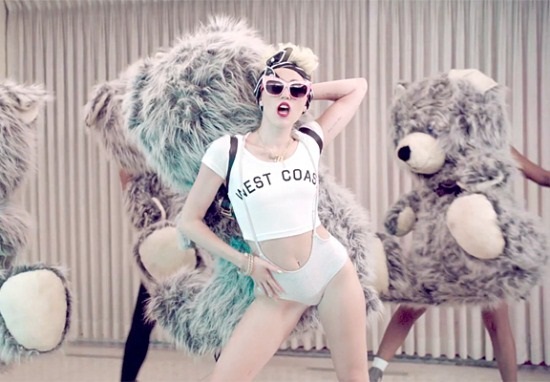 [Source]
This is our favorite of Miley's "We Can't Stop" looks. It's fresh, sexy, and the crisp white really pops. Plus it features a teddy bear backpack, and we just so happen to carry a teddy bear backpack! It has a zippered pouch so it's the perfect way to carry your Halloween night essentials.
The Complete Look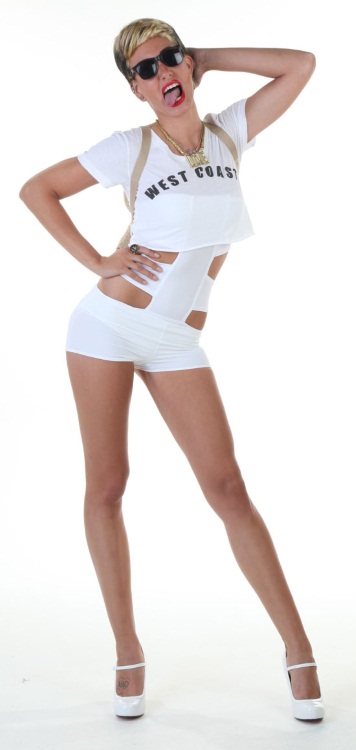 We layered on the gold bangles and cranked the wow factor up to maximum. Just make sure you're willing to pose with your tongue out in every photo taken of you in this costume (and there will be lots of them). Miley wouldn't want it any other way! Below you will find all of the products we used to assemble this sassy style.
The Supplies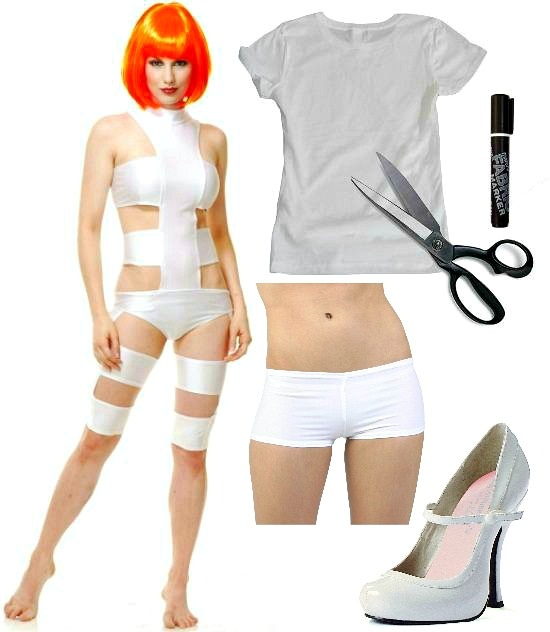 Start with the white body suit from our fifth dimension costume as a base, and simply snip off the collar portion and the leg straps.
You can add a pair of white spandex shorts for additional coverage.
Next cut the bottom half off of a plain white cotton t-shirt
Use a black fabric marker to write "WEST COAST" in all capital letters.
Top it off with some sexy white heels and the main costume portion is complete! On to the accessories.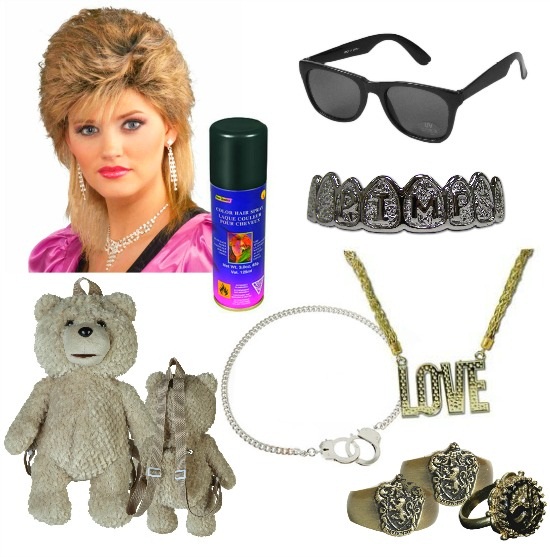 The extras are really what make this Miley Cyrus costume come to life! Grab a chic pair of sunglasses, some fake grilllz, and layer on the jewelry. Miley sports no fewer than two necklaces along with a heaping helping of gold rings in the video - Just TRY and count all the bangles!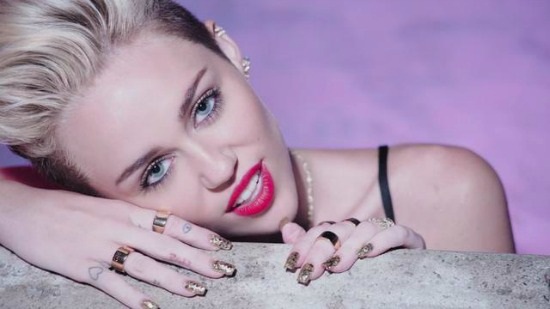 Miley's quiff hairstyle is also very distinct, and the short sides and poofed top make it a key element to this DIY look. To recreate the signature style above:
Start with a wig cap and our 80's style wig. It has lots of blonde dimension in similar colors to those sported by Ms. Cyrus.
Use bobby pins to pin back sections of bangs at the front, creating a voluminous effect.
Use black hairspray to shade the sides of the wig. (Tip: wrap a dark-colored towel around your neck during this step. The spray can be messy until it dries.)
Use scissors to cut off the long hair strands in the back. You could also just tuck them underneath the wig's elastic band.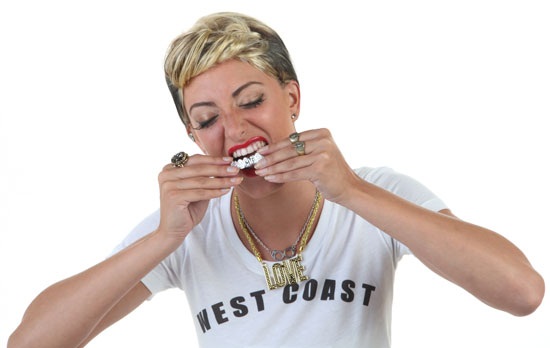 Your BEST accessory is attitude! We mentioned it before but it bears repeating: Miley has lots of sass in her video and you should be prepared to do the same while you wear this costume. If you're fatigued from dancing around with your tongue out, take a break and try out some zany poses. We suggest making kissy faces at your teddy bag. Photo op!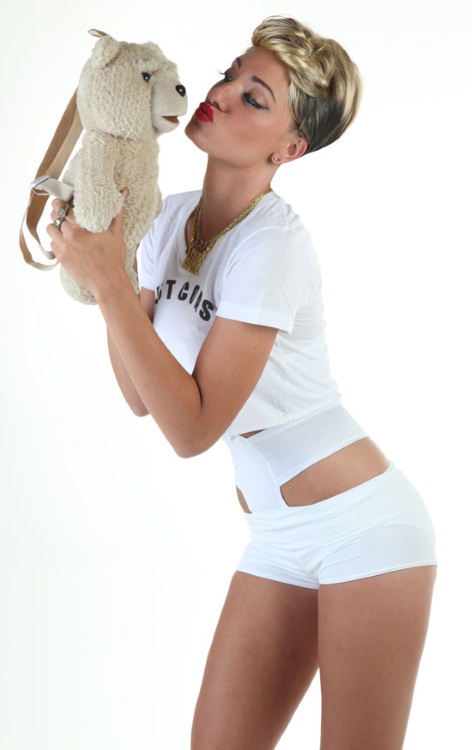 Awesome Extras
The "We Can't Stop" video has 185 million YouTube views and climbing! This in mind, it's possible that you won't be the only Miley Cyrus at your Halloween bash this year. (UGH!) BUT, if you take some time to create any of these unique DIY props from the video, it's safe to say you'll be the BEST Miley!
French Fry Skull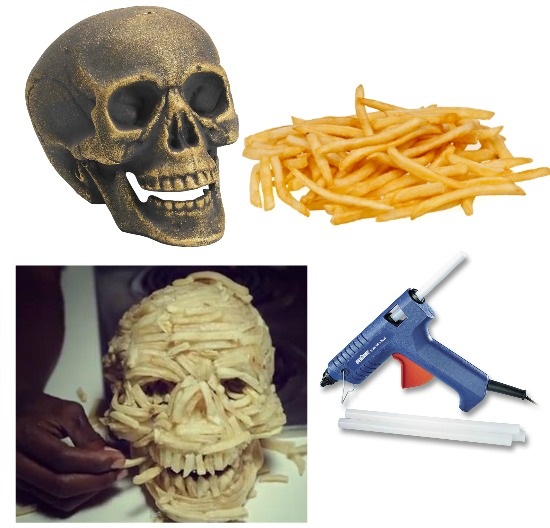 We're not here to judge the fact that there IS a skull made out of french fries in the video. We're just here to observe and report: it exists. And it's kind of awesome. If you snag our Gold Skull Prop as a base and use a hot glue gun to cover it in french fries (setting aside a few to snack on), your Miley interpretation will surge to the top of the twerk pack!
Severed Pink Goo Hand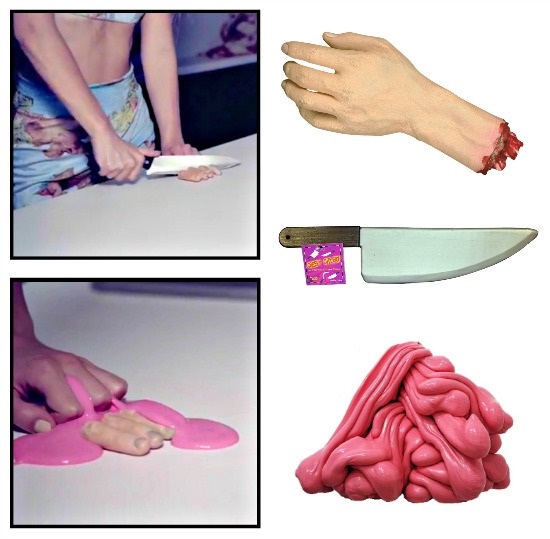 There's a memorable moment in the video where a girl in the kitchen chops off fake fingers and pink goop spills on the counter. It's totally twisted, and totally evocative of the Halloween spirit! (Any scene that calls for fake body parts is okay in our book.) If you can score some pink Gak, all you need is our fake knife prop and the finger portion of our severed hand. **Theatrics not included. That part is up to you!
Money Sandwich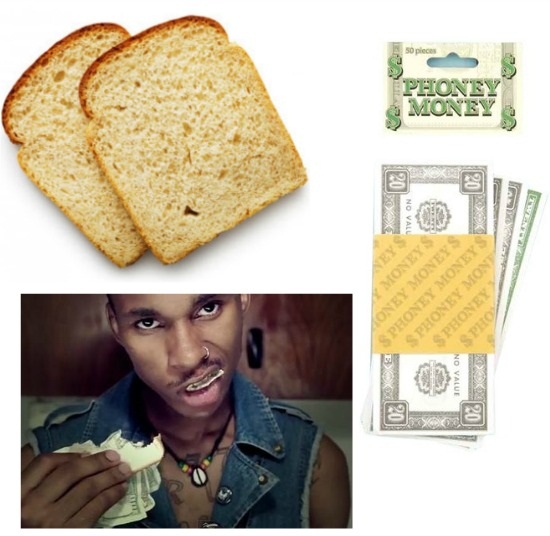 What's for lunch, ma? A money sandwich? My favorite! If the scene featuring said sandwich jumped out at you like it did to us, you're in luck! It's super easy (and surprisingly cheap) to recreate this moment. We just took a stack of our fake bills and fanned them out between two pieces of bread. Woohoo! If you get hungry at your Haloween party, you've got a topical snack...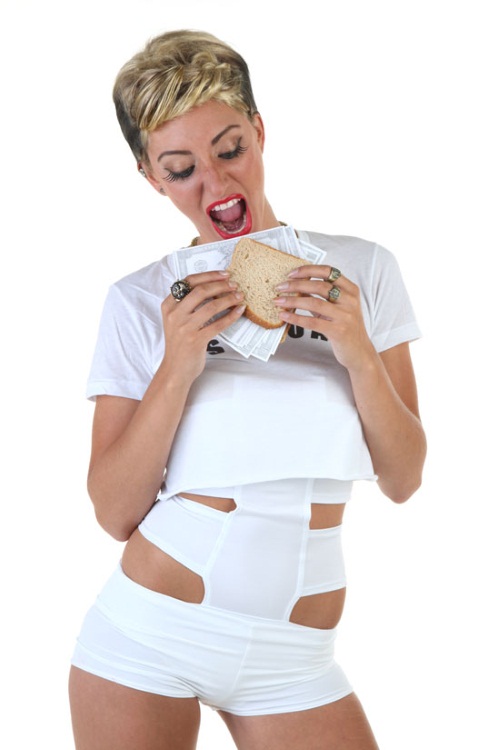 Couples Costume Idea: DIY Robin Thicke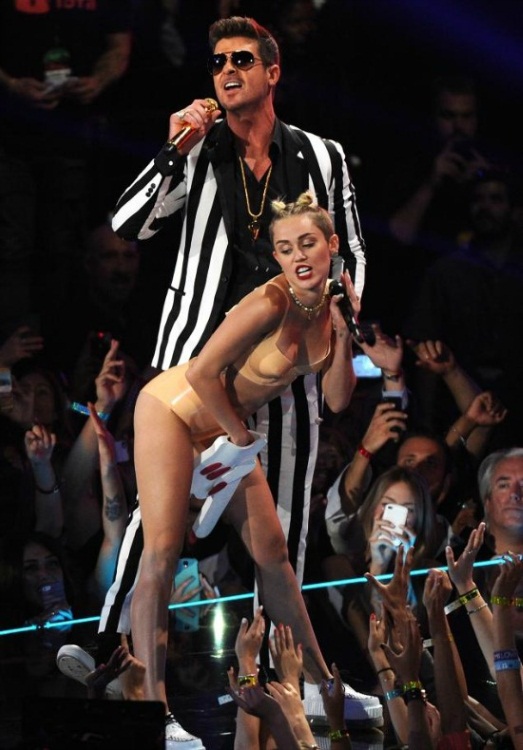 [Source]
These two stole the show at this year's VMAs, and their bold style choices made them quite the eye-catching duo. If you and a special someone are looking to turn heads this Halloween, dress as this buzz-worthy twosome! Here are some simple items you can use to put together a Robin Thicke costume:
The Supplies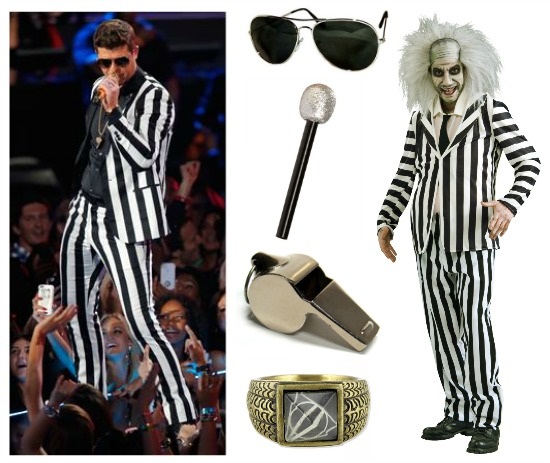 The crisp lines on Robin's striped suit are anything but blurred, and his look is surprisingly reminiscent of Beetlejuice's classic costume. With this suit alone, your Robin Thicke Halloween wardrobe is nearly complete! Simply add a gold statement ring, some stunna' shades, a whistle necklace, a microphone prop, and twerk your way to Halloween costume victory!
The Video
Consider giving the music video a quick study before you take your Miley costume for a spin on the town this year. It's full of inspiration for dance moves, key poses, and over-the-top facial expressions for you to make in pictures! Throw on some red lipstick and TURN IT UP!