With Saint Patrick's day around the corner, the question of what to wear may seem exhausting. The days of dressing up like a leprechaun to wow and impress your friends are long gone. Remember you don't have to sacrifice your sense of style to celebrate the day. Here are a few ways to look great while wearing green!
Explore the shades
Which shade of green works best for you? If you're not sure, trying playing around with various eye shadows and nail polishes before deciding. The key is finding that perfect shade! Once you've got it, infuse it into your look and viola! If you don't have time to sort through a sea of green, add an emerald ring or necklace to your outfit. Another simple yet great item: headbands.
Hot tip: wear things that can be re-used any time of year!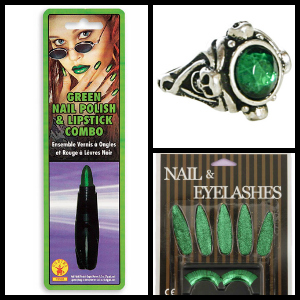 Green Lipstick & Nail Polish | Green Nails & Eyelashes | Jack Sparrow Ring
Get leggy with it
For an edgy look add a pair of leggings to your outfit. Match your bold green leggings with your favorite black dress or skirt. For the gents, green cotton dress socks are a must. Don't be afraid to get leggy with it especially if you're looking to stand out!
Hot Tip: Black flats or pumps will help to offset the bold green colors.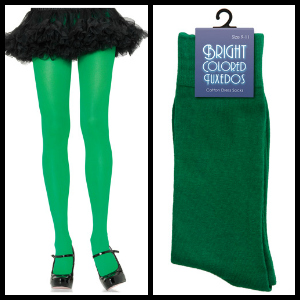 Kelly Green Tights | Men's Green Socks
Live on the edge
An easy way to get into the festive spirit is by wearing green pumps or flats. If you're pressed for time they are just the thing you need. Let your shoes make a statement by dressing in softer colors. Experiment with various shades of black, gold and white to find the perfect shoe%20 outfit combination.
Hot Tip: The best way to wear a flashy color is with confidence!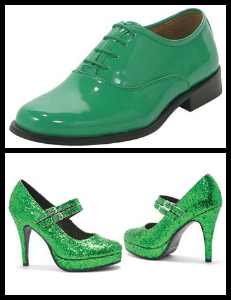 Men's Green Shoes | Women's Green Glitter Heels
Dress to impress
If you're ready to dance (or drink) the night away, be sure to create a balance fanatic and festive! Even if you choose to wear a costume, aim for a more subtle look that is less cartoonish. By doing so you'll separate yourself from the crowd of leprechauns, overly large hats and shamrock glasses!
Hot Tip: Find a costume that looks fashionable and fun!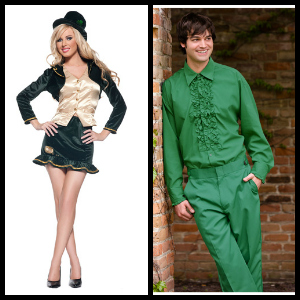 Sexy St. Patrick's Day Costume | Green Tuxedo Shirt
Go casual
For the guy or gal on the go, your best bet is wearing a t-shirt for a casual and comfy look. Remember a little festivity goes a long way! Pair your favorite Irish t-shirt with dark jeans and a blazer or try the reverse. Wear a white shirt with a dark green blazer and you're good to go!
Hot Tip: This year St. Patty's day falls on a Sunday, so plan a quiet brunch with friends!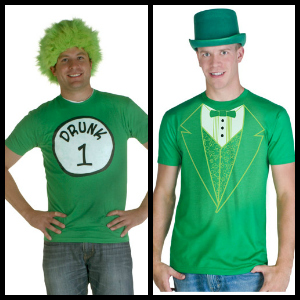 Green Drunk Thing One T-Shirt | Green Tuxedo Costume T-Shirt
Whether going out for green beer or avoiding being pinched in the office, finding ways to incorporate green into your wardrobe is a must! The most important thing is not being that girl or guy. You know… the one that's dressed way too over the top; unless of the course the occasion and the company call for it.
Rhonda Gibson is a staff writer for HalloweenCostumes.com, where you can find all the green gear you need this St. Paddy's Day!