The holiday reserved for giving thanks and spending time surrounded by beloved family and friends is drawing near, and for some of you this may be the first year that you'll be hosting Thanksgiving dinner. Even if this isn't your first time hosting, you may be in search of some new ideas to make your event extra special. To help you prepare, I've come up with several ideas to fit any budget or effort level that range from lazy to lavish!
Skill Level: Beginner
Not interested in making any effort? Maybe you are in the camp of people who think that making a big deal about Thanksgiving is overrated. Hours of cooking, cleaning the house for guests and expensive food are not for you. These dilemmas are why the TV dinner was invented. You can simply purchase a complete turkey dinner already prepared and divided neatly onto a sectioned tray that requires only a quick zap in the microwave. Have guests coming? No problem, just buy them each a meal of their own. Problem solved. Best of all, the TV dinner implies that an informal eating posture may be taken so gathering around a dining room table will not be required. You can just watch TV while you eat instead.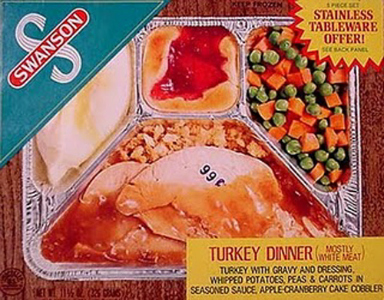 (source)
Pros: cheap, no effort, no clean up
Cons: gross, sort of sad
Skill Level: Intermediate
Want something special on a budget? Check out the turkey deals in the coming weeks at your local supermarket. One of my favorites that I see year after year is a deal to buy a turkey, and get a ham for free! That means you'll not only be ready to host Thanksgiving, you'll be ready for Christmas too! Another way to stretch your dollars and still serve an amazing meal is to arrange a pot luck dinner. You can offer to prepare a turkey as host, and then invite guests to contribute their favorite Thanksgiving dish. To avoid duplicates, just ask guests to let you know in advance what they plan to bring. You can use your own dishes to avoid the expense of disposable table wear. Also, ask others to pitch in on the cleanup to continue the socializing that was happening at dinner and to make the whole process go more quickly. Most of all remember it's who's at your table that's the most important, not what's on it. So relax and enjoy your guests and you're sure to have a great time.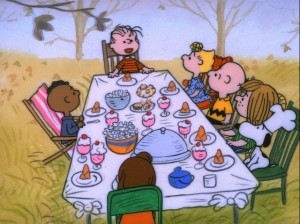 (source)
Pros: affordable, yummy
Cons: some preparation, some cleaning
Skill Level: Expert
Going all out? If money is no object and you are looking at a no-holds-barred Thanksgiving extravaganza, then the time to start planning is NOW! It's not too late to order your engraved invitations and get them in the mail to all of your guests. You'll need to pre-order your free-range, organic heritage turkey right away to guarantee delivery by Thanksgiving. These turkeys are more flavorful than the ones sold commercially in the supermarket and in purchasing one you're helping to support the small operation farmers responsible for preserving these specialty breeds. There are all kinds of recipe ideas on the internet for help in preparing your specialty turkey. I found one from Bon Appetit for roast heritage turkey with bacon-herb butter and cider gravy that sounds wonderful.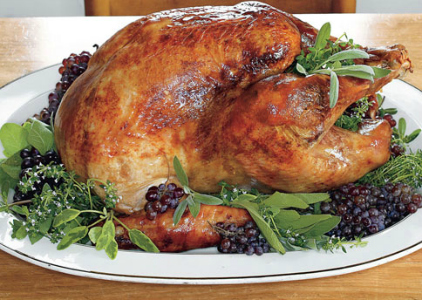 (source)
Once the turkey is on the way, you can begin planning the accompanying feast. I recommend beginning with a soup course; I made a soup a few years ago from parsnips and leeks garnished with candied bacon pieces that were incredible. Besides that, whole roasted yams drizzled with honey butter, cranberry chutney made from fresh, whole cranberries, and other sides that evoke gratitude for a plentiful harvest are your goal. You'll want to plan to attend some local wine tastings to get recommendations for proper wine and food pairings. Check with your local liquor stores or vineyards to find about upcoming events. Finally, make sure to get your pie orders in as soon as possible at your favorite bakery, this is a busy time of year for them!
Set the table with your best finery, including your autumn-themed china, linen tablecloths, and napkins, and be sure to add a festive centerpiece. A call to your local florist can help with this. Without a doubt, this will be a Thanksgiving no one will forget!
Pros: delicious, entertaining
Cons: extremely expensive, weeks of preparation, hours of cleaning
Michelle Muggli is a staff writer for HalloweenCostumes.com. Michelle competes at the Thanksgiving "expert" level and dresses her entire family in Thanksgiving costumes.