The Three Blind Mice are just the sort of beloved cultural icons that make for creative and memorable Halloween costumes. That, nobody can deny (Oops…wrong rhyme!). How to create the outfits, though, is far less factual since the details about this treasured trio are few.

Here's what we know: There are three of them, they can't see, and they have a propensity for losing their tails. Here's how that benefits you: You are free to unleash your creativity and interpret the costume as you wish! Here are four different ideas to start your mouse wheels turning:
Athletic Three Blind Mice: See how they RUN!
In order to best prepare for running away from the farmer's wife, consider using athletic apparel as a base for your three blind mice costume. Compose your look with running shorts, track style tank tops, sport socks, and tennis shoes. If you choose a lightweight mouse ear headband, you'll have no trouble making room for a sweat band as well! Add Sunglasses and a tale, and you'll sprint to first place at any costume contest.

1. Tail / 2. Ears / 3. Socks / 4. Sunglasses
Comfy Three Blind Mice: Did you Ever See Such an Adorable Sight in Your Life?
Making sure your kids are warm and comfy on a cold Halloween Night is very important for staving off the Halloween sniffles! If you want to have the cutest and coziest blind mice on the block, start with our Kids Mouse Costume, which features an attached tail and furry head piece with ears. All you need to add is a cane, a snout, some shades, and two friends! Outfit your child in this 3 blind mice costume and their siblings or friends can be the other two accompanying mice.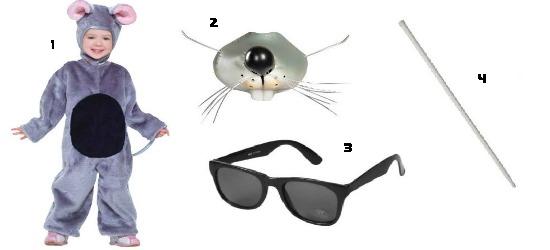 1. Kids mouse costume / 2. Mouse nose / 3. Sunglasses / 4. Canes
Sexy Three Blind Mice: Make the Farmer Forget all About his Wife!
Warning: We are not liable for jealousy-motivated carving knife injuries which may occur if you choose this sexy three blind mice option. Use any little black (or grey) dress as a base. Our sequin kitty costume is perfect, since it already includes a tail. Just be sure to switch out the pointy ears for a mouse ears. Try this sexy mouse hoodie hat! The bow is easy to detach. Add glamorous sunglasses and elbow length gloves to increase your mousy smolder. For a clever detail, smudge your lipstick and makeup - you are blind after all!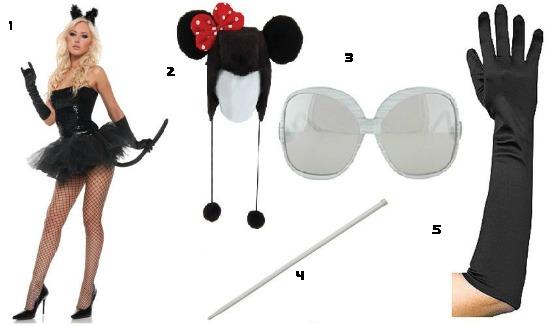 1. Sexy cat costumes and black tutus / 2. Mouse hoodie hat / 3. Sunglasses / 4. Canes / 5. Gloves
Formal Three Blind Mice: Squeak Chic!
Since you must use a cane anyway, you should consider going the extra mile and being formally attired blind mice! If you don't want to wear a full-blown tuxedo, consider a tuxedo costume T-Shirt! Choose a top hat, and attach felt circles to the outside for mouse ears. If you choose a mini top hat, you could even fit the mouse ear headband underneath! Add white gloves, a tail, and sunglasses, and you'll saunter away from the farmer's wife in style!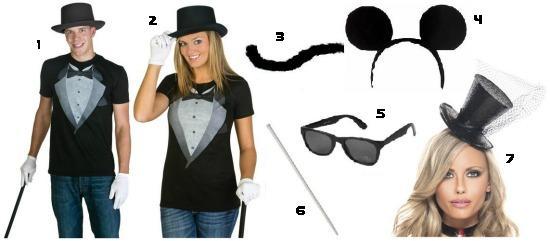 1. Men's tuxedo shirt / 2. Women's tuxedo shirt / 3. Tail / 4. Ears / 5. Sunglasses / 6. Canes / 7. Top hat