Do you idolize that old lady who is always throwing insults, trying to strangle relatives, and can usually be seen stabbing at people with a lit cigarette? If you're thinking that a Madea costume would go over great for your upcoming Halloween party or night on the town, but you're not quite sure where to start, we have some tips for you! The costume experts at HalloweenCostumes.com have put together this guide to show you how to create the in-and-out of jail look of that crazy lady we all know and love, Madea.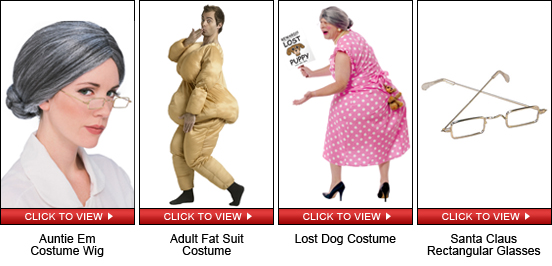 Everyday Madea
Mabel Simmons, or Madea, is one of Tyler Perry's famous characters. While she is often a side character, she has enough personality to fill a room, and is often seen wearing her old lady dress and a strand of pearls. This look is one that can be recognized from a mile away and you will be, too, with the proper costume, makeup and accessories.
Costume
Madea's everyday household attire is simple to recreate, even without raiding your grandma's closet. All you need is a gray wig, glasses and a polka dot dress. To complete Madea's signature style, don't forget to wear a full-body suit under that dress.

Gray Wig | Reference | Fat Suit | Polka Dot Dress
Makeup
Just because you're 20 and don't have any natural wrinkles yet, doesn't mean you can't make yourself look like an old lady. Heck, Tyler Perry is a male and makes a very convincing elderly woman. There are some great makeup tutorials out there that can help you transform yourself from young to grandma. This old woman makeup demo is a great way to add years to your face and character to your Madea costume.
Accessories
Madea's look can't be complete without the right accessories. A simple strand of pearls like these, long or short, will do. If you want to go all out you can bring a toy gun along and see if you can evade the cops like Madea does. And don't forget the cigarettes, so you can stab at people with them all night. (Don't worry! Our fake cigarettes won't really burn anyone!)
Madea Goes to Jail
While Madea is often said to be a professional at running from the police, one of Madea's title roles occurs when the cops finally track her down and take her in. Madea is less than put together in Madea Goes to Jail and you can imitate the frazzled ensemble with a wild gray wig, prisoner jumpsuit and handcuffs. Don't forget that you can always recreate her full figure with a bodysuit underneath the prisoner garb.

Long Gray Wig | Reference | Prisoner Jumpsuit
Madea Movie Spoofs
Tyler Perry is always one for a good joke or character spoof; he uses any chance he can get to parody a celebrity with Madea. So, if you don't like one of Madea's traditional looks, but still want to go as that crazy old lady, you could always go as one of Madea's movie teaser spoof characters like:
Georgia Shore
Reference | Black Wigs | People
Black Swan