Wearing a Santa Claus costume usually only leads to a certain type activity – spreading Christmas cheer, listening to wish lists from kids everywhere, posing for future greeting card photos, and distributing gifts. You know, the normal Santa stuff. But… where's the fun in that? There's no fun, that's right. We get tired of the mundane here at HalloweenCostumes.com, so we sat down for a little brainstorming session to think of a couple more interesting things to do while dressed up as Kris Kringle. If you decide to try any of the items on the list, let us know! (But, if you get in trouble from anything, well… you didn't get the idea from us.)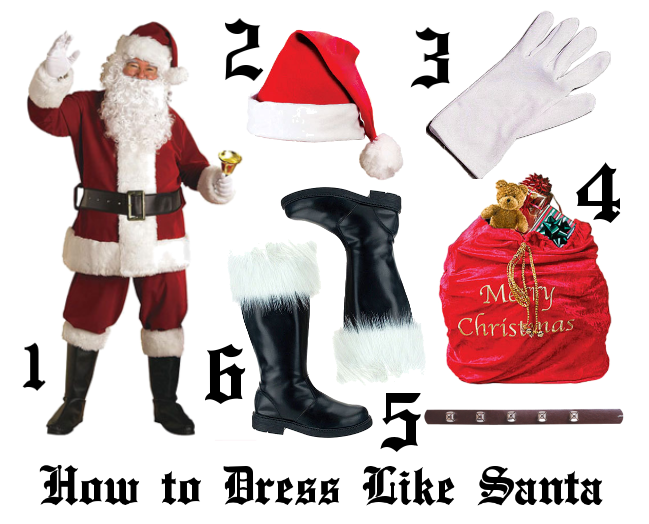 1. Santa Costume | 2. Santa Hat | 3. White Gloves | 4. Bag of Toys | 5. Jingle Bells | 6. Black Boots
10. Go on a Blind Date
Blind dates usually end in a disaster anyway, so you have no reason to deny yourself the hilarious story of going on a date in a Santa suit. Better yet, don't just dress up as Santa Claus, actually become him for the night. If you commit to the character and sincerely insist that you're Father Christmas looking for a new Mrs. Claus, at least one of you will have a good time on the date. At the very least, your date will never forget you. And who knows, maybe the clout that comes with your Santa costume will let you cut right to the head of line to get the best table in the house.
9. Sing at a Karaoke Bar
When it comes to karaoke bars, people either love them or hate them. If you're the type that loves them, you should take advantage of the season. Don a Santa suit for the night and jump up on stage to belt out your favorite holiday tunes in the style of jolly old St. Nick. (My personal favorite is Jackson 5's "Santa Claus is Comin' to Town.") However, if you happen to hate karaoke, you can spread your Christmas non-cheer by punishing everyone there with your terrible rendition of Nat King Cole's Christmas Song or the traditional classic, Little Drummer Boy. Just make sure you have a little bit of "grown-up" eggnog before you start singing— you're going to need it.
8. Take your Dog for a Walk
Even mundane activities like walking Fido can take on a whole new vibe when you wear a Christmas costume. Man's best friend might be confused as to why you're dressed like that, but he doesn't care as long as he gets some exercise. The neighbors might be a little concerned, though, but if you're lucky, they'll be taking it as a reminder to strive for the "nice, not naughty" list this year and stop walking through your garden as a short-cut to get to their garage for once in their lives.
7. Occupy Wall Street
People from all walks of life are showing up to let big wigs know that government isn't working and that they think banks are destroying the economy. This Christmas, you can let everyone know that even Santa's ticked off about corporate greed by occupying Wall Street in a Santa suit. Not only can you generate a few laughs at the protest, but you can hopefully raise the spirits of those who have been expressing their opinions since the beginning.
6. LARP
Grab your %205 goblin slaying greatsword, your %2033 fire resist Santa hat and your %202 stealth Santa sleigh bells to turn Father Christmas into a warrior of Middle Earth! We all know that Santa has special powers and LARPing is the best way to showcase his prowess in magical skills. (For those who are a little confused, LARP stands for "Live Action Role-Play" – like Dungeons and Dragons in real life.) Be sure to tell everyone about Santa's special spell list, which includes summon lesser elf, major blizzard storm, levitate sleigh and create potion of major cookie eating. Just watch out for that lightning bolt guy—those ping pong balls are no joke. (If you understood anything that was going on in the last few sentences, then congratulations, you are a nerd.)
5. Play in a Rock Band
Bust out that Squier guitar that you never learned how to play and start a band. Just grab two more musicians and you'll be ready play your first rock gig as Santa and the North Pole Toymakers. Stage diving, smashing guitars (remember: it's a Squier, you can get another one for the price of a value menu burger), and wrecking hotel rooms are all on the list of activities to do while garbed as Santa. Of course, if you already DO know how to play and are currently in a band, nothing adds some holiday spirit to a rock gig like a bass player with a giant white beard and a funny hat. It worked for ZZ Top, didn't it?
4. Work Out at the Gym
With all the magic Santa has, you'd think the poor guy could just magic himself to being thin. Not so. Next time you head to the gym, think about putting on a classic, full-body Santa Claus costume. You'll be able to kill two birds with one stone! First, you'll distract everyone working out, snagging all the attention in the room. Second, you'll be able to reduce time off your treadmill work-out with all the extra sweating you'll be doing in the warm Santa suit. Train your biceps to help carry that heavy sack of toys and tone your abs to make slipping down chimneys all that much easier. You'll have all the female elves saying "Ooh, Santa, have you lost weight?"
3. Ride Your Moped
When those reindeer need a rest, it's time to bust out the alternative forms of transportation. Like a moped! Mopeds are comical enough on their own; they sound like a goose breaking wind when they drive down the street, they look like the love child of a motorcycle and a lunchbox, and everyone who rides them just looks like they're sitting down to use the bathroom. Now do the math and multiply that with a fat man wearing a bright red jumpsuit, with an oversized bag of teddy bears and toy trains and big fuzzy beard flapping in the wind. Not so good at math? All that equals funny.
2. Enter a Breakdance Contest
Breakdancing at its finest is one of the most entertaining things to watch, right behind Charlie Sheen claiming he's sober and right ahead of the "I like turtles" video. It's actually much funnier if you're completely awful at break-dancing, because no one will have the heart to throw jolly old St. Nick off the stage. Even better, you can bring your own remixes of Christmas carols to b-boy to, which leads us to...
1. Compete in a Freestyle Rapping Showdown
Introduce the world to MC S-Clauz this Christmas. Santa may not be known for his lyrical skills... until now! (Also, that fact didn't stop Shaquille O'Neal or Mike Jones from trying to emcee.) Rap about all of Santa's favorite things, such as riding in his pimped out reindeer sleigh, eating cookies, and dealing toys. Actually, come to think of it, St. Nick MUST be a rapper. The only thing that ever seems to come out of his mouth is "Ho, ho, ho." Geez Santa, show some respect for women.