Thanksgiving is a time to spend with your family. Whether you travel far away or stay at home, you should definitely take advantage of the day and create some holiday memories. If it isn't in the plan to fly out to grandma and grandpa's house this November, have no fear! Spending the holiday at your house can be just as fun and exciting as a trip. To make it one to remember for you and your kids, HalloweenCostumes.com has put together some fun Thanksgiving tips.
CRAFTS
Crafts are fun to do with the kids year-round, but there is just something about the changing of the leaves, cute turkeys, and yummy food that brings out the best in arts projects. Here are some ways to make your own festive decorations for this Thanksgiving.
Autumn Leaf Garland: For an easy decoration that will brighten up the room, you and your little ones can create a fall-colored garland. Cut out leaf shapes from earth-toned construction paper and make sure to make a long, wide stem. Fold the stem in half over a long string and secure to the backside of the leaf with tape or glue. Fill the string with all your leaves and hang in your house.
Newspaper Coloring Contest: Another fun Thanksgiving tradition is to participate in an annual newspaper coloring contest. Many local papers across the nation hold fun coloring contests for kids on Thanksgiving Day, usually found in the Lifestyle or Variety sections of the newspaper. This is a perfect activity for the holiday; kids will be busy coloring, while parents finish up cooking in the kitchen.
Homemade Place Settings: Cut out card stock the size and shape of each table setting and let your kids personalize each one. Set out items like autumn-themed stickers, leaf-colored markers and crayons, and Thanksgiving stamps and ask the little ones to create a setting for each person invited for dinner. For an extra-festive activity, ask the children to write down one thing to be thankful for on each place setting. The guests can share them at dinner and add what they are thankful for themselves!

Placemats | Crayons | Leaf Garland
TREATS
What's Thanksgiving without the delicious food? The Pilgrims celebrated with an abundant feast since day one, so why stop the tradition now? Here are some ways to include your kids in the food planning, which will make for a personalized and memorable Thanksgiving dinner.
Add a New Dish Every Year: Ask your kids what their favorite food is and see if you can fit it into the menu. Name the dish after the child who suggested it, like Kevin's Favorite Mashed Potatoes or Megan's All-Star Dinner Rolls. This way, you can add to the tradition yearly, all while making sure the family will love what's on their plate.
Turkey Hand Cookies: For a dessert that you can make a day or two ahead of time, you and your family can bake turkey-shaped sugar cookies. Trace your child's hand on a sheet of paper to use as a template and use that to cut out the shapes in the dough. After the cookies are baked, use yellow, orange, red, and brown colored frosting to decorate each treat. Yum!
Pigs-in-Pilgrim Hats: Use hot dogs, crescent rolls, deli-bologna, and sliced yellow cheese to create a twist on the classic pigs-in-a-blanket appetizer. For a detailed recipe and instructions, click here.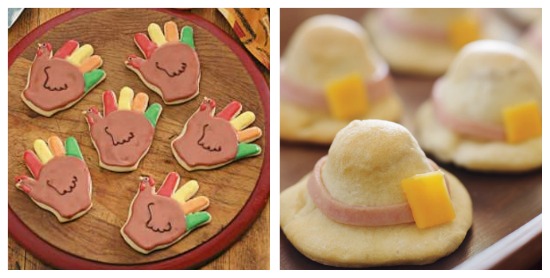 Turkey Hand Cookies | Pigs-in-Pilgrim Hats
ACTIVITIES
While the food cooks during the morning, why not have a little family fun? Here are some fun things to do, both inside and out.
Recreate the Macy's Thanksgiving Day Parade: Play Thanksgiving dress-up and wear costumes of your favorite float in the parade! The Cat in the Hat, Snoopy, and SpongeBob are some of the classics, but don't be afraid to add in your own. Don't forget to include some turkeys and Pilgrims, and, of course, the man of the hour – Santa himself!
Holiday Movie Classics: If the TV isn't being occupied for a football game, dust off the holiday DVDs and start a marathon of films focused on Thanksgiving and Christmas. Here's what's on our list: A Charlie Brown's Thanksgiving, Frosty the Snowman, Son-In-Law, A Miracle on 34th Street, and Elf.
Skype: Since you are celebrating Thanksgiving at home this year, there's a good chance that some of your loved ones won't be able to be with you for the holiday. Set up the laptop in the family room so you can "hang out" before and after dinner via video chat. Remembering to say hello to those you love is a great way to show how thankful you are this Thanksgiving.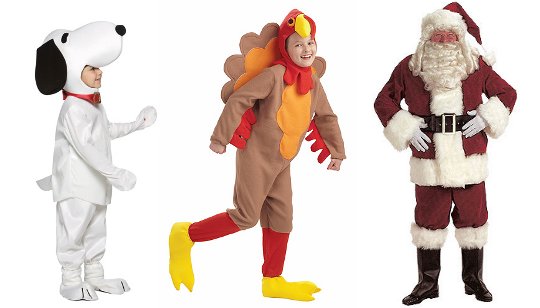 This post was written by Megan Kaufenberg of HalloweenCostumes.com. She is thankful for National Vanilla Cupcake Day!