You know that people go crazy for a sharp-dressed man. Our man James Bond has been rocking suits for decades, but even he can't top the red suit outfit of The Weeknd. This particular character—sometimes referred to as "After Hours" in reference to the album that he originated in—has appeared at the 2020 AMAs, Super Bowl LV, and other events. If you're looking to snag his style for Halloween, we'll show you how to assemble your own DIY The Weeknd costume with a few variations!
The Weeknd "After Hours" Outfits

Putting the artist into music artist, The Weeknd has been creating a character narrative throughout his music and media appearances. Many people are familiar with The Weeknd's Super Bowl outfit with the gem-encrusted red jacket, but the "After Hours" character has a few other looks up his sleeve. Any one of these appearances would make a great The Weeknd Halloween costume DIY! In the "Blinding Lights" music video, The Weeknd's character wears a large pair of black-rimmed sunglasses with golden-orange lenses. He also showed up to the 2020 American Music Awards in the same men's red suit with a bandaged face. With three different style options, there's no excuse for music lovers to skip on these celebrity Halloween costume ideas!
DIY The Weeknd Costume Basics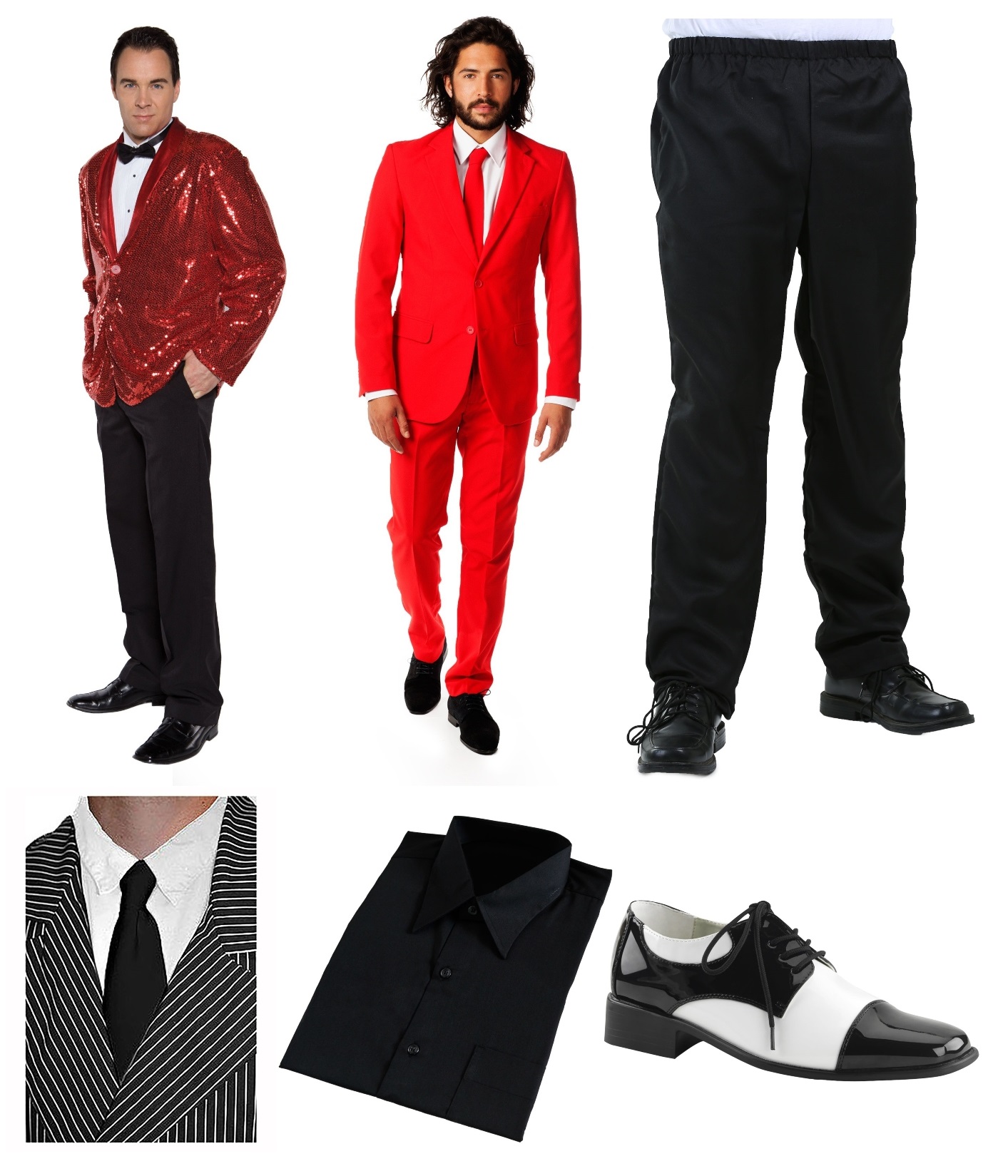 While The Weeknd's "After Hours" character may change subtleties about his appearance over time, there are a few basics you're going to need for this music artist costume. (The most obvious, of course, being that red suit jacket!) If you're looking to make The Weeknd's Super Bowl costume, you'll need to have a sparkly red jacket, while the other options need a plain red jacket. He also wears a black dress shirt and black pants with a black tie, and snazzy black and white shoes. Anyone who really wants to be authentic will also want to have a black handkerchief or pocket square.
DIY The Weeknd Costume Accessories

| | | | |
| --- | --- | --- | --- |
| Black and Orange Sunglasses | Microphone Prop | Medical Bandages | Black Leather Gloves |
The costume accessories are what really set apart the variations on The Weeknd's red outfit. In the "Blinding Lights" music video, he wears a pair of large sunglasses and can be seen smoking as well, so fake cigarettes are another option. Then at the 2020 AMAs, we see The Weeknd with a bandaged face and special effects makeup. For his Super Bowl halftime show appearance, he wears the glasses but takes them off right away, so you may or may not want to include them. You're also going to want a microphone prop to add the finishing touch to your DIY Halloween costume!
We hope you're excited to try out this celebrity costume! Are you familiar with The Weeknd's After Hours character? Which outfit is your favorite? Are there any other iconic music artist costumes that would make a great DIY? If you're looking for more star-studded Halloween costume ideas, come and take a peek at our celebrity Halloween costumes.