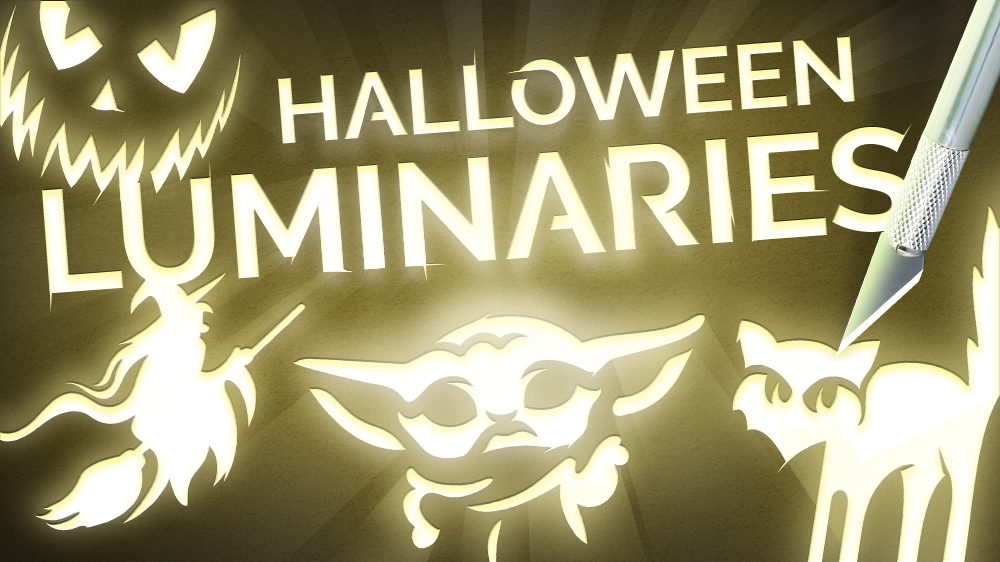 We designed these printable luminary stencils for anyone giving out candy this Halloween. Whether you have a self-serve "take a treat" station or a candy tube like in our guide to safe trick-or-treating, use these free Halloween luminaries to light the way. Simply cut them out, tape them to white paper bags, and put an LED tea light in each bag. Then repeat for as many lights as you need to make a Halloween-themed row of luminaries.
Of course, you can also tape them directly to the tea light, use them as Halloween window art, or color in the missing image. Let us know how you used our Halloween luminaries in the comments!
Click the luminary and photos to view the full-size luminary design, or jump to the printable luminary files.
The Child Luminary

Keep this Grogu/"Baby Yoda" luminary away from frogs!
Dave the Minion Luminary

"Voilà!"
Scooby-Doo Luminary

Follow these luminaries to the Scooby Snacks!
Halloween Cat Luminary
This cat luminary is purrfect.
Superhero Luminary

Can you save Halloween?
Halloween Witch Luminary

Witch way to the candy?
Jack-o-Lantern Luminary

This is the easiest pumpkin we've carved all year!
Halloween Luminary Printables
Our Halloween luminary printables are split into four separate PDF files. Just click the file (or files) to open them in a new window and print from there. These printables are free to use for cut-out luminaries, window art, or even for kids to draw on!


What did you think? Did you cut out the stencils and make luminaries? Or something else entirely? Please let us know in the comments! And be sure to visit our How to Halloween 2020 resource page for more Halloween celebration ideas!