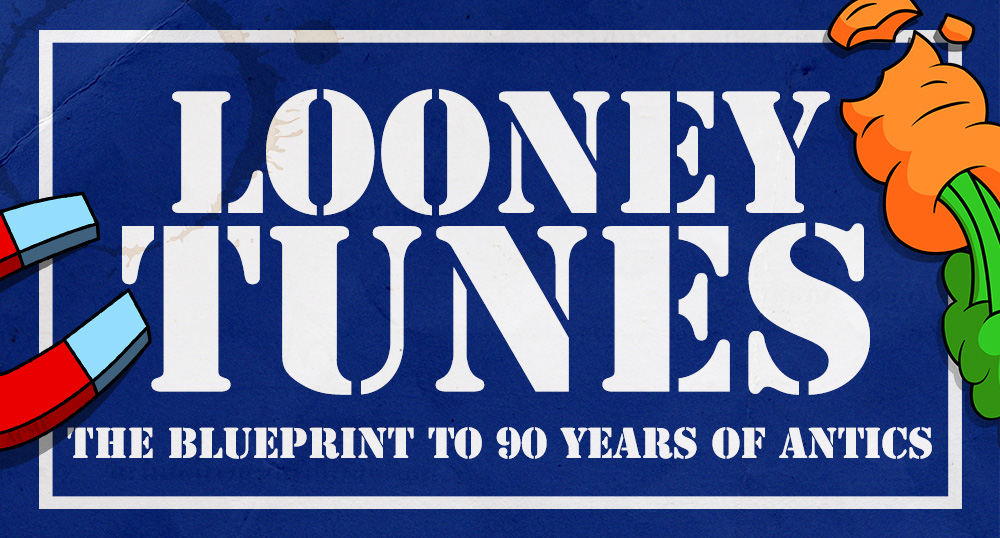 There are some cartoon characters that everyone knows, no matter how young or old they are—Mickey Mouse, Scooby-Doo, Snoopy, and of course, Bugs Bunny! Many of these popular animated characters have been around for decades, which is part of why they're so well-known. Well, what's all the hubbub, bub? it just so happens that 2020 marks the 90th anniversary of Looney Tunes! (At that point, you're going to have more candles than cake!) If you want to see what antics the Looney Tunes gang has been up to for almost the last century, keep reading to see our infographic below!
A lot can happen in a span of 90 years, as you're going to see very soon. Studios, directors and animators come and go, but their legacy lives on in their work, even today. You may also notice that there's some mention of Merrie Melodies along with Looney Tunes. Both cartoon series were made by Warner Bros., and they often dipped into the same pool of characters—so much so that the lines between the two shows became blurred enough that they were practically indistinguishable. In the same way that it's hard to choose between duck season and wabbit season, we'll be including elements of each cartoon. Without further ado, grab a helmet, buckle your ACME seatbelt and get ready for a wild ride into the world of Looney Tunes!
Click on Image for Larger View

Embed This Image On Your Site:
Looney Tunes: The Blueprint to 90 Years of Antics Transcription
It's hard to imagine life without Looney Tunes. After all, they turned 90 in 2020! Looney Tunes and its sister series Merrie Melodies brought us a cast of beloved cartoon characters that are still recognizable today: Bugs Bunny, Daffy Duck, Road Runner, Wile E. Coyote and more! The original cartoon shorts were produced from 1930 until 1969 by the likes of Chuck Jones, Tex Avery and many others. We're so glad to see the legacy continue with new cartoon episodes for future generations! Keep reading to see the major milestones made by Looney Tunes through the decades.
Looney Tunes and Merrie Melodies Disclaimer:
Looney Tunes and Merrie Melodies used to be considered separate "sister series", although they both often drew from the same sound library and pool of characters. Because they share so many similarities, we'll be including elements of both in this infographic.
Began in 1930
1930: First character: Bosko
1930: First studio: Harman-Ising Studio
1930: First short: Sinkin' in the Bathtub
1933: Termite Terrace

Producer Leon Schlesinger's studio was set up in the Warner Bros. lot, affectionately called "Termite Terrace". While it wasn't the first studio, this is where a lot of the early magic happened!
Famous members of Termite Terrace included animators Tex Avery, Bob Clampett, Friz Freleng, Chuck Jones and Robert McKimson, voice actor Mel Blanc, and composer Carl Stalling.

1935: Porky Pig debuts
1937: Looney Tunes Theme composed: The Merry Go Round Broke Down
1937: Daffy Duck debuts
1937-1940: Egghead debuts and evolves into Elmer Fudd
1938: The first appearance of ACME in Porky's Poppa
1939-1945: Sylvester the Cat debuts and evolves to current version
1940: Bugs Bunny Debuts
1941: First Looney Tunes comic book: Looney Tunes and Merrie Melodies Comics #1
1941-1942: Tweety debuts and evolves to current version
1944: First Looney Tunes cartoon nominated for an Academy Award: Swooner Crooner
1947: First cartoon to win an Academy Award (for Best Short Subject, Cartoon): Tweetie Pie
1948: Marvin the Martian debuts
1949: Wile E. Coyote and Road Runner debut
1949: First ACME item ordered by Wile E. Coyote in Wile E. Coyote and the Road Runner: ACME Super Outfit
1954: Tazmanian Devil debuts
1969: Warner Bros. Cartoons division closes permanently
1979: First Looney Tunes TV Special: Daffy Duck and Porky Pig Meet the Groovy Ghoulies; Also the first time that WB loaned out their characters to another studio—in this case, Filmation
1975: First Looney Tunes documentary: Bugs Bunny: Superstar
1976: The Looney Tunes characters become theme park mascots at Marriot's Great America parks; They later made their way to Six Flags in 1983
1983: First video games: Bugs Bunny and Taz, both released for the Atari 2600
1992: First Looney Tunes cartoon to enter the National Film Registry: What's Opera, Doc? (1957)
1996: First original Looney Tunes original feature film: Space Jam

All previous movies were compilations or direct-to-video
It was the highest-grossing non-Disney animated film at the time

2020: First reboot of the original Looney Tunes Cartoons: Looney Tunes Cartoons on HBO Max
We hope you enjoyed seeing some of what the Looney Tunes gang has been up to for the past 90 years! Did anything surprise you? Who were some of your favorite Looney Tunes characters? Are you planning on wearing a Looney Tunes costume for Halloween? Let us know how loony you are for Looney Tunes in the comments below! As you very well know, it would be highly improper for us to let you go without the proper sendoff. Th-th-th-that's all, folks!