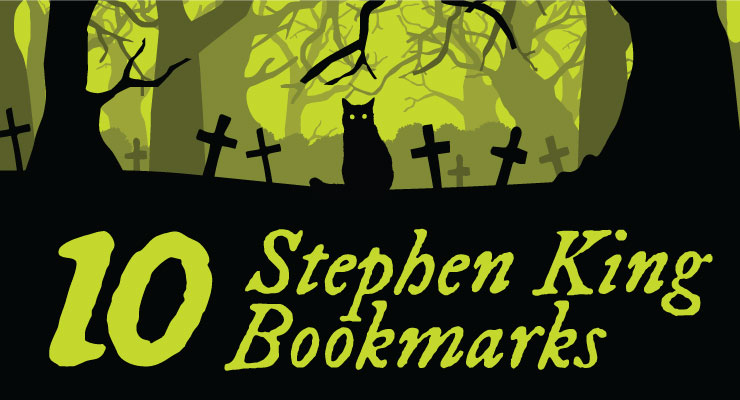 Stephen King is the best-selling author of more than 60 books and about 200 short stories, including horror classics like The Shining, It, Carrie, Misery, and Pet Sematary. He also writes outside the horror genre, penning stories that became The Shawshank Redemption, The Green Mile, and Stand by Me. Some personal favorites include The Dark Tower series, The Stand, and The Eyes of the Dragon. But chances are you already know who Stephen King is and you have your own favorites.
We designed these exclusive bookmarks based on ten of King's most popular works. To make your own, click each bookmark to get the high-resolution images, then print them out on cardstock. Cut out and laminate (or tape) each bookmark and you're set!
It Bookmark

"Want a balloon?" – Stephen King, It
Carrie Bookmark
"And then the world exploded." – Stephen King, Carrie
The Shining Bookmark

"He would write it for the reason he felt that all great literature, fiction and nonfiction, was written: truth comes out, in the end it always comes out." – Stephen King, The Shining
Pet Sematary Bookmark

"Sometimes dead is better." – Stephen King, Pet Sematary
The Shawshank Redemption Bookmark

"It always comes down to just two choices. Get busy living, or get busy dying." – Stephen King, Rita Hayworth and Shawshank Redemption
Misery Bookmark

"I am your number one fan." – Stephen King, Misery
The Green Mile Bookmark

"Time takes it all, whether you want it to or not." – Stephen King, The Green Mile
Stand by Me Bookmark

"I never had any friends later on like the ones I had when I was twelve." – Stephen King, The Body
The Dark Tower Bookmark

"Go then, there are other worlds than these." – Stephen King, The Gunslinger
Cujo Bookmark

"It would perhaps not be amiss to point out that he had always tried to be a good dog." – Stephen King, Cujo
We hope you like our Stephen King bookmarks! Let us know what you think in the comments. Also tell us your favorite Stephen King novel or short story. If you have ideas for more bookmarks, we'd love to hear them!
Bookmarks designed by Cody Petersen