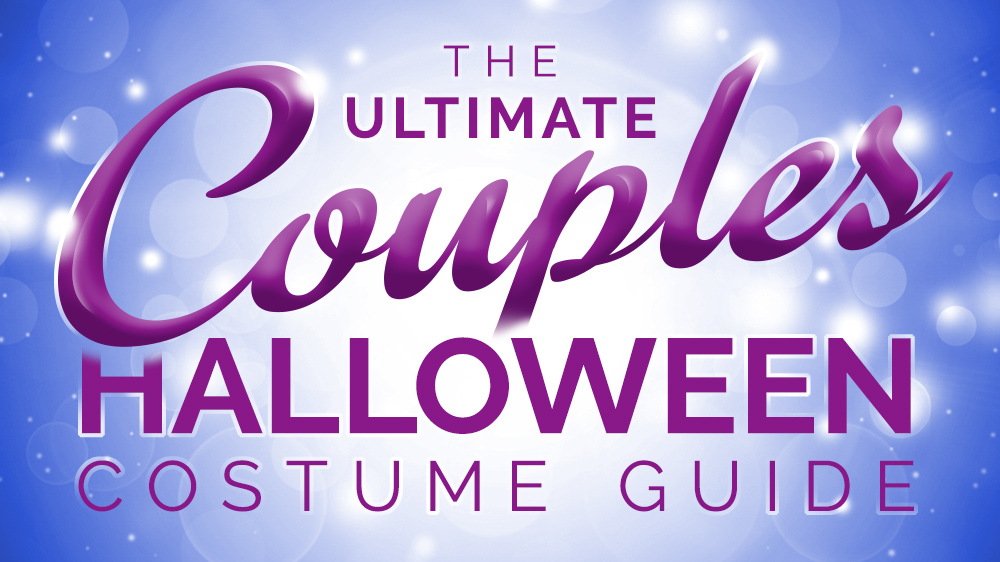 So you're looking to do the whole couples Halloween costume thing are you? Isn't it fun when you can rock the town together? And who doesn't want to win the best couple costume award at the party? We get it! You've come to the right place to find the ultimate couples costume ideas. We mean, costumes are what we do here. From movie-themed costumes to food costumes, this guide has you covered. Now sit back and get the wheels turning as we tell you some of our couple costume ideas.
1. Bonnie and Clyde Couples Costumes
You can't talk about famous couples' costumes without mentioning Bonnie and Clyde Halloween costumes. The well-known outlaws shot their way across the central US back in the 1930s. The couple is famous for knocking off banks and small stores, and their overall reckless behavior. Already famous for their exploits, Bonnie and Clyde were further immortalized on the big screen by Warren Beatty and Faye Dunaway in 1967. Their wild nature and classic style make them the perfect costume party options for couples who enjoy historical costume ideas.
2. Adam and Eve Couples Costumes
Is there anything more timeless than the OG couple, Adam and Eve? While you can't really show up in your birthday suit to the party, these Biblical costumes should do the trick! (These funny couples costumes are certainly better than trying to DIY the real thing with leaves.) While this couples' outfit idea is great for anyone, we'd also highly recommend it for couples in a long-term relationship. The two of you were certainly meant for each other!
3. Peanut Butter and Jelly Couples Costumes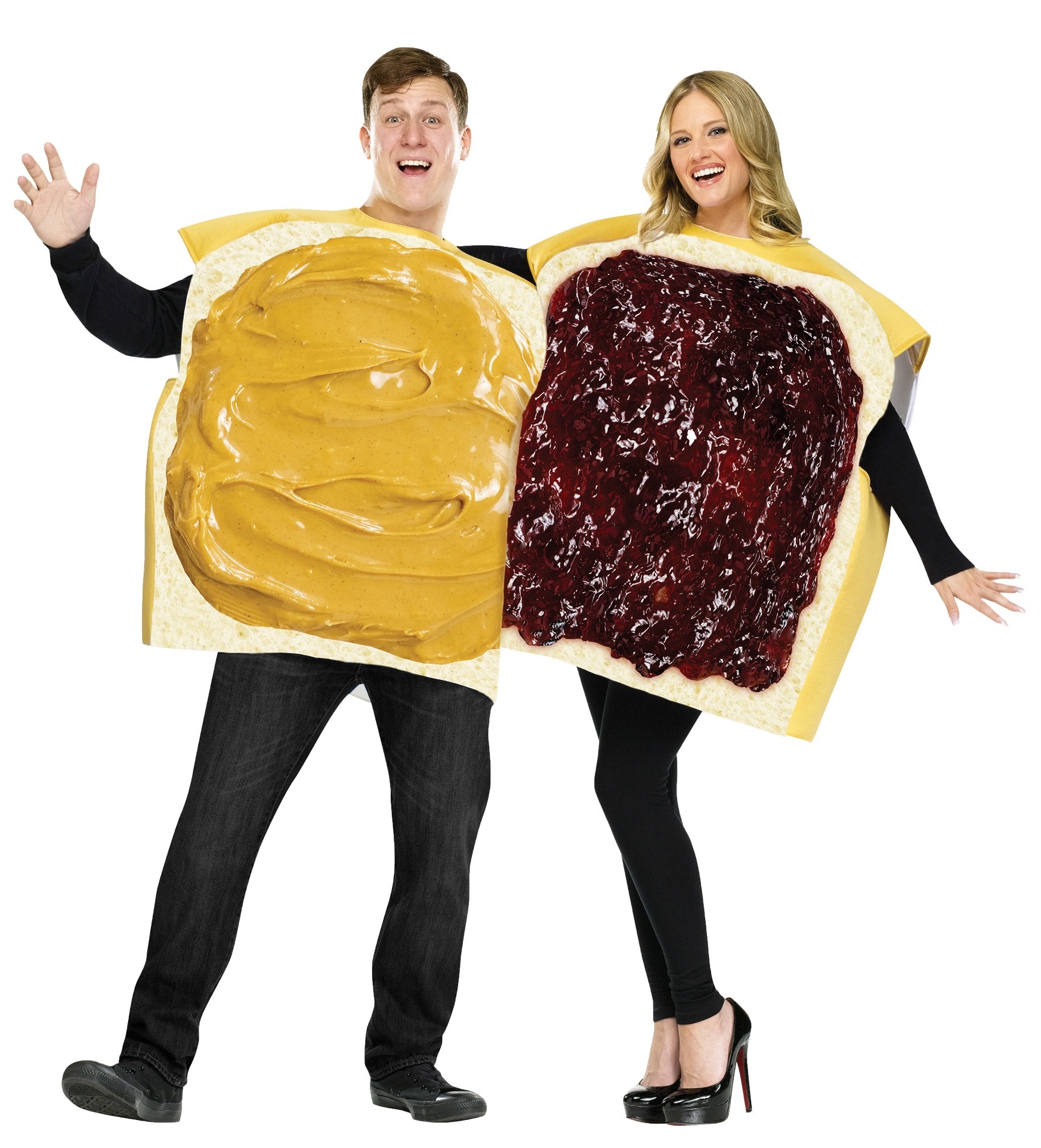 Peanut Butter and Jelly Couples' Outfit
If the two of you stick together just like a peanut butter and jelly sandwich, this couples' food costume idea might be just what you're looking for. You can't go wrong with a classic, after all! These gender-neutral tunic costumes are great for couples and friends of any gender. You just have to solve the dilemma of who gets to be peanut butter vs. jelly.
4. Beauty and the Beast Couples Costumes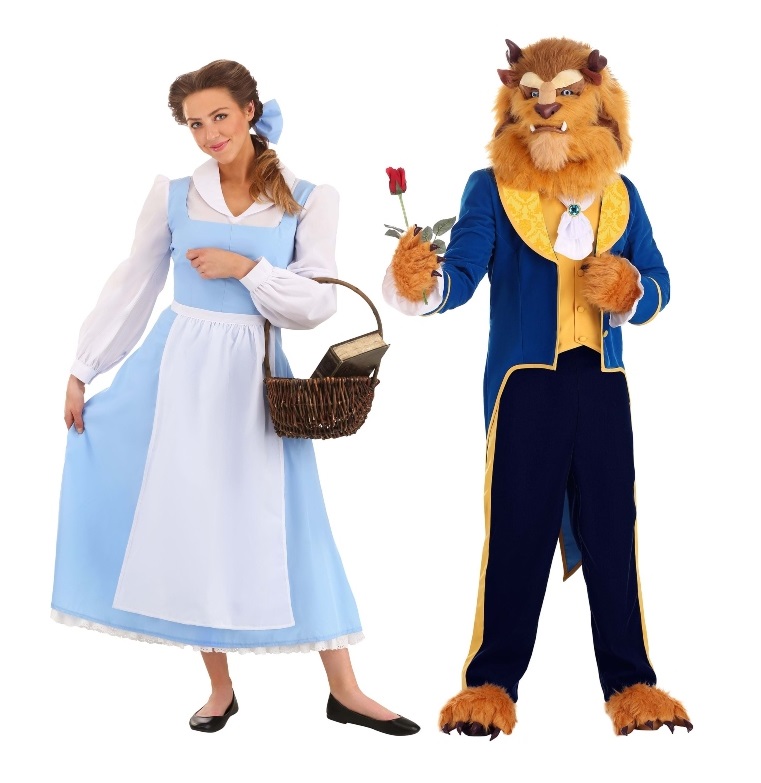 While this tale may be as old as time, it's harder to be more classic than this Disney couple. They showed us that beauty isn't just skin deep, and that lasting relationships need love. True love. If you want to show everyone at the party that your love for each other is the stuff of fairytales, perhaps dressing like Beauty and the Beast is for you!
5. Us Tethered Couples Costumes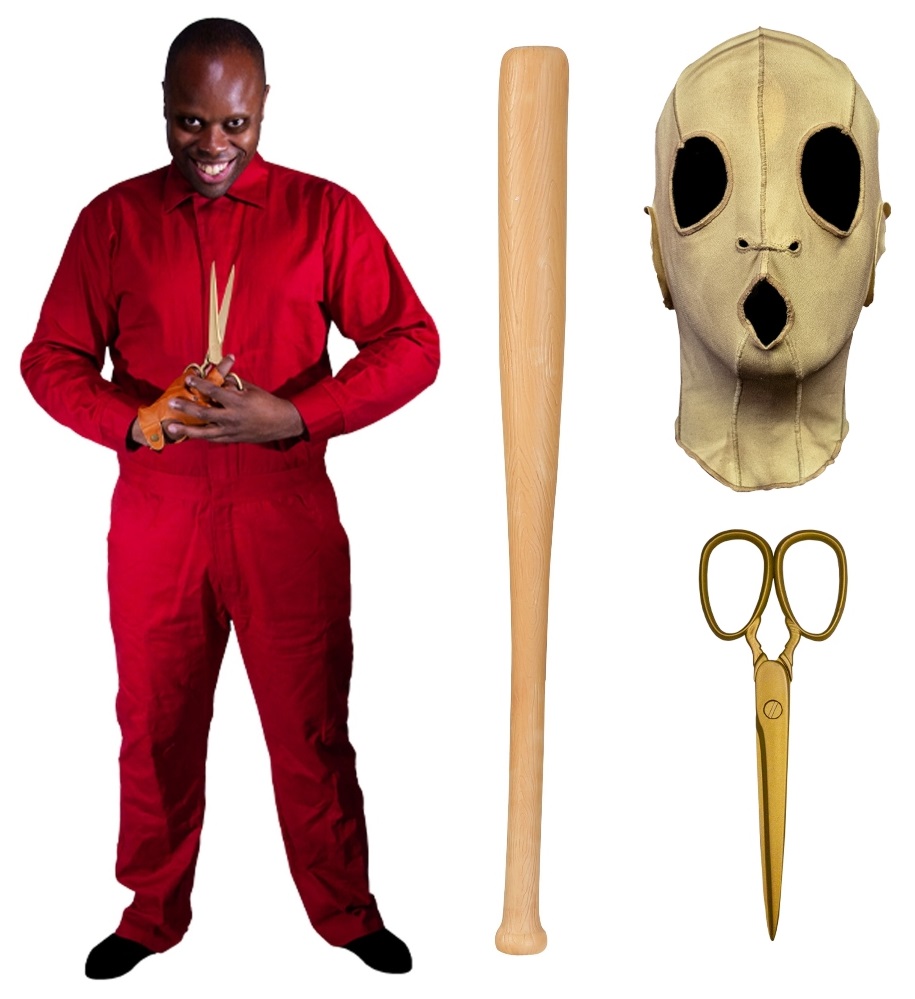 Get ready to be the creepiest couple on the block by wearing a couple of tethered costumes. There are several characters to choose from here (or you could get creative and be a tethered of yourself!), but you'll still need the red coveralls. This is one horror movie couple that will make everyone's spine tingle.
6. Jay and Silent Bob Couples Costumes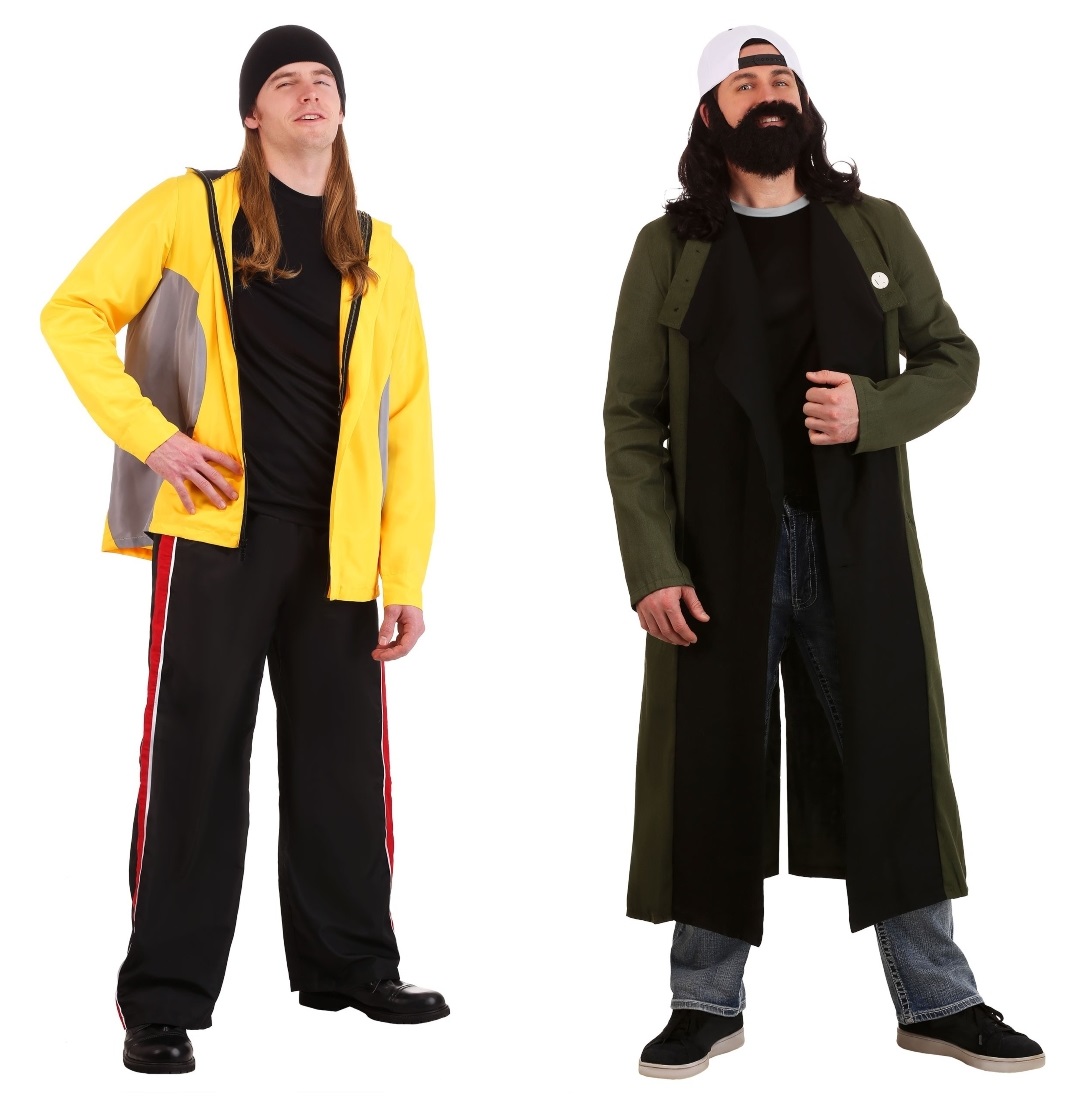 Are you and your hetero life mate looking for some costumes for bros? Whether you plan to dress up as your favorite movie duo for Halloween or to spring some caged animals, these Jay and Silent Bob costumes are perfect for every occasion. The best part is that you can buy these Jay and Silent Bob costumes on the internet!
7. Joker and Harley Quinn Couples Costumes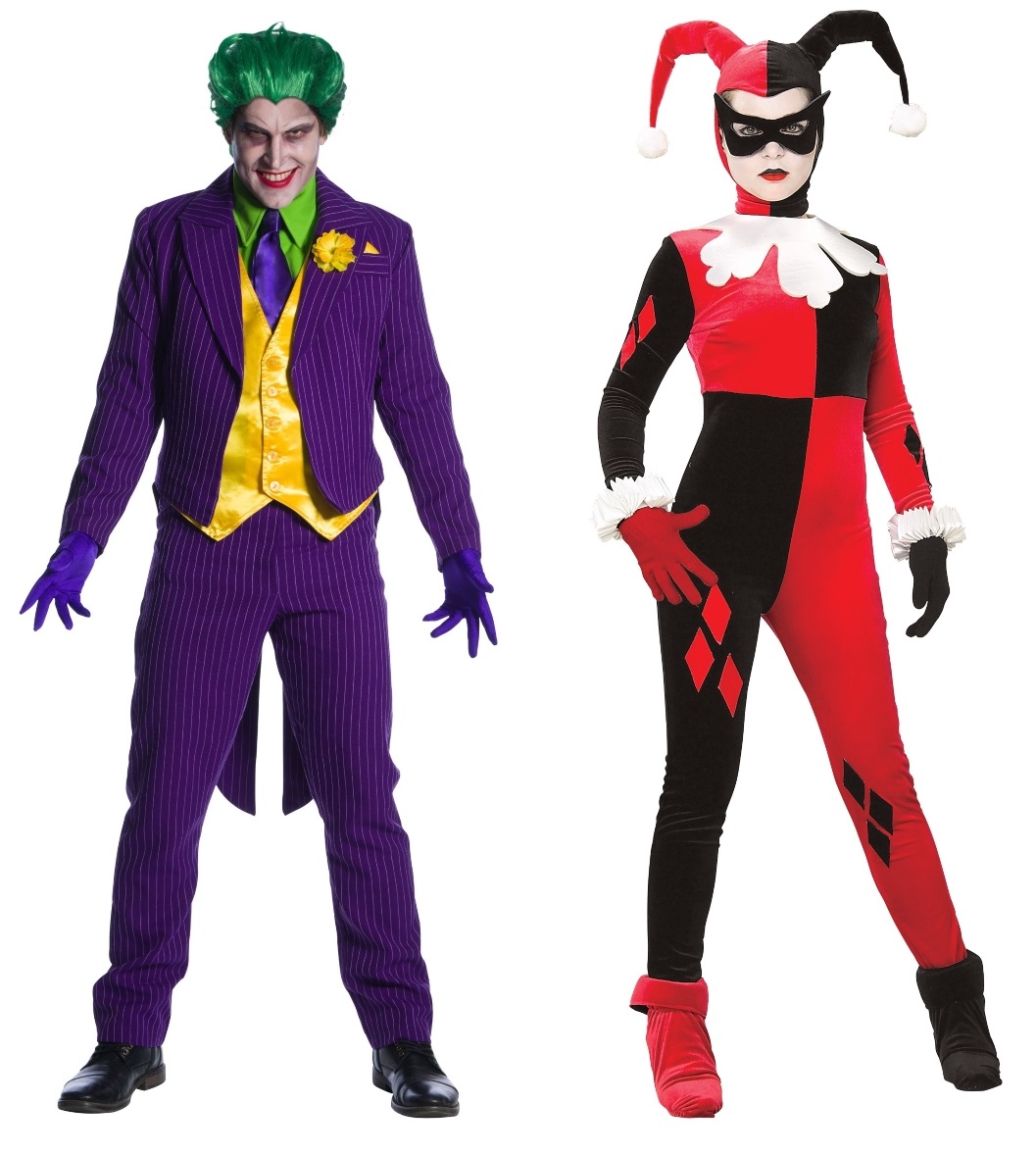 Every woman has a crazy side that only the right man can bring out. The villainous duo of Joker and Harley Quinn is one of the most famous couples in comics, and with a wide variety of costumes for each character, you can choose the Joker and Harley costumes that suit you best. Forget Bats and the Boy Wonder—you're ready to get wild and have some serious fun! You can also easily change this costume idea into a costume for two girls as there are several Joker costumes for women as well as men.
8. Devil and Angel Couples Costumes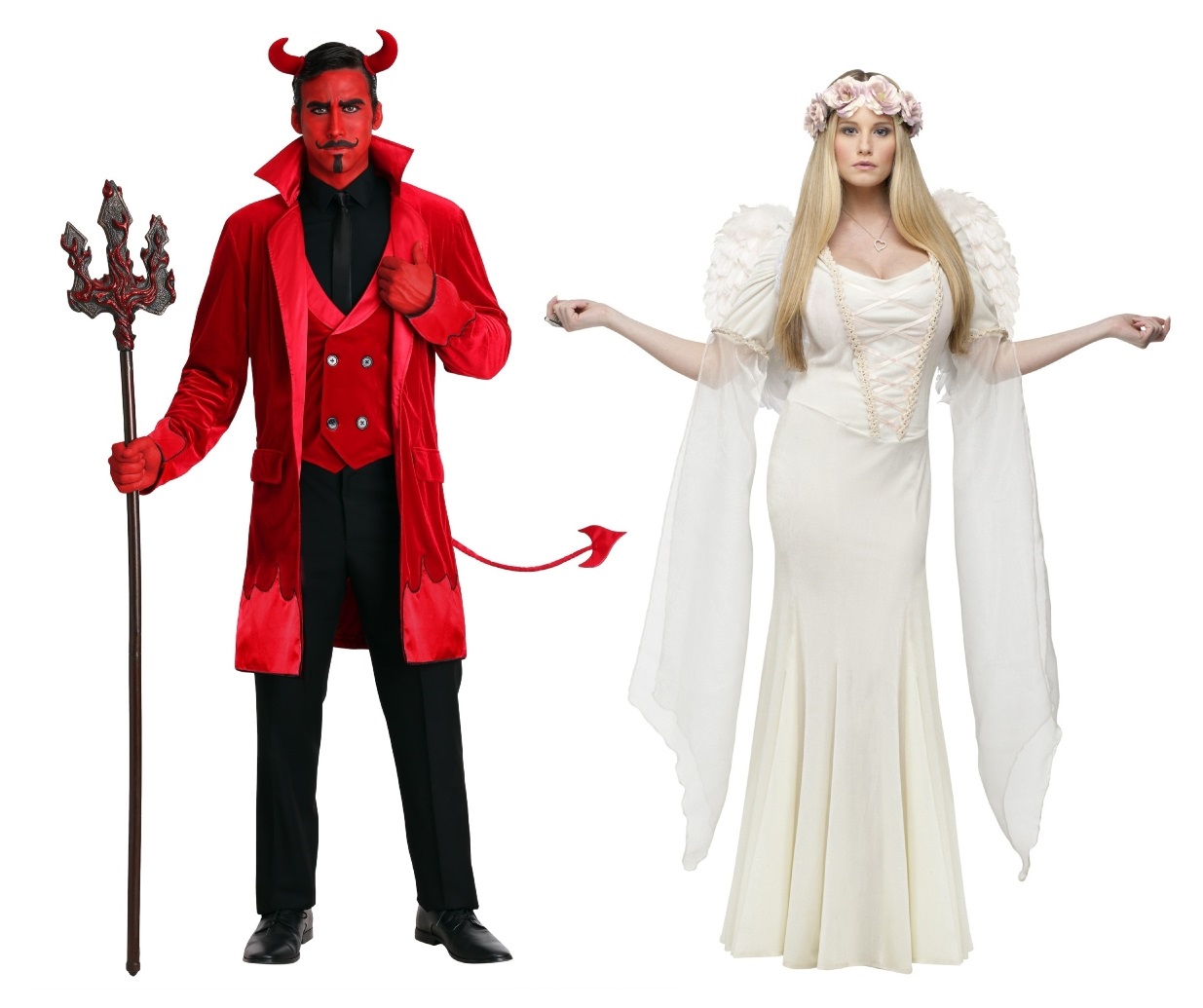 There's nothing wrong with sticking with the classics. Many common pairs complement each other like salt and pepper, peanut butter and jelly and even avocado toast! However, if you're more of a fan of "opposites attract", choose a devil costume to pair with an angel costume for the perfect picture of good vs. evil.
9. Mario and Luigi Couples Costumes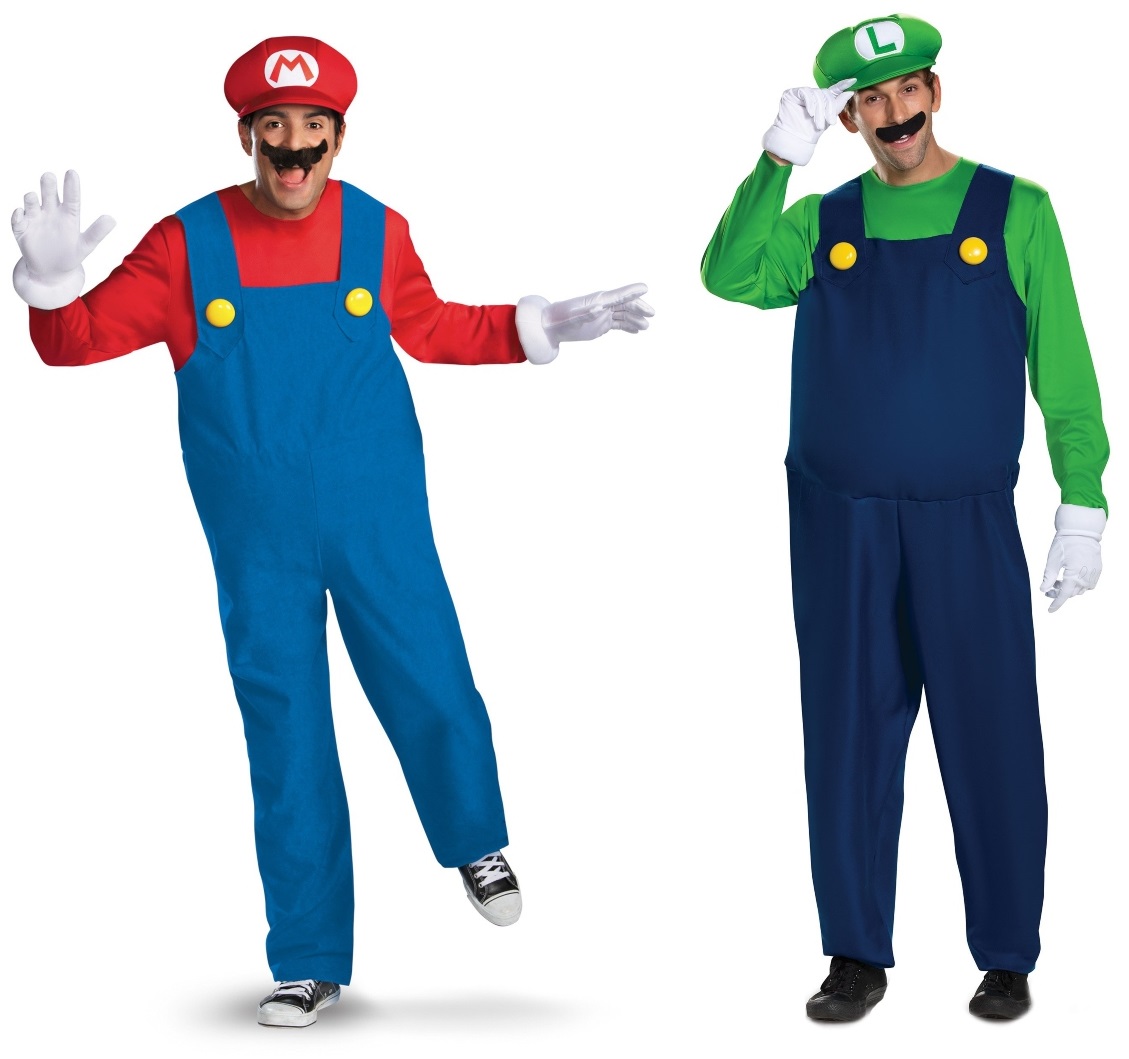 One of the most versatile couples costumes around, Mario and Luigi costumes are great for brothers, twins and video game fanatics! Even ladies can get in on the fun with Super Mario Bros. costumes for women. However, with so many other characters in the franchise, you can pair plenty of other characters together. Mario and Princess Peach, Luigi and Daisy—even Wario and Waluigi if you're looking for something less ordinary!
10. Salt-N-Pepa Couples Costumes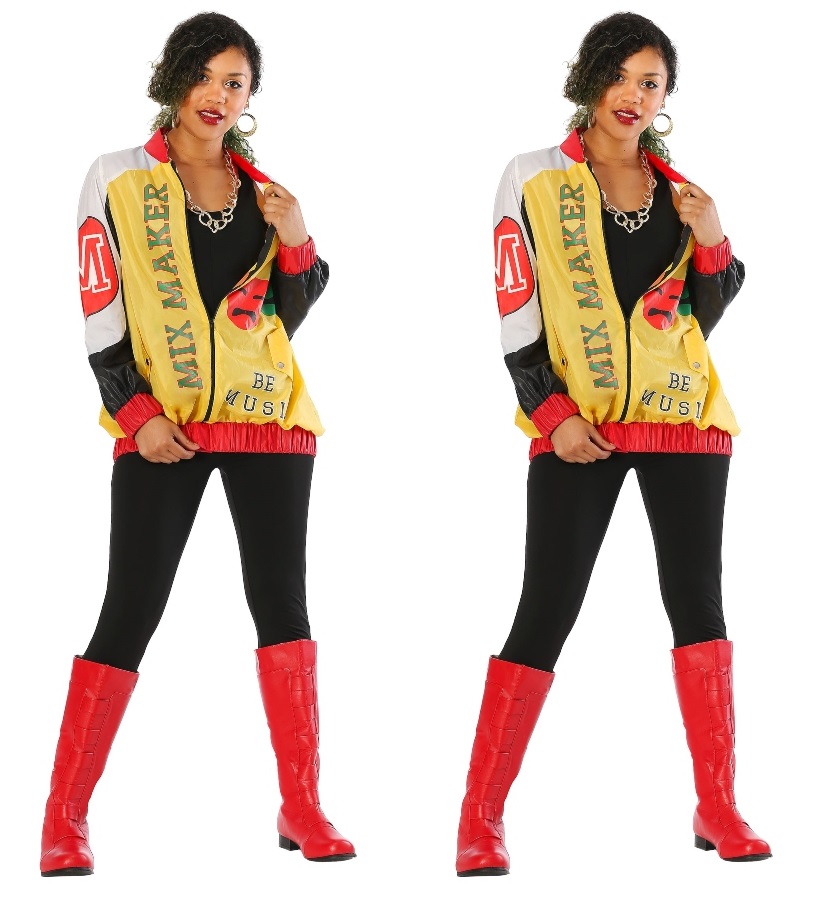 You're probably expecting to see some couples' salt and pepper costumes, but let's be real here—we needed to talk about Salt-N-Pepa first. This women's couples costume idea has it all. Style, celebrity and hip hop. Need we say more? All that's left to do is to ensure that everyone has their hit tune Push It stuck in their heads for the rest of the evening!
11. Bacon and Eggs Couples Costumes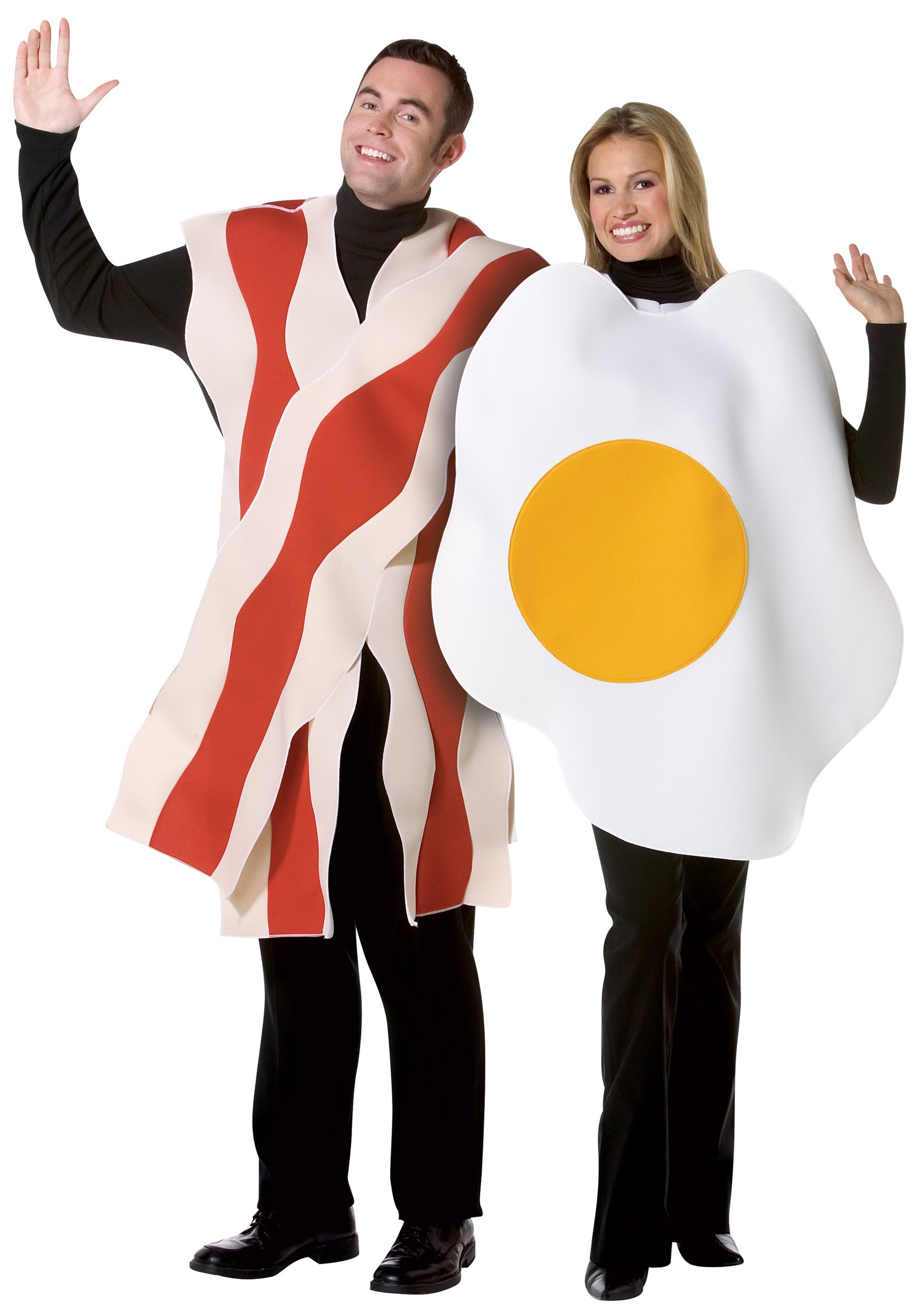 Couples' Bacon and Eggs Outfit
Be the couples' costume that everyone wants to wake up to when you team up as bacon and eggs. They say that breakfast is the most important meal of the day, and what pairs better with eggs than a couple of slices of bacon? It's a good enough combination that we'd have it for brunch too. Maybe even brupper—is that a thing?
12. Fred and Wilma Couples Costumes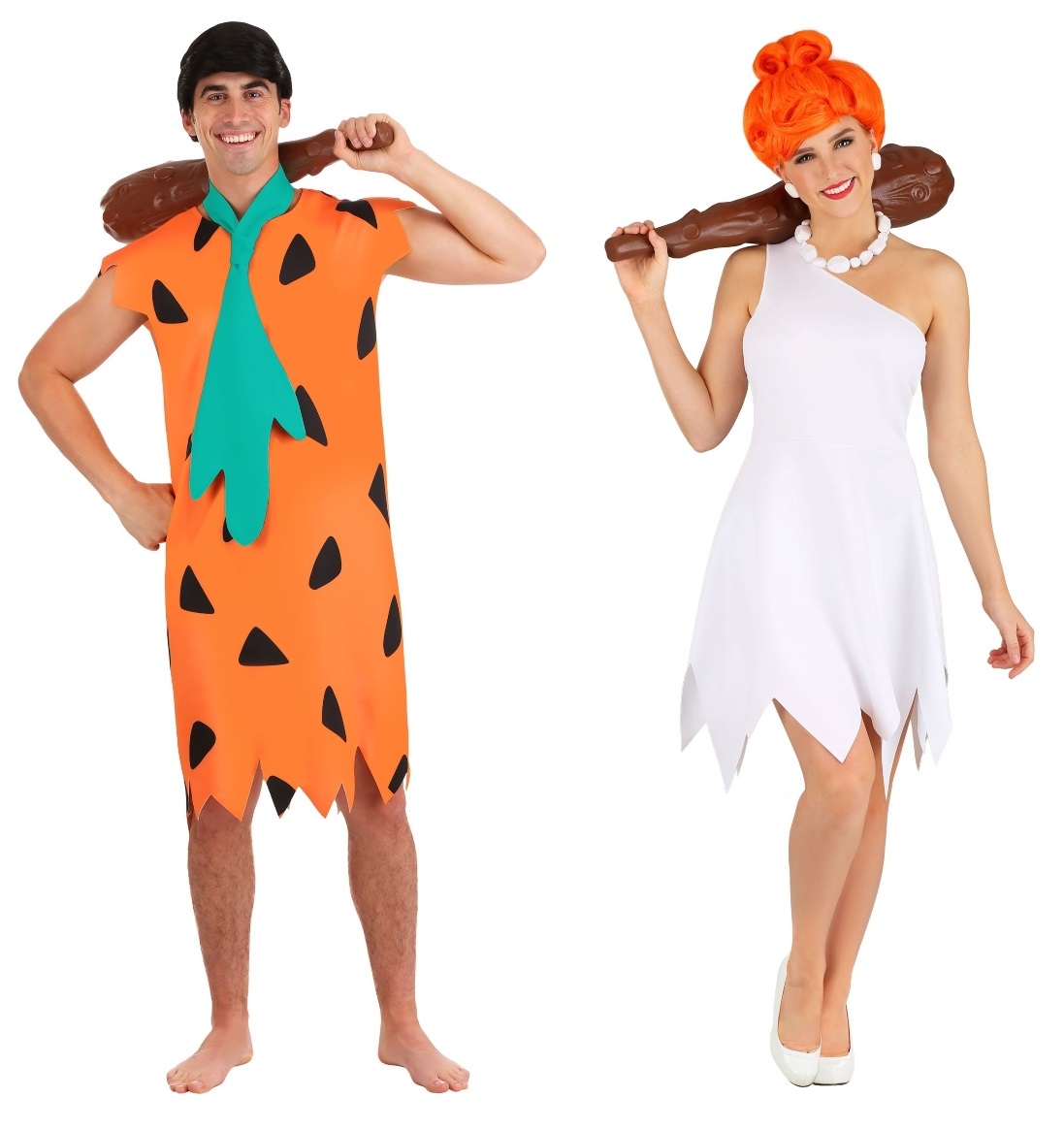 We're sure that Fred and Wilma Flintstone would love hanging out in modern times, so bring the famous cartoon couple to life! The perfect costume for husband and wife duos, this stone-age couple is an iconic cartoon pair. Even if you're not hitched and you simply wish you had a pet dinosaur, these Flintstone costumes will be comfortable to wear all night long! Yabba-dabba-do!
13. Raggedy Ann and Andy Couples Costumes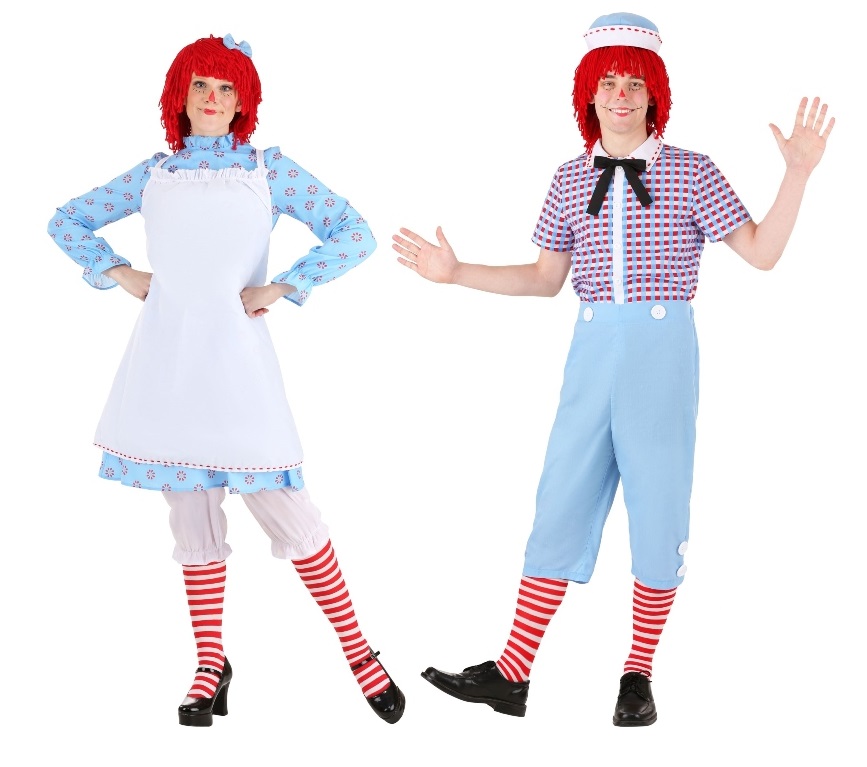 Raggedy Ann and Andy have been hanging out for the better part of a century, so you'll look both adorable and familiar with this classic costume idea. Play it straight, or mix it up by turning these classic characters into a pair of scary doll costumes! Raggedy Ann and Andy costumes are so iconic that they'll still be recognizable if you do decide to DIY them into something else.
14. Link and Zelda Couples Costumes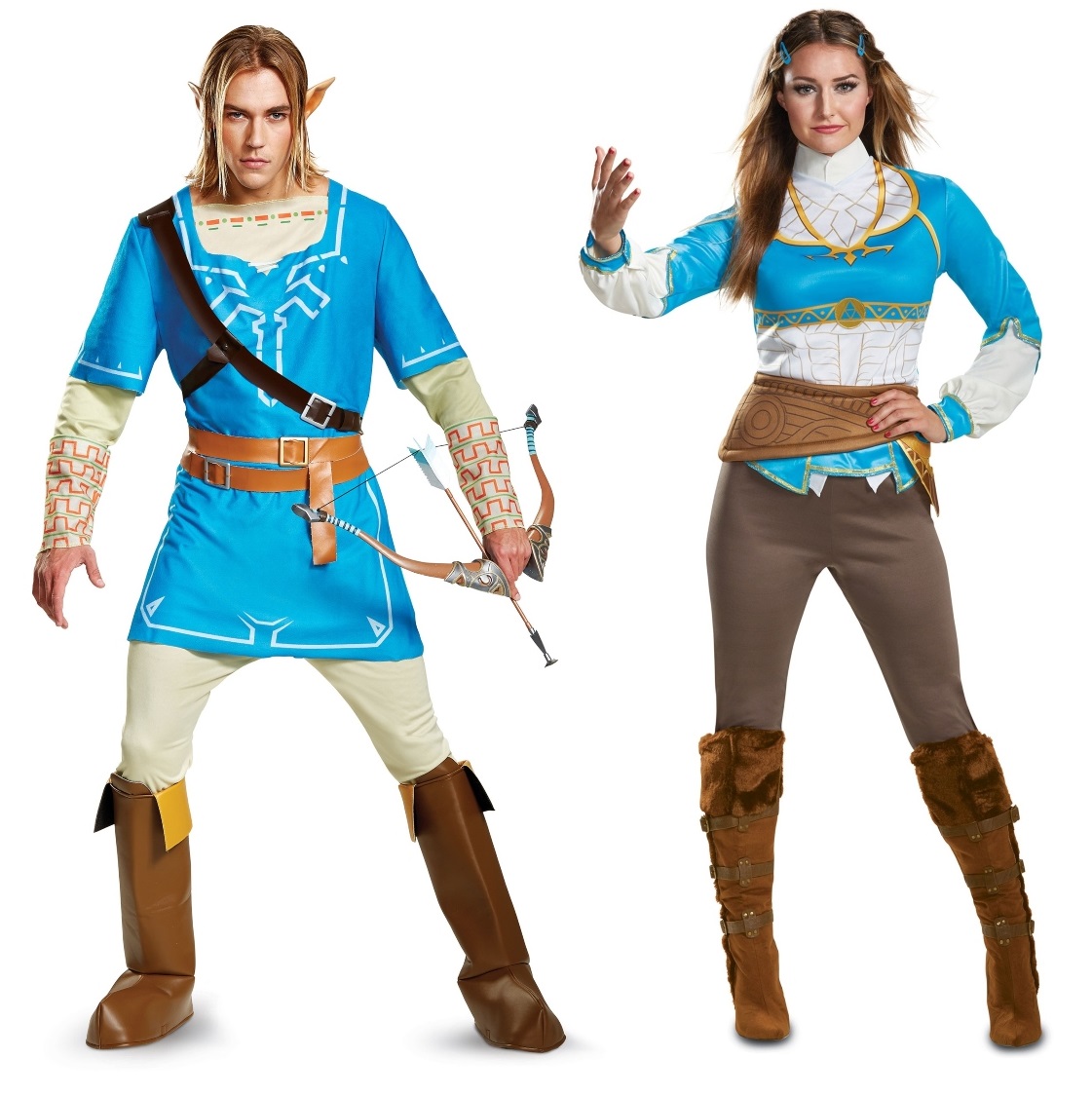 It's dangerous to go alone! Take one of these Legend of Zelda costumes and your significant other to your next costume party. (Or your friend/gamer buddy/sibling!) Parties and conventions certainly are less perilous than Link's regular quests, but at least you'll feel prepared for anything.
15. Black Panther Couples Costumes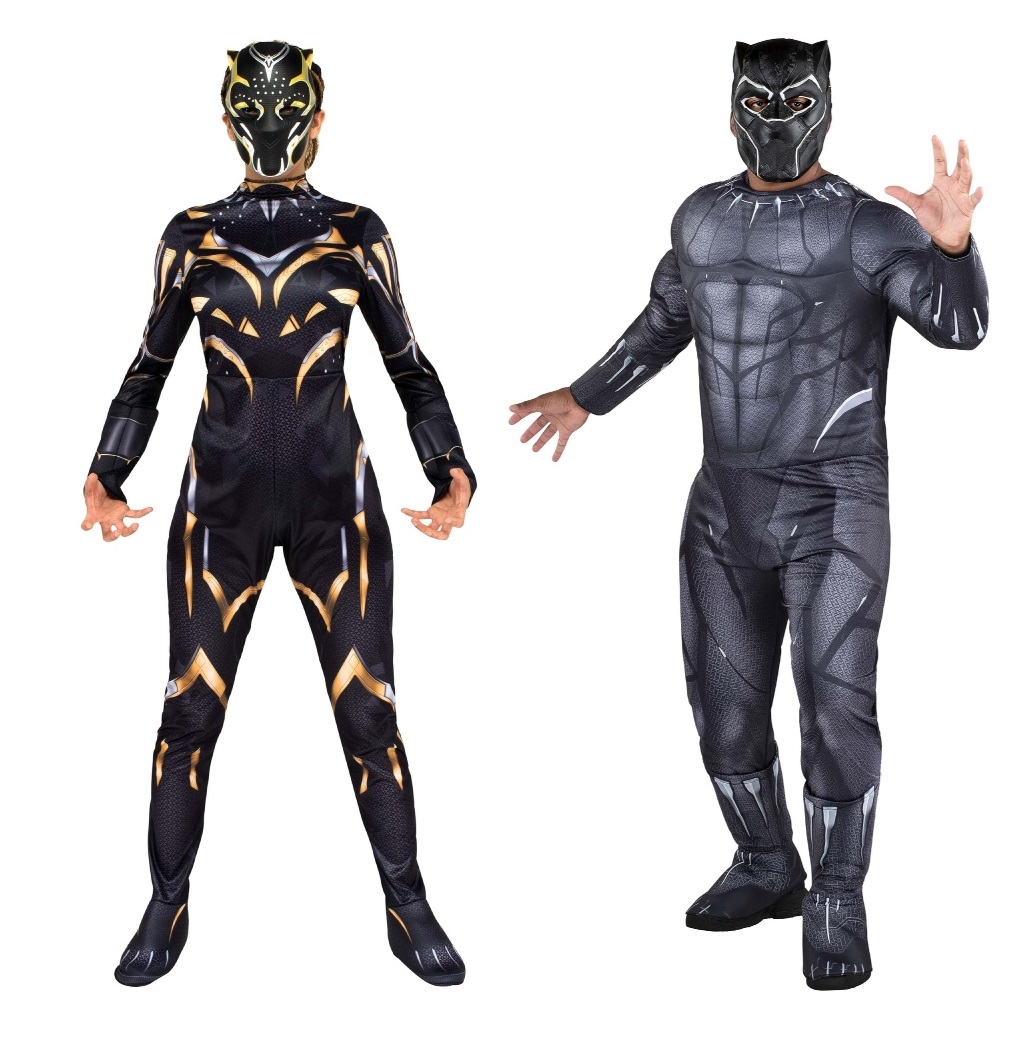 Wakanda forever! This good vs. evil costume idea straight from Marvel's Black Panther is sure to give people chills. Watching as these two superpowered characters battled for the kingdom of Wakanda was one of the most exciting parts of the movie! There are other movie characters such as Shuri, Nakia or one of the Dora Milaje if you'd prefer to turn this men's couple costume into one for a man and a woman instead.
16. Salt and Pepper Couples Costumes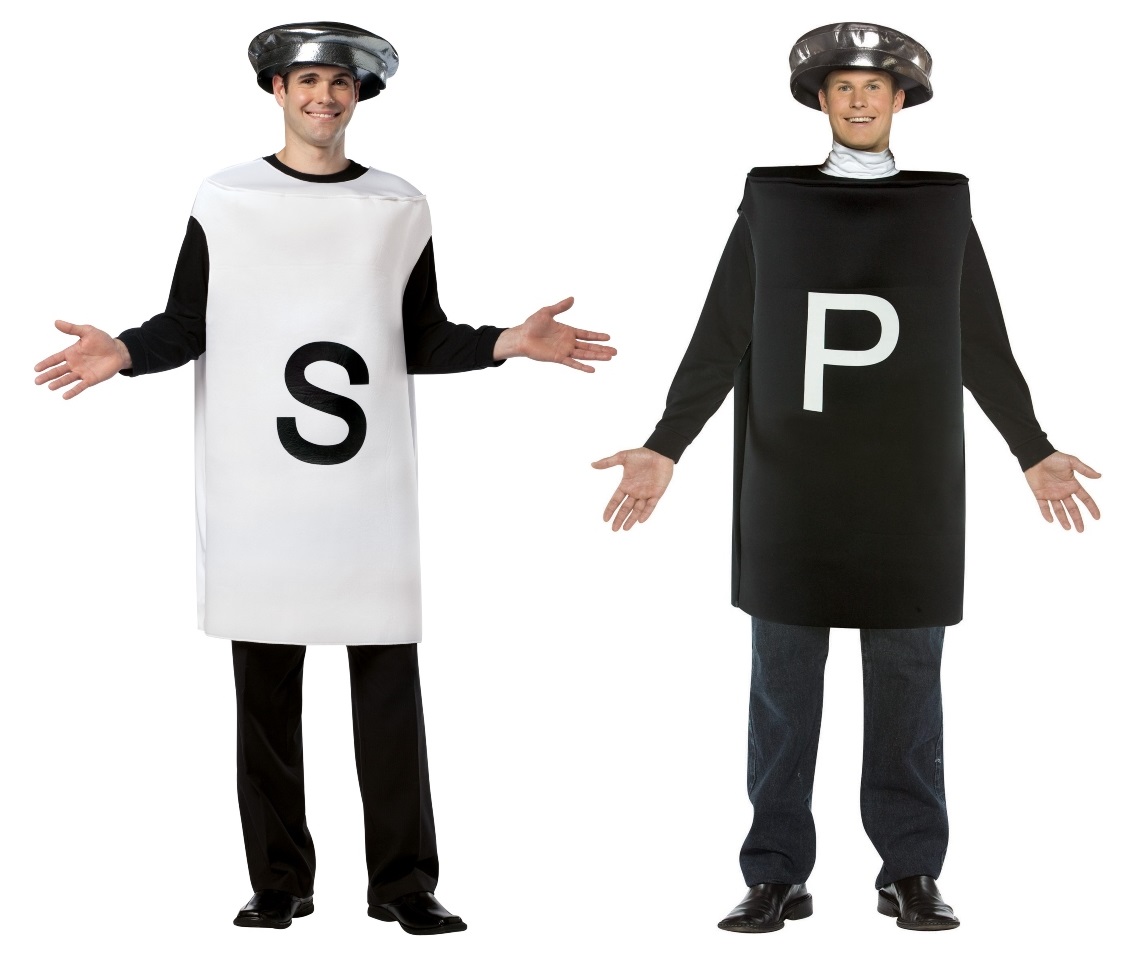 You can't add salt to your dinner without a dash of pepper, and vice-versa! This couples' outfit is the go-to duo for foodies everywhere. Show everyone that you're a combination of sugar, spice and everything nice with this wonderful pair of condiment costumes. Bon appétit!
17. Aladdin and Jasmine Couples Costumes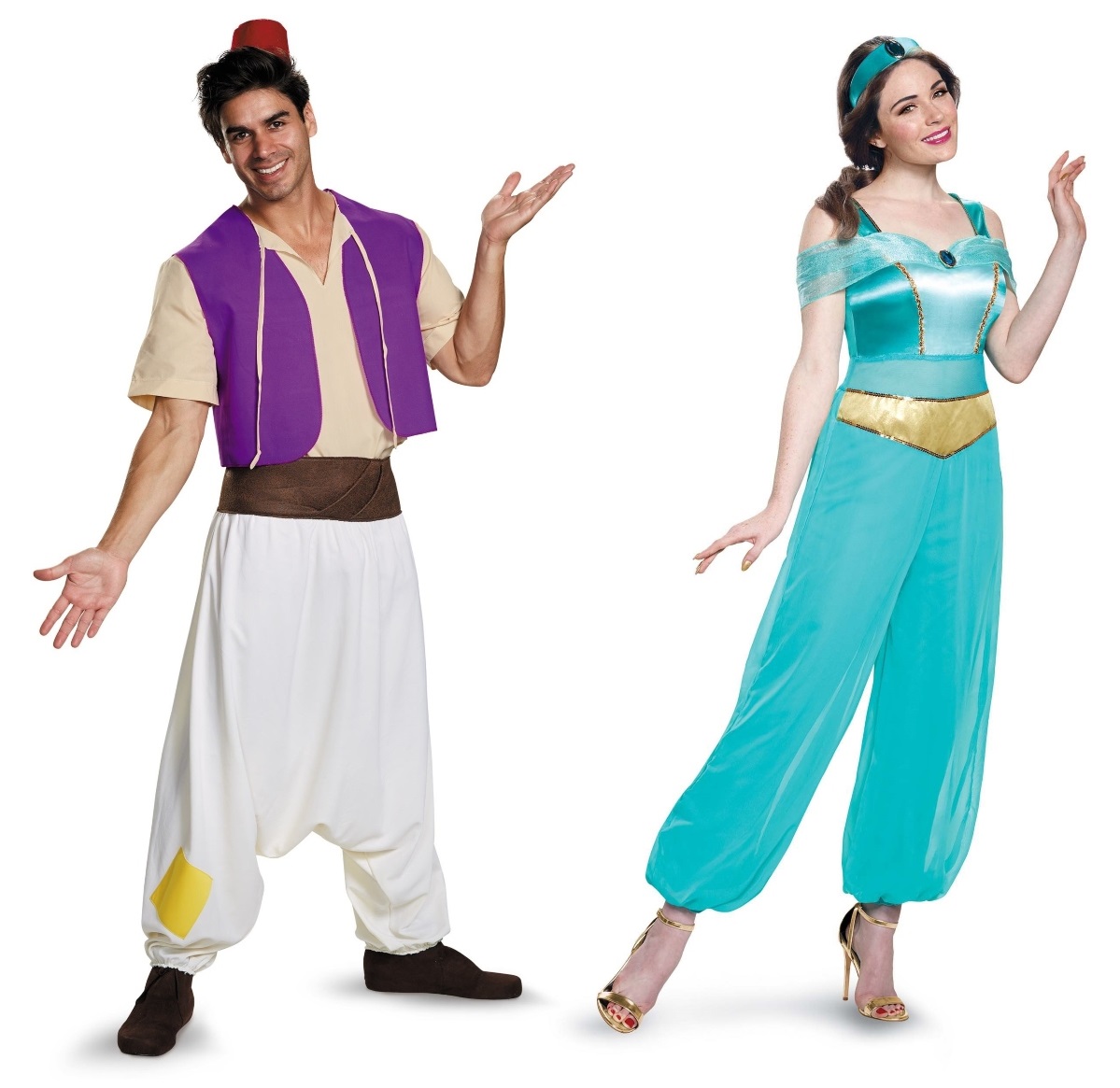 If your partner wants to dress like a Disney Princess, why not join in on the fun as her significant other? The adventurous pair of Aladdin and Jasmine is sure to be tons of fun, and you'll probably put some of the movie's chart-topping earworms into the heads of other partygoers. There are also other Aladdin costumes available if you'd prefer a different combination of characters.
18. Harry and Lloyd Couples Costumes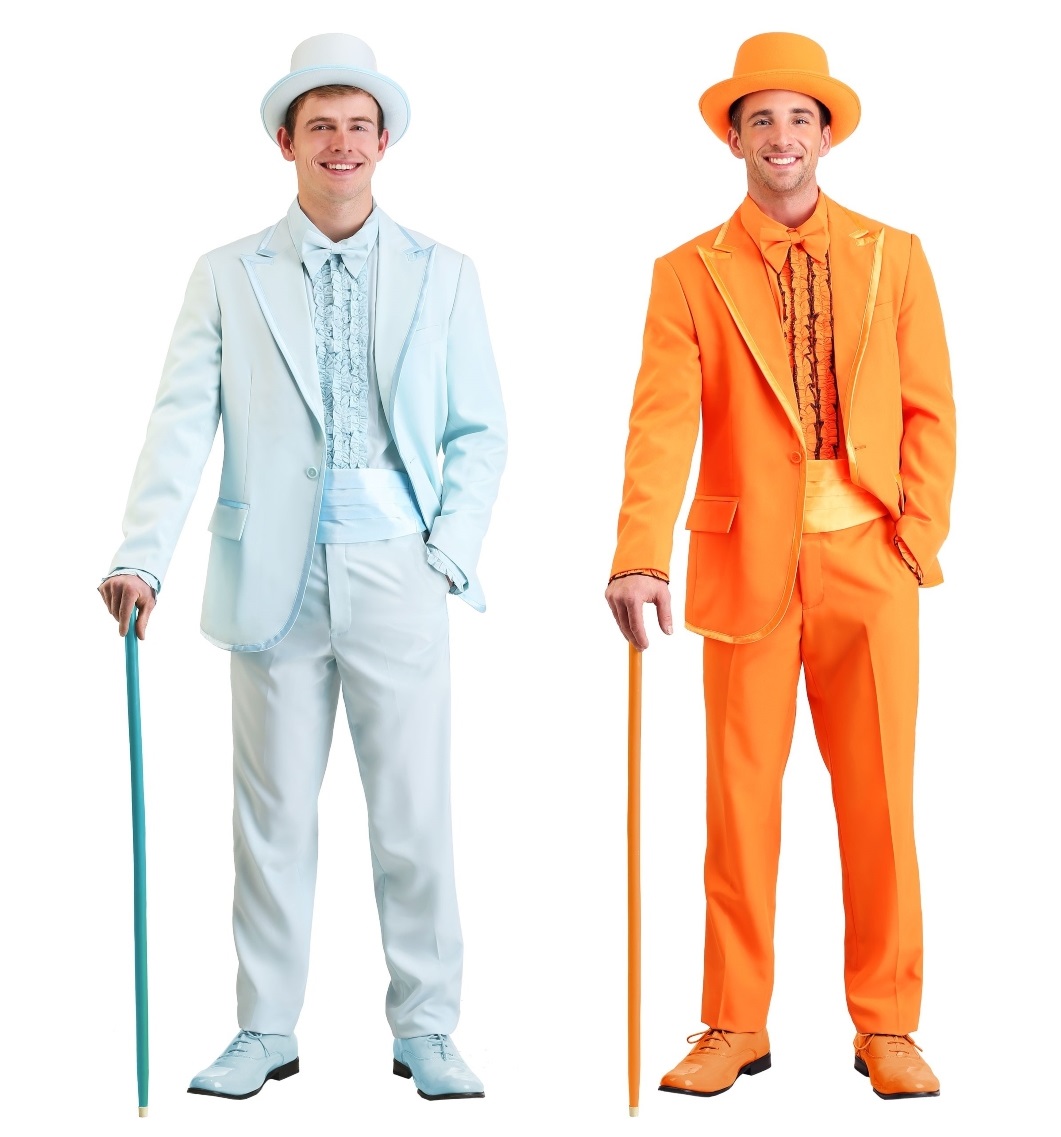 Few movies invoke 1990s nostalgia more than Dumb and Dumber. Lloyd and Harry's famous road trip to Aspen will go down in history as being one of the funniest adventures in cinema. The baby blue and orange tuxedos these two wear to the charity fundraiser remain some of the most recognizable costumes in recent years. Another perk of this costume option is that it gives you a free license to act like a complete moron! Be sure to complete the ensemble with matching canes and give each other a good whack. More tuxedo size and style options are available on HalloweenCostumes.com.
19. Batman and Catwoman Couples Costumes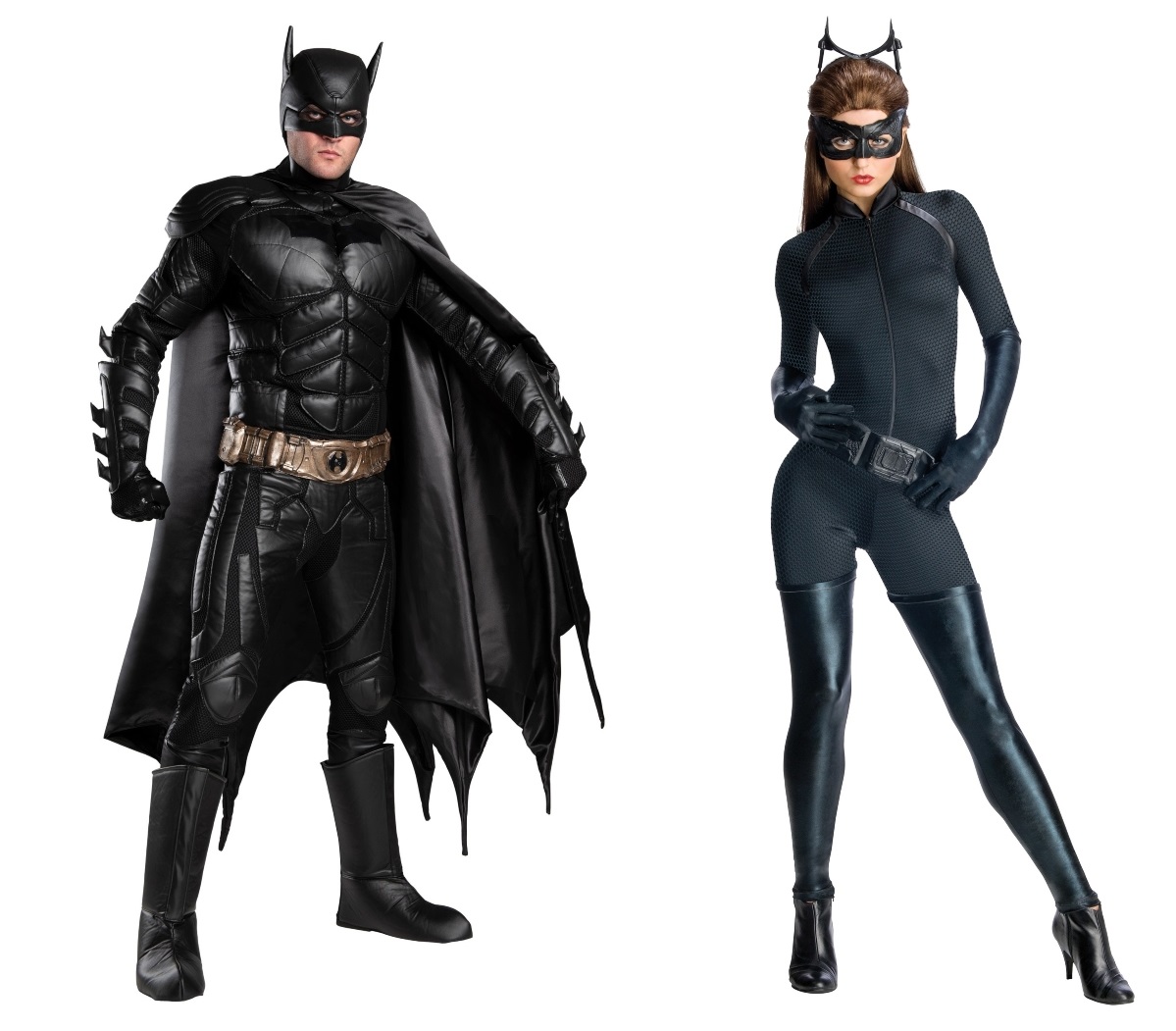 Comics are filled with superhero couples and villain couples, but what about a hero and villain duo? The cunning Catwoman has always been a temptation for our hero Batman, and perhaps you feel that they're the perfect couple. Perfect for Halloween parties and even comics conventions, this superhero couples' costume idea is simply purrrrfection.
20. Popeye and Olive Oyl Couples Costumes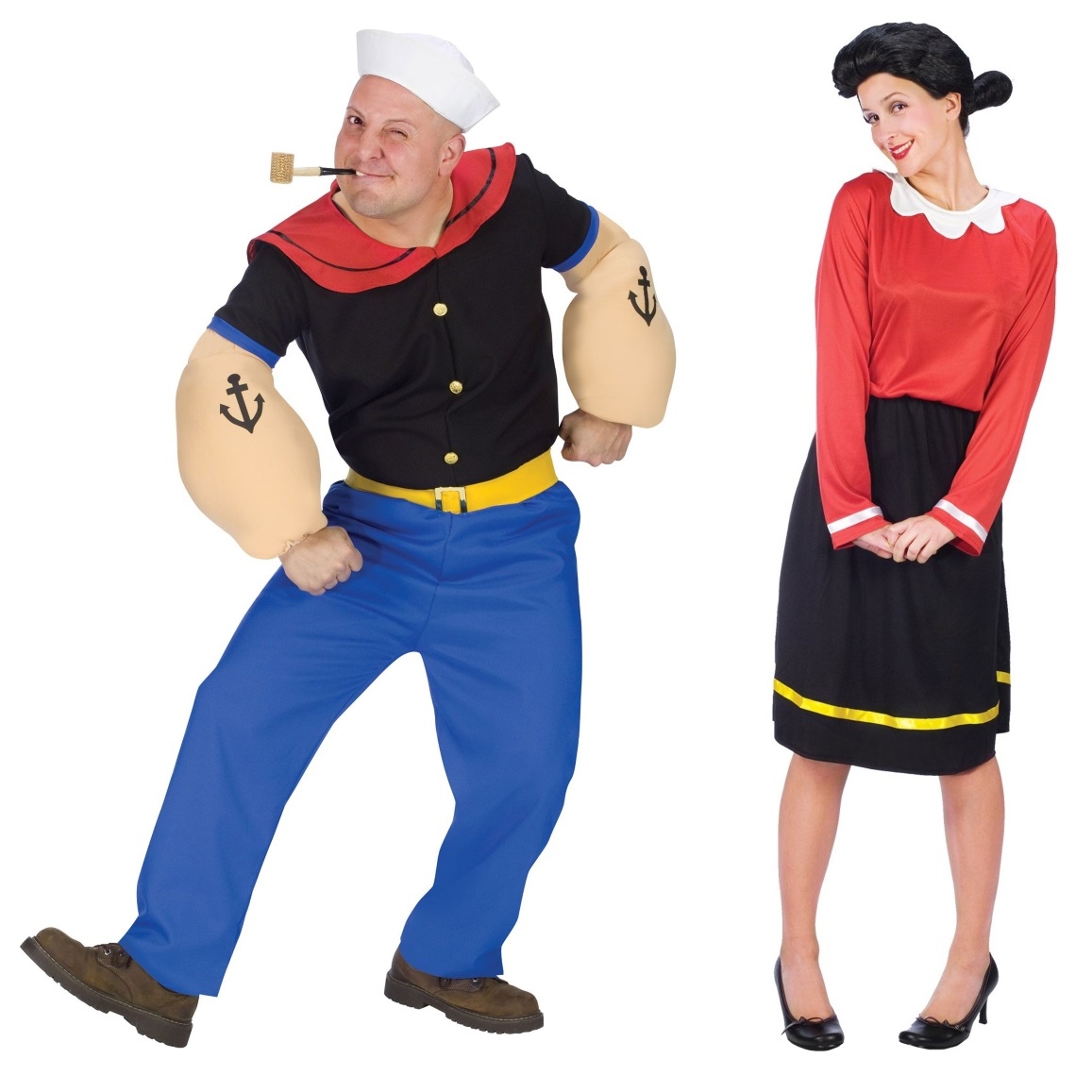 It doesn't get much more classic than Popeye and Olive Oyl, one of the best cartoon couple costumes around. (Make sure to keep your good eye peeled for Bluto if you want Olive to stay by your side all night!) Like he says, "I yam what I yam". Just remember to bring some spinach!
21. Priest and Nun Couples Costumes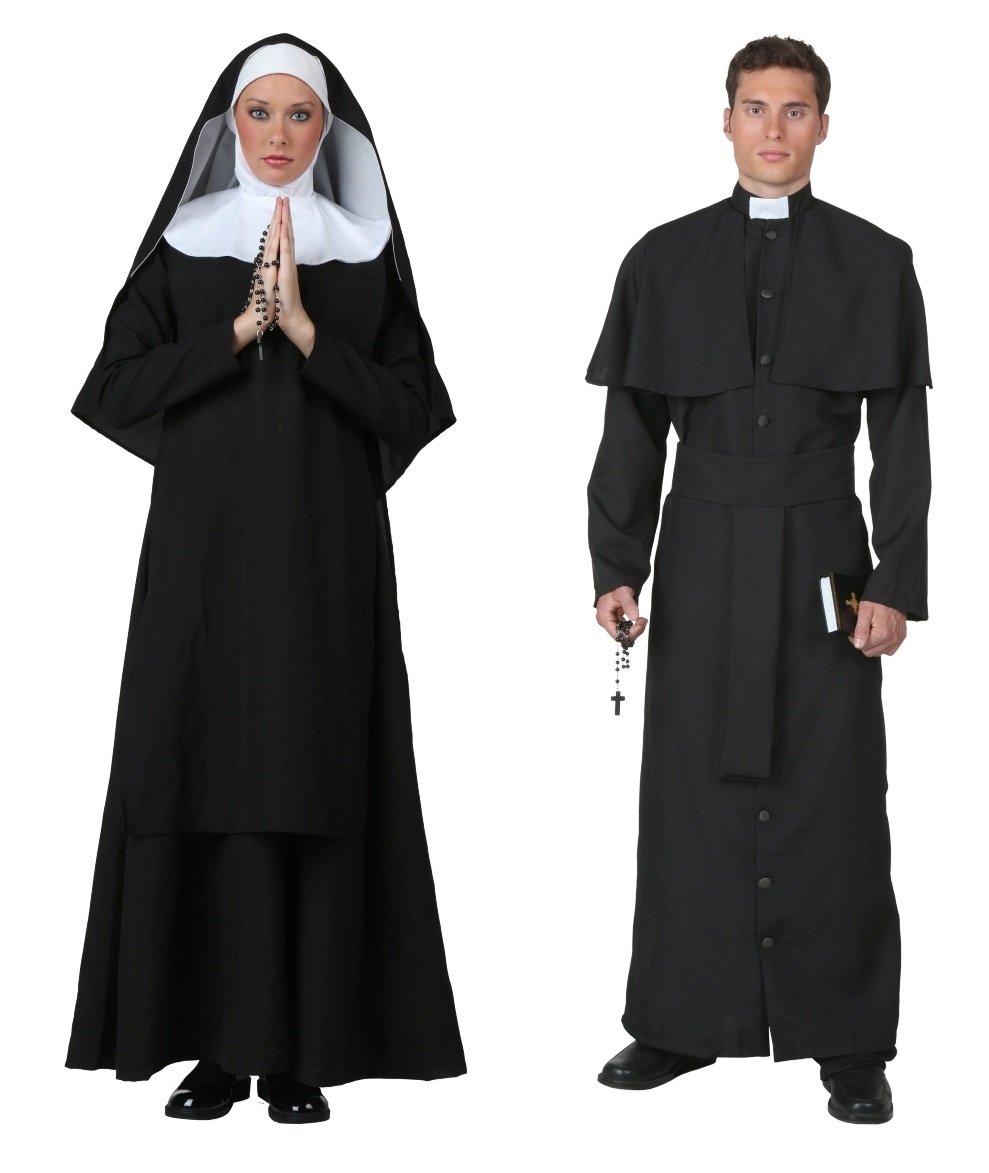 The church won't know how to react when you and your partner join the order. You'll be the best looking saints around! This religious couples costume idea can be played straight, or if you're expecting, you can also go with the pregnant nun angle. You can always try out some cool makeup effects to make a zombie priest or a scary nun combo!
22. Milk and Cookies Couples Costumes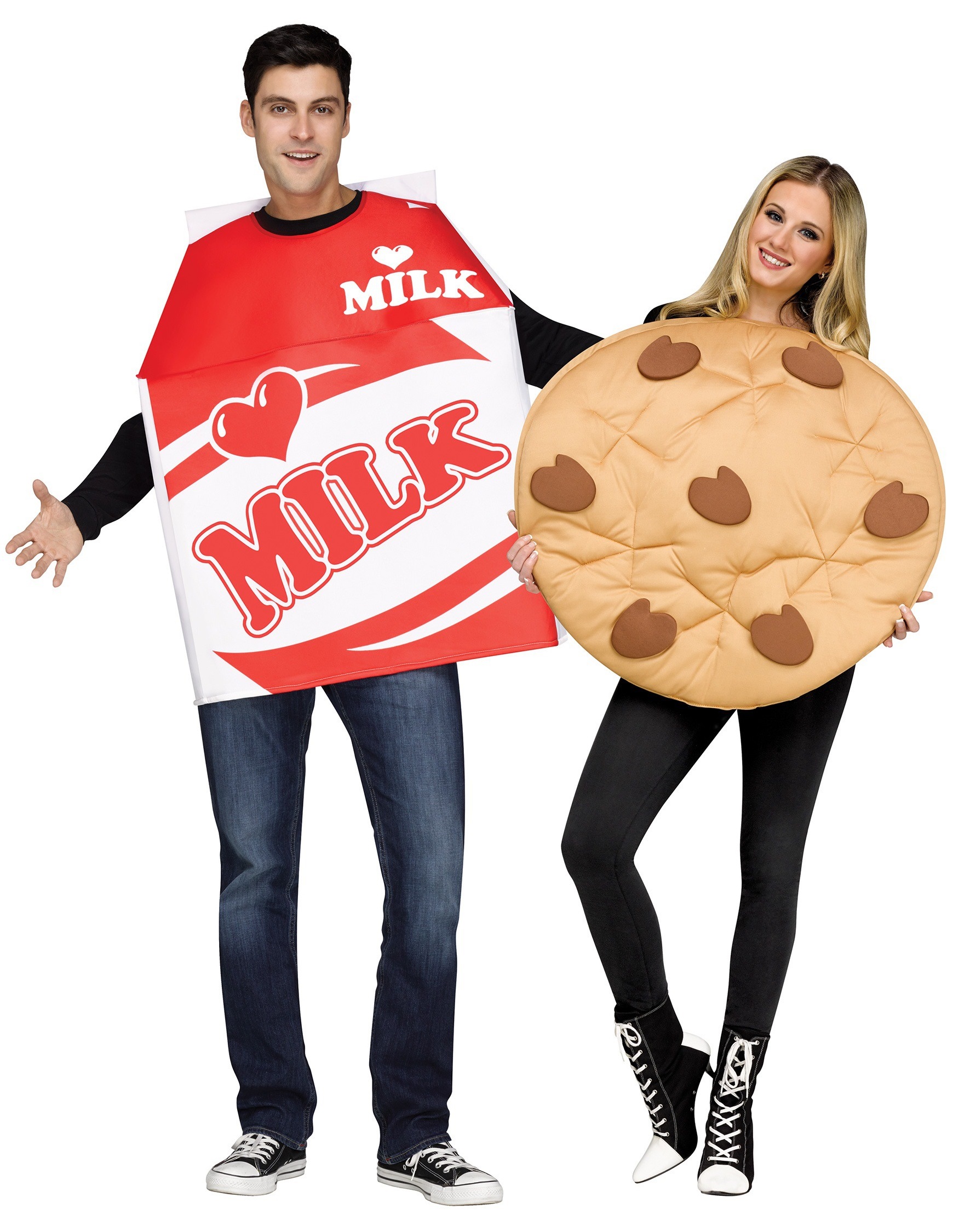 Adult Milk and Cookies Costume for Couples
For the look that works solo, but is SO much better together, pair up with your partner as Milk and Cookies! Bring back all of the grade school vibes with the best snack pairing ever. Mmmm....
23. Woody and Bo Peep Couples Costumes
You've got a friend in me! Toy Story costumes are great for best friend costume ideas. Woody and Bo Peep are some of the characters that you can pair together, but don't forget combos like Woody and Buzz, Buzz and Jessie or even the Potato Heads! These classic toy costumes are sure to bring smiles to adults and kids.
24. Spider-Man Couples Costumes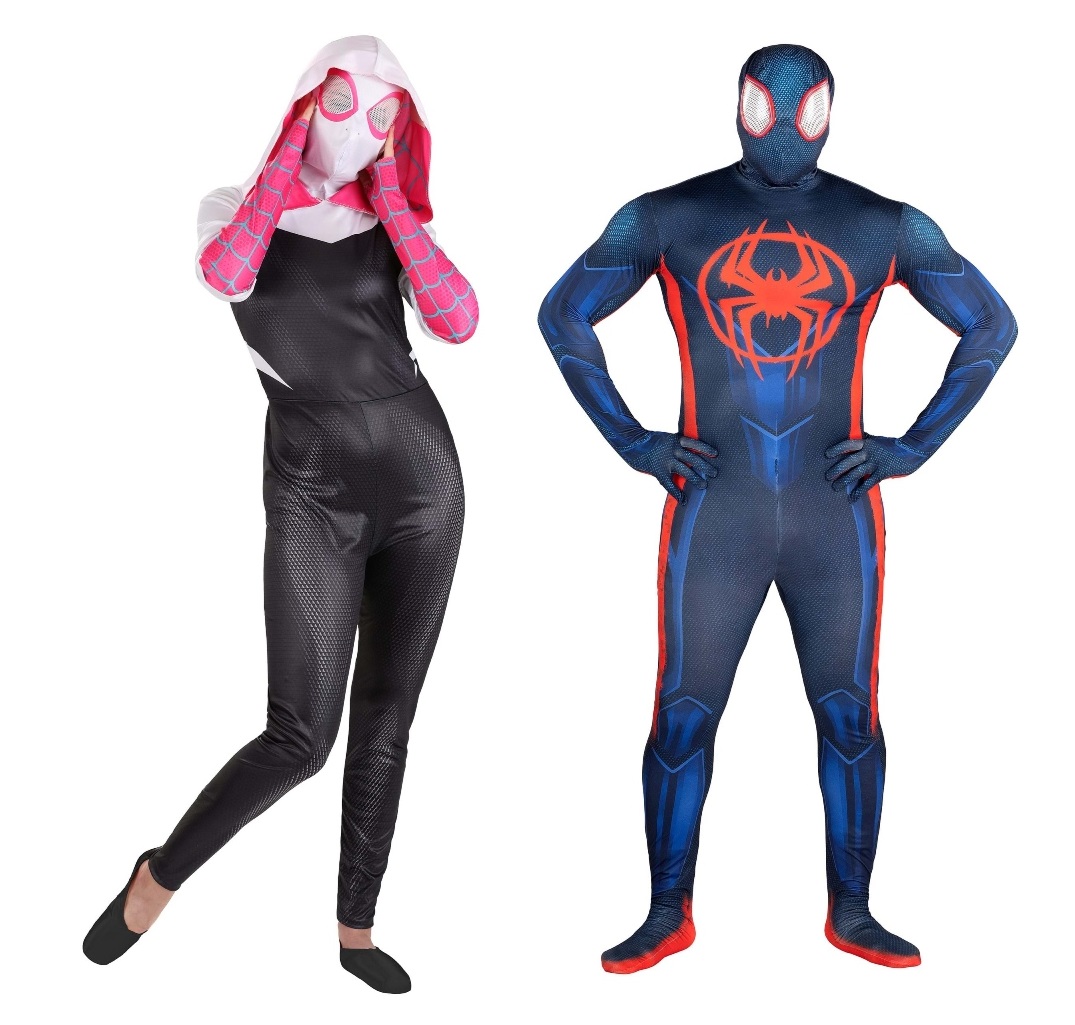 "Hey." Miles Morales was the new, break-out Spider-Man character that we all needed! The stars of Into the Spider-Verse make a great superhero couples' costume idea. While these characters aren't technically part of the same universe, they get to coexist for a while, and you can almost feel some sparks growing. Take matters into your own hands and make Miles and Gwen your next costume!
25. Minnie and Mickey Couples Costumes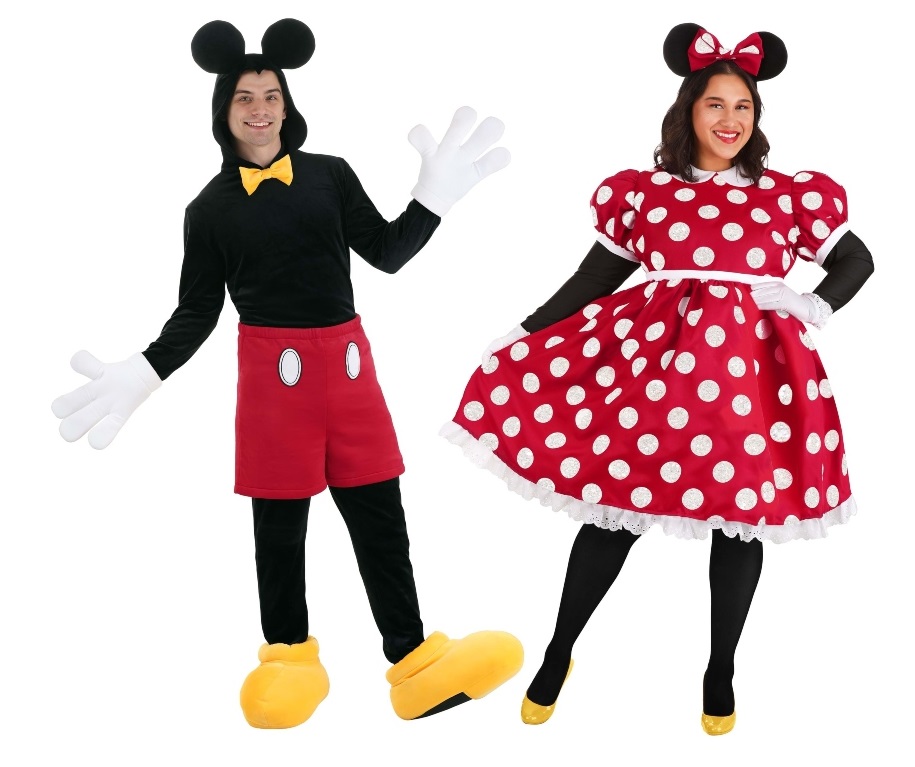 Oh boy! Mickey and Minnie have been an item for decades, so if you are looking for a classic couple costume, this goes way back. If you consider yourselves to be a Disney couple, you know that Mickey and Minnie Mouse costumes are #RelationshipGoals.
26. Jon Snow and Daenerys Couples Costumes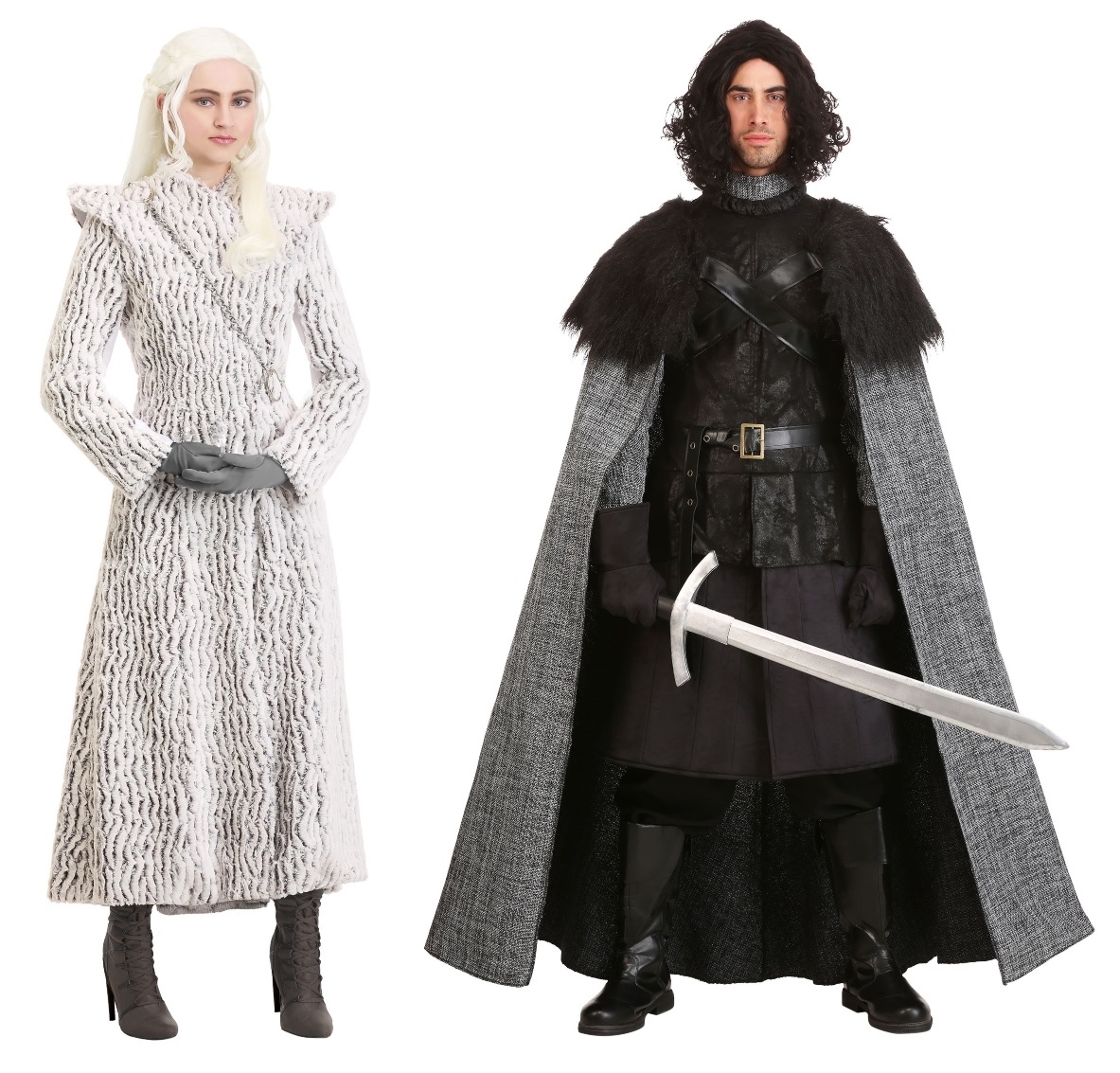 While the relationships in Game of Thrones are a bit...complicated, to say the least, there are a few pairs that do come to mind. Fans were excited to see Jon Snow and Daenerys finally get together, but Daenerys and Khal Drogo and Jon Snow and Ygritte are some other favorite Game of Thrones couples ideas. Don't be afraid to check out other Game of Thrones costumes to make your own OTP!
27. Westley and Buttercup Couples Costumes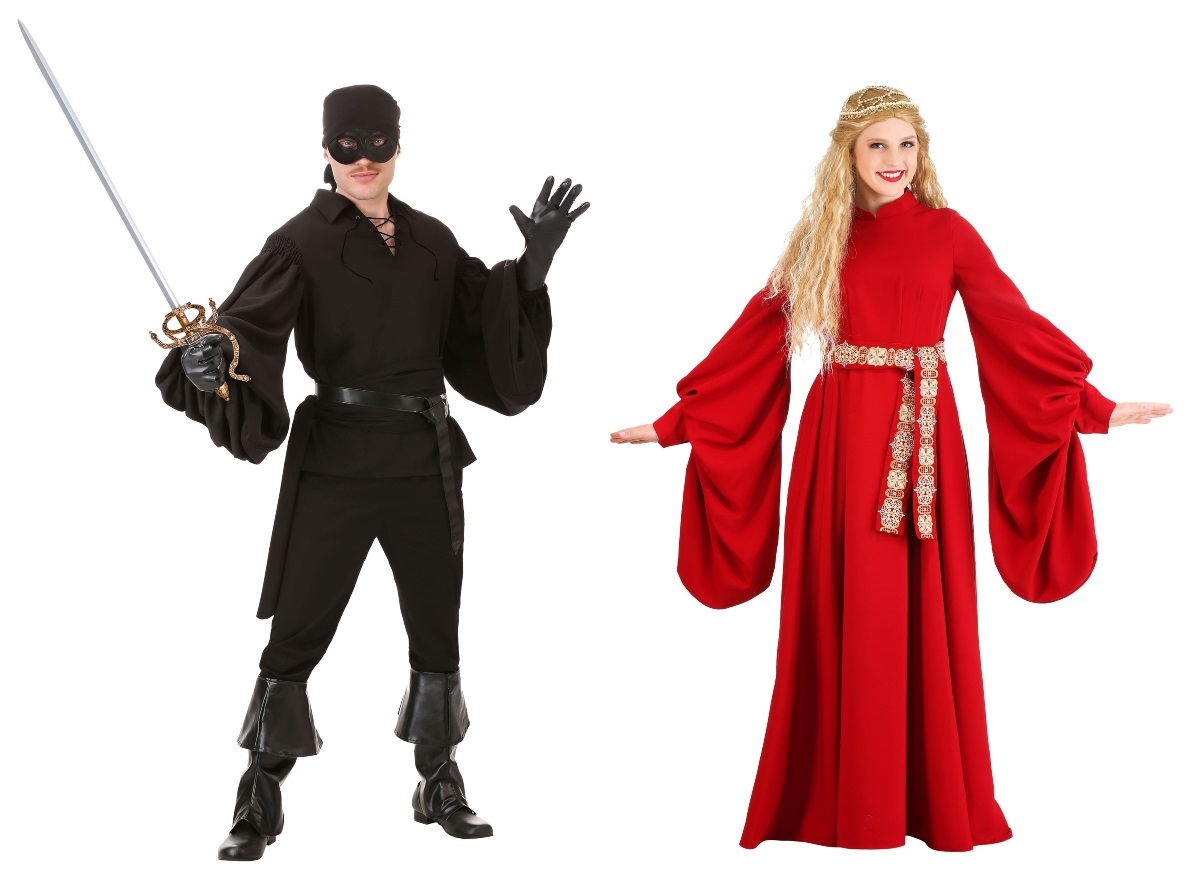 The Princess Bride wasn't a huge box office success but it has developed a legacy of devout followers since its 1987 release. This film is an 80s cult classic and it's easy to understand why. The imagery, costumes, and dialogue are all incredibly recognizable and evoke a wonderful sense of adventure. There's fencing, fighting, torture, revenge, giants, monsters, chases, escapes, true love, and miracles! Westley's Dread Pirate Robert's look is just plain cool, and Buttercup's royal gown provides a great contrast to his full black ensemble.
28. Uncle Sam and Lady Liberty Couples Costumes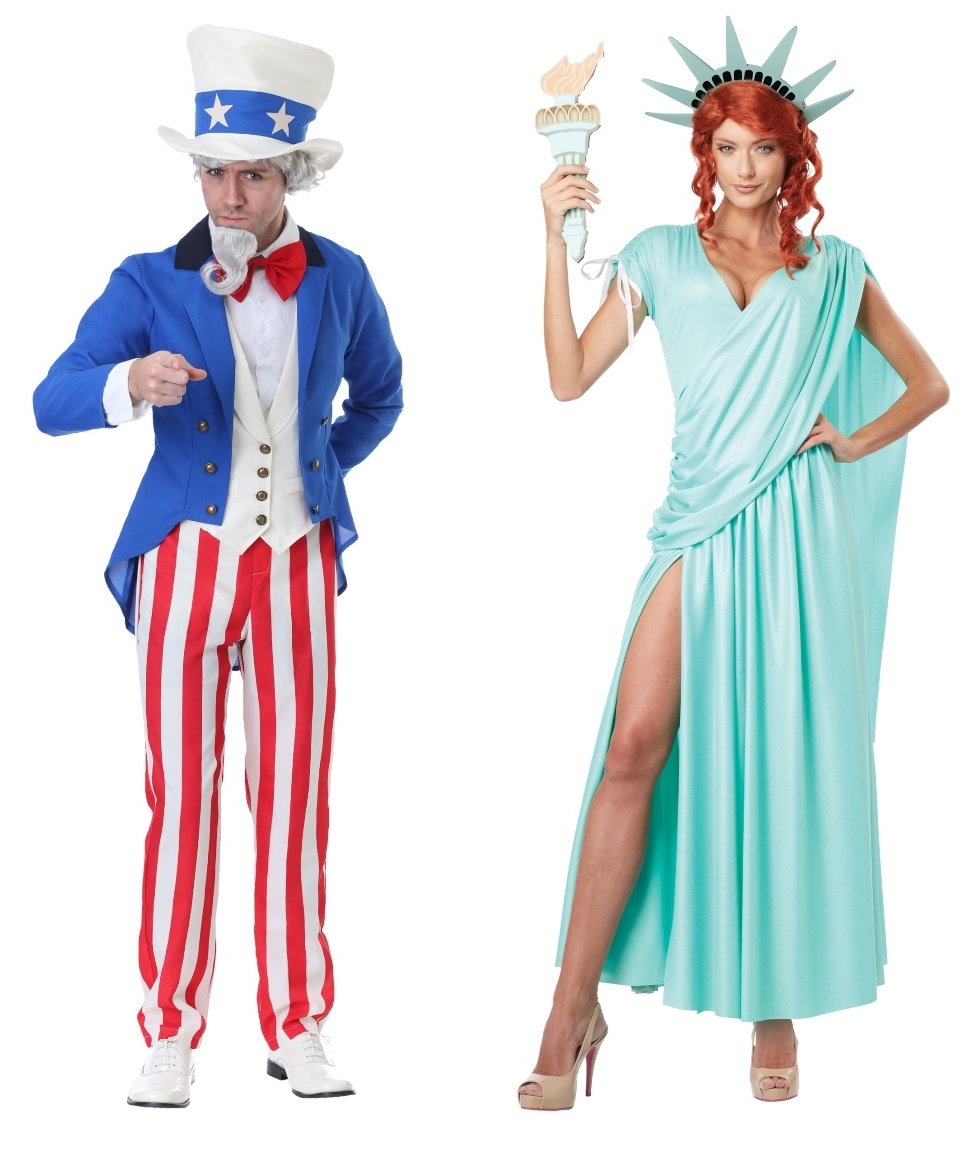 Show off your love of 'Merica by going as the ultimate USA dream couple, Uncle Sam and Lady Liberty! This patriotic couple's costume idea may feel more at home on the 4th of July, but who says you can't wear these costumes again for Halloween? There's no excuse not to have some costumes you can wear more than once a year!
29. Waldo and Wenda Couples Costumes
You might not stand out in a crowd as Waldo and Wenda, but this classic couples duo will have everyone looking for you. Just make sure not to get separated or hunting for your significant other could turn into the next party game!
30. Sally and Jack Skellington Couples Costumes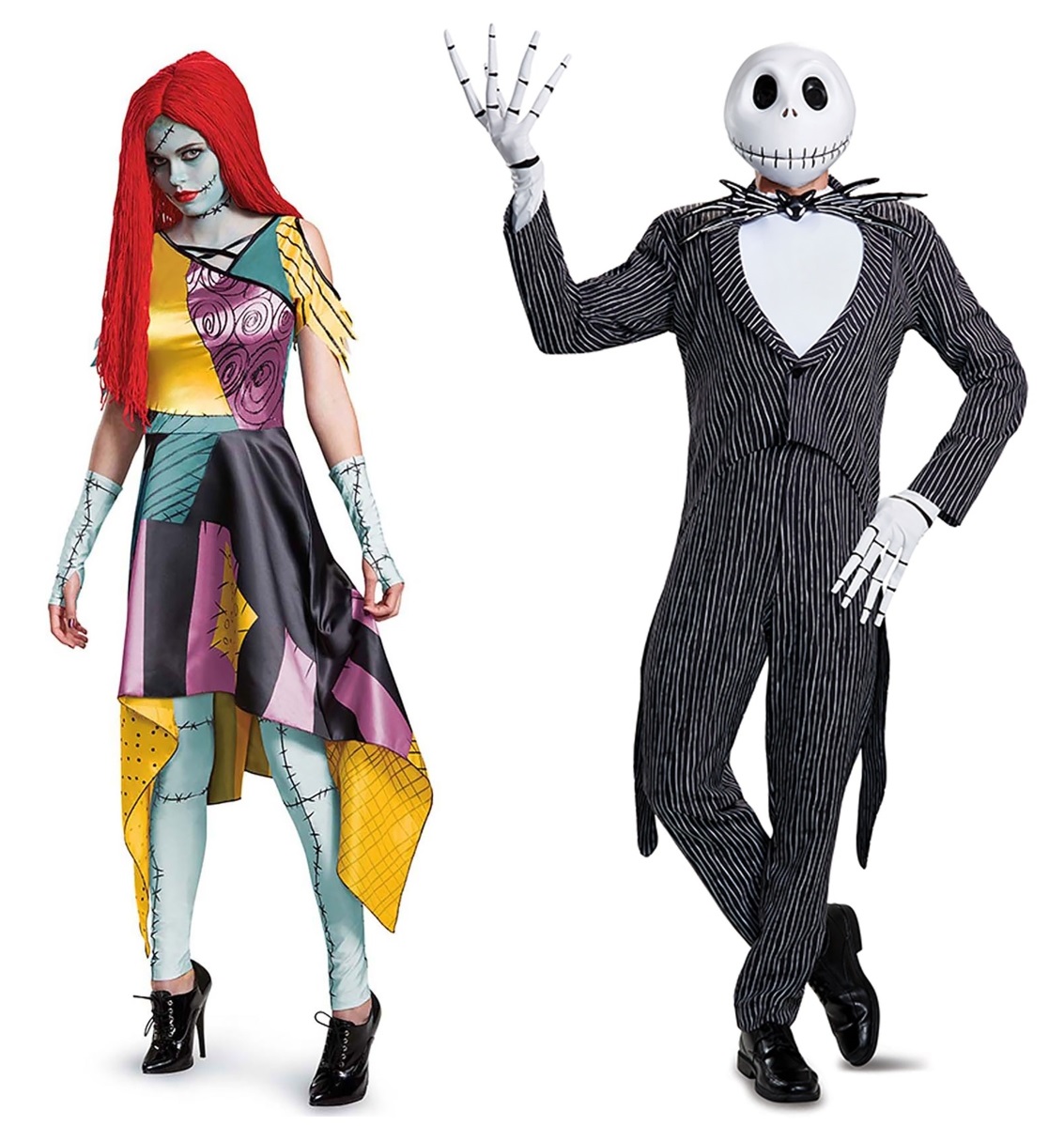 Anyone looking for creepy couples costumes a la Tim Burton won't be disappointed with The Nightmare Before Christmas's Jack and Sally. This undead duo is surprisingly sweet, and you're sure to run into other Tim Burton fans. Just make sure to keep your head on if you decide to recite any Shakespearean quotes!
31. Ragnar and Lagertha Couples Costumes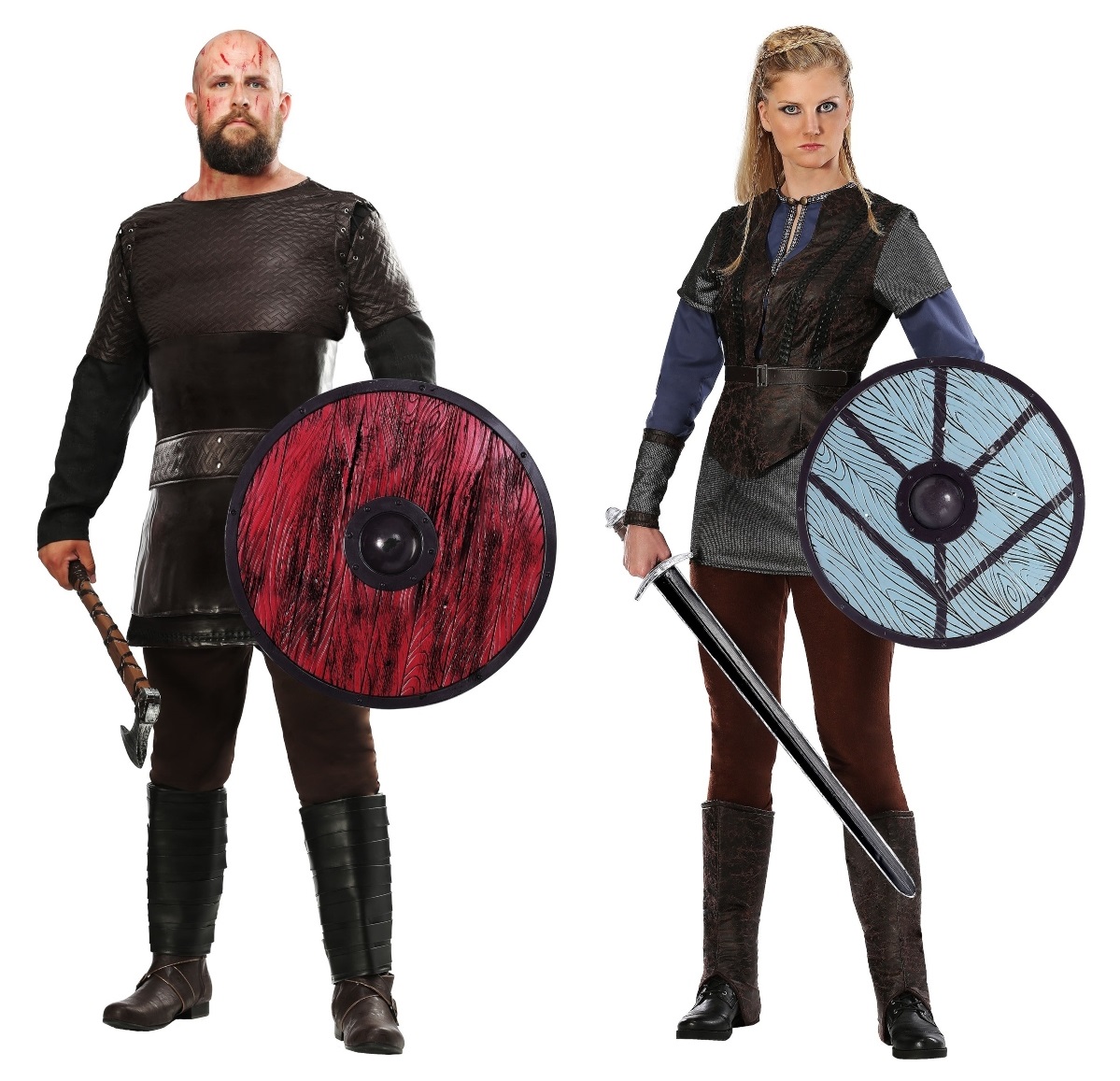 Some historical couples' costumes have it all—action, romance, intrigue. And who could forget our favorite Norse warriors, the Vikings! If your family can't get enough of this award-winning History Channel show, you can find the official Vikings costumes here on HalloweenCostumes.com.
32. Birds and Bees Couples Costumes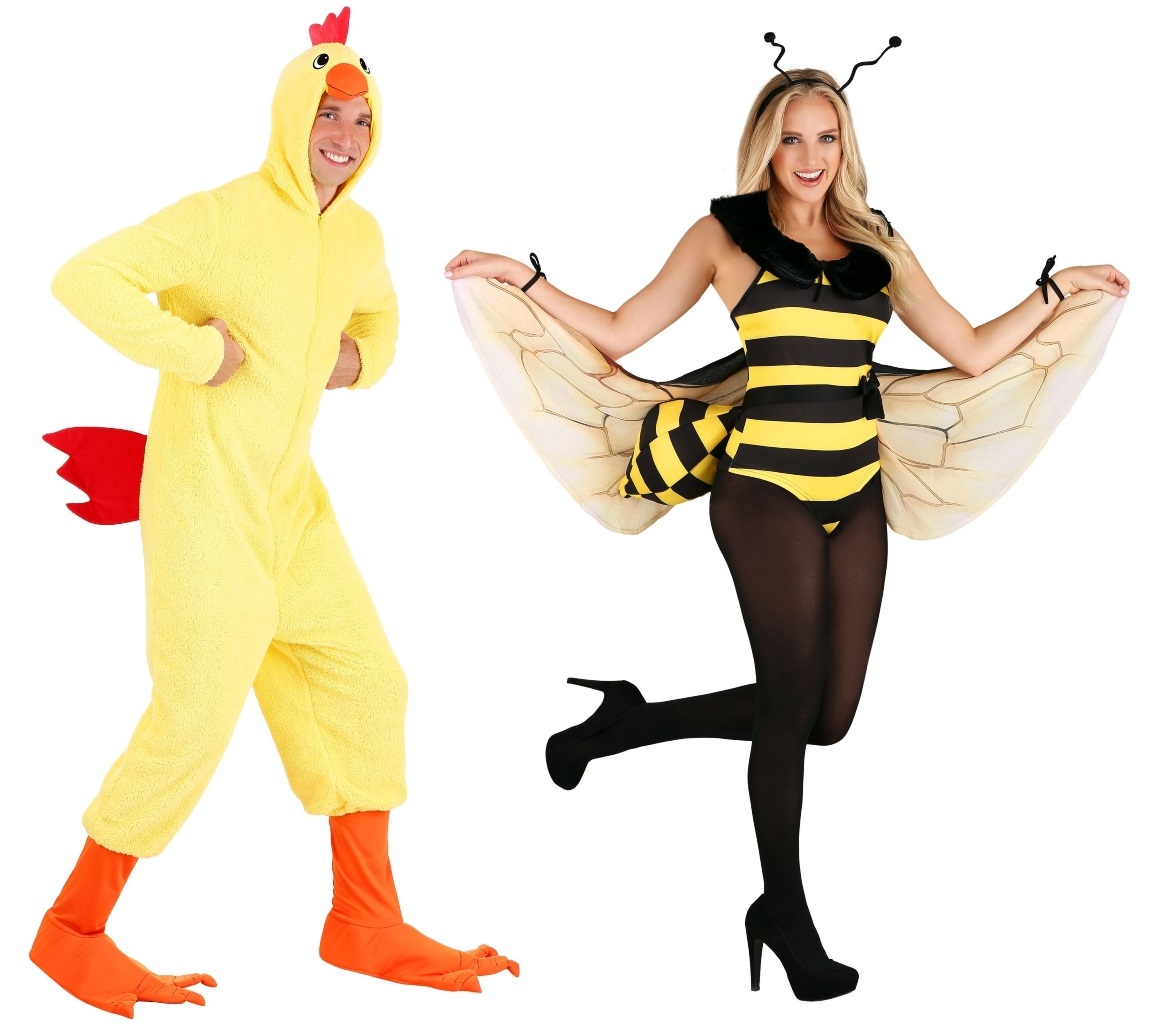 One of the more subtle adult humor couples costumes, all you need is a bird costume and a bee costume to pull off this idea. You're more than welcome to switch who gets to be the bird or the bee, too!
33. Zeus and Hera Couples Costumes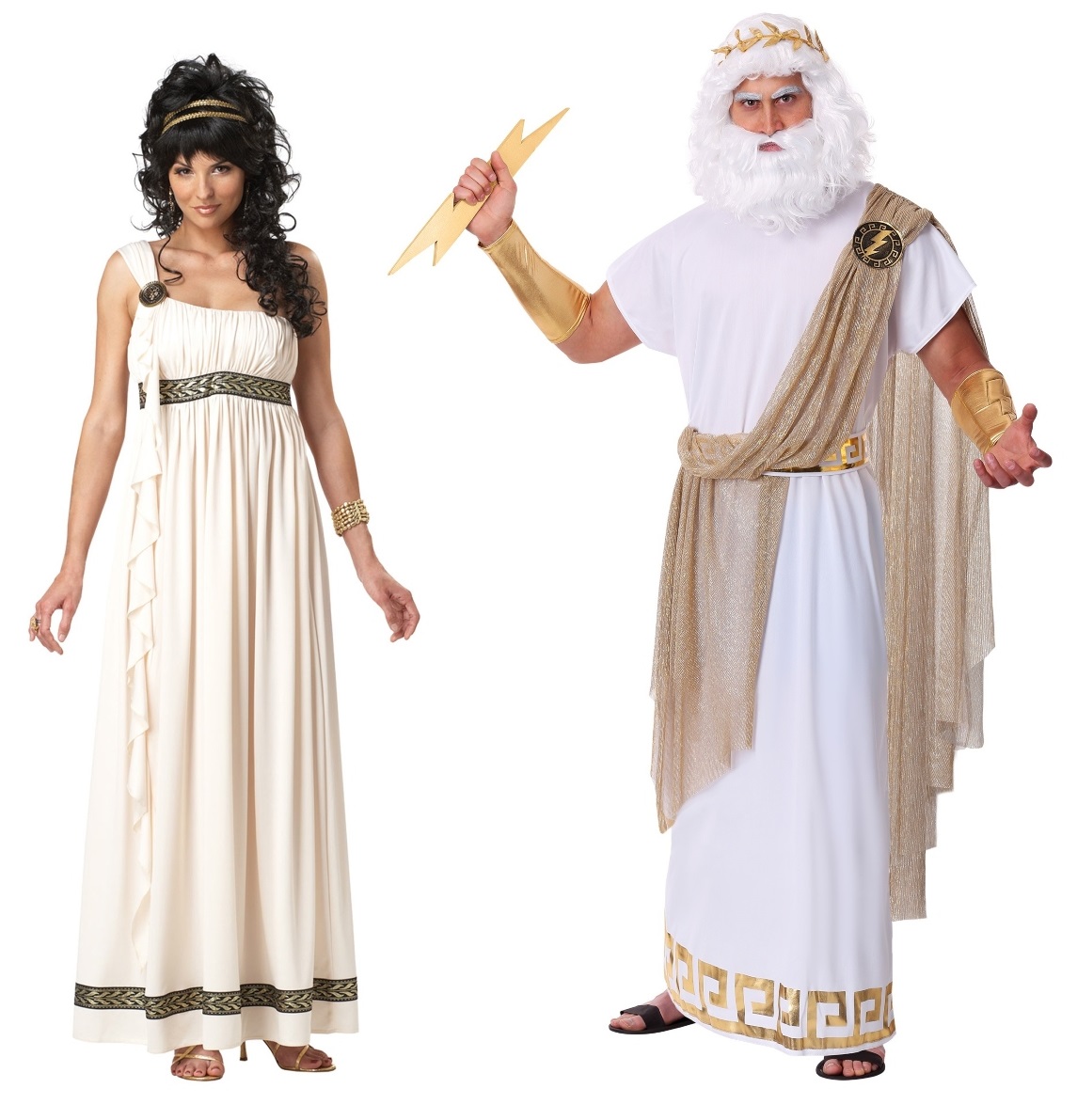 Rule from Mt. Olympus as Zeus and Hera. All will respect your God-like power—and your good looks and great Halloween costumes! Should you have an impressive beard, Zeus is especially a great costume idea for you.
34. Sub-Zero and Scorpion Couples Costumes
Do you love video games? Do you get really competitive with your gamer buds? If you answered yes to one or both of these questions, we highly suggest Scorpion and Sub-Zero Mortal Kombat costumes for you and your gamer buddy! Hopefully, you can both agree on who gets to wear what costume, or else you might need to decide with the best 2 out of 3.
35. Sandy and Danny Couples Costumes
We've got chills—they're multiplying! Nothing beats a tough guy and a sophisticated lady, so show off your T-Bird and Pink Lady style with this classic Grease couples' costume. If you're not fond of Sandy as a Pink Lady, you can always don a Bad Sandy costume to match your partner's Greaser style!
36. Superman and Wonder Woman Couples Costumes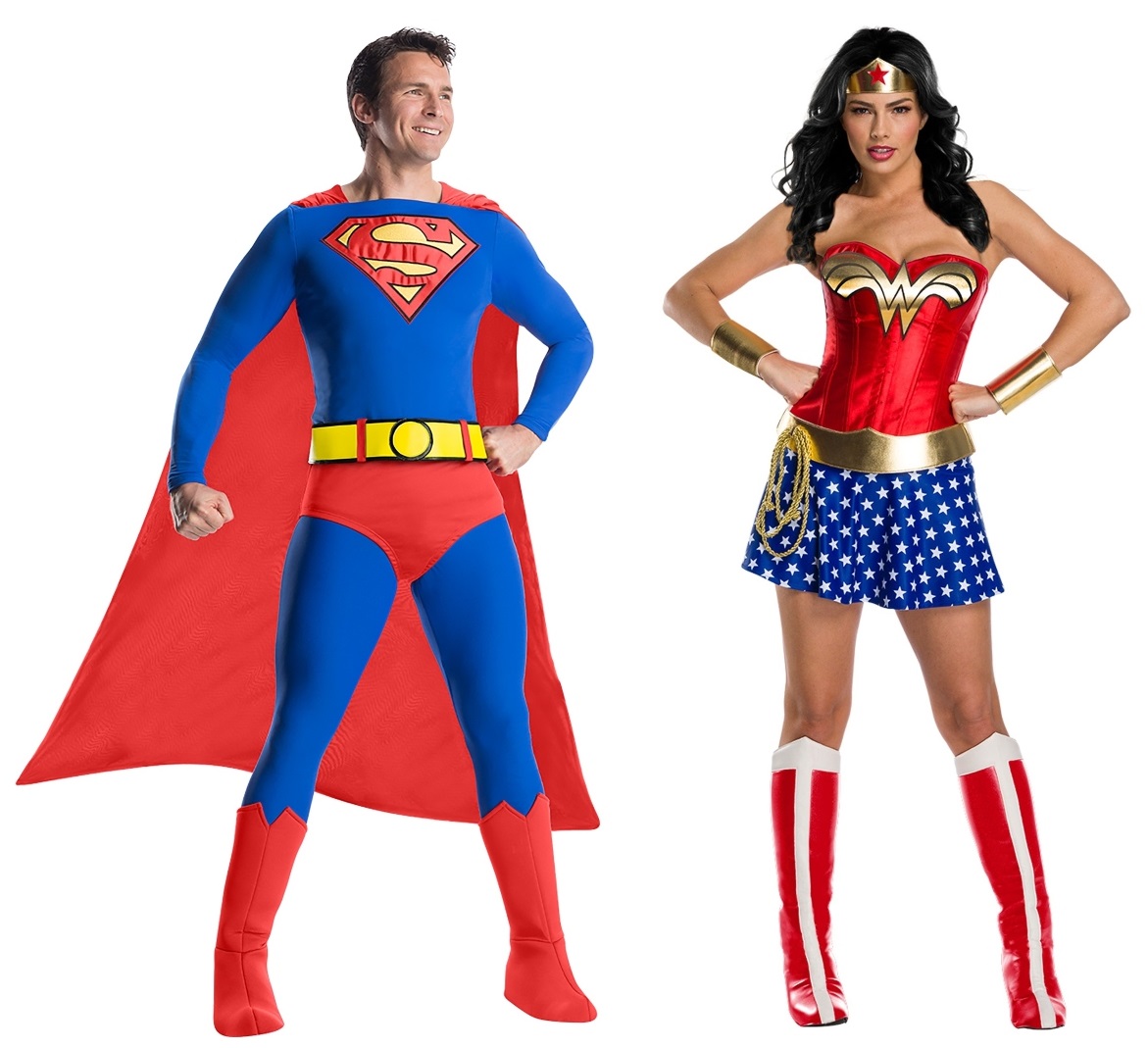 To all the power couples out there, we have the Superman and Wonder Woman costumes for you! One of the most iconic couples in comics, these patriotic superheroes have saved the planet countless times as part of the Justice League. Get ready to practice that victory pose!
37. Stranger Things Couples Costumes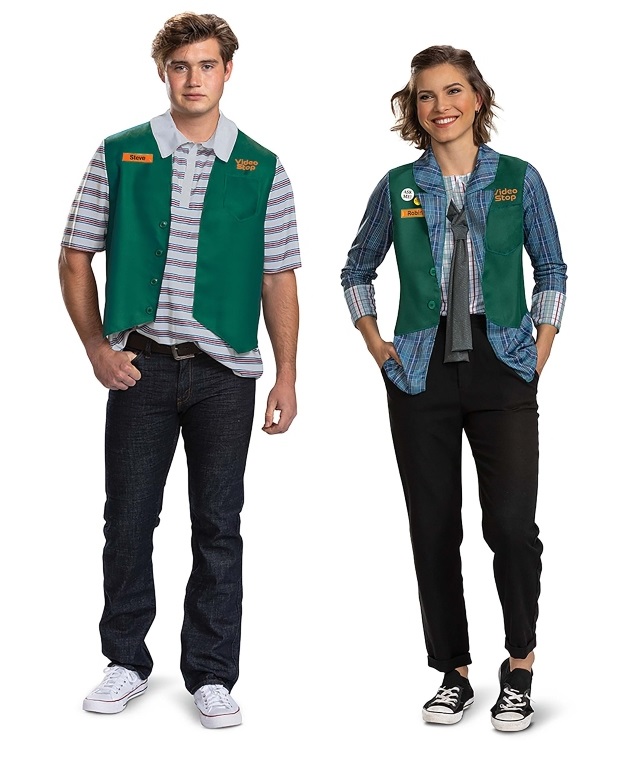 Do you have a work bestie? While they're not exactly romantic couple material, it's quite funny how Steve and Robin continue to be co-workers through both seasons 3 and 4 of Stranger Things. You can always check out other Stranger Things costumes for more ideas, but we love the idea of these two as a duo costume for work! If you happen to miss Robin's whiteboard sass, you can always pull out their previous outfits too. You rule.
38. Lydia and Beetlejuice Couples Costumes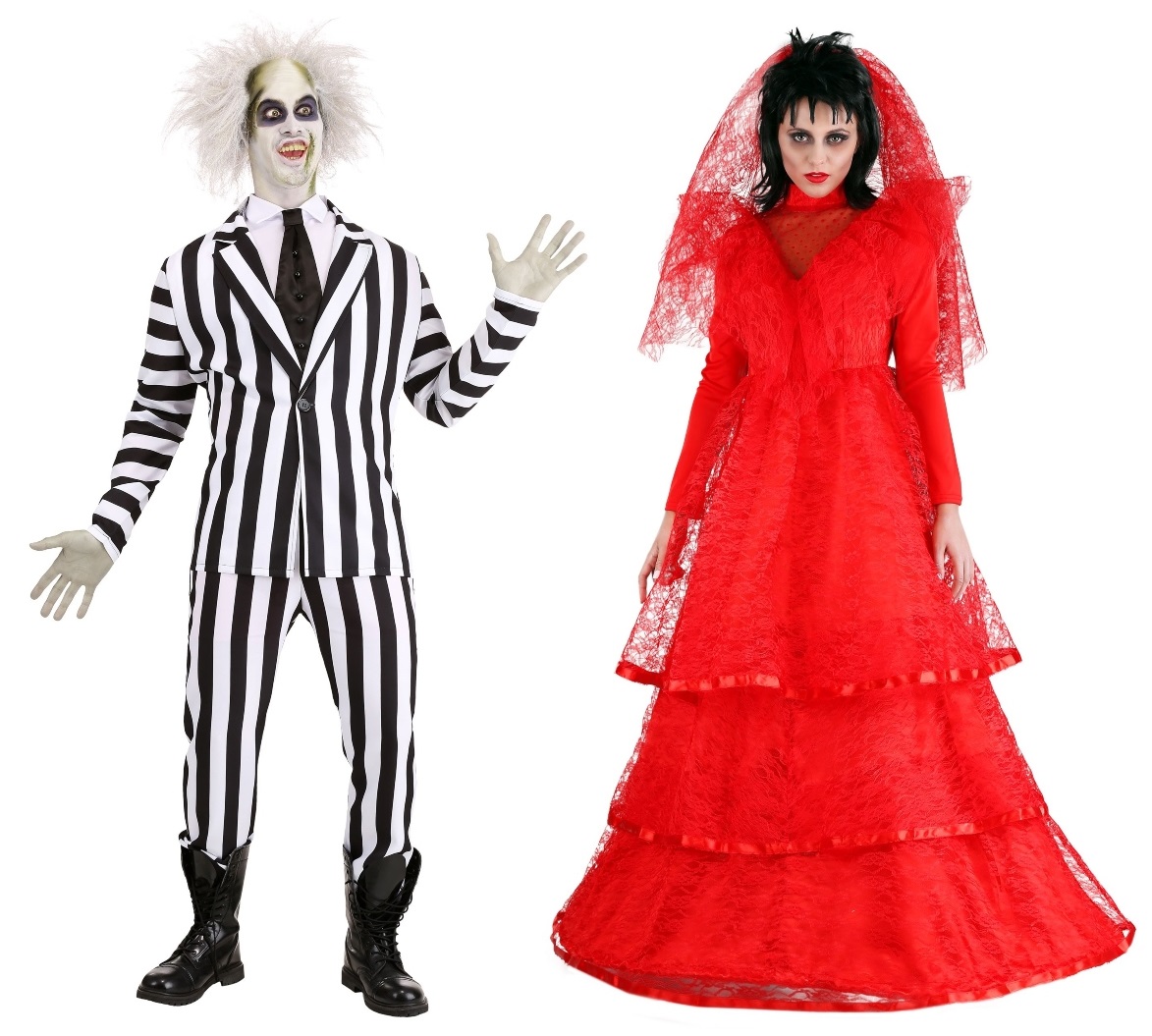 Team up as Beetlejuice and Lydia for a fun and ever-popular 80s theme! Be "strange and unusual" with this costume pairing. Barbara and Adam fought hard to keep Beetlejuice from taking Lydia as his bride, but this iconic 80s movie moment makes for a great couple's Halloween costume idea!
39. Georgie and Pennywise Couples Costumes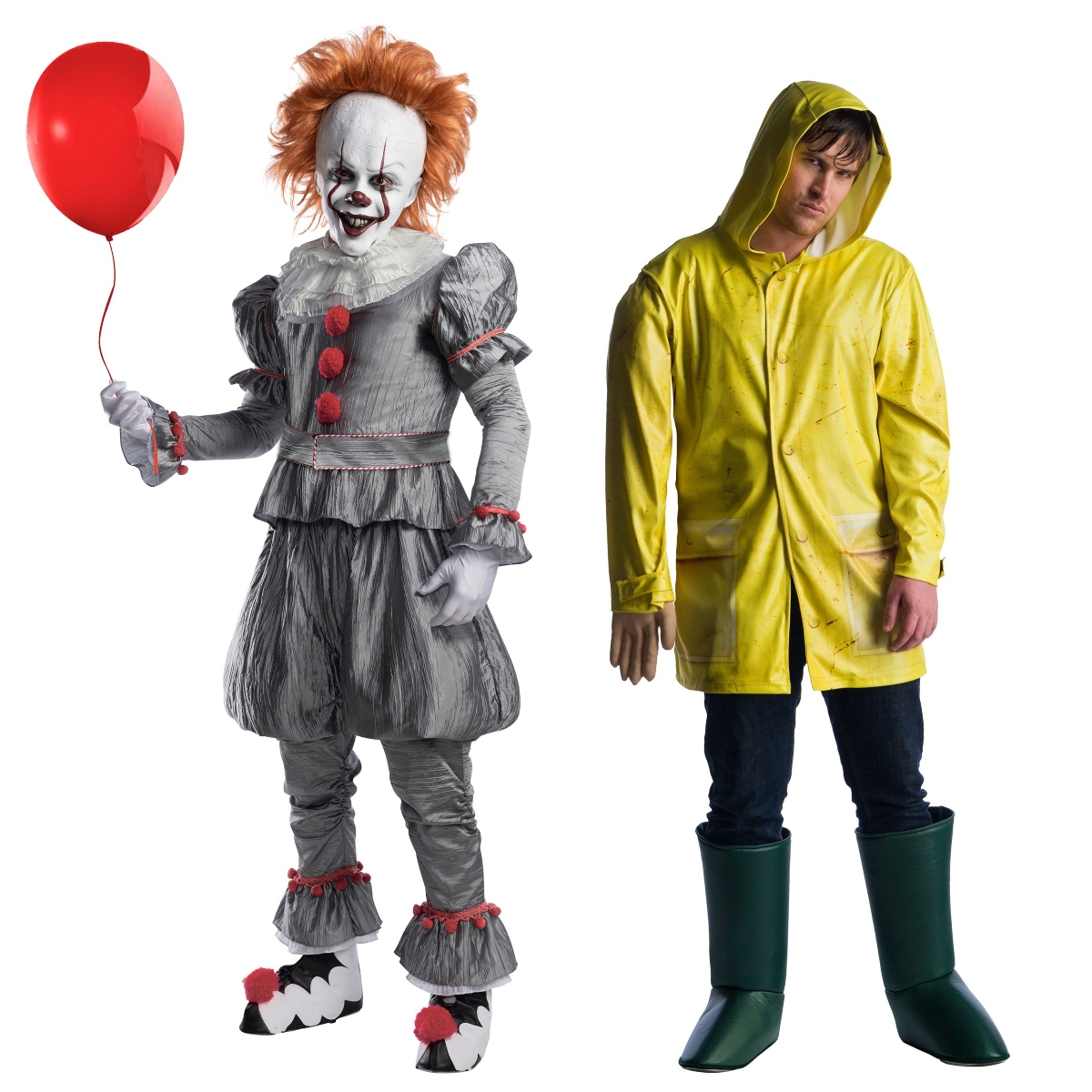 Are you looking for the perfect scary costume to win that scariest couples costume trophy? Pennywise the clown is certainly plenty scary on his own, but you can do better—up the ante by pairing up with Georgie and his famous yellow raincoat. This particular Georgie costume even comes with a removable arm, perfect for pulling some Halloween party pranks.
40. Black Widow and Hulk Couples Costumes
While the Avengers captivated audiences on the silver screen, the dynamic between Black Widow and the Hulk captured our hearts! For the most part, the Hulk's rage is incredibly hard to control, but Natalia is the beauty that managed to befriend the beast. Get ready to wear a pair of your favorite Avengers costumes to your next costumed event!
41. Gangster and Flapper Couples Costumes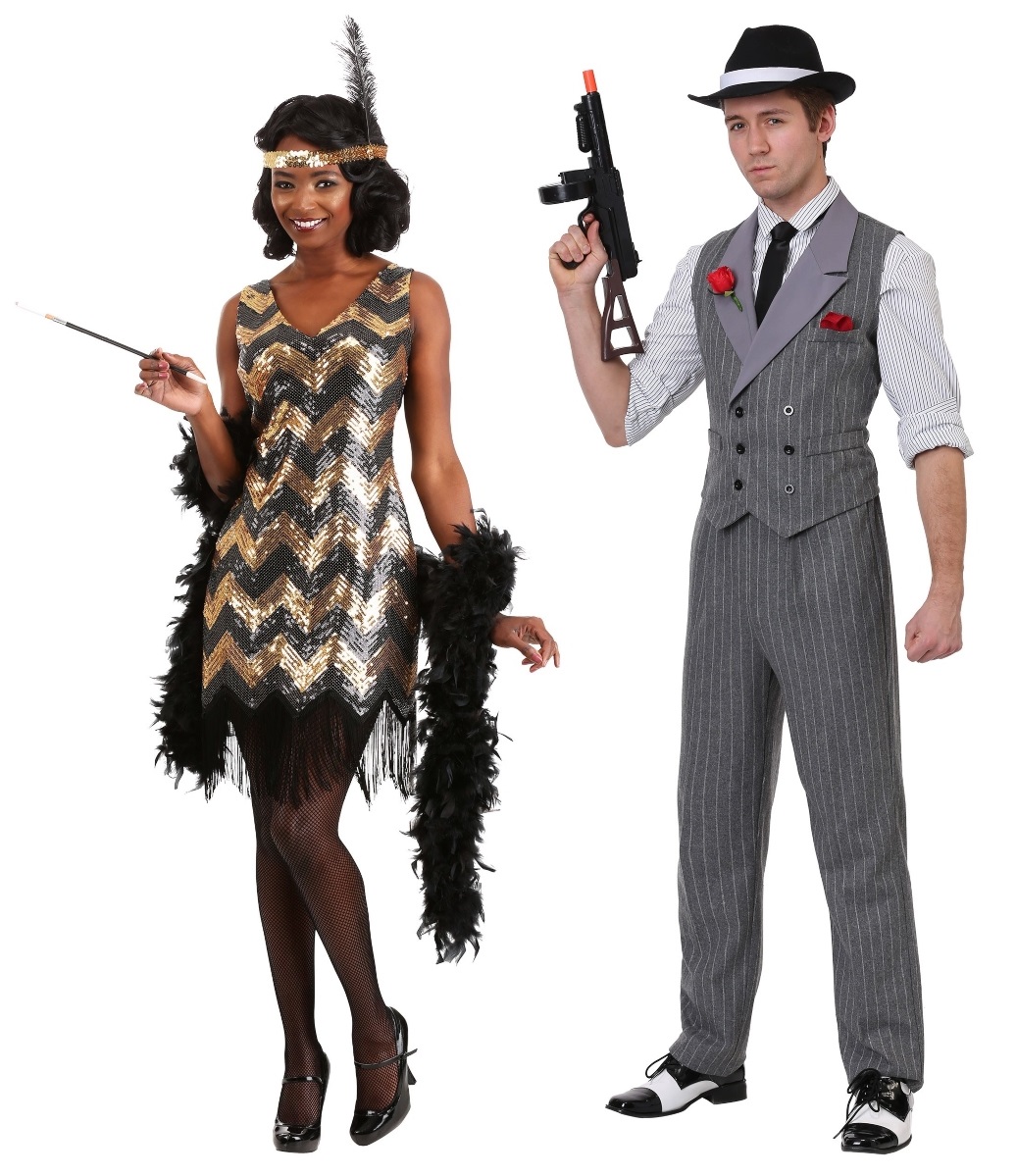 Do you consider yourselves to be a pair of old souls? Would you enjoy a sleepy little speakeasy with a small jazz band entertaining the crowd? Get a pair of roaring 20s costumes and party like it's 1920!
42. Black Cat and Witch Couples Costumes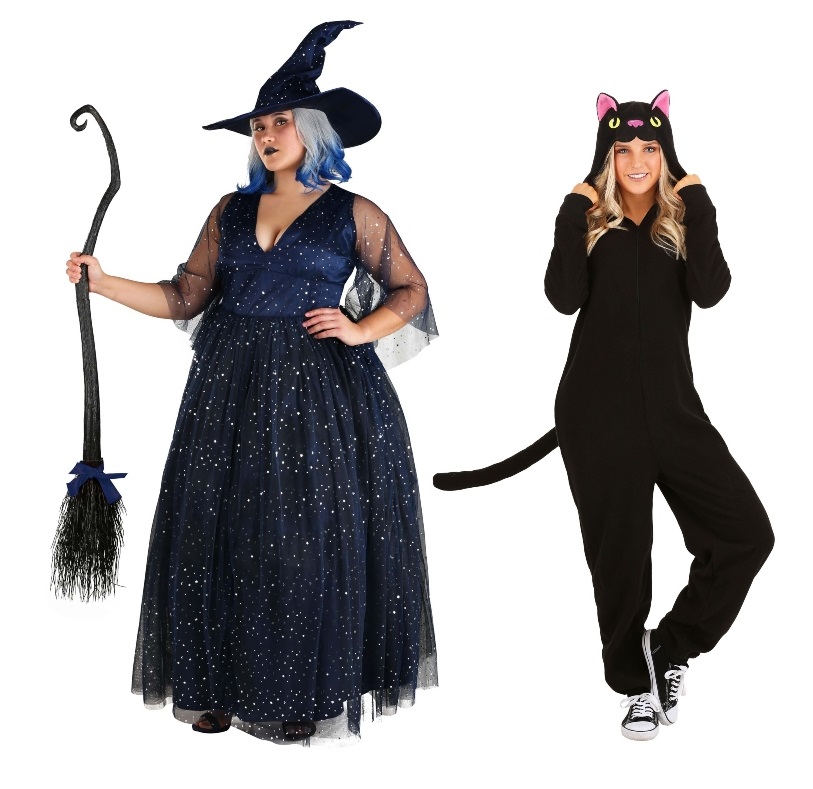 Sexy, sassy, yet still classy, witch and black cat costumes can be anything you want! You can be all about the good old Halloween classics and also have an excellent couples' costume. After all, a witch wouldn't leave home without her cat familiar!
43. Caesar and Cleopatra Couples Costumes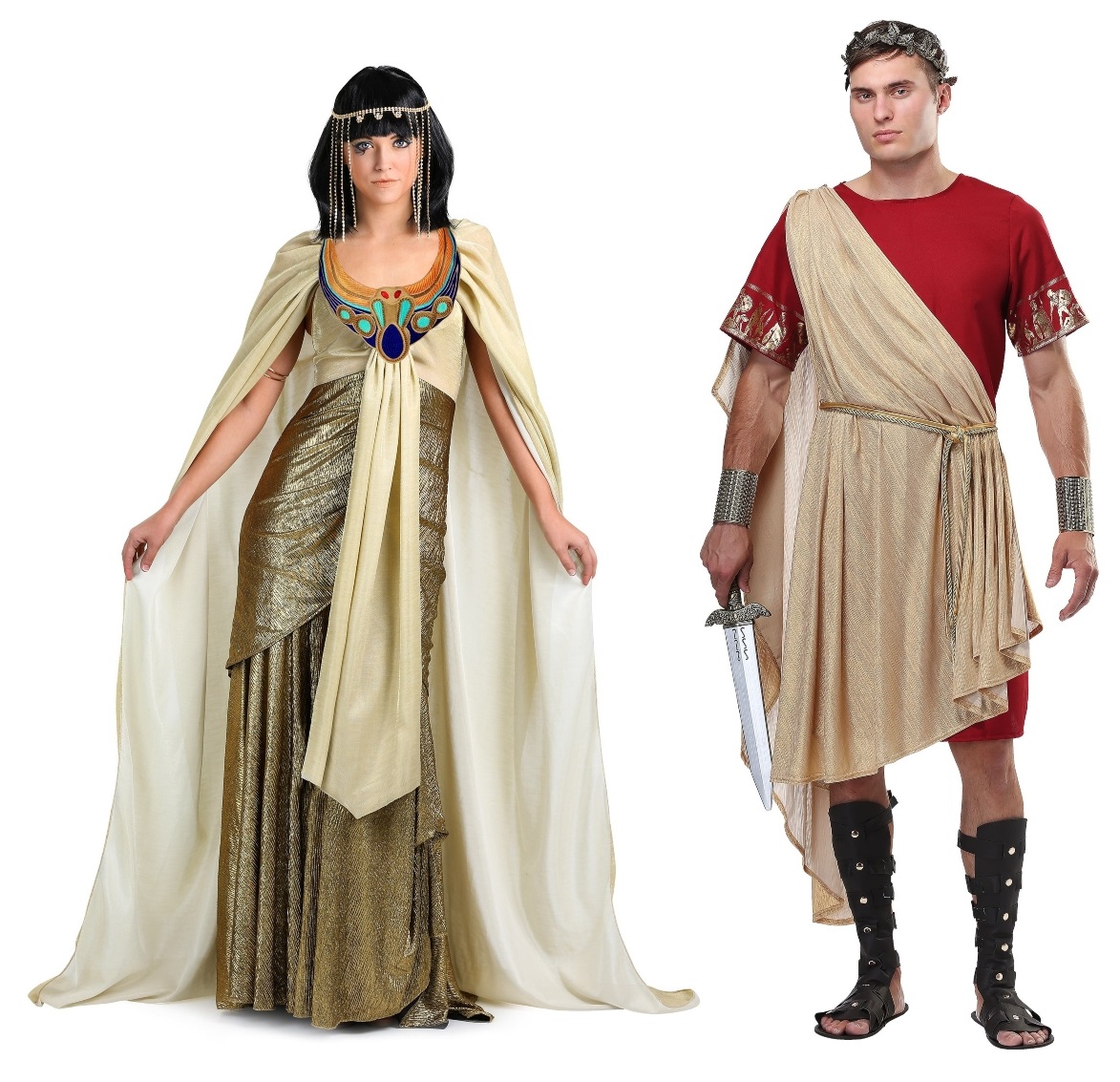 This one is truly a romance for the ages. While their relationship was admittedly a power move, they did find love! If you love ancient history, this historical costume for two will give you the chance to divulge all the gory details to your friends.
44. Elsa and Anna Couples Costumes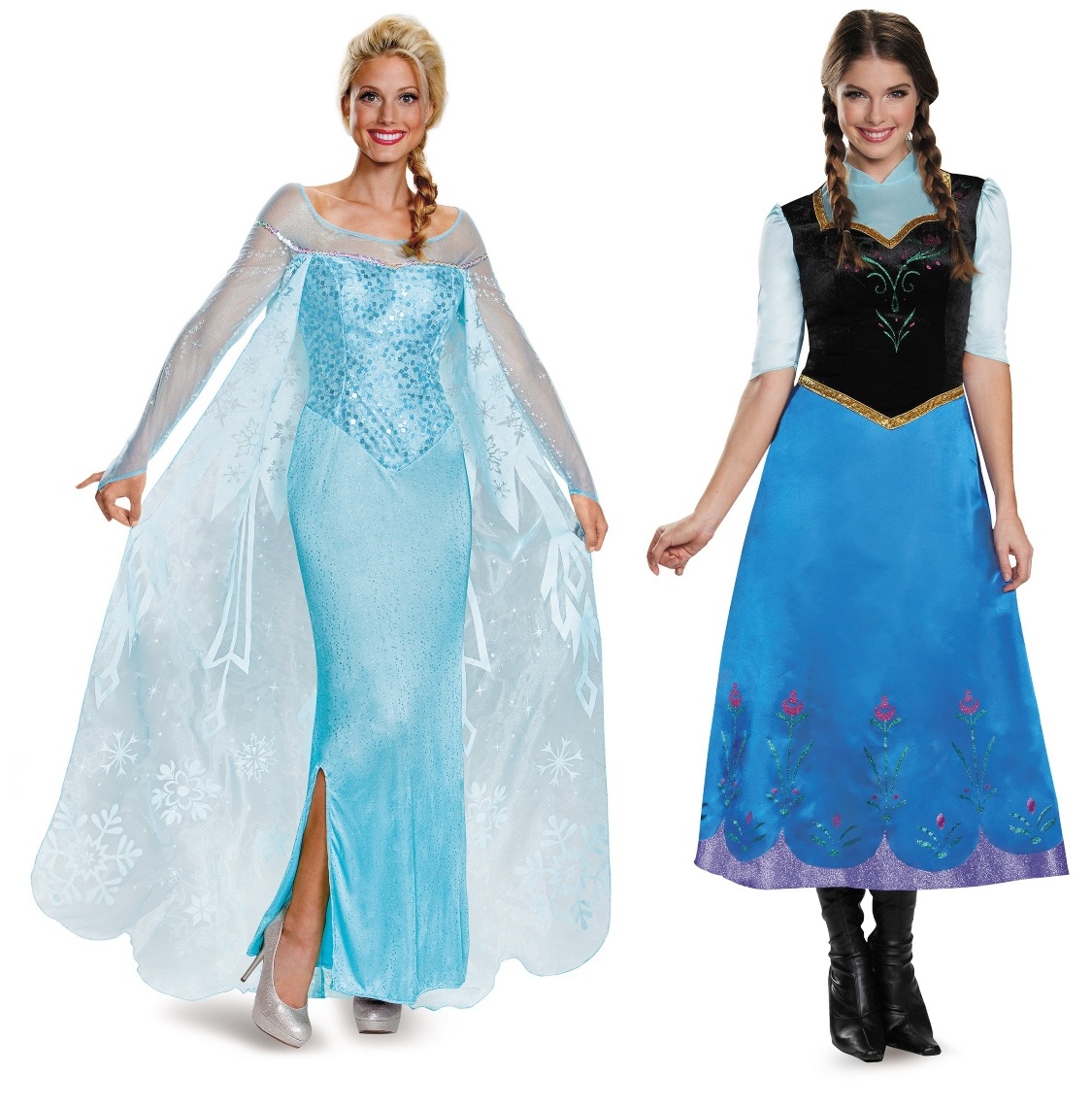 Let your bestie know you'll always be there for them when you pair up for this Frozen couples costume idea. This Disney sister duo is truly unstoppable. Just be prepared for an onslaught of kids that want pictures with their favorite Disney princesses!
45. Han and Leia Couples Costumes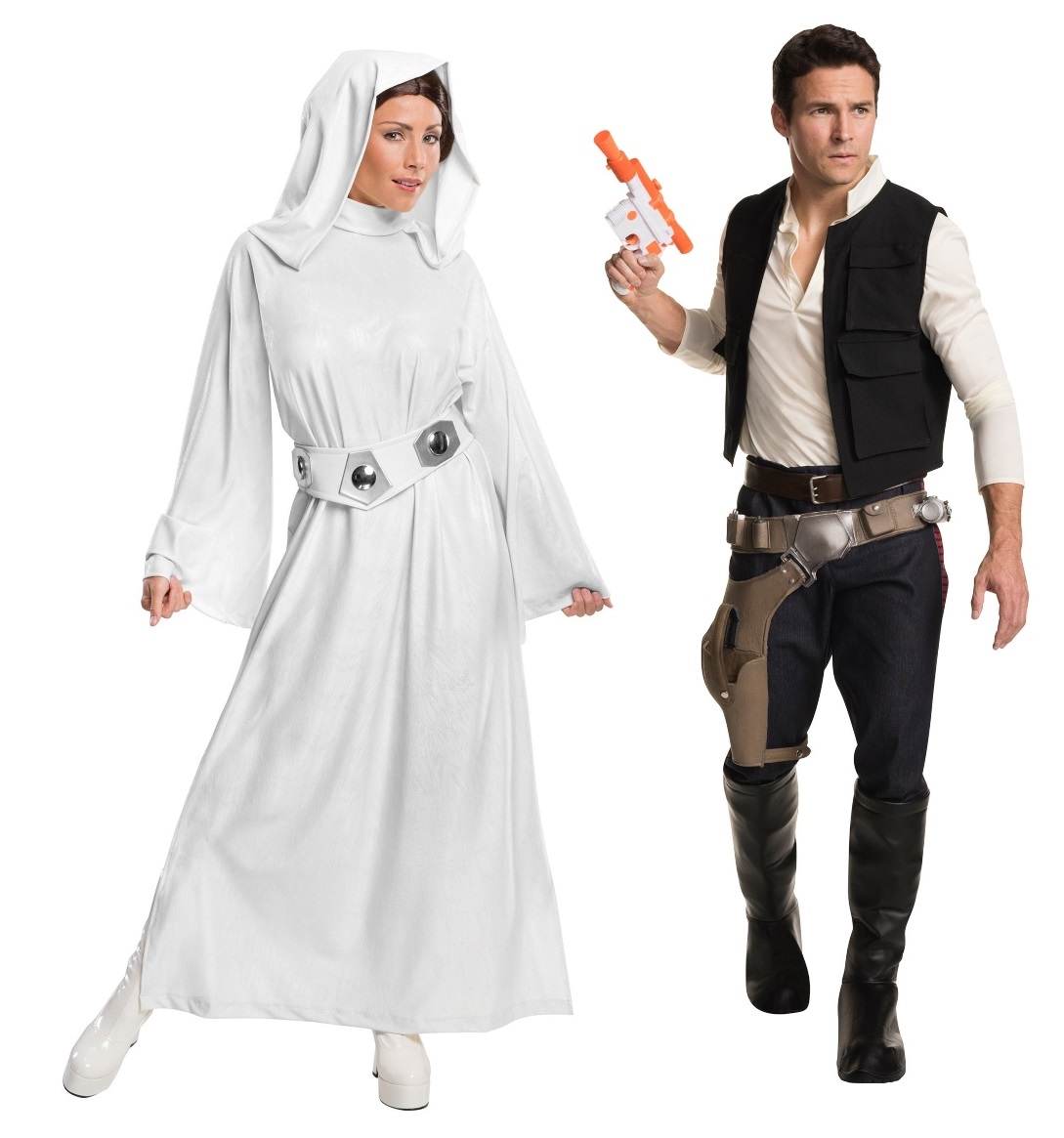 It's impossible to discuss Halloween costumes for two people without mentioning one of our favorites—Star Wars costumes! You probably know that Han and Leia are an item, as you have seen plenty of "I love you" and "I know" Han and Leia products. Let everyone know you're an intergalactic item with these sci-fi costumes for two!
46. Bob Ross and Painting Couples Costumes
There's nothing wrong with having a tree as a friend, according to TV painting master Bob Ross! If you're looking for an easy couples costume to put together, the Bob Ross costume kit and a simple tank dress costume combo are simple, but they look great together. You can always peruse our other costume kits for easy costume ideas, too!
47. Mary Poppins and Bert Couples Costumes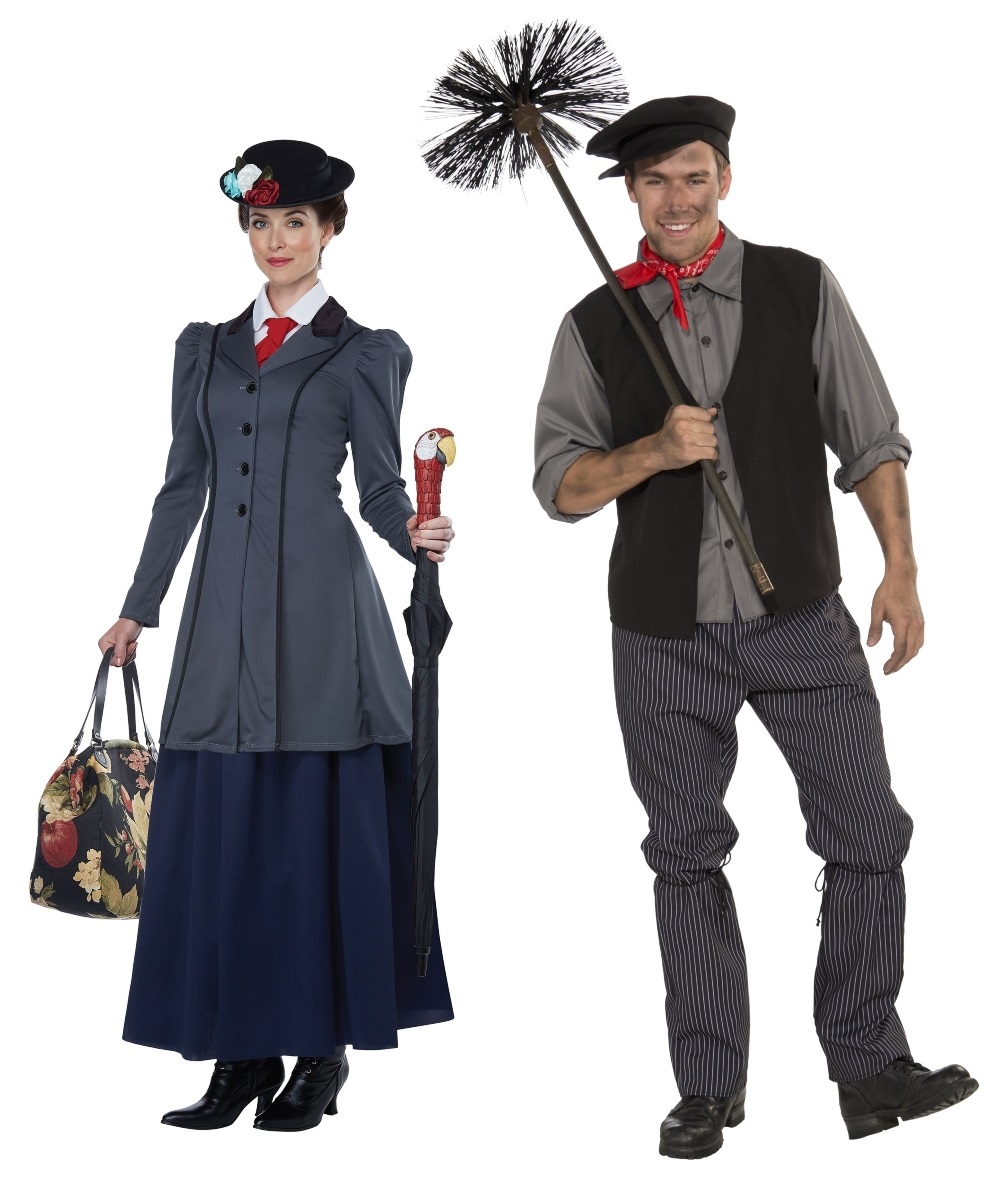 There are plenty of amazing Disney duos from their animated movies, but don't forget about the live-action classics! This cute couple sang and danced their way into the hearts of audiences in 1964, and we've been captivated ever since! You're more than welcome to stick to their classic look, or you can choose Mary Poppins costumes from the 2018 movie. This Disney couple's costume idea will go down in the most delightful way!
48. Alien and Astronaut Couples Costumes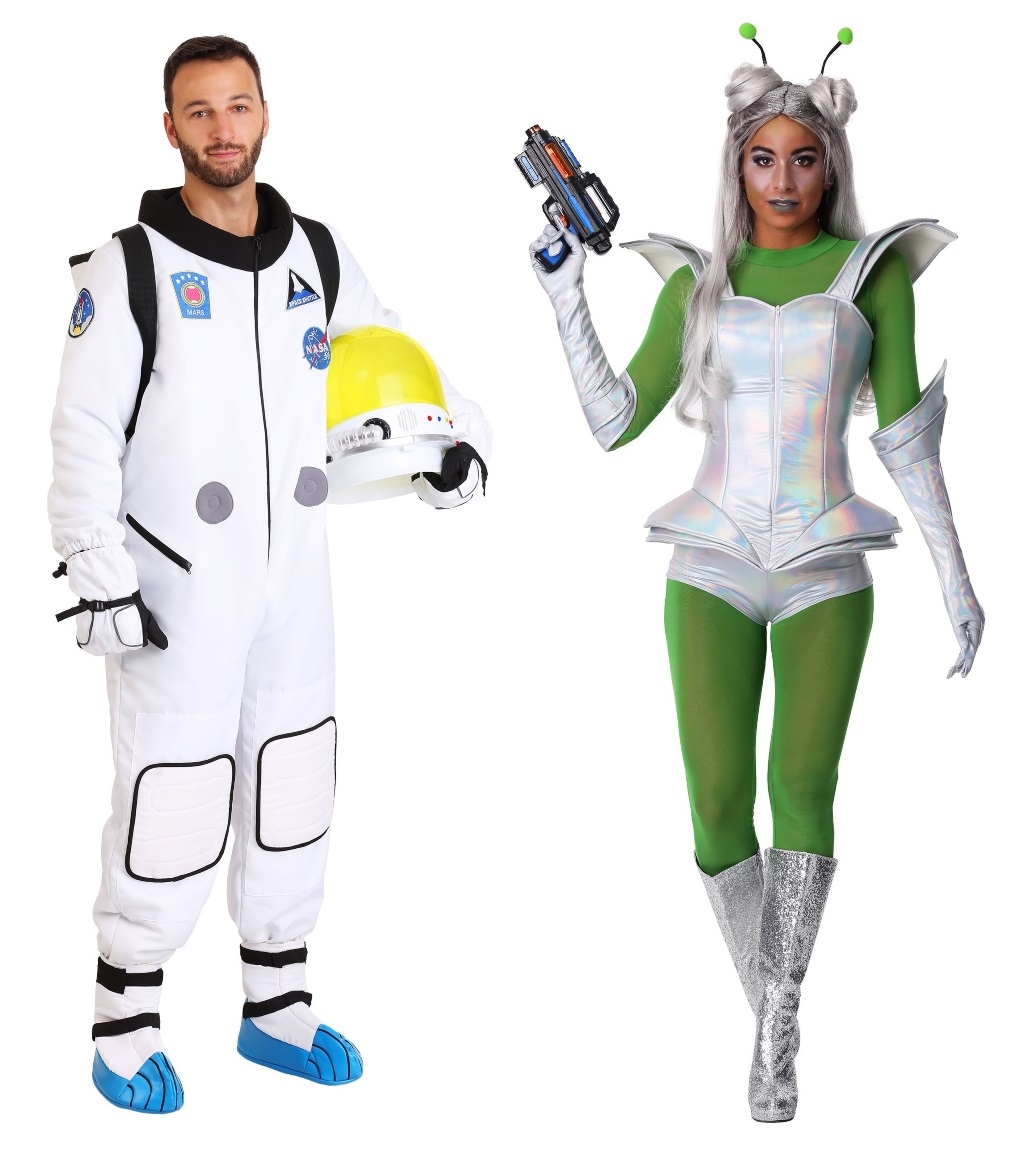 Men may be from Mars while women are from Venus, but you discovered each other and that's what matters! You're more than welcome to swap who gets to be the alien and the astronaut, but it's hard to deny that this couple's outfit idea is out of this world.
49. Deadpool and Lady Deadpool Couples Costumes
As they say, two Deadpools are better than one. Wait they don't say that? Well, they should! Wearing these Deadpool costumes to your local convention will give you some serious geek cred. That's not to say that you can't also be Deadpool again for Halloween...or Christmas...or Taco Tuesday! Dude knows how to party.
50. Trapeze Artist and Ringmaster Couples Costumes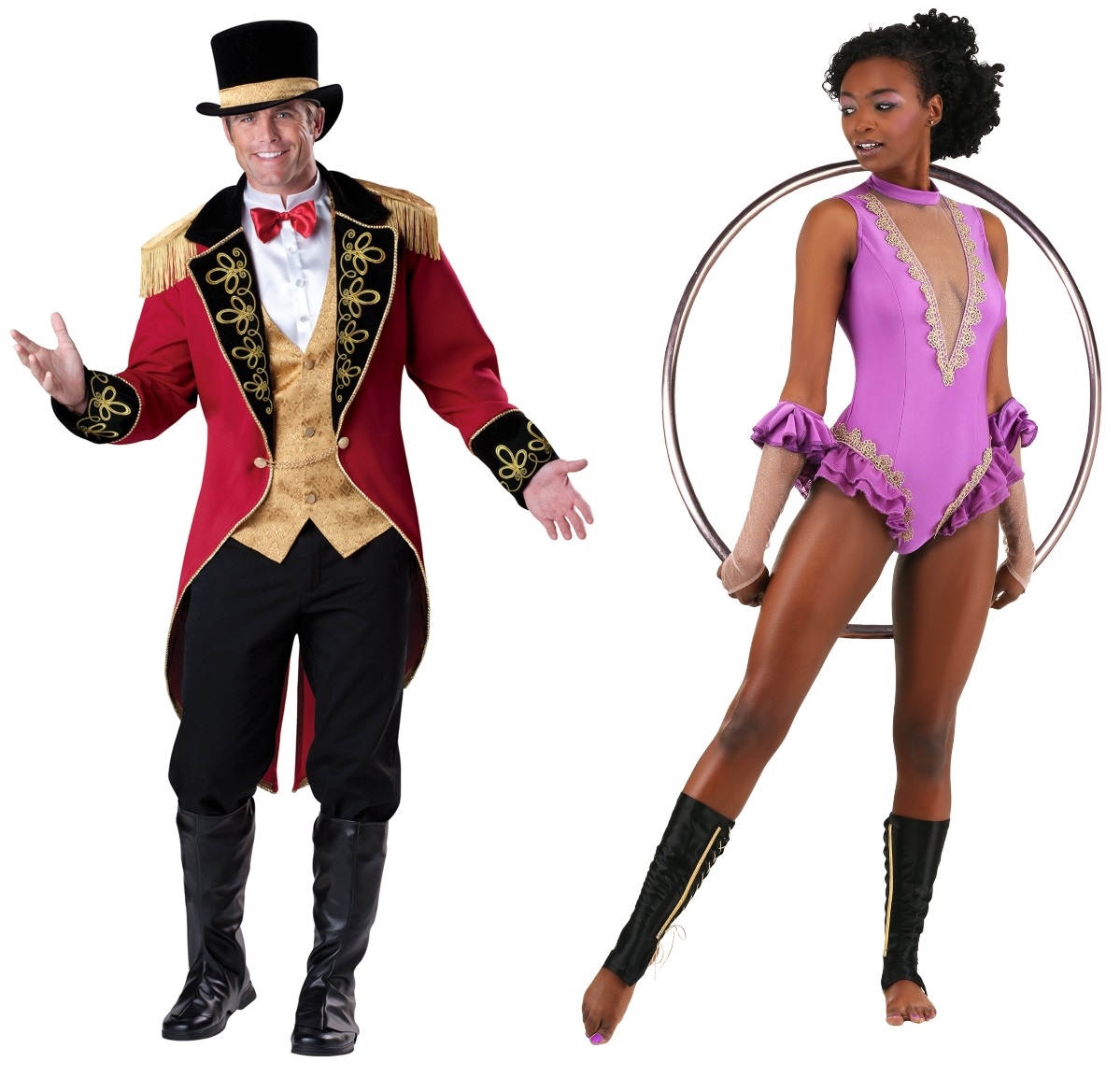 Circus costumes have always been a fan favorite, but if you're looking to mix it up from the lion tamer and lion costumes, why not try a ringmaster with a trapeze artist? You work well in tandem, and your costumes will certainly let people know that!
51. Chucky and Tiffany Couples Costumes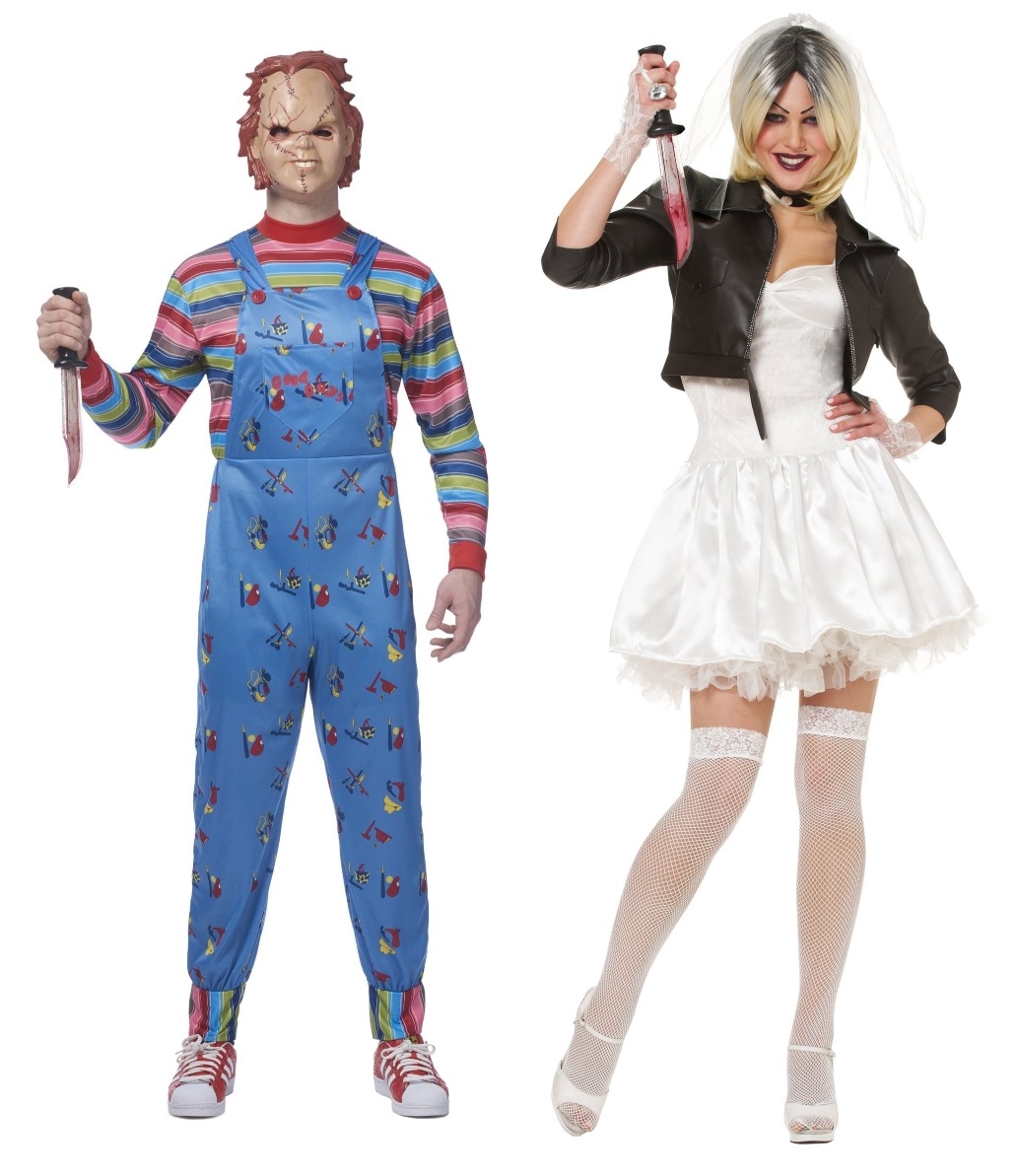 If watching a favorite horror movie sounds like a good time for you, there's nothing more appropriate for Halloween than a horror movie couple's costume. Sure, there are classic pairings like the bride of Frankenstein and the monster or Dracula and his wives, but if you're a fan of 90s cheese, nothing would suit you better than Tiffany and Chucky costumes. Eat your heart out, Barbie!
52. Barbie and Ken Couples Costumes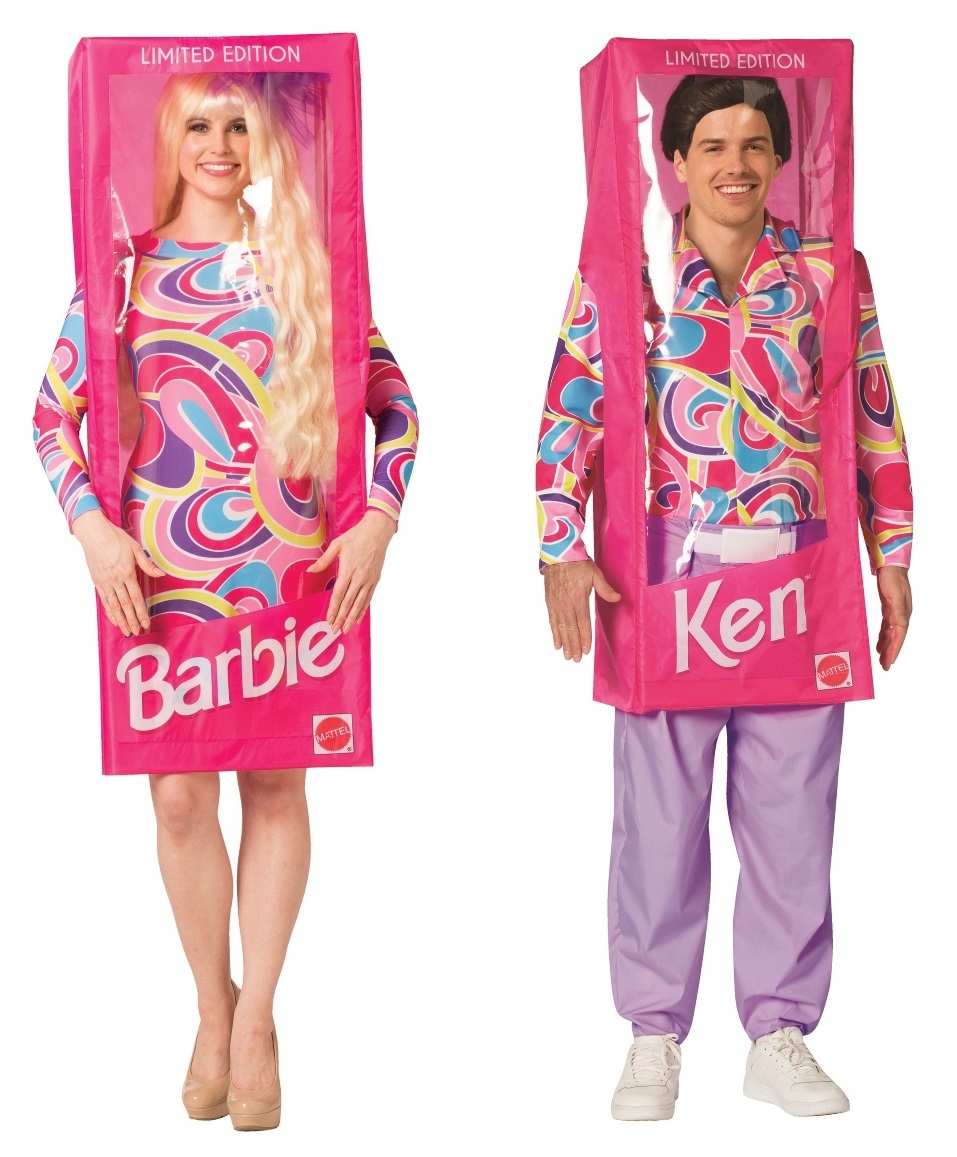 Speaking of Barbie, it's hard to mess with a classic. (Sorry, Chucky.) Barbie and Ken have been an item since Mattel introduced Ken in 1961, so no one's going to get stuck guessing what your costumes are. These highly recognizable doll costumes are sure to make fellow partygoers smile!
53. Morticia and Gomez Addams Couples Costumes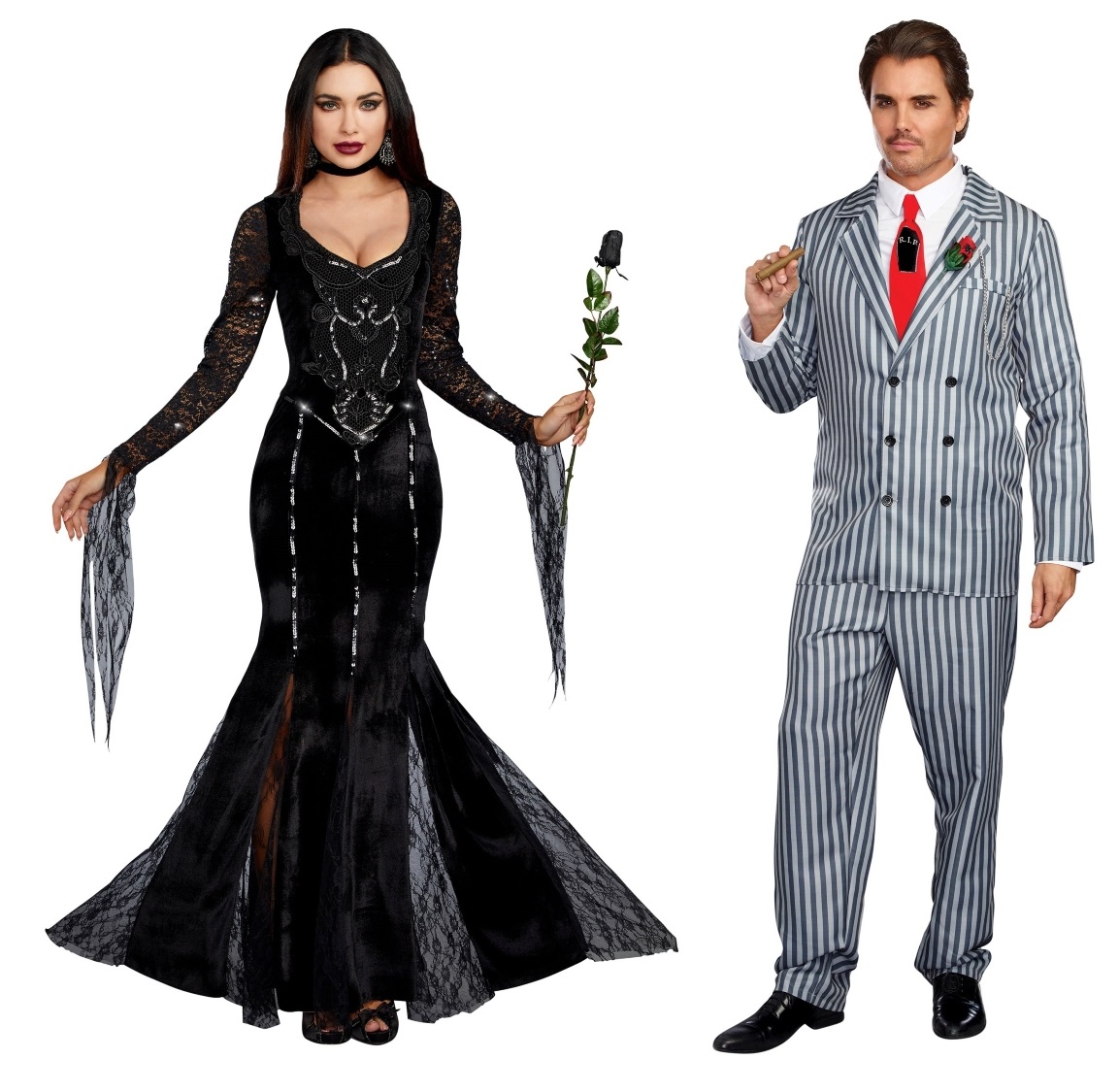 They're creepy and they're kooky, mysterious and spooky. They're all together ooky, the Addams family! The Addams may not be the typical Joneses next door, but Morticia and Gomez are the sweetest odd couple you'll ever meet. #CoupleGoals indeed! Believe us when we say that you'll love this pair of adult costumes to death.
54. Alice and the Mad Hatter Couples Costumes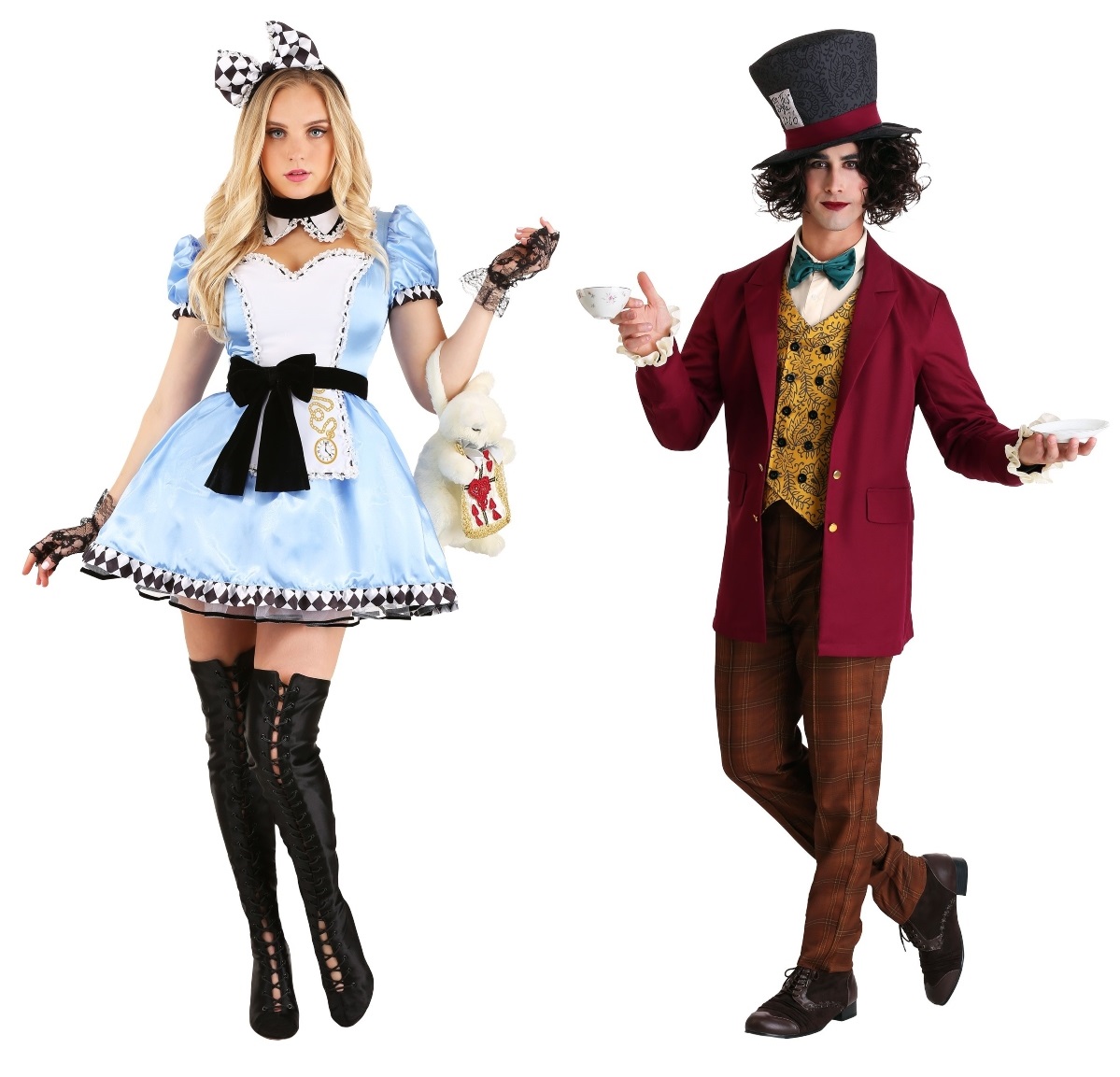 Alice runs into tons of characters in the stories of Alice in Wonderland, but one of the most famous is the Mad Hatter. Of course, there's nothing stopping you from choosing other Alice in Wonderland costumes and pairing up as the Red Queen and her card soldiers, the Mad Hatter and the March Hare, Tweedle Dee and Tweedle Dum, or a host of additional characters! If you dress as the Hatter, just make sure to wish everyone a very happy birthday.
55. Sam and Frodo Couples Costumes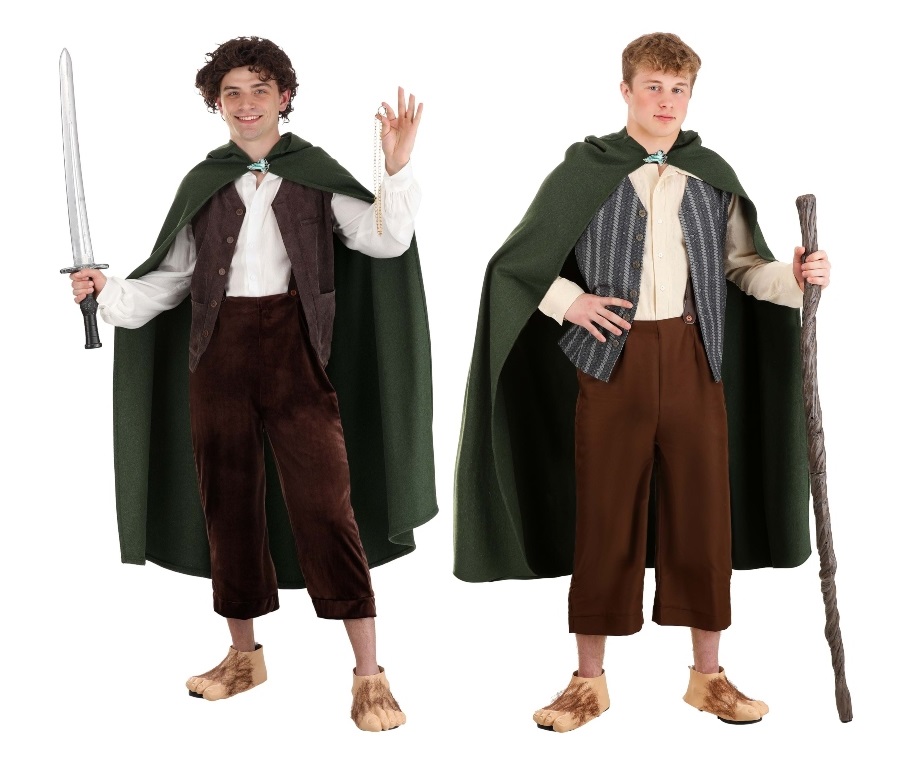 We stan our favorite short kings! Whether you're familiar with The Lord of the Rings books or the movies or both, you know that Sam is the best friend anyone could ever hope to have. Yes, there are other Lord of the Rings costumes if you prefer characters like Legolas or Gandalf, but it would be downright criminal to go to a party as Frodo or Sam without your other half. "Mr. Frodo's not going anywhere without me."
Whew! That was certainly a lot of amazing couples costume ideas, but it would be impossible to name them all! Do you have a favorite set of characters? Which fictional couple is your ultimate relationship goal? Please share your faves with us in the comments—we'd love to see some of your great ideas, too!