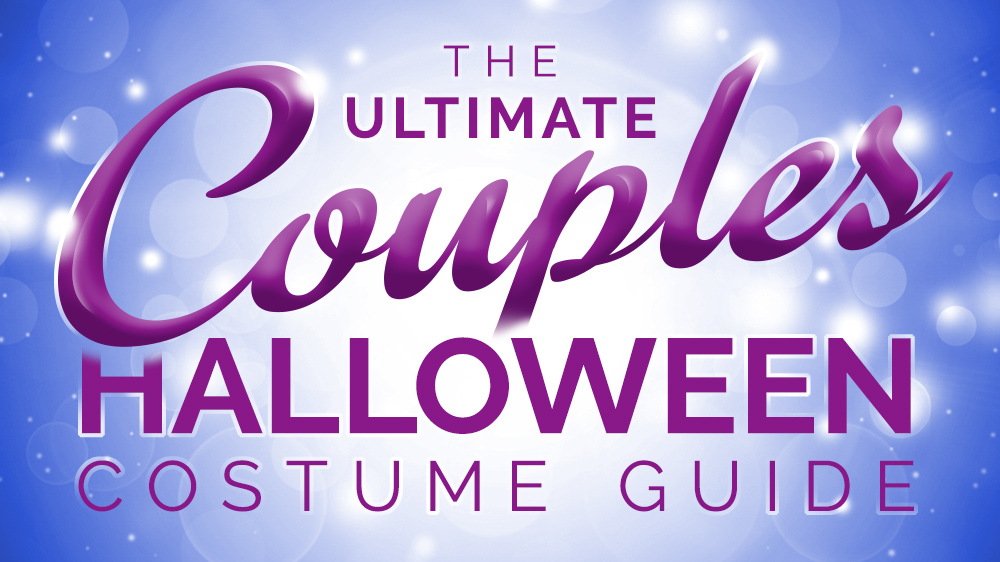 So you're looking to do the whole couples Halloween costume are you? Isn't it fun when you can rock the town together? And who doesn't want to win Best Couple Costume at the party? We get it! You've come to the right place to find the ultimate couples costume guide. I mean costumes are what we do here. From movie-themed costumes to sports costumes, this guide has you covered. Now sit back and get the wheels turning as we tell you some of our couple costume ideas.
Movie Couples
Movies today play a huge role in what people wear for Halloween. That shouldn't be a huge surprise to anyone. Think about the movie that means the most to you and your partner and there is your couples Halloween theme for the year. Are you Grease fans? Then Danny and Sandy are perfect for your movie theme costume, so get a Grease costume right here at HalloweenCostumes.com. Maybe you're more of a sci-fi fan and Star Wars Han and Leia fit your style. There are so many iconic couples to choose from. No matter which genre you watch you'll find one that is the winner for you.
Funny Movie Couples
Just like the classic movies that produce great couples costumes, comedy movies can too. Think about it? You'll be the hit of the party sure to win Best Costume if you're the life of the party in Lloyd and Harry costumes. Every party needs some comic relief, so why not bring it with your costume. Don't forget the attitude that comes with the character. Practice your "as you wish" if you go as Westley because you'll be saying that all night long to your Buttercup.
Scary Movie Couples
Halloween is a time when scaring is acceptable and encouraged. There are so many scary costumes you can pair together to make the best scary couple costume. Nightmare Before Christmas is a classic "scary but not too scary" movie that makes everyone fall in love with Jack and Sally. You can also go as Pennywise and Georgie. Okay, they aren't actually a couple, but they are floating together.
TV Couples
Just like movies affect Halloween costumes, so do TV shows. With all the streaming services nowadays, there is no shortage of shows to choose from, either. Whether you want older nostalgic ones like Mario Brothers—The Super Mario Bros. Super Show was one of our favorites!—and The Flintstones or new hits like Game of Thrones and Vikings there's a TV couple costume idea you can pick out of just about any show. Yes, you can find Game of Thrones and Vikings costumes that are high quality and suitable for Halloween or cosplay! When looking for costume ideas, remember that they don't need to be the lead couple, either. Think outside the box of who your favorite characters are in the show you love to binge-watch.
Disney Couples
Okay, you knew Disney was going to be an option! There are so many classic couples to come from those movies that make perfect Disney couple costumes. From older ones made new again like Jasmine and Aladdin to recent Anna and Elsa. Or take the untraditional route and pick some of the famous sidekicks. You don't always have to be the main love story characters. I mean Olaf and Edna basically steal the shows they're in.
Classic Halloween Couples
Don't want a movie theme? No worries, there are great options that aren't tied into a movie or TV. Think of all the traditional Halloween costumes: mummies, pirates, vampires, and decades, to name a few. There are plenty of easy classic couple costume ideas, too. Like Mr. & Mrs. Potato Head, Peanut Butter and Jelly, Bacon and Egg…do we need to go on?
Sports Couples
If you're sports fans, then think of what's your favorite sport to watch and find something there. Are you NASCAR fans? With these officially licensed NASCAR costumes, you can pick your favorite drivers to make your sports couple costume. Or maybe WWE and being in the ring is more your style. Practice your moves and grab officially licensed WWE costumes online. Whatever the sport is, there's a costume to match. Maybe you like being the referee and calling all the shots. Halloween is the time to make that happen.
Did we help you find your perfect couple costume? I hope this helped spark some creativity into what you decide to do. Let us know in the comments what we missed.